After its great success in New York City in March 2015, the Art on Paper art fair will inaugurate its Miami edition, giving eighteen galleries an opportunity to showcase their best paper-based art. Set in a resourceful waterfront location that is the Deauville Beach Resort (previously home to NADA Miami art fair), Art on Paper will focus on artists who use paper as the main component and support of their photographs, sculptures, drawings or paintings, creating an intimate bond between the exhibitors and the collectors. Returning as the fair's Artistic Director will be Sasha Wolf, of Sasha Wolf Gallery in New York, joined by James Stround of Boston's Center Street Studio, together curating Art on Paper's photographic and print program with ten of the country's top publishers. The fair will also coincide with the fourth edition of Miami Project.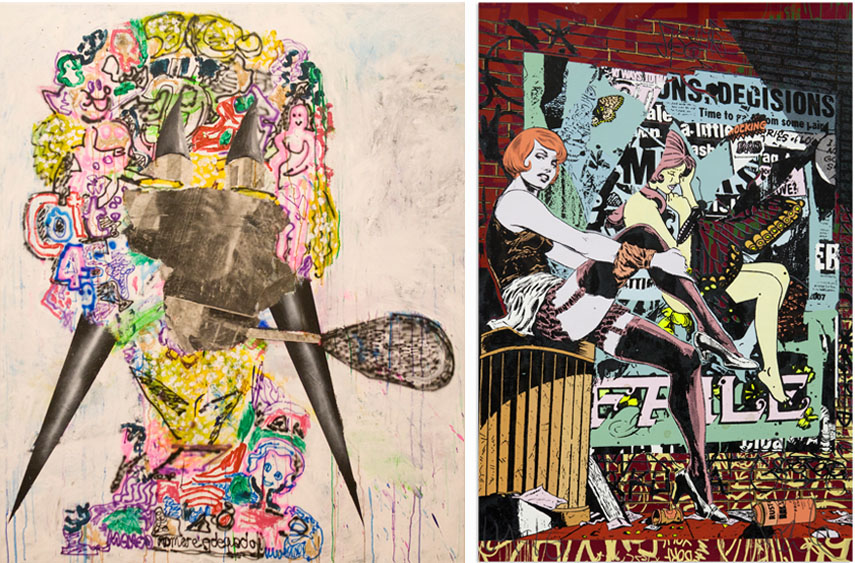 SATELLITE Program, Projects and Events
Taking advantage of Deauville's remarkable location and features, Art on Paper and Miami Project will exhibit several innovative public installations there, made by participating artists. The visitors can also enjoy SATELLITE, a series of on-site and off-site events and projects spread across the venue and Miami Beach properties. Through performances, installations and special projects, SATELLITE will consist of multimedia exhibitions, musical program, the opening of a virtual institution called DiMoDA (The Digital Museum of Digital Art), a Gift Shop exhibit featuring eight artists, a show of outdoor installations called Augmented, a show featuring a radical group of Eastern European artists and their selected Western counterparts and much more.
In addition to the extensive artistic and cultural events, Art on Paper will also include a food and beverage program, which will feature top chefs and cocktail figures from Miami and New York in an exciting new lounge overlooking Deauville's popular ocean-front pool.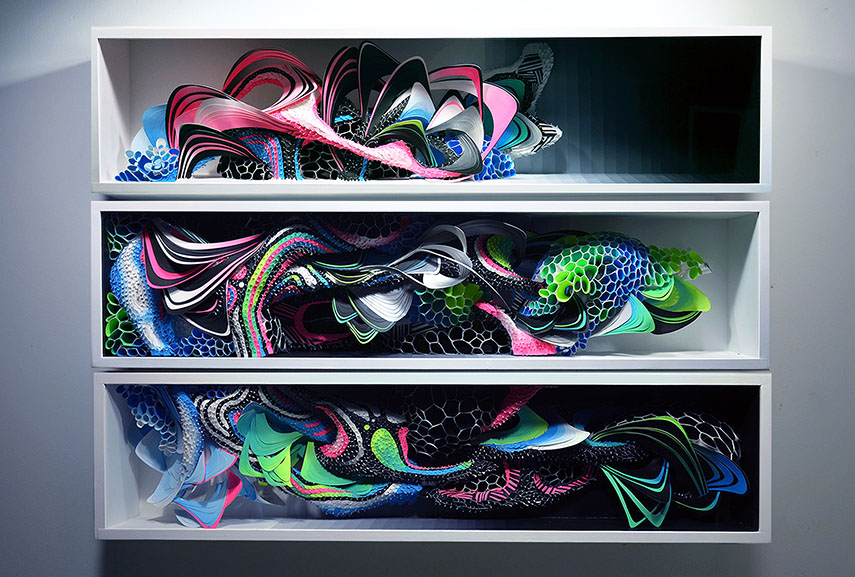 Participating Galleries
The debut edition of Art on Paper Miami will aim to be as successful as its NYC counterpart, which attracted more than 18,000 visitors and has already established its place as collectors' favorite. In Florida, there will be a total of eighteen galleries from the United States and Canada, in celebration of paper as the main artistic medium. Among the exhibitors, there's Allouche Gallery from New York, which will bring acrylic and silkscreen ink on paper by Faile, mixed media works on canvas and cardboard by Bast, as well as photography by Mark Hogencamp, together with One Mile Gallery. San Francisco's Hashimoto Contemporary, on the other hands, comes with a stunning work by Crystal Wagner, a screen print on hand cut paper entitled Specimen. Other highlights include artist Paul-Emile Rioux with his pigments on paper presented by Digital Art Project Gallery from Montreal, older prints by Sam Haskins and Gerome Kamrowski at Gallery (WAS), pieces of four young artists at Kathryn Markel Fine Arts New York, Gus Powell at Sasha Wolf.
The Location of Art on Paper Miami Fair
Art on Paper Miami Fair - Practical Visitors Information
Art on Paper in Miami will be held from December 1st through 6th 2015 at the spectacular Deauville Beach Resort at 6701 Collins Avenue. The preview is scheduled for December 1st from 5pm to 10pm. The fair will be open from 11am to 7pm every day, and to 6pm on closing day. Ticked prices range from $60 for the full fair pass (also includes the preview entry and public Satellite projects and events), $40 for the multi-day ticket, and $25 for one-day ticket. Scroll down to view the fair's floor plan. For more information, visit the official website.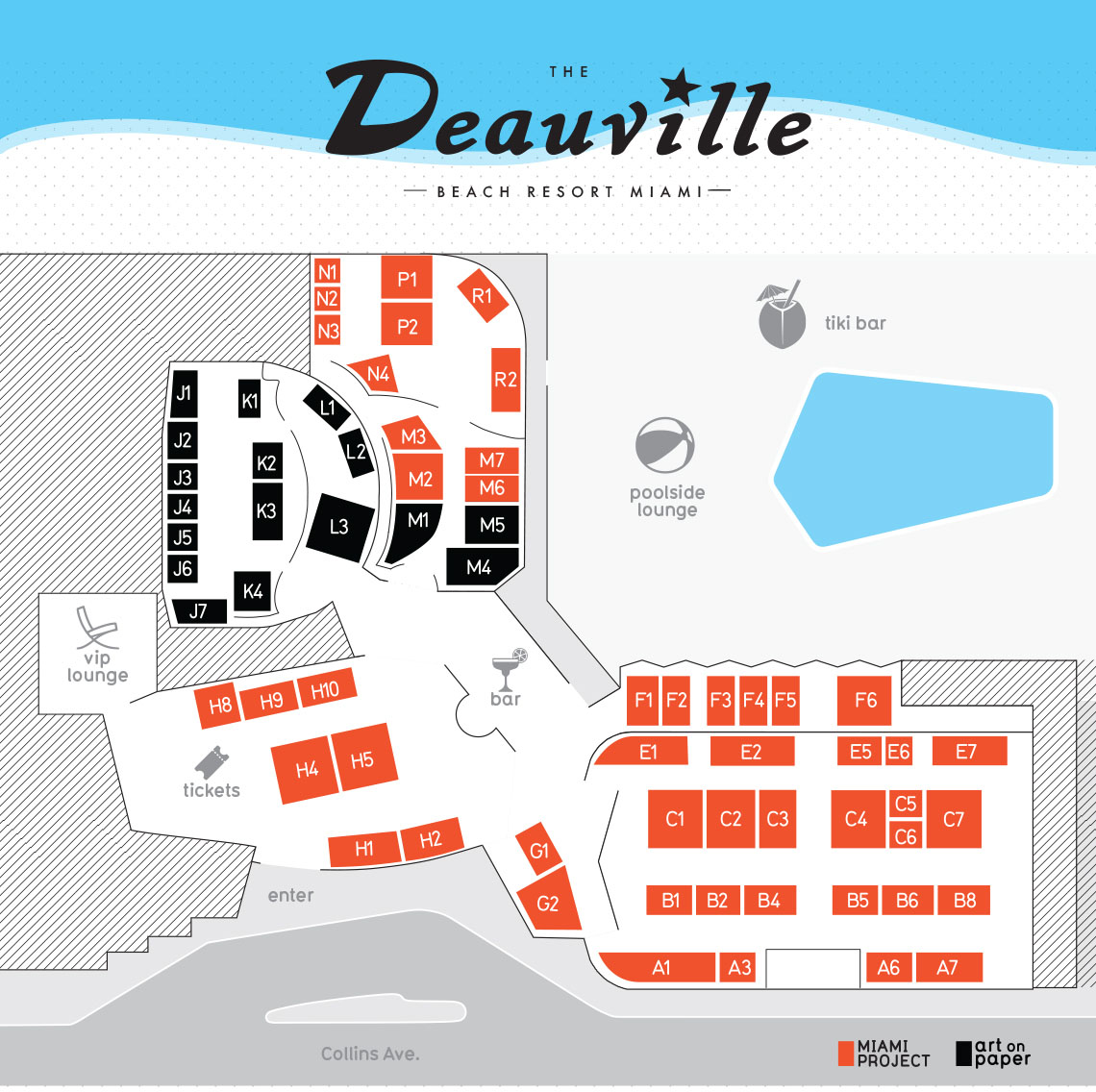 Featured images in slider: Sarah Irvin - Watchful Bliss, 2014. Ink on yupo, 26 x 40 in. Courtesy of the artist and Kathryn Markel; Mark Hogencamp - Untitled (Dej'Alaqua Montique Hogancamp!! March 20, 2009 081) 2009. Digital c­print, 27x36 in. Courtesy of Mark Hogancamp and Allouche Gallery; Gus Powell - Ungrateful Bastards. All images courtesy of Art Market Productions.