An impressive number of galleries will convey at the end of March in Paris at the Grand Palais, for the 19th edition of the Art Paris Art Fair 2017. The exact number of participating modern and contemporary galleries is 139, and they will display an overview of art from the post-war years to the current day, focusing on a theme of discovery. Putting African art under the spotlight this time, Art Paris Art Fair will feature monographic exhibitions at two of its sections - Solo Show and Promesses (Promises). What sets the 19th edition apart from others is the increased international standing and a stronger contingent of modern art exhibitors coming from 29 countries.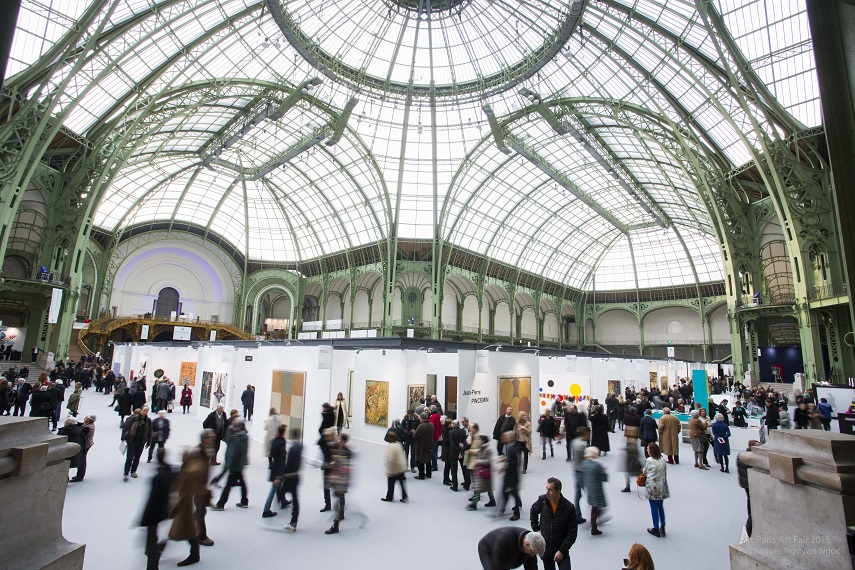 The 2017 Selection at Art Paris at Grand Palais
The above mentioned increased international standing of the fair manifests through the greater number of exhibitors participating from all over the world (an increase from 22 in 2016 to 29 in 2017), and in over 50% of non-domestic exhibitors. From Europe, a selection of exhibitors includes ADN Galería from Barcelona, Galeria Alvaro Alcazar (Madrid), Montoro 12 (Rome), Guy Pieters Gallery (Knokke-Heist), and Flatland Gallery (Amsterdam), among others. From France, the selection includes galleries coming from different regions, such as Cédric Bacqueville from Lille, D.X Galerie from Bordeaux, and J.P. Ritsch-Fisch from Strasbourg.
Paris also has a strong presence this year, including newcomers such as Philippe Gravier (with Sou Fujimoto's spectacular solo show), Sobering, Perpitch & Bringand and In camera, joining regulars at the fair - Galerie Lahumière, Nathalie Obadia, Daniel Templon, Paris-Beijing and Rabouan Moussion. For the first time, the contingent of modern art galleries is also stronger, with the participants from Amsterdam (Frans Jacob), Lyon (Michel Descours), Paris (Martin du Louvre and Galerie Bert, as well as Frankfurt (Die Galerie).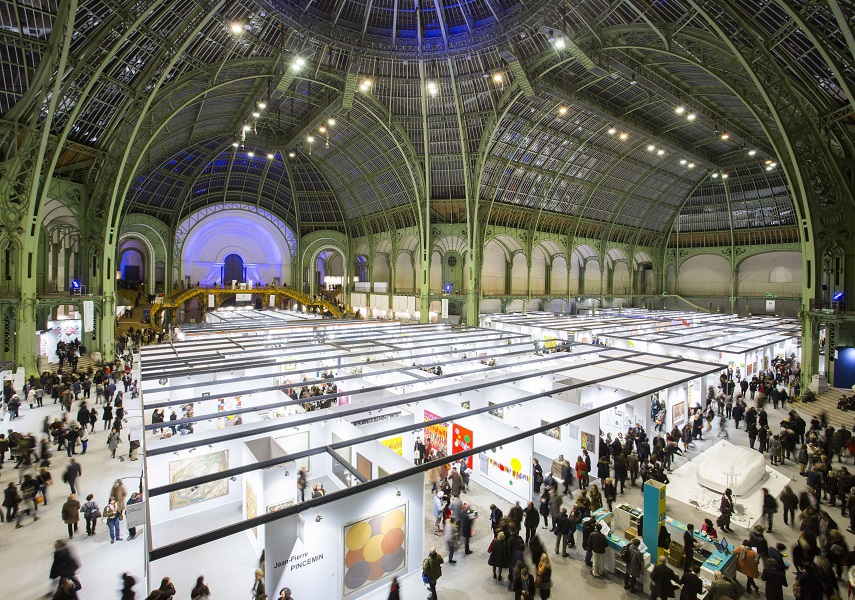 In-depth Focus on Africa
This year's guest of honor is Africa. Since 2012, Art Paris Art Fair has been exploring foreign art scenes that were not previously well-known in France, or were rarely presented. The previous editions hosted Russia, South-East Asia, South Korea, and China, while 2017 one puts a focus on Africa. Under the leadership of Marie-Ann Yemsi, an independent exhibition curator and cultural consultant, the selection of African art will emphasize its previously unseen perspectives, including other visions of wide-ranging African influences.
The participating galleries come from South Africa, Angola, the Ivory Coast, Nigeria, Uganda, Senegal, Tunisia, Cameroon, Morocco, and Europe, showing a talented emerging generation of artists coming from the continent and diaspora.
In addition to monographic exhibitions featuring Mohau Modisakeng, who will represent South Africa at the next Venice Biennale, Billie Zangewa and Mario Macilau, visitors will have another chance to see the large works on paper by Zimbabwe's representative at the 56th Venice Biennale, Gareth Nyandoro, repurposed objects by Romuald Hazoumé and the poetic installations of the Cameroonian artist Bili Bidjocka. Other represented African artists include Omar Ba, Kendell Geers, Omar Victor Diop, Chéri Samba and Bodys Isek Kingelez.
In addition to exhibitions, the focus on Africa includes other events such as the screenings of a selection of videos Les territories du corps, a day of conferences and meetings, VIP program A Paris au printemps, the festival 100% Afriques, special exhibitions at the Musée de la Chasse et de la Nature, the Musée du quai Branly-Jacques, the Musée Dapper, at the Galerie des Galeries, and a special show titled Afriques Capitales.
The List of Exhibitors
Promises and Solo Show Sections
A section dedicated to emerging galleries and art, Promises promotes twelve promising young galleries, established less than six years ago - 50 Golborne (London), Anna Marra Contemporanea (Rome), Art Twenty One (Lagos), La Balsa Arte (Bogota), Rutger Brandt Gallery (Amsterdam), Galerie Cécile Fakhoury (Abidjan), ELA - Espaço Arte Luanda (Luanda), Espace L (Geneva), The Ravestijn Gallery (Amsterdam), Soda Gallery (Bratislava), Tiwani Contemporary (London) and Tyburn Gallery (London). One of the artists presented at Promises will receive L'art est vivant prize launched by Fine Art Collective.
Solo Show, as the name itself explains, allows visitors to explore in detail works of contemporary artists at over 25 personal exhibitions. The selected names include Eduardo Arroyo (Galeria Alvaro Alcazar, Madrid), Hicham Benohoud (Loft Art Gallery, Casablanca), Marcel Berlanger (Galerie Nicolas Silin, Paris), Marion Boehm (ARTCO Gallery, Aachen), Sou Fujimoto (Galerie Philippe Gravier, Paris), Kendell Geers (ADN Galeria, Barcelona), Thomas Henriot (Galerie Christophe Tailleur, Strasbourg), Richard Hunt (Martin du Louvre, Paris), Hoon Kwak (Phosphorus & Carbon, Daegu, Ulleung-gun), Mohamed Lekleti (Dupré & Dupré Gallery, Béziers), Mario Macilau (Ed Cross Fine Art, London), Tsuyoshi Maekawa (Artisyou, Paris), Ramuntcho Matta (Salamatina Gallery, New York), Najia Mehadji (Galerie Claude Lemand, Paris), Julian Mereuta (Allegra Nomad Gallery, Bucarest), Mohau Modisakeng (Whatiftheworld, Cape Town / Johannesburg), Ugo Schildge (Perpitch & Bringand, Paris), Edouard Wolton (Galerie Les Filles du Calvaire, Paris), Gao Xingjian (Galerie Claude Bernard, Paris), and Billie Zangewa (Afronova Gallery, Johannesburg).
Solo Show will also go on the road with Bus Expo from March 25 until April 3, 2017. The aim of this initiative is to bring art to broader audiences, highlighting the work of five selected artists.
The Location of the Fair
Practical Information
The Art Paris Art Fair 2017 edition opens on Thursday, March 30 and runs until April 2, 2017. The vernissage (by invitation) will be held on March 29, from 6-10pm. Opening times of the Fair are: Thursday 30th March from 11.30 a.m. to 8 p.m; Friday 31st March from 11.30 am to 9 pm; Saturday 1st April from 11.30 am to 8 pm; Sunday 2nd April from 11.30 am to 7 pm. Day ticket price is €25, for students €12. You can check the interactive Fair map here. For any additional info, please visit the Art Paris Art Fair's official web page.
Featured images: Art Paris Art Fair. All images courtesy of Art Paris Art Fair.