He started on the houses of Paris by writing his name on rooftops. After realizing he could make use photography to tell a wider story, he began pasting images he took on walls in numerous illegal sidewalk galleries. When Paris was caught by the riot fire in the mid 2000s, his social consciousness reached a new level of lucidity, and his activist crusade began. His moniker is JR and he is probably the most globally spread street artist.
It's obvious that JR's art comes from activism, but the manner in which this TED prize winner conducts his affairs is entirely different. He does not focus only on several concrete issues as Keith Haring did, nor does he engage in advocating revolution in style of Carrie Reichardt. JR thinks wider, always bearing a universal picture in mind, even if he focuses on concrete, local issues in any of his continuous travels. Recognized by the art world as a prodigy, JR is today known as an activist for women's rights, peace and equality, always having one common quality in all his projects - an idealistic belief in humanity.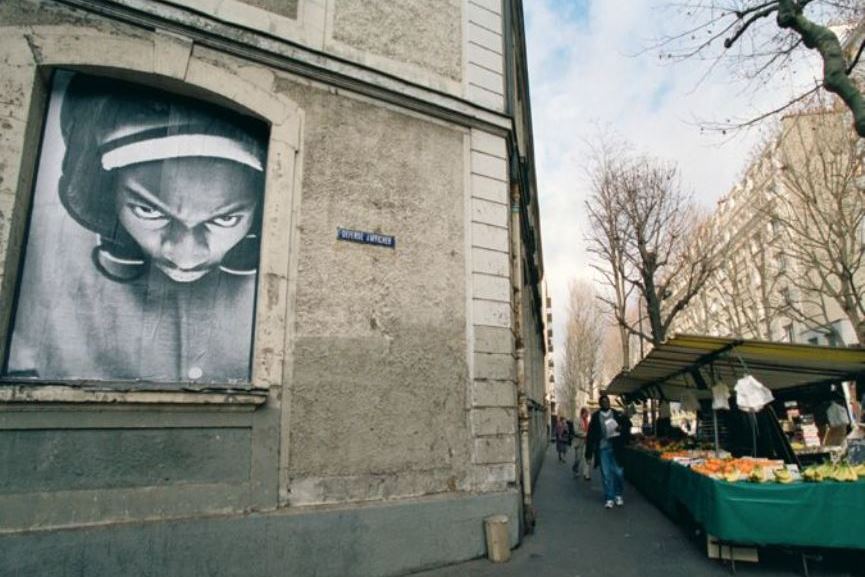 JR - Rooftop Beginnings
The beginnings of JR's activism stem from his firm convictions that people are often served with wrong ideas about anything 'other', while he seeks his subjects in areas where there were no museums, or other cultural institutions. In the Portrait of a Generation project, realized in Paris between 2004 and 2006, JR turned his focus towards the marginal groups of society. Initially, those were kids against whom the prejudice of Parisian bourgeoisie was overwhelming, so pasting posters with their faces across the posh arrondissements of the City of Light had an immense impact. So immense in fact, that the Paris City Hall allowed for JR's photographs to be wrapped around its outer walls.The word prejudice played the crucial role here, as it did in the next adventure of JR, located in the dangerous West Bank area.
(Read about JR's retrospective exhibition.)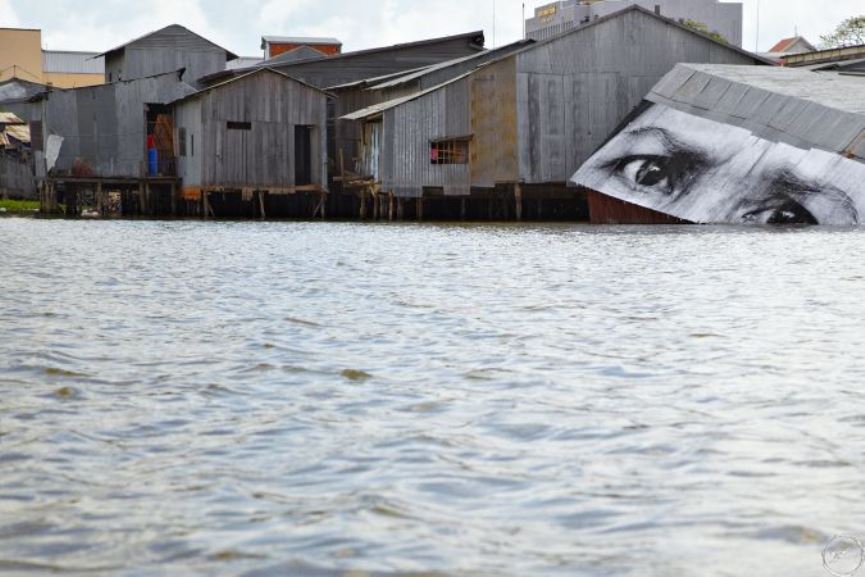 Face 2 Face and Women are Heroes
Hearing a lot about the Israeli - Palestinian conflict, the artist embarked on a journey wanting to experience the situation and, perhaps, help overcome it on some level. Fighting against prejudicial 'other', he pasted photographed portraits of Palestine and Israeli people on the West Bank barrier, one next to the other, on both sides of the wall. He called the project Face 2 Face, and as he was looked disapprovingly by some for putting pictures of Israelis or Palestinians in the enemy zone, rarely could those people tell apart which one was which. By confronting two opposites, putting them in the same place and leveling them, JR did the unthinkable in a way, which aided in the understanding of absurdity of their discord. His actions stood for tolerance and acceptance, for peace, suggesting an alternative of friendship instead of clash.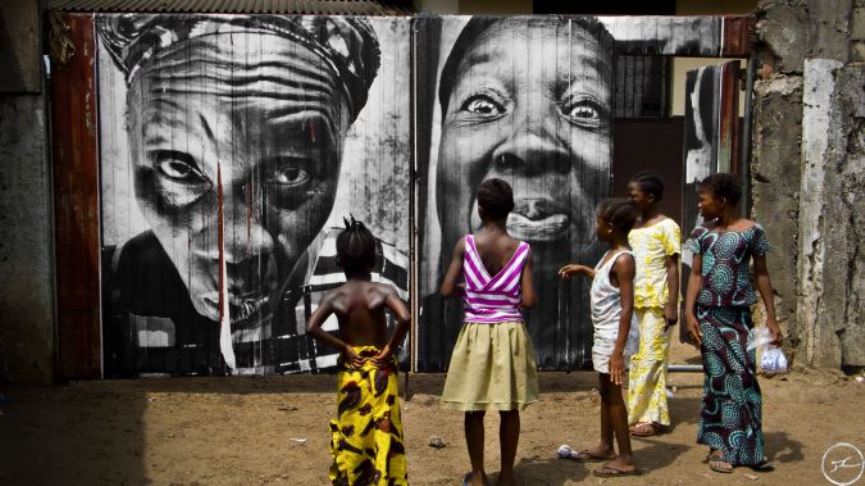 The development of JR's evolving artistic and socially engaged practice took him in the direction of advocating women's rights as well. He started this initiative in the favelas of Rio de Janeiro, and spread it across places with the highest rate of social distress. Women are Heroes project went from Brazil to Sierra Leone, Liberia, Kenya, India, and Cambodia highlighting women as the most vulnerable and the strongest survivors of any given problem they encounter in the unsettling conditions they live in.
Art to the People
It's hardly surprising that JR chose public art for his primary expression. The illicit nature of his works is there to emphasize the direct communication with the people, his partners in crime. The response and the reaction if what JR is trying to provoke, while the opinions of the stale elite are of little interest to him. He wants to move the masses, propagating equality and human values with every step of the way. Even his more sentimental projects, Unframed and Wrinkles of the City, posses a clear critical or empowering tone, fighting for everyman, or the too-frequently overlooked social groups. Still, his latest concept, the one that made him a global phenomenon, is what embodies JR's activism the best.
Inside Out Can Change the World
Already a king of street art, JR decided to involve people in his ideas. When giving his inaugural TED talk in 2011, JR asked a crucial question - Can art change the world? He did not offer a yes or no answer at the time, stating that art definitely can change how people perceive the world, altering the viewing angle, while proclaiming his wish - to use art to turn the world inside out. Then and there, the biggest participatory art project in the world was born - Inside Out Project. As the winner of a million dollar prize, JR started engaging people across the world to make a photographic statement, to stand for their beliefs, to make their mark, The response was (and still is) vast, as the photobooths aiding in photographing people and the exhibitions spread from the USA to China. Using photography as activism, JR achieved in reaching out to millions, who dared in making themselves to be, visible and thus, known and heard.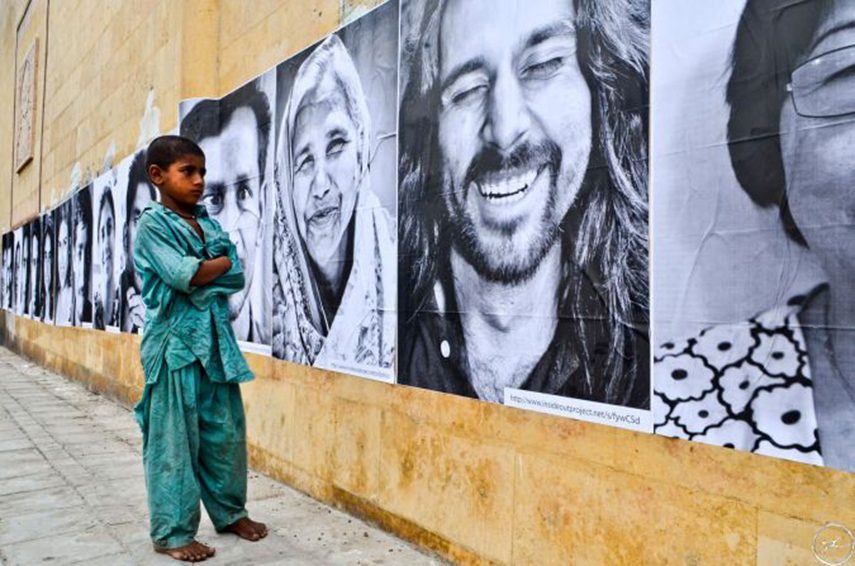 Accomplishments of JR's artistic engagements have surpassed all expectations. The success and the acceptance they get from local communities testify to the purposefulness of his actions, as he succeeded in changing the dynamics of various, tightly knit, groups of people. Acting locally, they made an impact on the global scene, reintroducing the most universal human values into a over-stratified global society. People have become their own brand, while the artist insists on not having any logos, sponsors or credits on his art, giving it back to the people. Therefore, JR's anonymity is logical and deliberate, as he is only the vessel of the community. His photographic activism takes him to where he is needed the most, where he endeavors to put an ordinary man on the global map, so that when he is looked at, he can always look back.
Stay up to date with all things related to art with a free sign up for My Widewalls!