Over 500 leading contemporary artists, museum exhibitions, labs, events and talks will once again gather at Art San Diego, the most anticipated contemporary arts show in the area. Coming back for the eight time this year, it promises another four days of rich, comprehensive program featuring national and international talent, as well as numerous cultural initiatives. Founded in 2009, the show is San Diego's biggest of its kind, bringing compelling site- and theme-specific projects, talks and panel discussions and artworks in a variety of media and styles every year. This time round, we can expect more than 60 galleries from around the world, showcasing paintings, sculptures, drawings, prints, photographs, videos and multimedia pieces.
ASD16 [THRESHOLD] Promo Video
Program Highlights
Making sure there is always something new to offer, the creative team behind Art San Diego will once again focus on collecting, through a program branching out in different correlated fields As usual, there will also be a special exhibition by the 2016 San Diego Art Prize recipients, chosen by San Diego Visual Arts Network and honouring local talent and their achievements. William Feeney and Shinpei Takeda from the Network will choose two established artists to mentor and co-exhibit with at the Athenaeum Music & Arts Library. In Spotlight Artists, there will be site-specific solo exhibitions of a selection of cutting-edge artists. Also returning is The LaunchPad Program showing Stefani Byrd, whose practice includes video, new media and interactive technologies. She is known for her temporary public art installations, hybrids of video and performance art which engage with the passersby. As part of the Art Labs, we can look forward to Heroic Procession, a an improvised 30-minute production and a collaborative exploration of migration and movement through visual art, dance, and sound that includes Tijuana visual artist Hugo Crosthwaite, violinist Marilu Salinas, and Japanese Butoh dancer Theresa Magario. The production takes place in this interstitial space, between man and nation, between nation and nation, and between graphite, dance, and sound.
The piece will be performed at Art San Diego on Saturday, Nov. 5th, at 7 p.m.
List of Exhibitors
The Open Walls Project
The second Art Labs project is the Open Walls Project, the third public installation to be shown in October and November; leading contemporary artists will be chosen to turn commercial billboards and community spaces throughout downtown San Diego into works of public art, telling the story based on the show's curatorial theme [THRESHOLD]. This year's selection of participants has been curated by Marcos Ramírez ERRE and Ann Berchtold and it includes Marcos Ramírez ERRE, Sam Durant, Rigo23, Andrea Bowers, and Daniel Guzman. Each of them will create two billboards which incorporate contemporary political issues such as deportation, immigration, and police brutality.
Three of the works from the Open Walls Project will go up on October 17th and seven additional works will go up on October 31st. All billboards will be up for the duration of one month. Billboard locations will span from the Tijuana/San Isidro border up throughout downtown and North Park. The project will culminate with the last billboard, by artist Andrea Bowers, being unveiled at Art San Diego during the Opening Night Preview Party on Thursday, November 3rd, at 7:30 p.m.
The Open Walls Project Art San Diego 2016 - Billboard Locations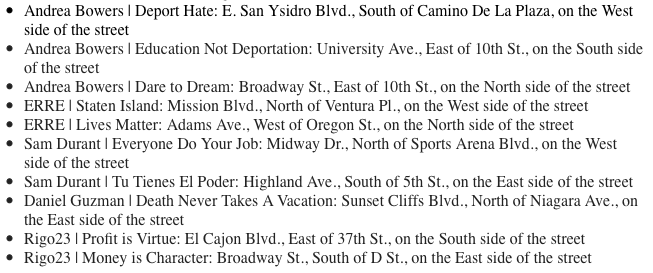 Floor Plan
Art San Diego 2016 - Practical Information
Art San Diego 2016 will be held from November 3rd through 6th at the Balboa Park Activity Center in San Diego, CA, USA. The First Preview is scheduled for November 3rd from 5pm to 7pm (UBS & Collectors Club by invitation only), while the VIP Opening Night is set between 7pm and 9pm. Fair hours will be 12pm to 8pm, and 12pm to 5pm on closing day. Ticket prices for the event range from $75 for the opening night, $25 for the 3-day pass ($15 for students and seniors) to $20 for the 1-day pass ($10 for students and seniors). Displayed prices are for online booking and purchase and they vary at the door. For more information, please visit the official website.
Location of Art San Diego 2016
Featured images: Art San Diego 2015. Used with permission.privacy