Returning to the Santa Fe Community Convention Center this July for its 18th edition, Art Santa Fe continues its exploration of world-class modern and contemporary art.
Under the annual theme of Allure, referring to the undeniable power of contemporary and modern art to captivate, seduce, and charm all those who are inspired by the work, Art Santa Fe 2018 will bring together 54 local and international galleries.
Showcasing the thriving art landscape of the city, the fair will present specially curated programming, special events, and entertainment. Among cutting-edge artwork and inspiring projects will be an impressive live demonstration by the American artist Terry Boyd. Using a bow and arrow, the artist will create a new work of art before the eyes of the fair's visitors.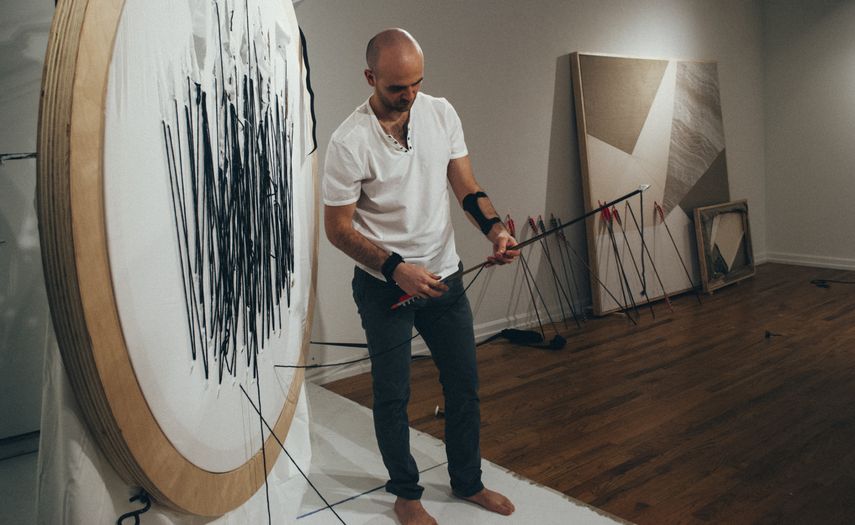 The Practice of Terry Boyd
A multi-platform artist whose practice spans performance, pattern and fiber art, Terry Boyd explores the mind through his art. Using both drawing and unconventional sewing techniques, he creates a visual "white-noise" with an aim to connect audiences to lost memories, forgotten dreams, and personal histories by allowing them to delve deep into the unconsciousness. His practice is process-based, using its repetitive nature as a visual mantra that triggers a meditative state.
In his staged performances, he uses a compound bow to shoot a yarn-tethered arrow back and forth through a stretched canvas, not only mimicking the process of sewing but also magnifying it. Tearing apart gallery walls and disintegrating fabric in the process, he refers to the elegant tension between life and death.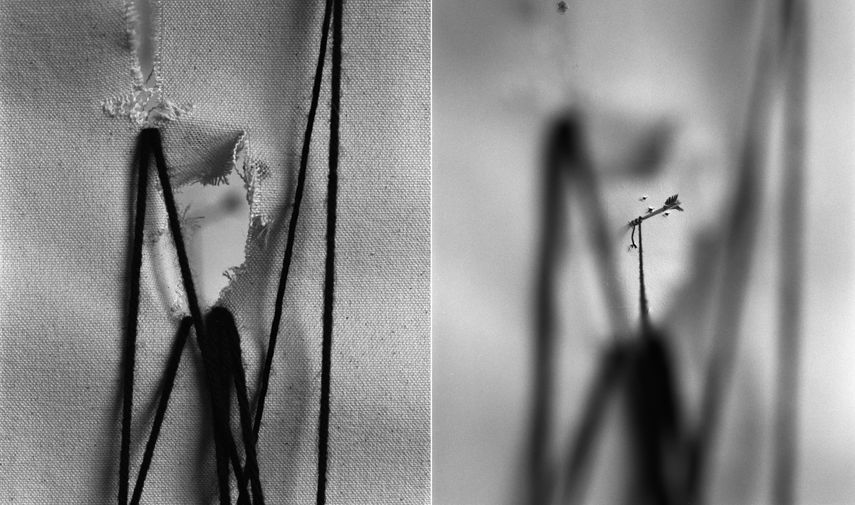 Broidery From an Archer's Eye
During Art Santa Fe, Terry Boyd will do live demonstrations, allowing the visitors to witness his exciting creative process. Experimenting with traditional sewing, he will create an abstract work of art with a bow and threaded arrow only. During his process, he will break the mending and healing metaphor of sewing, evoking a violent process instead. At the same time, he will draw the viewers to the allure of the unending elegance of the line.
Sponsored by Mia Feroleto from New Observations, Booth 210, the demonstration will take place at the Pre-Function Area of the fair on Thursday, July 12th at 7 p.m., Friday, July 13th at 2 and 5 p.m., on Saturday, July 14th at 2 and 5 p.m. and on Sunday, July 14th, at 1 p.m.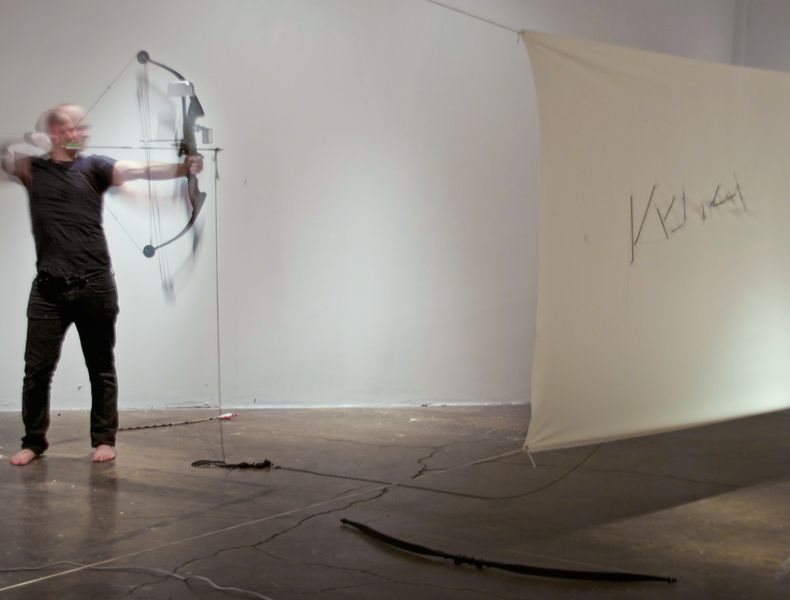 Art Santa Fe 2018
Art Santa Fe 2018 will take place at the Santa Fe Community Convention Center from July 12th until July 15th, 2018. The Opening Night Party will be held on Thursday, July 12th, from 5 to 9 p.m.
The doors of the fair will be open to the public from 12 to 7 p.m. on Friday and Saturday and from 11 a.m. to 5 p.m. on Sunday.
The price of the ticket for the Opening Night Preview Party for 2 people will be $100, the 3-Day Pass for General Public will be $25 ($15 for students and seniors), while the 1-Day Pass will be $20 ($10 for students and seniors). The entry for children under the age of 15 will be free of charge.
For more information, visit the official website of the fair.
Featured image: Terry Boyd, Perhaps She is Frightened at Being Dead (installation - Joanna Angie Gallery, Buffalo NY). All images courtesy of the artist and Art Santa Fe.