Ladders and window break-ins, cut ceilings, smoke bombs, disguises, or the simplest walk-in-and-out. These may sound like the plots of action movies, but what if we told you that they were each a part of an actual, and successful, art theft ? Each year, more than 50,000 artworks are stolen on a global scale, and only a small fraction, or some 5% to be precise, is ever returned to the rightful owners. Works of art get stolen on every corner, from public spaces, collectors' houses, institution archives and storage facilities, renowned museums and respectable galleries even, contributing to as much as $8 billion of black market worth for stolen art annually. But while in films, we encounter smooth, mastermind criminals who study their victims and plan their attacks for months in advance, reality is much less exciting. Given the poor security of many venues, thieves are usually individuals or groups who have no interest in art per se: all they have to do is find out which is the most expensive artwork they hold and head straight for it, committing crimes of opportunity, more than anything else.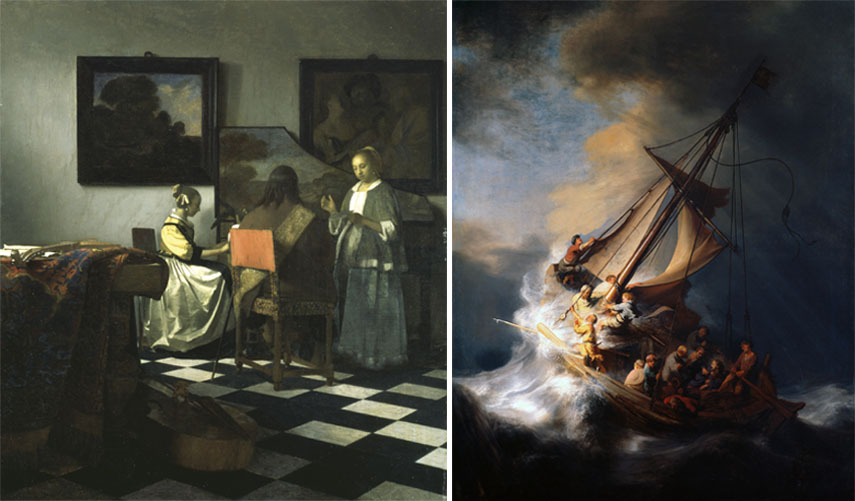 From Museum Walls to the Deep Underground
What happens once artworks are stolen from a museum? Many owners are reluctant to notify the authorities, mainly because usually there are no squads specializing in art theft - with the exception of countries like Italy, with a dedicated police department and organizations like the FBI in the United States and Interpol on an international level. The artwork ends up on a black market, and the more valuable it is, the harder it gets for it to change hands and be sold; in fact, stolen art sells for only a small faction of their open market value, or some 10%. Some owners may engage in private negotiations with thieves in attempt to return it, although these cases are fairly rare. Many advise solutions that range from tighter security to stricter penalties for thieves if/when they get caught to prevent an art theft from happening, because once it does, it is remarkably hard to trace it and return it to where it belongs.
The World's Most Expensive Paintings Stolen in an Art Heist
Art Theft - When What's Stolen is More than Just Artworks
Whether you care for it or not, art represents a fine means of a public good which does not depend on the enjoyment of a single person. While we wonder why we're not doing more to protect it as such, stealing artworks means much more than taking a canvas off the wall - it strips society down of its cultural values and historical heritage. Think of The Storm on the Sea of Galilee by Rembrandt, or Vermeer's The Concert still lost somewhere, with little chance of recovery, if not by pure luck, at this point. Unfortunately, these two examples are just a couple in the sea of others that have been stolen over the past century.
Behold the most famous cases of artworks stolen in an art theft.
 Editors' Tip: Museum of the Missing: A History of Art Theft
In recent times, art theft has captured the public imagination more than ever before, spurred by both real life incidents (the snatching of Edvard Munch's well-known masterwork The Scream) and the glamorous fantasy of such Hollywood films as The Thomas Crown Affair. The truth is, according to INTERPOL records, more than 20,000 stolen works of art are missing - including Rembrandts, Renoirs, van Goghs, and Picassos. Museum of the Missing offers an intriguing tour through the underworld of art theft, where the stakes are high and passions run strong. Not only is the volume beautifully written and lavishly illustrated - if all the paintings presented here could be gathered in one museum it would be one of the finest collections in existence - it tells a story as fascinating as any crime novel.
Featured image: The empty space where Henri Matisse's painting La Liseuse en Blanc et Jaune was hanging at the Kunsthal museum in Rotterdam, Netherlands. Seven paintings by artists including Picasso and Monet were stolen from the museum. Image credit Associated Press
Da Vinci's Mona Lisa, Louvre, 1911
Sometimes it is as simple as hiding a painting under your coat. This is the car of Vincenzo Perugia, an Italian man living in France in 1911. He was also an employee of the Louvre, which is how he got his hands on Mona Lisa, painted by his countryman Leonardo da Vinci. Why would a work of a great painter from Italy be anywhere else but in Italy? For two years, Mr Perugia managed to bring the artwork "home" before he was caught trying to sell the piece to an Italian museum. He was sentence to one year in prison. Since then, the Louvre improved its security and, as you know, the Mona Lisa can now be found behind a protective glass.
Featured image: The Mona Lisa on display in the Uffizi Gallery, in Florence, 1913. Museum director Giovanni Poggi (right) inspects the painting. Image via Wikimedia Commons
The Musee Marmottan Monet, 1985
Staying in the French capitol some seven decades later, at the Musée Marmottan Monet. Its remarkable collection of 300 Impressionist and Post-Impressionist works by Claude Monet, the largest of its kind worldwide, attracted many visitors, including five masked gunmen in 1985, who entered the museum and stole nine paintings. Among them, there was Impression, Sunrise, completing the value of all paintings to $12 million. In 1990, the police solved the case by linking it to a yakuza gangster and two members of an art syndicate, who hid the works in a small villa on the island of Corsica.
Featured image: Claude Monet's Impressions, Sunset from 1872, recovered from a heist in 1990. Image via Wikimedia Commons
The Isabella Steward Gardner Museum Heist, 1990
Isabella Stewart Gardner was a Boston heiress who collected art during her many travels all over the planet. Her collection was housed by the museum of the same name - a name that became the equivalent of frustration for the FBI agents who have been working on the case of an art heist from more than 25 years ago. A pair of thieves disguised as Boston police officers entered the museum and stole thirteen prominent works of art valued at whopping $500 million. Among them, the aforementioned Rembrandt and Vermeer, although some more valued works remained intact. The Isabella Stewart Gardner Museum is still offering a $5 million reward for information leading to recovery of works, although the FBI is still working on the case with occasional progress in investigation.
Featured image: Views of empty frames at Isabella Steward Gardner Museum in Boston, by Josh Reynolds, AP
Van Gogh's Sunflowers, Van Gogh Museum, 1991
In 1991, two men concealed themselves in the gallery and robbed The Van Gogh Museum in Amsterdam of nineteen works by the great Dutch master, including the famous Sunflowers. The thieves took security guards hostage and forced them to turn off the alarm, subsequently spending 45 minutes deciding which paintings to take. Once they did, they stashed them in garment bags and took them away in a car. Luckily for us, they were discovered thirty five minutes later in that same car, which they abandoned in the meantime. The works were severely damaged, but the restorers managed to recover them.
Featured image: Vincent van Gogh's Still Life- Vase with Fifteen Sunflowers, 1889. Image via Wikimedia Commons
The National Museum Stockholm, 2000
The art theft that happened in Stockholm in 2000 is worthy of a James Bond movie. Before entering the Swedish National Museum with a machine gun, three masked robbers planted decoy bombs around the city to distract the police. They took $30 million in works from the art collection, including a self portrait of Rembrandt and the Renoir paintings Jeune Parisienne and Conversation. The men made their escape by leaping into a waiting speedboat. Eventually, eight men were convicted and all three masterpieces were returned to the Nationalmuseum.
Featured image: The National Museum in Stockholm, via The Geography of Thieves
Munch's The Scream, Munch Museum, 2004
Did you know that Edvard Munch painted four versions of his most famous work, The Scream? Naturally, with a popularity like it has, it has been the target of numerous thefts, and some of these versions suffered damage as well. The best known art theft case happened in 2004, when the 1910 tempera on board version of The Scream was stolen during daylight hours, alongside with Munch's Madonna. In 2006, the thieves were finally caught and brought to justice; however, the pieces they stole were damaged, in forms of tears and holes.The Munch Museum was closed for ten months for a security overhaul.
Featured image: Edvard Munch's The Scream and Madonna from the Munch Museum in Oslo, via telegraph.co.uk
Moore's Reclining Figure, Henry Moore Foundation, 2005
The bronze sculpture entitled Reclining Figure made by artist Henry Moore was stolen from the yard of the Henry Moore Foundation in England in 2005. Weighing 2.2 tons and estimated at £3 million, it was taken away by a crane-equipped flatbed Mercedes truck stolen from nearby Roydon. It is believed that the sculpture was cut up for scrap the same night it was taken, and shipped to Rotterdam and then probably to the Far East. Even though the Foundation offered £10,000 for its safe return, the robbers probably got some £1,500 for its scrap metal.
Featured image: A version of Henry Moore's Reclining Figure 1969–70 displayed in the Lola Beer Ebner Sculpture Garden at the entrance the Tel Aviv Museum of Art, via Wikimedia Commons
Museu da Chacara do Ceu, 2006
In February 2006, a carnival parade was passing by Rio de Janeiro's Chácara do Céu museum, giving three men the perfect disguise and an opportunity to invade it for art theft. In an audacious move, the paintings Man of Sickly Complexion Listening to the Sound of the Sea by Salvador Dalí, The Dance by Pablo Picasso, Luxembourg Gardens by Henri Matisse and Marine by Claude Monet were stolen, leaving the whole country of Brazil without some of its most treasured paintings. Estimated at some £30 million, the works haven't been recovered yet.
Featured image: A room at the Chácara do Céu art museum in Rio de Janeiro, Brazil, after paintings by Matisse, Picasso, Monet and Dali were stolen, via AFP
Foundation E. G. Buhrle, 2008
The story of the art theft at Foundation E. G. Bührle in Zurich, Switzerland, is a successful one. In 2008, four paintings of a total of $162.5 million were stolen, and recovered at different locations: Paul Cézanne's The Boy in the Red Vest was found in Serbia in 2012; Edgar Degas' Count Lepic and His Daughters the same year, with slight damages; Claude Monet's Poppies near Vétheuil and Vincent van Gogh's Blossoming Chestnut Branches were recovered in 2008, in a car market at a nearby hospital's parking lot.
Featured image: Police and museum president attend a press conference after having retrieved two of the four stolen paintings of the Bührle Foundation museum, via AFP
The National Museum of Modern Art in Paris, 2010
Over the night of May 20th 2010, a masked man smashed the window of the Musée d'Art Modern in Paris, taking €100 million worth of paintings by Pablo Picasso, Henri Matisse, Georges Braque, Amedeo Modigliani and Fernand Léger. The thief carefully removed the paintings from their frames, which he left outside the museum. The museum officials later admitted the museum's new alarm system had not been fully functioning for several weeks, which is why it did not detect the burglar. This art theft is one of the biggest in history, and the authorities have asked the thieves to return the works on several public occasions, simply because they are "unsellable".
Featured image: Police look at painting frames outside the Paris' Musee d'Art Modern where five works were stolen, via AFP. All images used for illustrative purposes only.