Following the death of George Floyd, an unarmed black man who pleaded that he couldn't breathe while he was held down with a knee by a police officer, America is on fire. All across the country, thousands of protesters have taken to the streets in demand for justice and police accountability.
Meanwhile, social media is flooded with images and videos of more police brutality as the country is trying to suppress the protests. This is how the art world reacted to the civil unrest.
A Database for George Floyd-Related Street Art Created
The University of St. Thomas in Minnesota has created a database for the George Floyd and Anti-Racist Street artworks created around the world. A group of students and professors are working to ensure that art created around the world during this vital moment in history isn't forgotten.
The database serves as a repository for images and a future resource for scholars and artists. The creators of art are also invited to submit their work through the website here.
Photographers Raise Funds for BLM
Don't Back Down! is a new platform launched this July to raise money for the US-based charities in support of the Black Lives Matter movement. More than 40 photographers are selling $150 prints and giving the proceeds to Equal Justice Initiative, Inner City Arts and The Okra Project.
If you would like to support the project, please click here.
Carrie Mae Weems' New Campaign Raises Awareness on Covid-19
The United States are in the top 3 countries in the world when it comes to the number of people who died from COVID-19. However, people of color are three times more likely to die from the virus than white people.
RESIST COVID TAKE 6! is a new public art initiative launched by photographer Carrie Mae Weems, to raise awareness about this disproportion. The artist will promote preventive measures to the people of Syracuse, New York, in form of billboards, PSAa on local radio stations and social media platforms, as well as items such as tote bags, posters, flyers, magnets, etc.
Commenting on the project, Weems said:
We've all been impacted by COVID-19. It's an ecological health crisis of epic proportion—an international disaster. And yet we have indisputable evidence that people of color have been disproportionately impacted. The death tolls in these communities are staggering. This fact affords the nation an unprecedented opportunity to address the impact of social and economic inequality in real-time. Denial does not solve a problem.
Hank Willis Thomas Project Artwork On US Justice Department Building
Writings by incarcerated and formerly incarcerated people were projected onto the US Department of Justice building in Washington, DC as part of Hank Willis Thomas's latest artwork.

The one-hour-long installation aims to highlight the impact of the coronavirus pandemic on US prisoners and was done in collaboration with Incarceration Nations Network (INN). Using bright yellow and white text taken from poems, stories, letters and notes written by people in prison, Thomas continues his ongoing series titled The Writing on the Wall, conceived together with Baz Dreisinger, founder of INN, in 2013.
Buy A Print and Support Art for Philadelphia Bail Fund
A group of Philadelphia artists, among them Alex Da Corte and Jonathan Lyndon Chase, is producing work in response to the current protests against police brutality. The proceeds of the sales of these affordable prints will support the Philadelphia Community Bail Fund.
Through July 4, you can buy prints in editions of 20 as part of the Art for Philadelphia Bail Fund.
See and buy the works here.
Among individual artists who are selling their work in support of the Black Lives Matter movement is photographer Paul Mpagi Sepuya, who is selling an open edition of his work Studio (0X5A4983) (2020) through Document Gallery Chicago.
To purchase a print, please make your donation to any of the organizations listed below. Then e-mail your donation receipt to solidarity@paulsepuya.com with your full name and mailing address.
Alliance of Californians for Community Empowerment
Black Lives Matter Los Angeles
Black Trans Advocacy Coalition
Black Lives Matter Yellow Writing Painted in D.C.
Along two blocks of Washington, DC's 16th street - the one leading up to the White House - has been painted in giant, bright yellow paint to spell out "BLACK LIVES MATTER."
The project was initiated by Washington DC's own Mayor Muriel Bowser ahead of the big protest planned for the weekend of June 6-7 in the Capital.
The Mayor also went on to name the street Black Lives Matter Plaza, to formally mark the mural, and even erected a new street sign.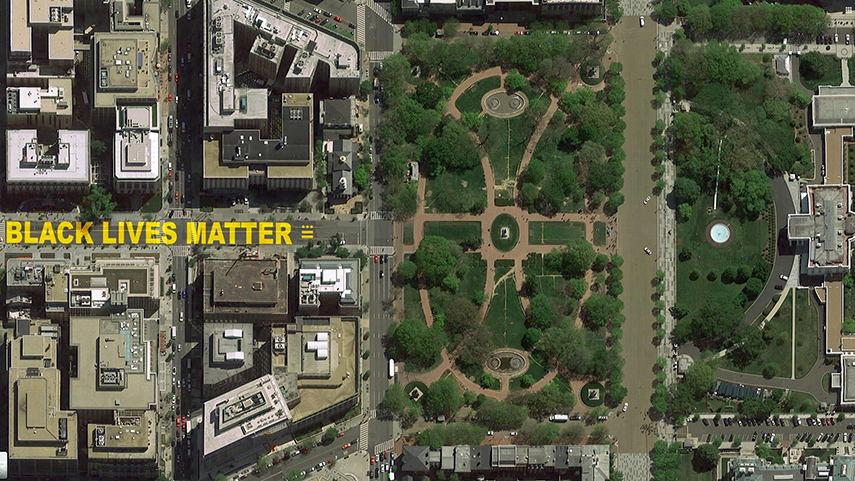 Banksy Shows Support For The BLM Movement
Whenever Banksy posts something on Instagram, it ends up making the headlines around the world. The mysterious artist has posted an image along with a statement that reflects on his views of the ongoing protests against police brutality, which have also gained momentum in the UK.
A Titus Kaphar Painting Graces TIME Cover
TIME Magazine's latest issue dedicated to the nationwide protests, titled TIME Special Report: Speak Their Names, has a poignant painting on its cover.

Painted by Titus Kaphar, it depicts an African-American mother holding a silhouette of a child. Commenting on the work, the artist said:
This black mother understands the fire. Black mothers understand despair. I can change nothing in this world, but in paint, I can realize her. That brings me solace … not hope, but solace. She walks me through the flames of rage. My black mother rescues me yet again. I want to be sure that she is seen. I want to be certain that her story is told. And so this time, America must hear her voice.
This is not the first time that Kaphar donned an artwork for a TIME cover. In 2014, following the Black Lives Matter protests in Ferguson, it was his work titled Yet Another Fight For Remembrance.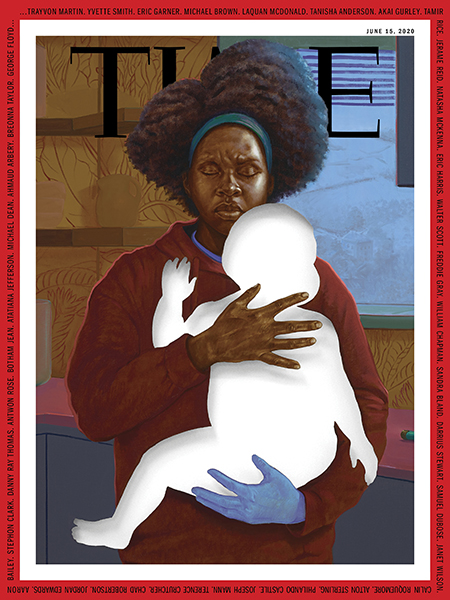 Museums Cut Ties with Police
Two of Minneapolis's major art museums have pledged to cut ties with the city's Police Department, following the unrests across The States.
The first to do so was The Walker Art Center. In a statement issued on June 3, the museum said that it would stop hiring police for its events "until the MPD implements meaningful change by demilitarizing training programs, holding officers accountable for the use of excessive force, and treating communities of color with dignity and respect. Enough is enough. George Floyd should still be alive. Black lives matter."
In an email to Artnet, a representative of The Minneapolis Institute of Art also confirmed that they will not contract off-duty police from the local PD.
Joining the list is the Museum of Contemporary Art Chicago. After a 2019 photograph depicting museum staffers posing with a donation check to the city's 18th District precinct resurfaced on social media, and an open letter sent by the Teen Creative Agency (TCA), the museum's youth development program, the institution announced it would stop contracting CPD's services until the department makes significant reforms, writes Hyperallergic.
Critical Minded Launches Relief Fund for Critics of Color
Critical Minded, a grantmaking and educational initiative, has set up a new Covid-19 relief fund that aims to provide financial assistance to cultural critics of color in the United States during the pandemic.
The initiative will accept applications for funding up until the end of the day on Monday, June 8. To be eligible for the program, critics must self-identify as belonging to an underrepresented group in the US or US territories and must submit three work samples of cultural criticism on the disciplines of dance, film/television, food, literary arts, music, theater, or visual art that were written in either English or Spanish and published on January 1, 2019 or after. Recipients will be given one-time, need-based grants of $500.
To apply for financial relief, click here.
Jammie Holmes Stages a Public Demonstration In The Sky
On May 30, artist Jammie Holmes staged a 5-city public demonstration in response to the murder of George Floyd by Minneapolis Police.
Airplanes with banners bearing the writings of Floyd's final words flew above Detroit, Miami, Dallas, Los Angeles and New York. The statements included "Please I Can't Breathe" and "They're Going To Kill Me."
Museums Speak Out...
As the protests raged throughout the country, many museums started issuing statement in support of the Black Lives Matter movement. Here are some of the statements:
Art Institute of Chicago: "The museum cannot divorce itself from the struggle. We stand in solidarity with the black community, and we recognize—and are committed to engaging in—the tremendous amount of work to be done to build true equity and fight systemic racism, in both our institution and our city."
Detroit Institute of Arts: "We stand in solidarity with the people of Detroit and those around the world appealing for an end to racism, inequality, brutality and fear. The Detroit Institute of Arts commits to serving as a place of inclusion, diversity & equity for everyone in our community and beyond."
High Museum of Art, Atlanta: "For our city and nation, this moment is distinctly about the fact that black lives matter. Because Atlanta is our city; it is the birthplace of the Civil Rights Movement; and because as your art museum we draw inspiration from the bravery, candor, and commitment of those who have built this community of progress with their actions; we despair at the senseless violence and loss of life that continues to threaten members of the African-American community…."
Leslie-Lohman Museum, New York: "We are heartbroken, we are angry, and we are forever an institution that is committed to anti-racism. Yet, in spite of the radical and beautiful histories of the Museum, we, like all other museums, are plagued by the very same inequities and blind spots that are being protested on the streets today."
Los Angeles County Museum of Art: "We stand with our community in rejecting racism, in mourning, and in demanding justice for the deaths of countless African Americans who continue to be targeted by systematic violence. We recognize that museums cannot claim neutrality in addressing the horrific issues that have plagued our society for centuries."
Museum of Modern Art, New York: "We grieve with the families of George Floyd, Breonna Taylor, Ahmaud Arbery, David McAtee and Tony McDade—and with so many others in America's black communities—who have suffered appalling losses and live in fear because of racism, abuse, violence and injustice."
Portland Art Museum: "We stand in solidarity with our community, staff, and partners demanding racial justice…We also recognize our own museum's role in supporting systems of oppression and inequity over a 127-year history, and pledge to continue our commitment to listen…to learn…to be accountable to our shared humanity.…"
Smithsonian Institution statement from Secretary Lonnie G. Bunch: "Not only have we been forced to grapple with the impact of a global pandemic, we have been forced to confront the reality that, despite gains made in the past fifty years, we are still a nation riven by inequality and racial division. The state of our democracy feels fragile and precarious."
Studio Museum in Harlem, New York: "Since its founding, the Studio Museum has exhibited work by black artists committed to bearing witness to acts of protest. The act of protest is a loud cry for justice, one that demands to be heard and felt."
...And Museums Are Criticized
However, as protests raged throughout the country, it took days for the majority of the museums to react and only after feeling the pressure from the public. Many have been criticized by high-profile activists, curators and artists for not speaking up earlier or not being direct enough about the issue.
After being criticized on Instagram for their post which was described as a "thoughts and prayers" statement, The Getty responded with an apology: "We heard you. We learned that we can do much better expressing our Getty values than we did yesterday, and we apologize."
An Instagram post from the San Francisco Museum of Modern Art which only included a work from Glenn Ligon without mentioning Black Lives Matter and Floyd, also drew controversy that forced the museum to apologize. "We can do better," explaining that the original post ought to have "more directly expressed our sadness and outrage."
At the same time, the Museum of Modern Art published an artwork by David Hammons in a restrained Facebook post describing the events as "intolerable injustice." Later, they tweeted a more direct statement that included the names of several Black Americans who have been killed by members of the police, including Floyd, Breonna Taylor, Ahmaud Arbery, David McAtee, and Tony McDade.
Many industry members and groups spoke out about some of the museums simply not doing good enough. Kimberly Drew, who worked as the Met's social media manager, tweeted, "As a former social media manager, I understand firsthand that finding something to say can be hard work. I am also saying that I would like to see you do that work."
Chris Anagnos, executive director of the Association of Art Museum Directors, published a letter saying, "We have dabbled around the edges of the work, but in our place of privilege we will never live up to the statement that 'museums are for everyone' unless we begin to confront, examine and dismantle the various structures that brought us to this point."
The White Pube, the collaborative identity of Gabrielle de la Puente and Zarina Muhammad, publicly called out Tate and 1-54 Art Fair for their lack of action. In their Instagram post, they shared the Instagram interaction between an Instagram user and the fair. The user criticized them for being silent about what's happening in the country to which the fair responded that "1-54 is sometimes reluctant to communicate about current political matters," but that they would "consider opening [their] social media platform to artists who want to share their feelings."
After they finally posted an image of a Toni Morrison quote with a Black Lives Matter hashtag, The White Pube wrote: "Are you telling me, 154, that your entire FOR PROFIT BUSINESS MODEL is based on a woke-washed faux-progressive position, supposedly advocating for black artists, while NO ONE ON UR CORE TEAM IS BLACK, and that's the best you thought you needed to do?"
Commenting on Tate's statement of support to Black Lives Matter, the White Pube reminded the public about the museum's 2019 statement about their "association with slavery," as beneficiaries of Henry Tate's fortune, amassed in the sugar industry, but also their workforce diversity reporting where only "13% of Tate Gallery staff were from 'BAME'* backgrounds mostly in the bottom 2 salary bands," as well as staff's reports about "their experiences of insidious racism from supervisors, co-workers, institutional practice at large."
Some also pointed out the role of the museums, which are now posting Black Lives Matter, in "the social death of black folks". "Do black lives matter on your curatorial team or board? do they matter in your collections and shows? They have to earn the right to say black lives matter," wrote critic Antwaun Sargent.
Featured image: A mural in Minneapolis by Xena Goldman, Cadex Herrera, Greta McLain, Niko Alexander, and Pablo Hernandez.

c