From February 15th-19th, 2018, the seventh edition of Art Wynwood welcomed more than 25,500 guests to its new location, the former site of the Miami Herald that overlooks beautiful Biscayne Bay in Downtown Miami. Art collectors and enthusiasts could find contemporary and modern art from emerging talent, mid-career artists, blue chip, post-war and modern masters showcasing a dynamic array of murals, pop surrealism, street art and other genres.
Each year, Art Wynwood takes place over President's Day Weekend. Set apart from the frenzy of Art Basel Miami and the many satellite fairs, it is a welcome opportunity for art lovers to take their time and make a day of it.
There is also a sense of community where gallerists are happy to engage with their guests and introduce unfamiliar artists; artists gift their art or talent in support of causes; and, the fair itself hosts a variety of benefit events.
Here are some highlights:
HG Contemporary Art Center
Located in New York City, HG Contemporary Art Center is an art agency representing contemporary artists from around the world. The gallery presented a solo exhibition of works by Chinese artist, Liang Jing.
The large black and white paintings stop the viewer and one can't help but be entranced by their topography-like forms of mystical places. Art historian and critic Dr. Natalia Fang comments on Liang's works:
Upon closer study, you see unexpected twists and changes in Liang Jing's brushstrokes that turn his paintings into a force of nature, compelling and inexorable.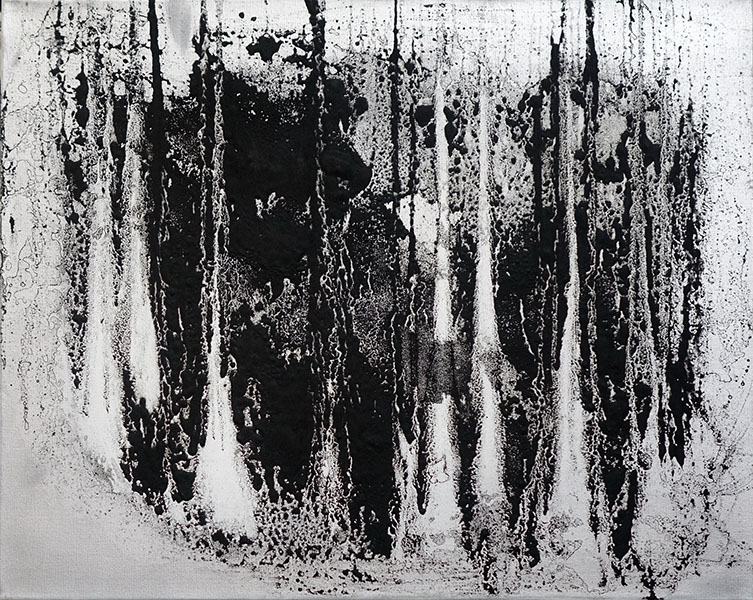 MAC Art Consulting
Mazzucchelli Art Consulting (MAC) is based in Milan, Italy but recently opened a Miami office and hopes to eventually expand and open an art space dedicated to showcasing the works of contemporary Italian artists. The gallery's Art Wynwood presentation was colorful and animated, and ceramic sculptures by Giorgio Laveri (of Savona, Italy) beckoned for observation.
He places the everyday object into the spotlight in an unconventional and sensual way. Most significant, was Boom Boom, a large revolver glazed in platinum and gold. Looking into the barrel of the revolver, one eerily reflects upon the gun control debate amplified following the Stoneman Douglas shooting that took place February 14th, one day before Art Wynwood's opening.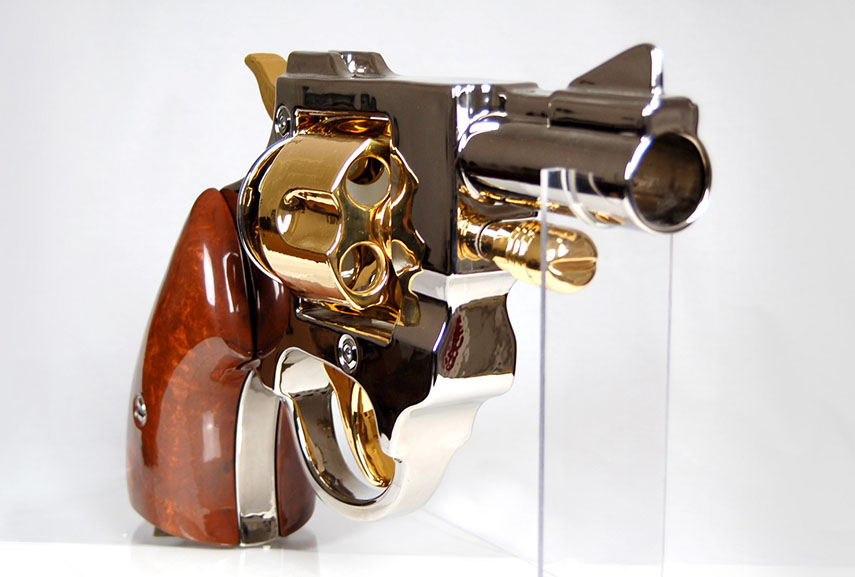 Vogelsang Art Gallery
Vogelsang Gallery is a contemporary art gallery based in Brussels, Belgium that focuses on an international group of established and upcoming artists. Unlike other galleries that tend to only state the artist's name and the title of the work on labels, Vogelsang Art Gallery also included some background information about the artist and the work. This curated presentation was unique and engaging. On view was a painting by Belgium artist, Hubert Bouttiau.
His Self Immolation conveys the evolution of a consumer society where acrylic paint represents man-made consumer objects and oil, elements of the natural world. A car hood is the canvas and gives the work a three-dimensional sculptural effect.
In the painting, a man with a megaphone slung over his shoulder, is on fire and reaches for what seems to be a half empty gas can. Although his face is flushed, he is composed and a crowd of paparazzi photographers documents the moment. The scene calls to mind the age of social media where often we overlook the cry for help in favor of securing a viral moment on social media.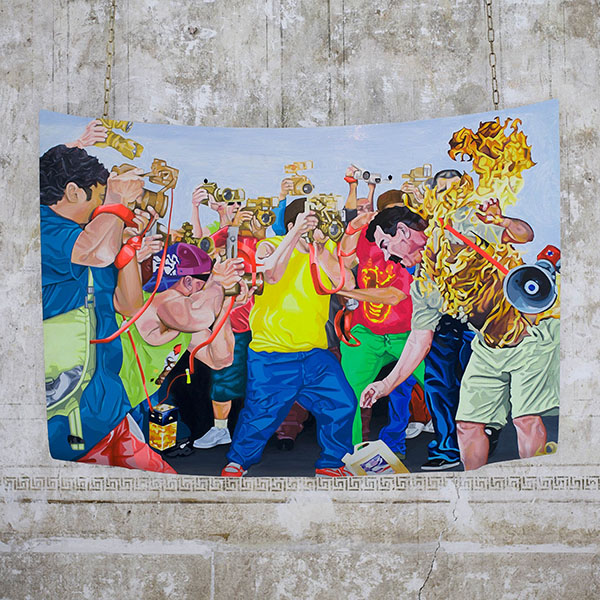 Berry Campbell Gallery
Berry Campbell Gallery (New York City) owners, Christine Berry and Martha Campbell share a curatorial vision of bringing new attention to the works of a selection of postwar and contemporary artists and revealing how these artists have advanced ideas and lessons in powerful and new directions. This year was the gallery's fourth year participating in Art Wynwood (established seven years ago.)
Among the significant works on display, was Lanzarote by Yvonne Thomas, a key figure in Abstract Expressionism during an era where male artists were recognized more than females. Berry Campbell represents the estate of the artist and had the first show of Thomas' works last September. By the end of the 1950's, Thomas often used her favorite color yellow that she describes as "one she used when she felt the need to switch gears."
The work is inspired by a visit to the Spanish island Lanzarote. Harsh black scrawl marks juxtapose a serene yellow orb pressing inward.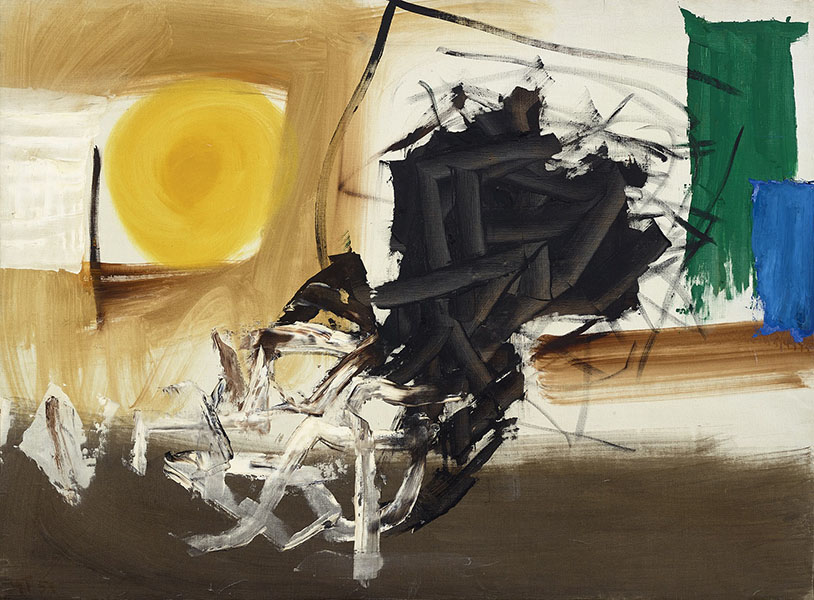 Martínez–Pedrosa Studio
Milena Martinez-Pedrosa is a Cuban born artist who lives and works in Miami. At Art Wynwood, she exhibited works from her collection titled, Handmade which consists of collage-type works made out of oil on canvas and newspaper. She states:
I center my attention on the communicational power of hands and their infinite expressiveness, and on the unnoticed criticism and commentary present in the human hand and its restlessness. The hands as an uncensored denouncer and agent of individual belief, as both the ambassador and the advocate for a person, yet also as perpetrator and culprit of all sorts.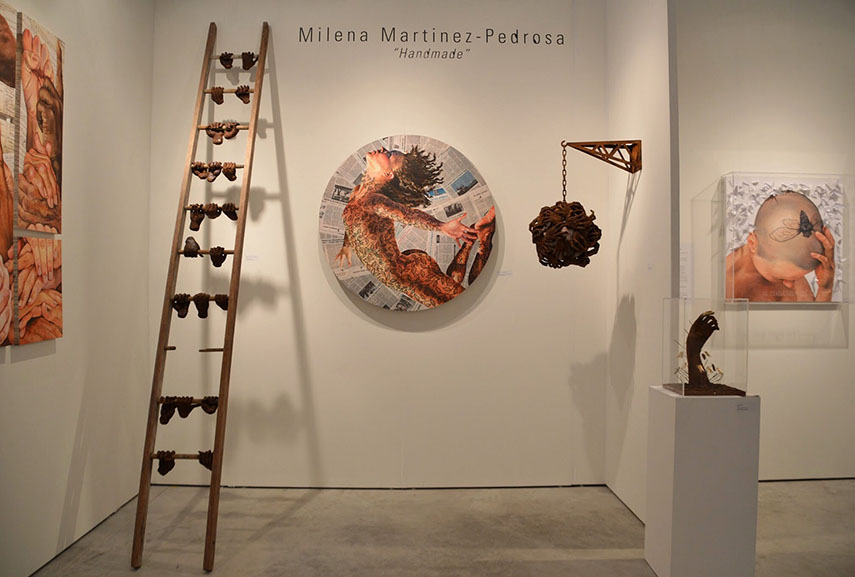 Art Wynwood 2018
Other highlights of Art Wynwood included awarding artist Logan Hicks the fourth Art Wynwood Tony Goldman Lifetime Artistic Achievement Award presented by Nick Korniloff and Jessica Goldman, CEO, Goldman Global Arts; Street artists Al Diaz, Danny Minnick and Edwin Baker created a special mural on February 18th on the Art Wynwood tent to address the recent school shooting at Marjory Stoneman Douglas High School; the Art Wynwood preview benefited the Institute of Contemporary Art, Miami (ICA); and 50% of the proceeds from the exhibit, RAWK by Jason Newsted presented by 55 Bellechasse benefitted the Perry J. Cohen Foundation.
Whether it's the message from the advocate or a message to (or of) the perpetrator (as Martinez Pedrosa infers) change is "in our hands." Art prevails and continues to demonstrate its ability to be at the forefront of enlightenment and change.
Featured images: Art Wynwood, Preview took place on Thursday, February 15th at its new site, One Herald Plaza in Downtown Miami; Art enthusiasts pose in front of "See All" by Patricio Gonzalez Bezanilla (Miami) at the Art Wynwood Preview held on February 15th. Photo Credits Michelle VanTine Photography.