Art Wynwood wrapped up its eighth edition at the close of a very busy President's Day Weekend (February 15th to 18th, 2019), Other major events that also took place on the long weekend, didn't deter a steady crowd of art collectors, curators, advisors and enthusiasts from visiting. Situated on a very prestigious and exclusive waterfront site next to the Miami Yacht Show, it allowed visitors easy access to both luxury events.
Since its beginnings in 2012, Art Wynwood has become the premier winter destination for contemporary and modern art in South Florida. The fair's lineup included works by over 300 artists presented by more than 65 galleries from around the world.
The VIP Preview benefited the Institute of Contemporary Art, Miami (ICA Miami) and POPaganda artist Ron English received the fifth annual Art Wynwood Tony Goldman Lifetime Artistic Achievement Award.
Here are some gallery highlights.
Art Wynwood Miami 2019 by Reinis Janulis of Colortime
Oliver Cole Gallery (Miami, FL)
Oliver Cole Gallery is a contemporary gallery based in Miami that features Modern, Street and Pop Art. The gallery showcased a well curated and stunning showcase of notable artists including French artist CÉVÉ who specializes in animal sculpture in a style that is recognized for its pureness of line and soft smooth bronze. CÉVÉ focuses on the timeless affection for the Teddy Bear and creates sculptures which move the viewer.
Also on view were works by: Jenny Boot, Jeremy Brown, David Drebin, Ryan Jones, Michael Kalish, ZMK and Justin Lyons.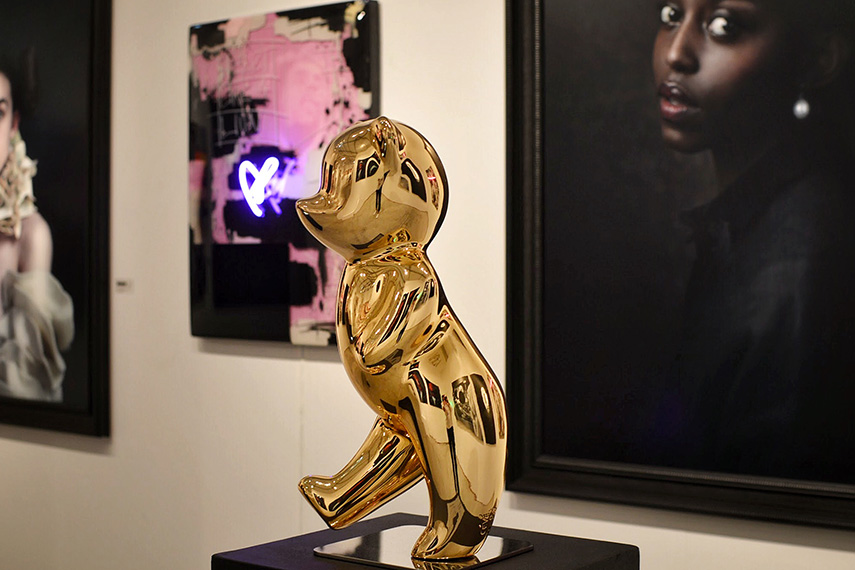 Laurent Marthaler Contemporary (Montreux, Switzerland)
Laurent Marthaler Contemporary specializes on artists who present strength in imagery construction and who concentrate on esthetic, historical and philosophical involvements. The gallery's outer wall showcased 10 works from Daniel Allen Cohen's Periodic Table of Addiction. Each piece comments on contemporary vices such as social media, fashion, plastic surgery, and fast food. The series invites the viewer to read the detailed, "ingredients" label and reflect upon ourselves as part of a mass consumeristic and social media obsessed society.
Also, on view were works by: Być, Lauren Baker, Niclas Castello, Crystel Ceresa, Daniel Cherbuin, Thierry Feuz, Formento & Formento, Jose Gonzalez Bueno, Charlotte Hopkins Hall, Zachary Knudson, Romina Ressia, Christophe Riotton, Elizabeth Waggett and Daniel Orson Ybarra.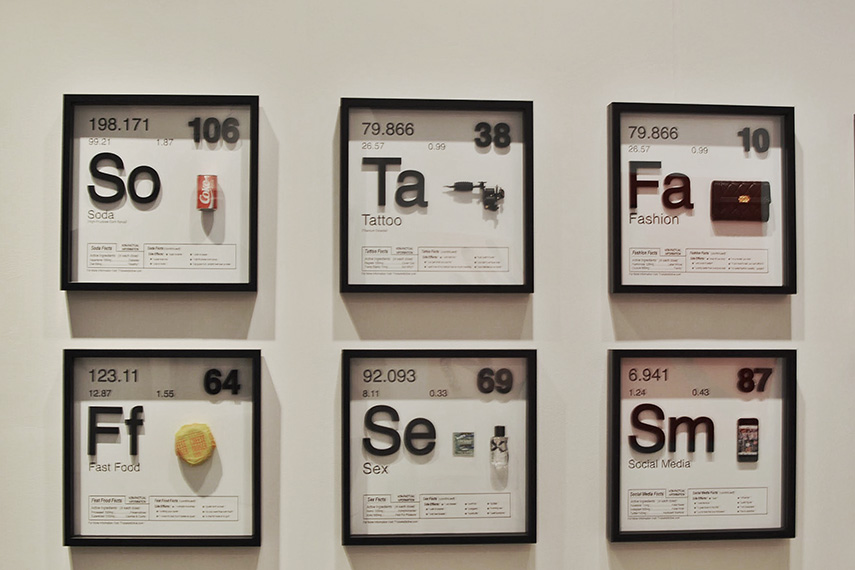 Cernuda Arte (Coral Gables, FL)
Cernuda Arte specializes in Cuban and Latin American art encompassing works from the 19th Century through the Present, with an emphasis on Modern and Contemporary art. Prominent works included bronze sculpture, Navigator's Dream (Sueño de Navegantes) 2015 by Roberto Favelo and oil paintings by Cuban artist Miguel Florido. Florido is a self-taught artist who considers his still life paintings to be "self-portraits" or deep explorations of the magic of his environs.
Also, on view were works by: Eduardo Abela, Cundo Bermúdez, Joel Besmar, Sandro De La Rosa, Juan Roberto Diago, Giosvany Echevarría, Roberto Fabelo, Víctor Manuel García, Lilian García-Roig, Irina Elén González Dayron González, Vicente Hernández, Wifredo Lam, Danuel Méndez, Manuel Mendive, José Mijares, Gina Pellón, René Portocarrero, Tomás Sánchez and Alfredo Sosabravo.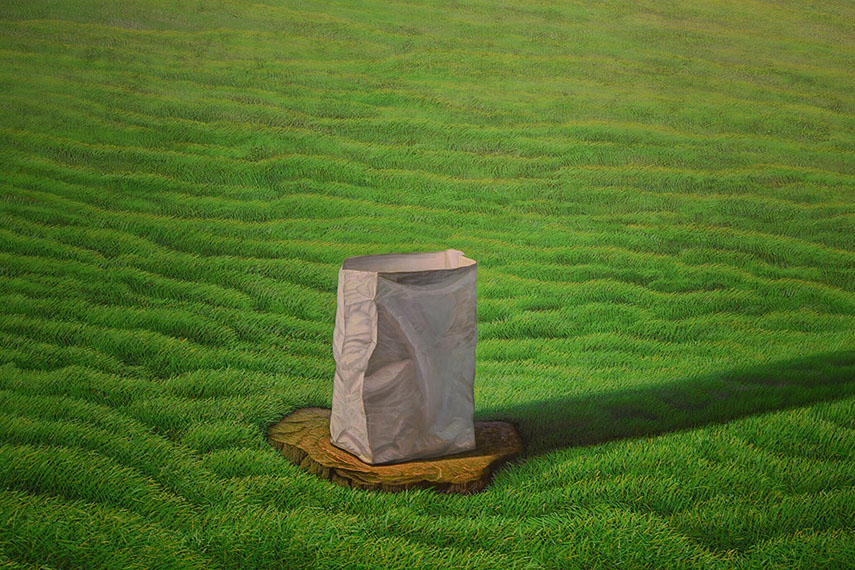 Heather Gaudio Fine Art (New Canaan, Connecticut)
Heather Gaudio Fine Art focuses on both emerging and established artists offering works on paper, photography, painting and sculpture. Jeremy Holmes' sculptures use natural elements in unconventional ways where hardwood becomes a flowing ribbon and the wood grains catch the light and move like gentle ripples on the water. Holmes who calls himself a woodworker, aims to push the history of wood in a new way.
Also, on view were works by: Ellen Carey, John Clement, Ann Gardner, Madeleine Keesing, Martin Kline, Jae Ko, Melissa Meyer, Dennis Lee Mitchell, Peter Monaghan, Alex Weinstein and Katherine Young.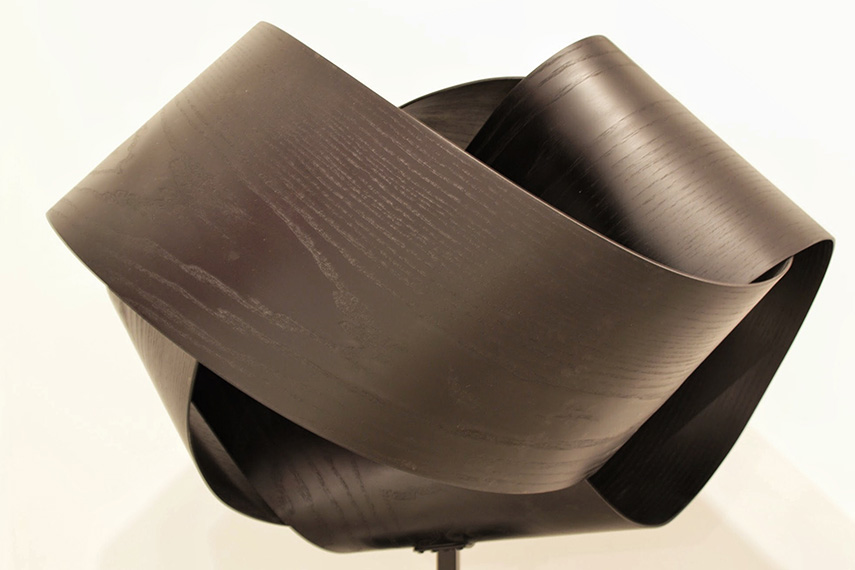 Archeus Post Modern (London, UK)
Archeus Post Modern focuses particularly on American and European masters from the 1950s and 1960s and related later works. Among the art showcased by prominent contemporary artists, was Untitled, 2006 by Anish Kapoor signed, dated and valued at $1,250,000.00. Red Lenin, 1987 by Andy Warhol hung alongside Superficie Rossa, 2005 by Enrico Castellani.
Also, on view were works by: Anni Albers, Josef Albers, Carl Andre, Marina Apollonio, Ruth Asawa, John Baldessari, Louise Bourgeois, Eduardo Chillida Dadamaino, Saskia De Tollenaere, Helen Frankenthaler, Lucian Freud, Eric Gadsby, Barkley Hendricks, David Hockney, Jasper Johns, Julije Knifer, Barbara Kruger, Julio le Parc, Jason Martin, François Morellet, Richard Prince, Robert Rauschenberg, Bridget Riley, Ed Ruscha, Jesús Rafael Soto, Pierre Soulages, Pat Steir, Victor Vasarely, Bernar Venet, Jonas Wood and Christopher Wool.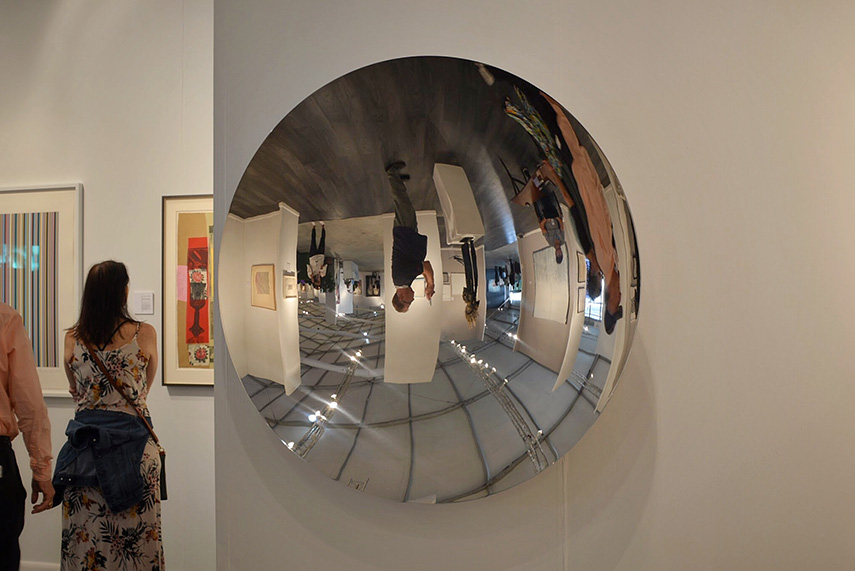 Long-Sharp Gallery (Indianapolis, Indiana)
Long-Sharp Gallery specializes in works on paper, multiples and drawings by modern masters including: Picasso, Miró, Warhol, Basquiat, Haring, Indiana, and Lichtenstein. On view was a new PUNKBUDDHA sculpture by Metis Atash titled, Changes (Inspired by Picasso). The objects of her work are based on the spiritual being and her sculptures are inspired by the ancient teachings of Daoism. Atash sculpts in fiberglass and uses acrylic paint, automotive lacquer, and Swarovski crystals to enhance her pieces.
Also on view were works by: Roy Lichtenstein, Andy Warhol, Pablo Picasso, Joan Miró, Cha Jong Rye, Tarik Currimbhoy, Gino Miles, Jason Myers, and Sabina Klein.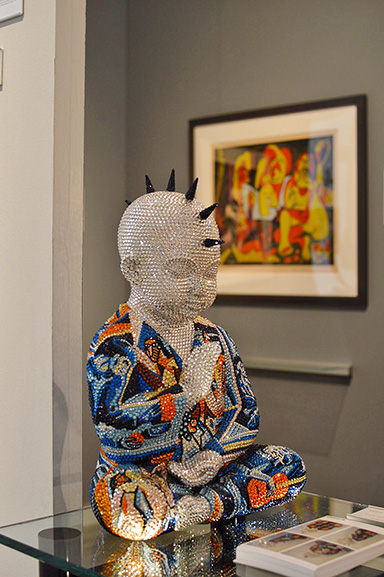 Liquid art system (Capri, Italy)
With galleries located in Capri, Positano, London and Istanbul, Liquid art system (L.a.s.) presents what it calls a "glocal" approach to promoting contemporary art. L.a.s. merges innovation with tradition, and concentrates specifically on showcasing artists who are internationally recognized and features those who have been able to innovate their technique or iconographies in a global context.
Among the intriguing works showcased were stunning gold leaf on aluminum paintings by Italian artist Marco Grassi and Anguish 303 by Seo Young-Deok. Made of stainless chain, Young-Deok's sculpture are intensely soulful and tender, expressing the angst of the modern world.
Also on view were works by: Marica Fasoli, Alessandra Lanzafame, Raffaele Minottom, Antonio Sannino, Paolo Staccioli and Matthias Verginer.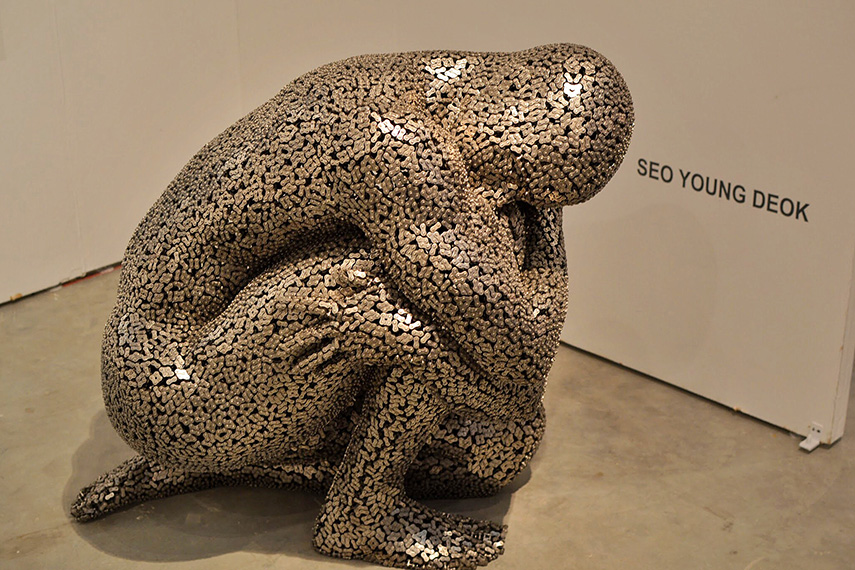 Kovacek Contemporary (Vienna, Austria)
Kovacek Contemporary specializes in an assortment of glass from 1500-1950; paintings of the 19th and 20th century; and contemporary works after 1945. Among art showcased were archival prints by Doug Argue. In an interview with Smithsonian.com, Argue calls the large painting, "an imaginary chicken farm where the walls just become cages and they go to infinity." The idea was inspired by Franz Kafka's short story, "Investigation of a Dog." Kovacek Contemporary presented several high value works, including Architecture with stars II, 1945 by Lyonel Feininger, valued at $850,000.
Also on view were works by: Edward Cucuel, Max Ernst, Erich Heckel, Hans Hofmann, Ernst Ludwig Kirchner, Gustav Klimt, Oskar Kokoschka, Emil Krauss, Fernand Léger, Wolfgang Erl – Lupo, Emil Nolde and Sabine J. Wiedenhofer.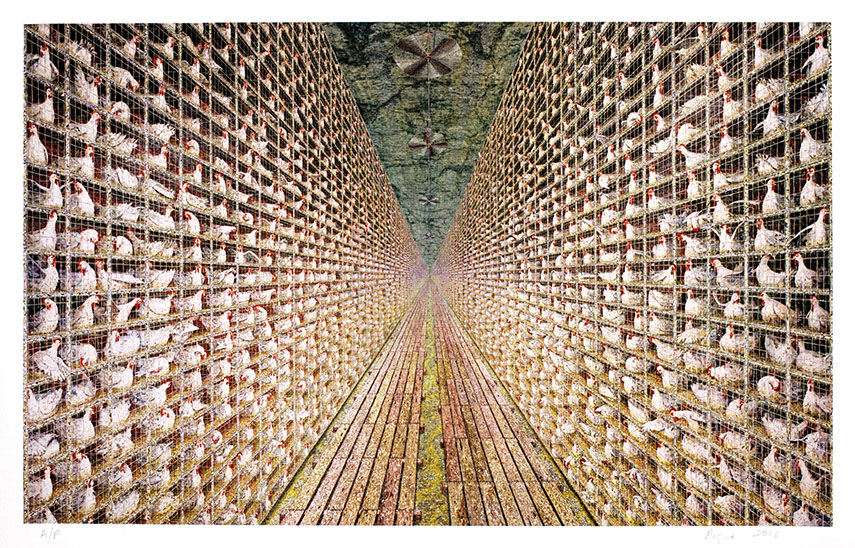 Rebecca Hossack Gallery (London, UK)
Over the course of three decades, Rebecca Hossack Gallery has built an international reputation for innovation, individuality, energy and excellence. On view were works by British digital print-maker Phil Shaw. The hyper-real images depict books meticulously ordered on book shelves denoting a playful commentary on the printed word in the digital age. Each work involves hundreds of hours of work which includes Shaw researching the titles at the British Library or Bibliothèque nationale de France; stripping original book spines purchased at second hand book shops so that they would not have titles on them; choosing the correct period typefaces for the new titles; and applying various Photoshop techniques to achieve all of the right details.
Also on view were works by Tilemachos Kyriazatis, Morten Lassen, Sylvain Lefebvre, Anne Penman Sweet, and Nikoleta Sekulovic.
Elizabeth Clement Fine Art (New York City, New York)
Elizabeth Clement Fine Art specializes in American art from the 20th century with a focus on contemporary painting and sculpture. Colombian-American sculptor Santiago Medina is an accomplished physician with brain imaging expertise. He distinctively uses advanced medical imaging technology such as Computerized Tomography (CT) and Magnetic Resonance Imaging (MRI) to scan his sculptures and subsequently enhances their volumetric appeal and sculptural form. Medina's works are elegant and convey a timeless message of hope and humanity.
Also on view were works from: Michael Albano, Frank Bowling, Paul Chojnowski, John Guthrie, Peter Halley, Hans Hofmann, Jeff Koons, Sol LeWitt, Ed Ruscha, Donald Sultan, Carrie Mae Weems and Terry Winters.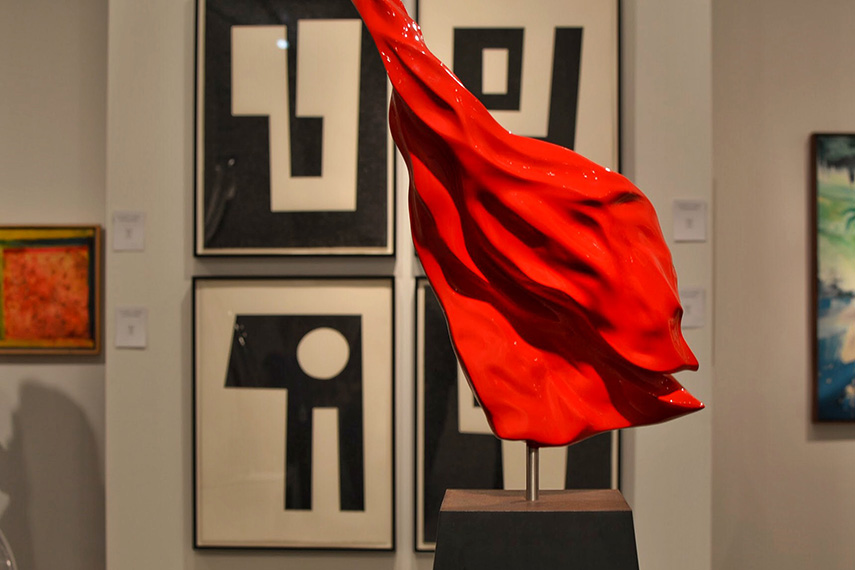 Featured image: Art Wynwood 2019 exterior view by Michelle VanTine Photography. All images courtesy the author.