In a research undertaken by the Art360 Foundation, it was revealed that 81% of artists in the United Kingdom have never worked with a conservator or archivist. Some 71% of them were also not aware of the conservation status of their archive.
In order to try and diminish these numbers, the Foundation is now launching a project that also follows the trends of the technological times we live in - an easy-to-use, free-for-all app that would become the ultimate archiving guide for both artists and artists' estates. Created with the support of the artists' rights management organization, DACS, the Art360 app aims to be of use to artists in any stage of their career by offering a step-by-step guide on effective management of digital and physical assets. Through advices provided by checklists and videos with professional archivists, each individual or estate can determine the best method for maintaining and protecting their own archive, thus making archiving and cultural preservation skills available to all.
Following the Art360 app's official launch at the Royal Academy of Arts in London on October 15, 2018, we sat down with Mark Waugh, Director of Art360 Foundation, to discuss the need for such an initiative and what it could mean for the future of artists' estates.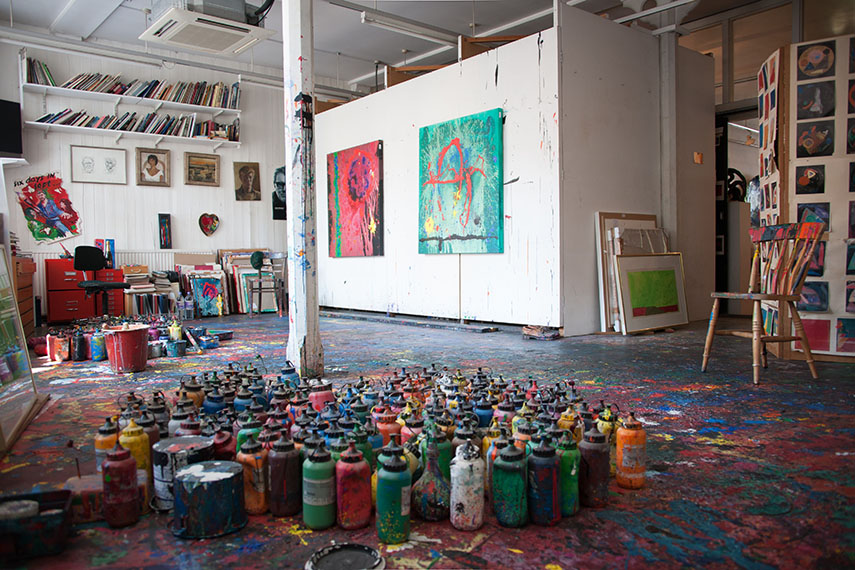 The Art360 App
Widewalls: What is the state of artists' estates as we speak? Why do you think such a great number of them was not aware of the importance of their archives?
Mark Waugh: There is a vast range of different artists' estates with whom we work, from the larger, more established estates, to the younger, family-run estates, and hence every approach to managing an archive and persevering an artist's legacy is unique. We have found some great examples of how artists' estates manage their estates, for example Andy Warhol, Joan Mitchel or Henry Moore.
I wouldn't say that estates aren't aware of the importance of their archives, rather the opposite. Much of the time, however, they lack the support and resources to protect their works for future generations. This may include a lack of manpower or expertise in processing and filing existing artworks and ephemera, or liaising with galleries, museums and other institutions to make these works publicly available.
Widewalls: Is this where the idea to make the Art360 app came from? How did it happen?
MW: Exactly. When creating the Art360 App, we drew on some of our previous research on how artists and estates manage their archives, and we worked closely with artists, estates and archiving professionals to produce the rich content that you can find within the different chapters, including technical know-how to personal insights from archivists, curators, and more.
Over the last three years, we have found that with the right tools, archiving is possible for any artist or estate, no matter their stage or career or size of the estate. A well-managed archive allows artists to preserve artworks and materials, as well as allowing artists and estates to shape the narrative of their work or collections. Good archiving processes also provide insights into artistic practice for curators, art historians and cultural institutions.
Initially, we set out to produce a written guide, which we wanted to make available on our website. However, we quickly found that artists, just like many other professionals, are mobile. They work in their studios, at home and abroad, and we wanted to make it as easy and convenient for them to archive, and have all the information they need, when they need it. Archiving can be a daunting prospect and we hope this app will encourage artists and estates to take their first step, or offer valuable support for those who have already started.
Widewalls: What can artists find inside the Art360 app? What does it offer?
MW: The Art360 App is simple to use and breaks the process of archiving into manageable stages. It offers a step-by-step guide on the effective management of physical and digital assets, with advice on how these can be maintained and protected, enabling artists to determine a method and pace that suits them. Using checklists and videos with professional archivists, it guides the user through essential practices and encourages progress onto the next stage.
Widewalls: Why was it important to make this an app, and to make it free for all?
MW: It was important to us to make the app available for free to anyone, anywhere. We want to demystify the process of archiving; empowering artists to shape the stories about their art, and their cultural contribution, themselves. Usually, this role falls to academics and cultural institutions, but we believe in challenging this dynamic, by giving artists the tools to transform their legacy themselves.
Widewalls: What does a collaboration with an organization such as DACS bring to a project like this?
MW: Founded over 30 years ago, DACS is a flagship organisation that campaigns for artists' rights, championing their sustained and vital contribution to the creative economy. DACS' support, expertise and insights have been invaluable in developing our app – from giving us a better understanding of artists' needs to providing us with access to experts such as archivists, curators and more.
Archiving, where do you start? The Art360 app
The Art360 Foundation
Widewalls: The Art360 Foundation has been committed to artists and their estates. How would you describe the work that you've been doing for the past three years? What are your experiences with the artists you worked with?
MW: Since we were established in 2015, we have been committed to empowering artists and estates to manage, protect and make accessible their lifetime's work. We want to stimulate greater public understanding and appreciation of the value contemporary and modern art brings to culture and society. Over the last three years, we have invested in skills and knowledge of artists and estates through a diverse programme of education, research and events.
When we launched our Art360 Project, which supports the archive and legacy planning of artists and estates through individual bursaries, we were inundated with many applications from a diverse range of practices, generations and backgrounds. With only 30 available spaces on our project's first round, it was a tough choice to be made by our panel of artists and Foundation representatives, but showed us a real need for the programme to exist.
Since then, we have been able to support an amazing group of artists and estates. From looking at Richard Billingham's amazing photographic archives to Liliane Lijn's sculptures made from exotic electronica, we quickly learned that every artist has a unique approach to making work. Therefore, any support we give as a Foundation needs to work for them, as an experience for them to take back control of their objects and preserve them for future generations.
Widewalls: What's next for Art360 Foundation?
MW: We'll be continuing with our Art360 Project, which includes our day-to-day work with artists and estates, as well as our programme of research, public events and workshops. We're also excited to be able to open our next round of open submissions, this time for Scotland-based artists and estates, in the new year. This means that in 2019, ten new applicants will receive funding, tailored towards the development of their archives, thanks to the support from Creative Scotland.
You can download the Art360 app here.
Featured image: Art360 app, courtesy Art360; Image courtesy Anne Purkiss. Photo ® Anne Purkiss, 2018; Studio of David Batchelor, 2017. David Batchelor ® David Bickerstaff. All Rights Reserved, Art360 Foundation 2017; Studio of The Austin Wright Estate, 2016. The Austin Wright Estate ® David Bickerstaff. All Rights Reserved, Art360 Foundation.