Don't feel intimidated by the title of the exhibition at Mesa Contemporary Arts Museum in the city of Mesa, Arizona. The name of the show captures perfectly the basic idea and matches two words that are central to the show – art and weapons. Of course, the exhibition is not about artillery as such, but about contemporary art influenced by weapons. Many contemporary artists are inspired by weapons. It does not depend on specific art movement; however, maybe street artists and conceptual artists are particularly interested in the subjects of war and violence caused by weapons. Both street art and conceptual art movement are strongly intent on sending political and social messages through art expression. Yet, some artists may be also interested in aesthetical representation of weapons. It does not mean that there is no strong political or social basis in these works (as Ben Turnbull shows in his works dealing with teen shooter phenomenon, and that are on view at StolenSpace Gallery in London until the mid of May). Mesa Contemporary Art Museum gathered a list of amazing contemporary artists influenced by weapons whose works will be shown during the exhibition entitled ARTillery starting in April.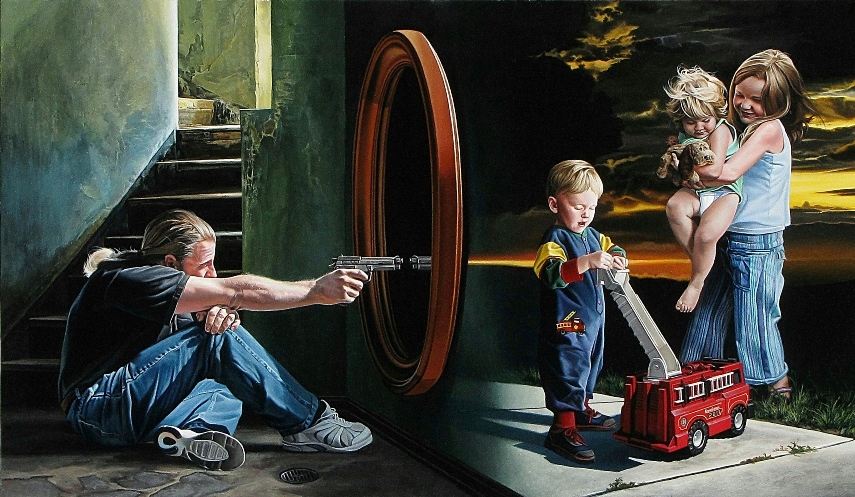 Art and Weapons at Mesa Contemporary
We are surrounded by weapons. Some of us indirectly, by watching news, reading newspapers, or hearing gunfire in our city. Unfortunately, many people are directly facing violence with weapons every day – just think of the wars currently affecting many countries in the world. In the United States, firearms in general have become an influential part of the American society. From the very first years of the country's history, weapons and the freedom of using firearms in self-defense largely shaped the American culture and society, while this (for Europeans maybe strange) fascination about weapons is reflected in movies, news, politics, government policies and even childhood memories. As the use of weapons and firearms shapes contemporary society and culture, it logically influences contemporary art as well, as the exhibition ARTillery will show.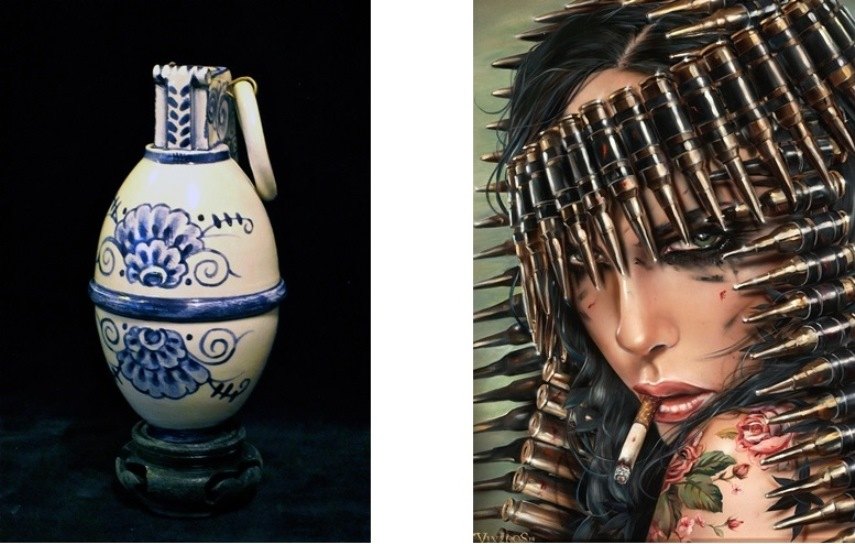 ARTillery at Mesa: Artists
The list of contemporary artists participating in the ARTillery exhibition at Mesa is truly impressive. The feature artists are: Abel Alejandre, David Amoroso, Richard Ankrom, Kii Arens, Jackson Boelts, Sandow Birk, Al Farrow, Lisa K. Blatt, Elyse Pignolet, Chaz Bojorquez, Angel Cabrales, Colby Caldwell, Shepard Fairey, John Wayne Gacy, Steven Gavenas, Kevin Grass, Jesse James, Michael Knowlton, Charles Krafft, Joshua Levin, William Mooney, Garry Musgrave, Odd Nerdrum, Eve Plumb, Scott Scheidly, Alan Simensky, Alyson Souza, C. R. Stecyk III, Charles Swenson, Jon Swinhart, Jaime Scholnick, Robert The, Fred Tieken, Lena Verderano, Brian M. Viveros and Dawn Whitmore. All the artists use different styles, techniques; they are coming from different artistic approaches. For example, Charles Krafft's primary technique involves slip cast porcelain and earthenware forms fired at high temperatures. On the other hand, Shepard Fairey is a street artist and graphic designer; so it can be said that all artists participating at the ARTillery exhibition are having different backgrounds.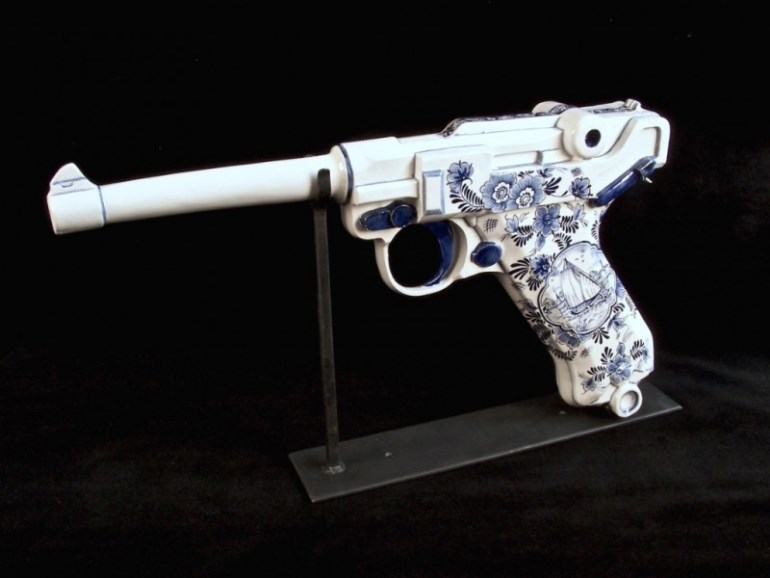 ARTillery at Mesa Contemporary
Mesa Contemporary Arts Museum is primarily dedicated to contemporary art by the emerging and internationally recognized artists. The ARTillery exhibition is a truly unique opportunity for art lovers to see some of the best pieces of contemporary art inspired by weapons, at one place. The show is curated by Annie Adjchavanich. The exhibition will be on view from April 24th, until August 16th, at Mesa Contemporary Arts Museum in Mesa, Arizona.
Sign up for My Widewalls, and be informed about upcoming exhibitions!
Featured Image: Eve Plumb -  Bang, Bang, Bang (detail), Oil on canvas, 18 x 24 inches.
Image in slider: Angel Cabrales -  Mutual Assured Development - Destruction (MADD), 2015. Multimedia, electrical, mechanical systems and steel, 40 x 24 x 30 inches.
All Images courtesy of Mesa Contemporary Arts Museum.