Californian street artist Antonio Ramos was murdered on Tuesday, September 29th, 2015 while painting a cityscape in Oakland. He was shot while working on a community mural under the 580 freeway in West Street, around 10.30 in the morning. The 27 year old muralist, was killed after confronting the gunman who was touching the artist's supplies. In a conversation with whkradio on Wednesday the police spokeswoman Johnna Watson said  that the authorities are searching for the shooter, but refused to disclose any further details about the crime while the investigation is ongoing.

The Murder of Antonio Ramos
Antonio Ramos and a group of street artists were painting new large scale mural designed by the middle school children for the Oakland Superheroes Mural Project. Reportedly, the group was approached by the man who was messing with their materials. The victim had gotten into an argument with an unidentified man and when the confrontation escalated, the man fired his gun, shot Antonio Ramos and ran away. The police and the ambulance arrived quickly to the scene and the artist was taken to a hospital where he was pronounced dead.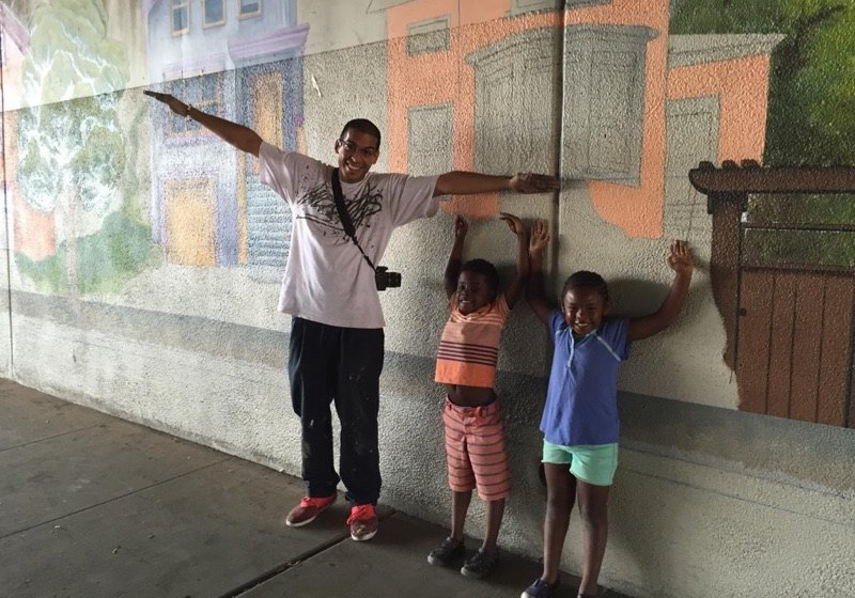 Antonio Ramos's Mural in Oakland
Moments before the shooting, Antonio Ramos was working on an idyllic large scale street artwork that is yet to be finished. The mural that spreads across 4,000 sq. feet, depicts kids as giant angel-like figures watching and caring for their community. Blue skies, green trees, a creek and vivid Victorian buildings are also a part of a unique and harmonious design. The artwork was a part of Oakland Superheroes Mural Project, dedicated to fighting violence through art and education. The people of West Oakland are trying to deal with numerous problems negatively affecting their neighborhood such as drugs, poverty and violence. According to whkradio,on Wednesday , Oakland in California has had 73 homicides in 2015, many of which occurred in the west part of the city. The project was organized by Attitudinal Healing Connection of Oakland, a group that aims to empower individuals to use creativity and education in order to make positive changes and stop the violence in their local communities. Antonio Ramos worked with the organisation since 2012, when he first spotted one of their murals, along San Pablo Avenue in a close proximity to his own home.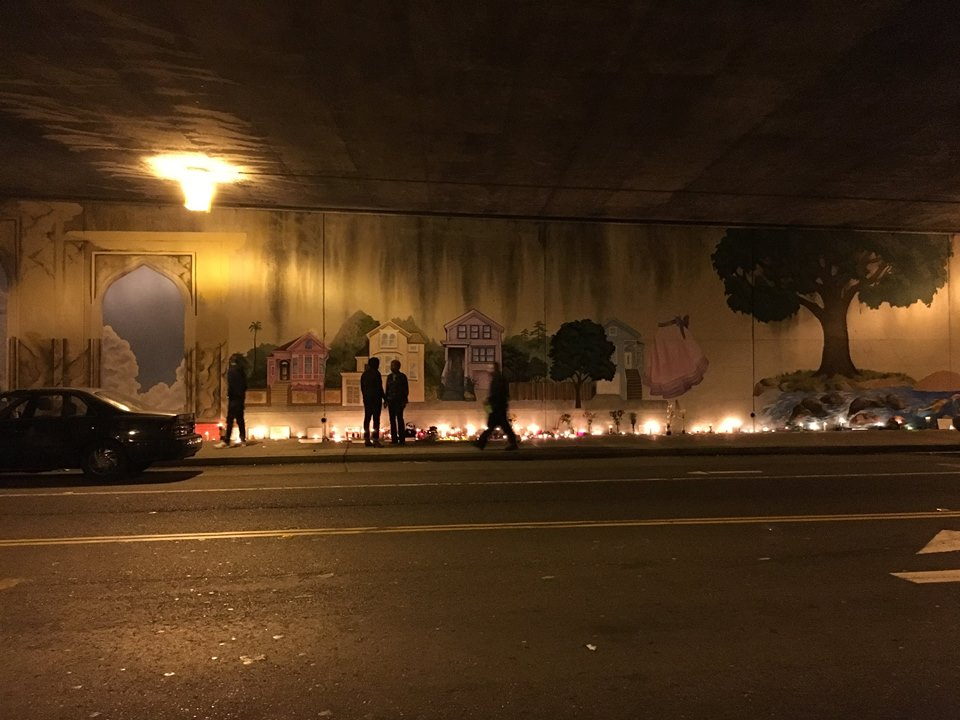 Local Community Pays Tribute to Antonio Ramos
A day after the shooting, on Wednesday, September 30th, 2015 the local community joined the artist's friends and family in commemorating his tragic death. Over 200 people gathered to pay tribute to the young and talented muralist, by lighting candles and leaving flowers in front of his unfinished mural. The Attitudinal Healing Connection's director Amana Harris, said that the organisation will dedicate that wall to Antonio Ramos. "We will not stop. We will not be intimidated to bring light and love and hope into our communities." - Amana Harris stated in a conversation with the KQED arts. Also a crowdfunding campaign was initiated to help the artist's family with funeral costs.

Share your thoughts on our Facebook page
For more news sign up for My Widewalls for FREE!
Featured images : Antonio Ramos' Portrait and Tribute for the Killed Artist
All images courtesy of Oakland Superheroes Mural Project Facebook Page