One of the most influential urban art galleries in Italy is about to start a new exhibition season. Wunderkammern Milan will set off with an exhibition Limbo, a solo show by the American artist Doze Green. One of the pioneers of the Graffiti and Urban Art movements, Doze Green has his roots in the culture developed in the Bronx of the 1970s. The show will feature new works, mainly monochromatic and bichromatic ones, created with mixed media on canvas and paper. In this new body of work, Green explores the connected themes of the concepts of space and time and immortality. He investigates the idea of waiting, indefiniteness and transition in relation to human life, encompassing both material actions and the spiritual essence.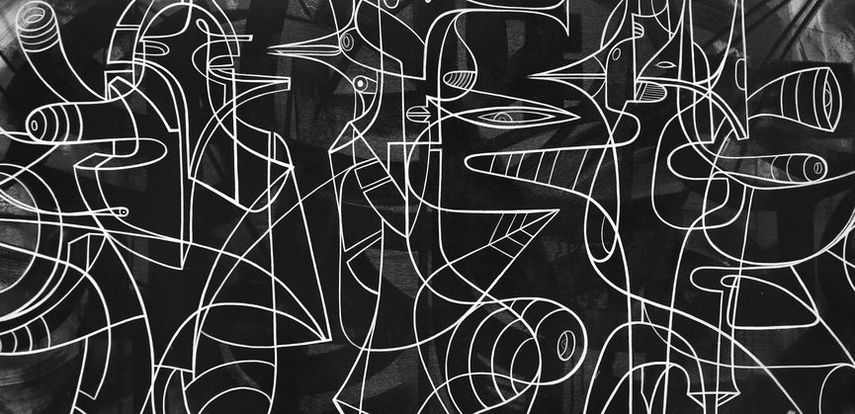 Growing Up In The 1970s Hip Hop Culture
Growing up in the New York City, Doze Green became immersed in the hip hop culture in the Bronx and its artistic disciplines of graffiti writing and break dancing as a b-boy member of the legendary Rock Steady Crew. Beginning as a graffiti writer, his practice later evolved into studio works and public commissions that brought him the international fame and many exhibitions in galleries worldwide. Yet, his street art background is still visible in his work. Combining different influences such as writing, Japanese calligraphy, graphics and Cubism, Green has developed a unique and easily recognizable style. Working in acrylic, gesso and ink on canvas, paper and wood, his materials of choice are as diverse as his sources of inspiration. The artist is also interested in sculpture, ceramics, and animation and has performed live painting shows.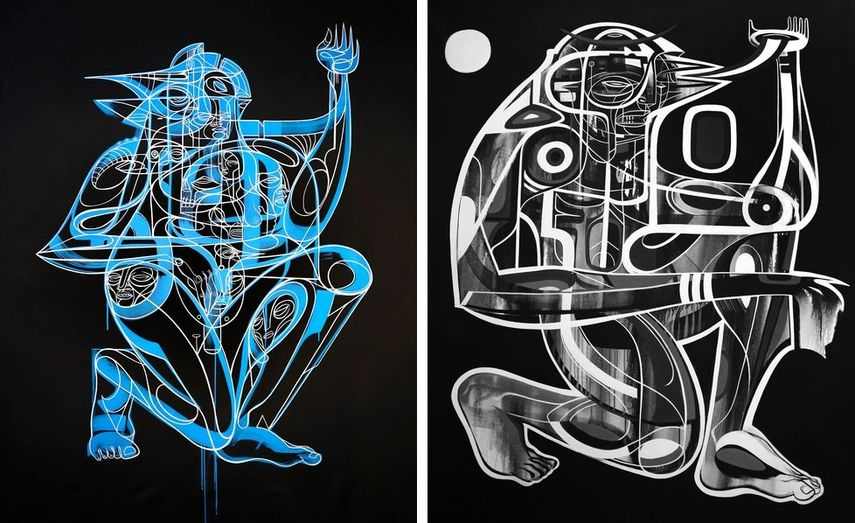 The Mirror Of Humanity
The practice of Doze Green blends figurative abstraction, fluid line work, and organic cubism. Linking his production to the idea of art as a mirror of humanity, its condition, experiences and emotions, the narrative of his works is always changing, presenting the illusion of time and immortality. Complex characters in evolution that emerge from his works are described as "biological entities" by the artist. Based on his urban culture roots and metaphysical ideologies, they represent variables of humanity's past, present, and future. Creating the world of magic and the irrational, he incorporates occult symbols, sacred geometry, myths and gods of ancient societies. His works reflect the constant fluctuation of memories, suggestions, and futuristic visions.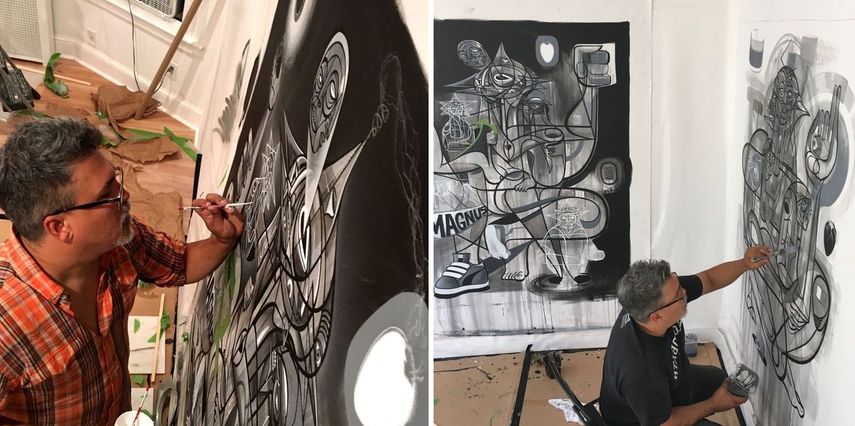 The Artist Doze Green at Wunderkammern Milan
Works of Doze Green has been a subject of many solo and group exhibitions all around the world and has been featured in numerous private and public collections. Curated by Giuseppe Pizzuto, the exhibition Limbo will be on display at Wunderkammern Milan from September 28th until November 2nd, 2016. The opening of the show will be held on Wednesday, September 28th, from 6.30 to 9.30pm.
Featured image: Doze Green - Squat Theatre Archon (detail), 2016; Doze Green working; Doze Green studio; Doze Green portrait; Doze Green in San Francisco, 2010; Doze Green in Las Vegas, 2013. All images courtesy of Wunderkammern Milan.