Guided by notions that art matters, that artists' voices are important in shaping society, and that public spaces are places or creative and free expression, Creative Time has been collaborating with thousands of artists to present the most innovative art in the public realm over the past four decades. This year, the collective has launched Pledges of Allegiance, a serialized commission of sixteen flags, each created by an acclaimed artist. Creating a place to resist, both practically and symbolically, each flag points to an issue the artist is passionate about and speaks to how we might move forward collectively. Conceived in response to the current political climate, the project has commissioned works by Tania Bruguera, Alex Da Corte, Jeremy Deller, LaToya Ruby Frazier, Ann Hamilton, Robert Longo, Josephine Meckseper, Marilyn Minter, Vik Muniz, Jayson Musson, Ahmet Ögüt, Yoko Ono, Trevor Paglen, Pedro Reyes, Rirkrit Tiravanija, and Nari Ward.
The project was officially launched on Flag Day, June 14th 2017, by raising the Resist Flag by Marilyn Minter on Creative Time's headquarters – a flag that embodies art's ability to channel political passion, raise awareness and unify. Each month, a new flag is being raised on a flagpole atop Creative Time's headquarters, and at partner sites nationwide. At the moment, visitors can see Robert Longo's Untitled (Dividing Time) at Creative Time's headquarters as well as at nine more cultural institutions across the United States. Take a look at sixteen through-provoking flags commissioned by the project!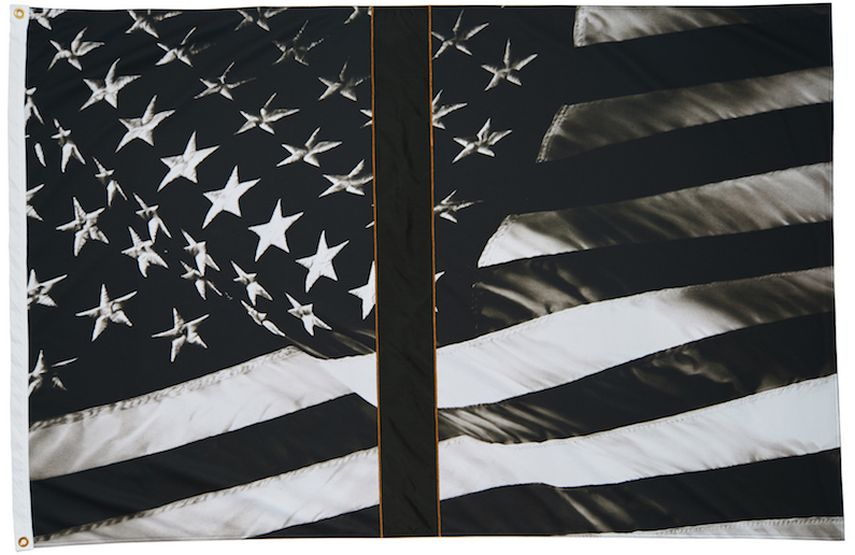 Robert Longo - Untitled (Dividing Time), 2017
An American painter and sculptor, Robert Longo centers his practice on transposing images and the resulting transformation of meaning. His flag is based on his 2016 large-scale charcoal drawing, completed the day of the recent presidential election. Depicting the American flag on two panels separated by five inches, the flag reflects the current symptomatic divide in the country.
Robert Longo's Untitled (Dividing Time) is on view at Creative Time Headquarters in New York, The Aldrich Contemporary Art Museum in Ridgefield, Brooklyn Museum in New York, 21C Museum Hotel Durham in Durham, University of South Florida Contemporary Art Museum in Tampa, Museum of Contemporary Art Detroit in Detroit, Kemper Art Museum at Washington University in St. Louis, RISD Museum in Providence, KMAC Museum in Louisville, and Cornell's Herbert F. Johnson Museum of Art in Ithaca.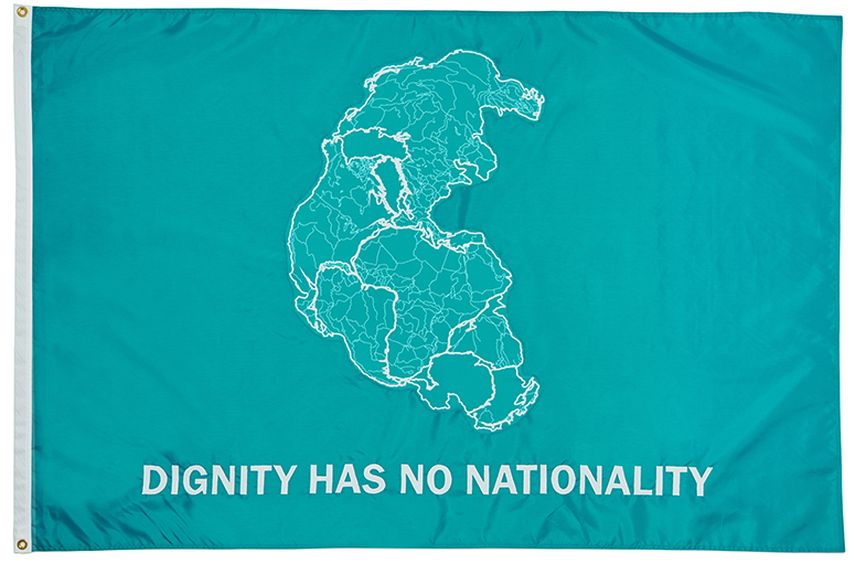 Tania Bruguera - Dignity Has No Nationality, 2017
A Cuban installation and performance artist, Tania Bruguera questions the possibility of political representation and attempts to collapse the distance between art and life. With her flag design, she envisions a global cartographic context that is more just and fluid, where all people have dignity, regardless of their nationality.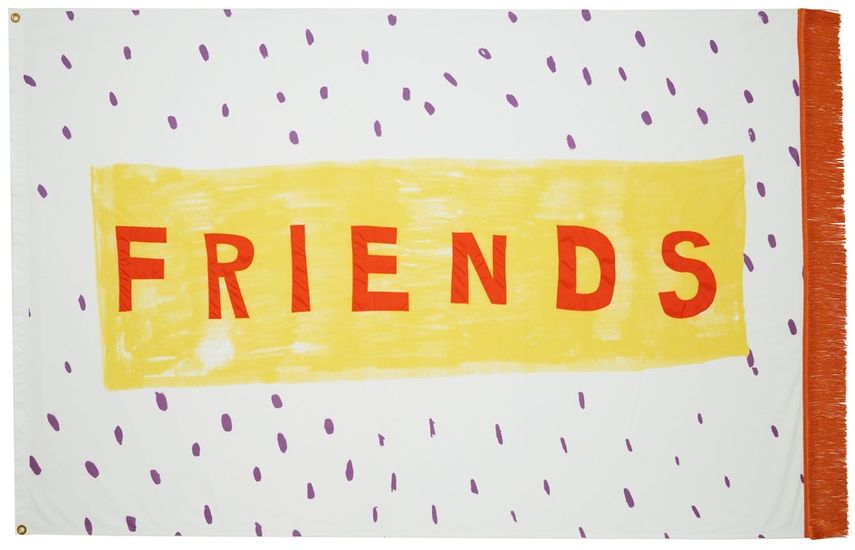 Alex Da Corte - Friends (For Ree), 2017
A rising star on the international art scene, Alex Da Corte works with objects and materials detached from their original function, giving then new potential both symbolically and formally. His flag is a replica of a drawing made by Ree Morton for a 1970s art project. This flag celebrates Ree and all of the friend families we form.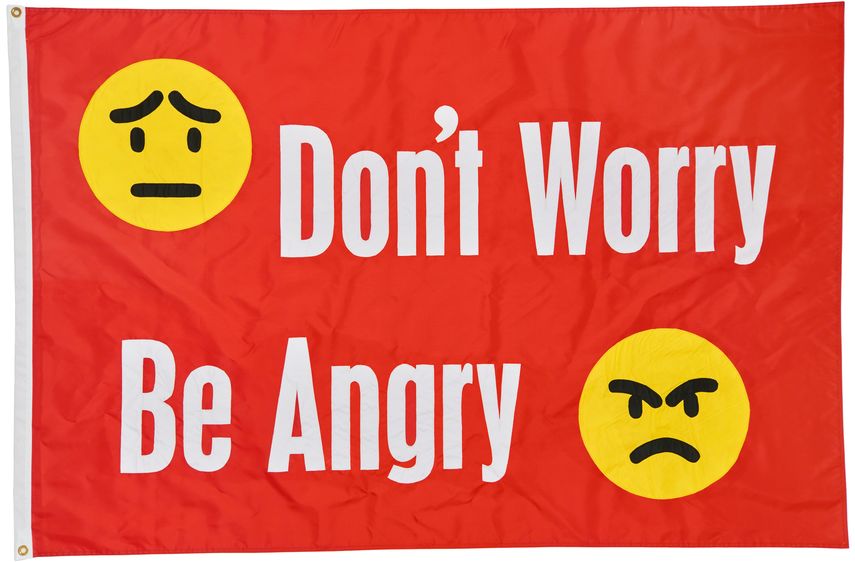 Jeremy Deller - Don't Worry Be Angry, 2017
Throughout his practice, Jeremy Deller has been initiating a dialogue between cultures, people, past, present and future. Weaving together high and low, popular and rarefied, his political and thought-provoking work encourages people to stay engaged. At the same time, he provides a humorous and positive outlook.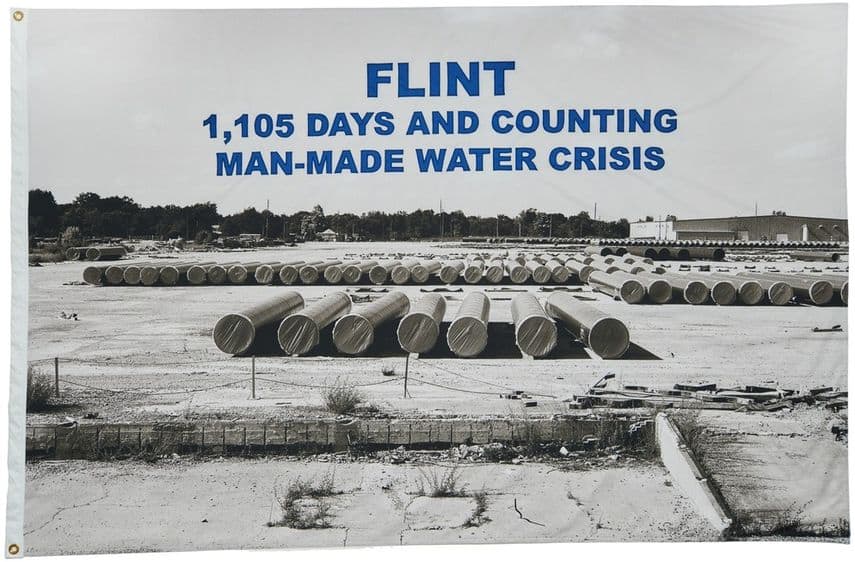 LaToya Ruby Frazier - Flint, 1,105 Days And Counting Man-Made Water Crisis, 2017
Spanning a range of media, the practice of LaToya Ruby Frazier focuses on social justice, cultural change and commentary on the American experience. With her flag, Frazier asks for justice for communities in Flint, Michigan who have been thriving in the midst of the water crisis. The number 1,105 is the exact number of days the residents have spent without new water pipes after one of the worst man-made environmental catastrophes in recent national memory.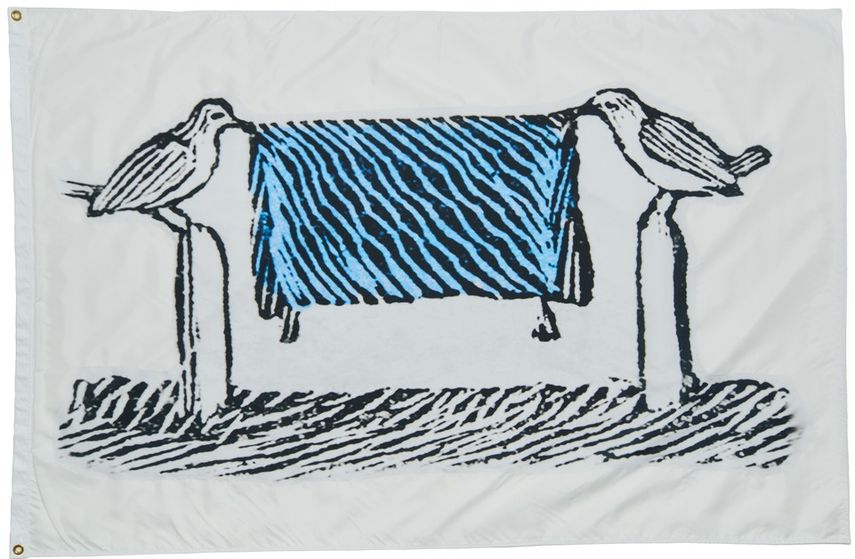 Ann Hamilton - Fly Together, 2017
Throughout her practice, Ann Hamilton has been using methods that serve as an invocation of place, of collective voice, of communities past and of labor present. Using imagery drawn from ABC books particularly meant for early childhood education, she explores the potential made possible through our own mutual cooperation. Possibly holding a piece of the sky, these birds remind us that we must work together.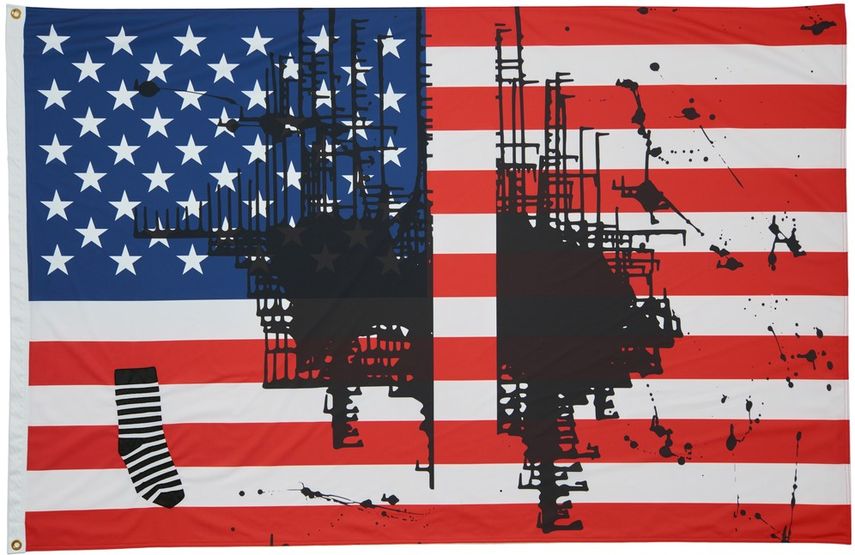 Josephine Meckseper - Untitled (Flag 2), 2017
Using commercial forms of presentation, Josephine Meckseper aims to demonstrate an inextricable influence of consumer culture on society. In her flag, she collages the American flag and fragments of an earlier work entitled Goodbye to Language. Her work evokes polarization, but also encourages a creative dialogue about our collective future and the one of our planet.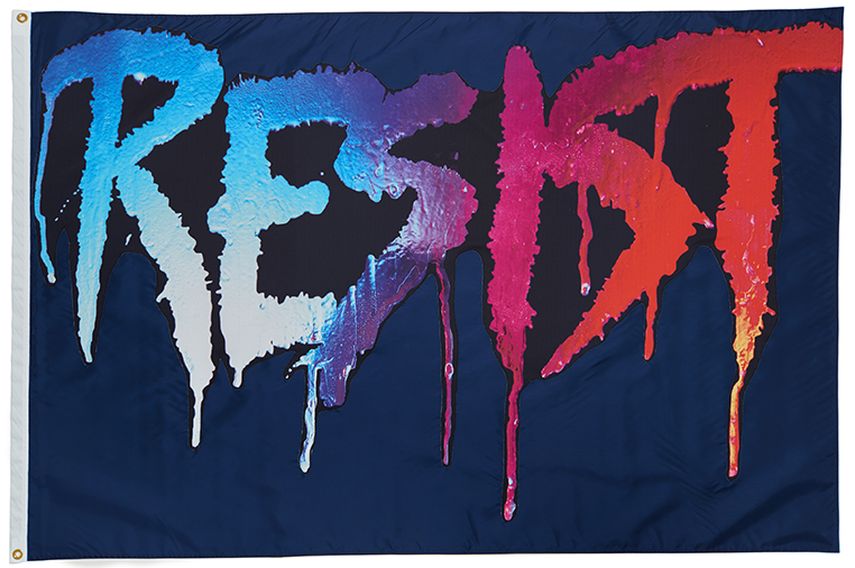 Marilyn Minter - Resist Flag, 2017
Drawing on techniques familiar of Pop Art, Photorealism, and commercial graphics, the legendary feminist artist Marilyn Minter creates pieces described as both shiny and grotesque, glittering and filthy. Her captivating flag was created by layering photographs against a glass, which was then subjected to frost or mist, adding an extra veil to both image and process.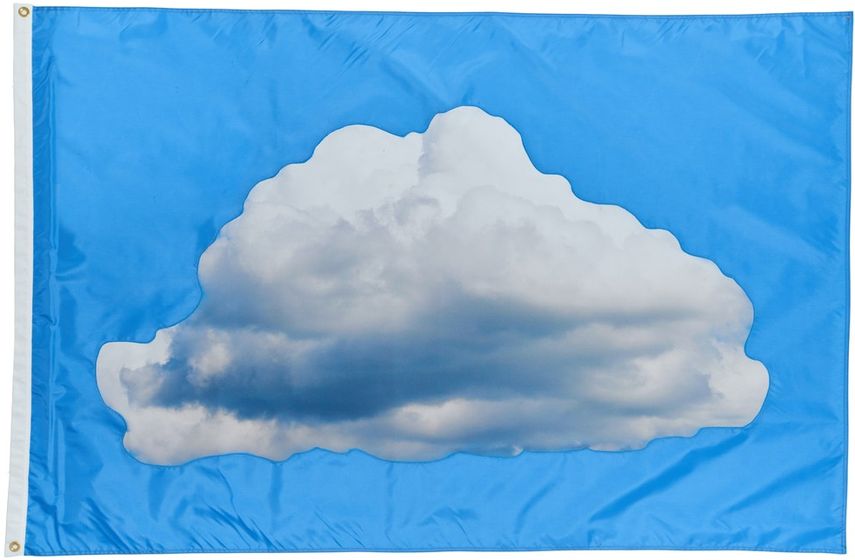 Vik Muniz - Diaspora Cloud, 2017
Working in a range of media, Vik Muniz repurposes everyday materials to create heavily layered recreations of canonical artworks. Featuring a cloud floating against a blue background and citing his earlier work Clouds from 2001, his flag suggests a geographically and temporally dispersed public coming together to imagine new forms of community.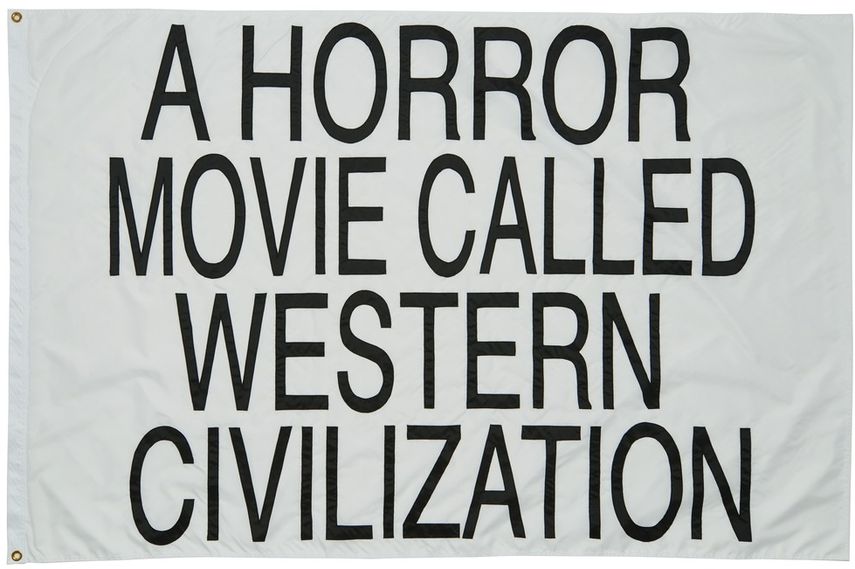 Jayson Musson - A Horror, 2017
Incisively satirizing and confusing pop culture and the art world, Jayson Musson provokes the boundaries that define cultural stereotypes. At the same time, he offers hilarious and strident discourses on contemporary art and its discontents. His flag is text-based, inviting the viewer to engage in a commentary on our political present.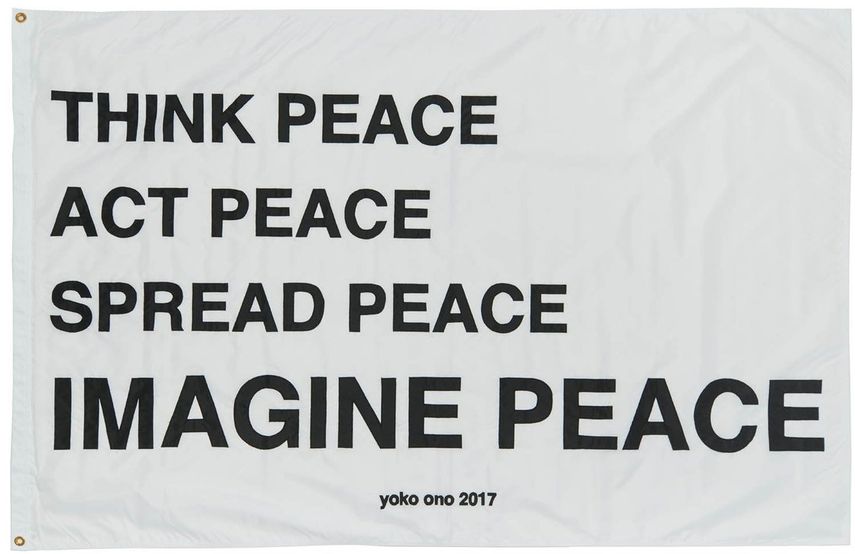 Yoko Ono - Imagine Peace, 2017
Working in performance, instruction, film, installation, music and writing, Yoko Ono challenges viewers' understanding of art and the world around them. Her flag is a continuation of the concept Imagine Piece born from her and Lennon's work as peace activists. Since then, the project was manifested in over 24 languages in a variety of forms. With the latest flag, Ono continues her peace campaign that seems more timely than ever.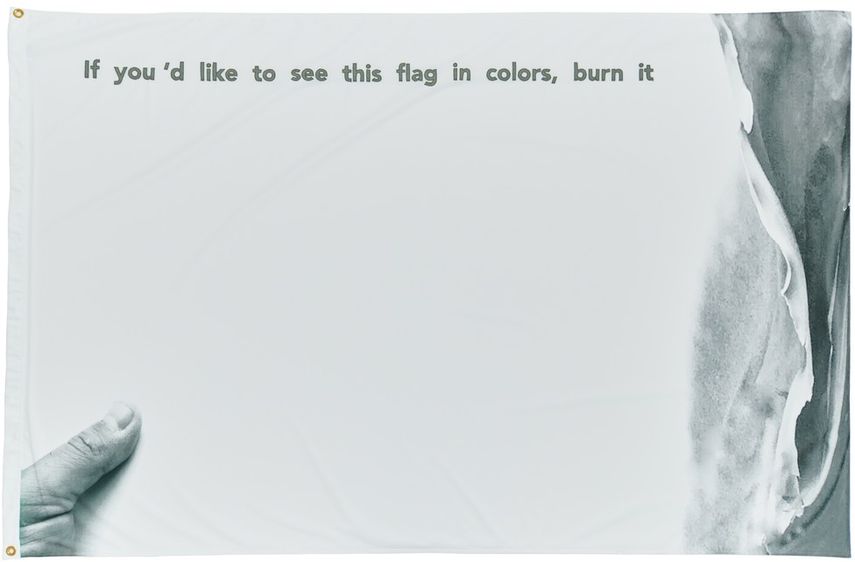 Ahmet Ogut - If You'd Like This Flag In Colors, Burn It (In Memory Of Marinus Boezem), 2017
An internationally-renowned sociocultural initiator and conceptual artist, Ahmet Öğüt consistently seeks out unique ways to grapple with a variety of complex social issues. His flag is inspired by Dutch visual artist Marinus Boezem's postcard-sized photograph entitled If you'd like this photo in colors, burn it from 1967-69.
Trevor Paglen - Weeping Angel, 2017
Though a practice spanning various media, Trevor Paglen focuses on the historical moment we live in and develops the means to imagine alternative futures. His flag enhances our visual vocabulary on the issue of the surveillance state. Depicting a weeping angel surrounded by code, he refers to a hacking tool developed by CIA to spy on citizens. It is also a reference to entities from Dr. Who that cease to exist if one attempts to observe them.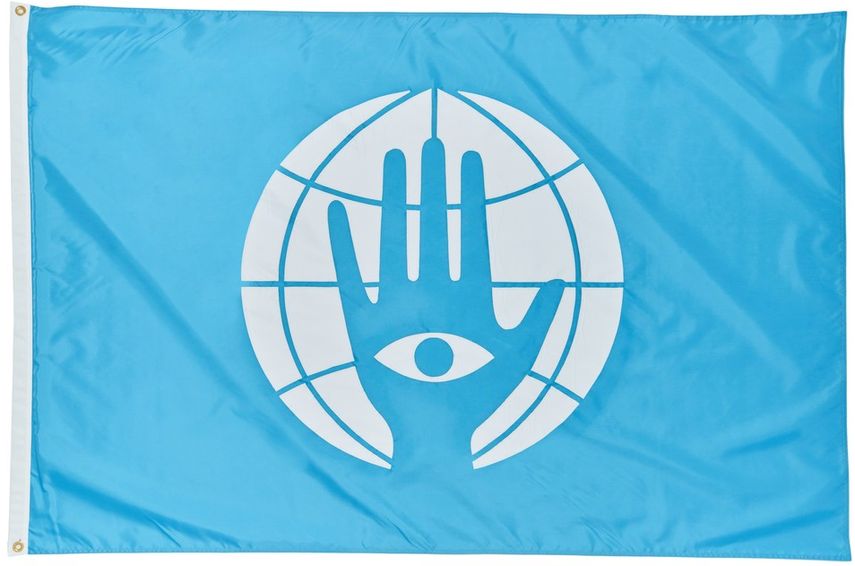 Pedro Reyes – Hands On With a Vision, 2017
Through a varied practice, Pedro Reyes addresses current social and political issues, especially exploring the power of individual and collective organization to incite change. His flag refers to the flag of the People's United Nations, an experimental conference that applies tools and resources from social psychology, theater, art, and conflict resolution to geopolitics. The imagery of Reyes' flag signals our mission to protect the planet.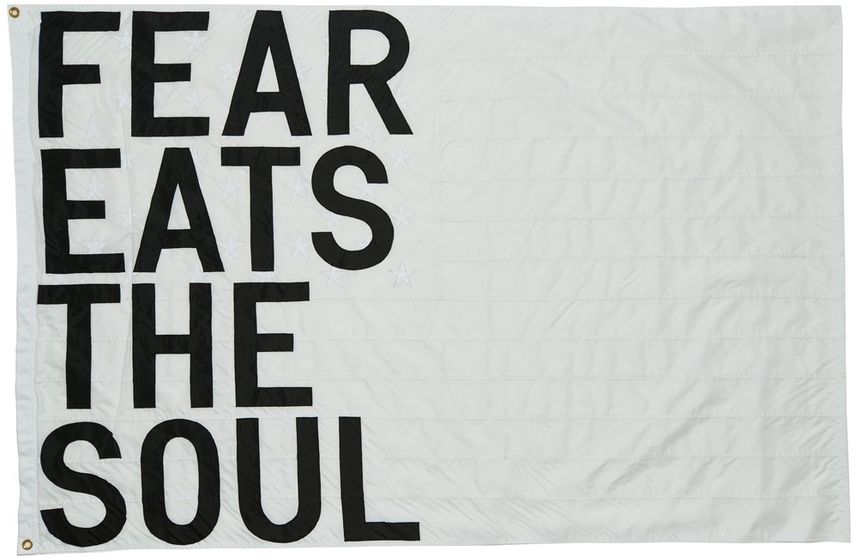 Rirkrit Tiravanija - Untitled 2017 (Fear Eats The Soul) (White Flag), 2017
Going beyond performance, Rirkrit Tiravanija creates socially-engaged conceptual works that blur the boundaries of art in new ways, bridging the gap between public and private. His flag references the German filmmaker Rainer Werner Fassbinder's film Ali: Fear Eats the Soul. Also appearing in the artist's work Untitled from 1994, the film features two characters that commence an unlikely relationship, bringing out their own deepest fears as much as the xenophobia and racism of their surroundings.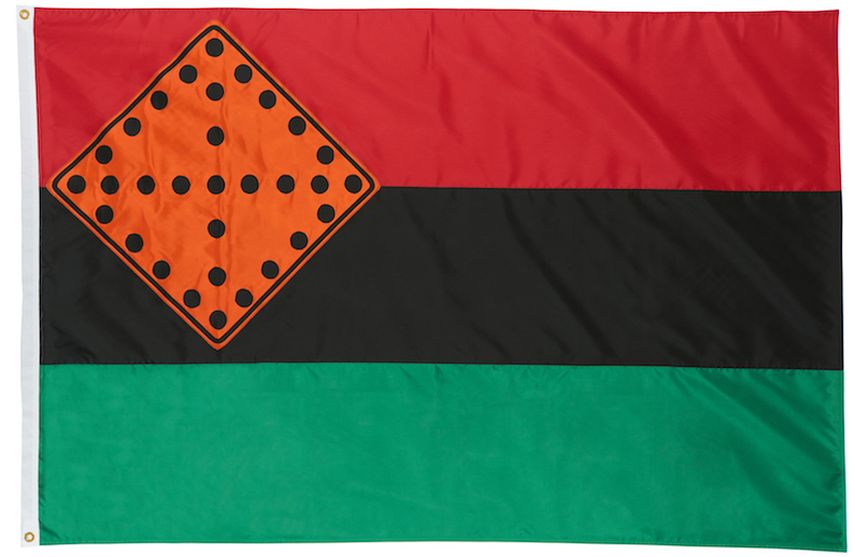 Nari Ward - Breathing Flag, 2017
Using systematically collected material from his urban neighborhood, Nari Ward creates dramatic sculptural installations that explore issues surrounding race, poverty, and consumer culture. His flag references Marcus Garvey's Universal Negro Improvement Association (UNIA) flag combined with an African prayer symbol known as a Congolese Cosmogram, representing birth, life, death and rebirth. In this way, he acknowledges the resilience of the human spirit to survive.
Featured images: Nari Ward - Breathing Flag, 2017; Tania Bruguera - Dignity Has No Nationality, 2017; Robert Longo - Untitled (Dividing Time), 2017; Marilyn Minter - Resist Flag, 2017; Photographs by Guillaume Ziccarelli. All images courtesy of Creative Time.