Looking at the marvellous artworks by Margaret Morrison, particularly her landscapes and still lifes of flowers, we can hardly believe they are paintings, and not photographs - their realism is simply impressive. But when it comes to her depictions of food, cakes and fruits, melting chocolate and luscious candy, that's when our mouth starts watering. She is an absolute master when it comes to depicting reflections, transparency, glossy, sparkling surfaces of all kinds, and not just because she is a tenured professor of drawing and painting at the Lamar Dodd School of Art, the University of Georgia. This skill has brought her international recognition and twenty-year-and-counting-long relationship with one of New York's most renowned art galleries, Woodward Gallery, where she has had several exhibitions so far.
Recently, the artist made her largest and most demanding painting to date and, it is safe to say, her most breathtaking work so far. Entitled Atomic No. 47, this oil on canvas is as big as 72 x 96 inches (183 x 144 cm) and it is a representation of a table covered in antique silver objects, from statues to bowls, teapots, candle holders. The way she is able to capture the reflections, the opacity and the form of these items is just incredible, and if you're in the US, make sure you stop by at Dodd Galleries at The University of Georgia, where the painting will be on view throughout September 2016.
How did this stunning piece come to life? How long did it take to complete it? Can we expect more of such artworks? On this and more, we had the pleasure of talking about with the artist herself. Scroll down to read our interview with Margaret Morrison!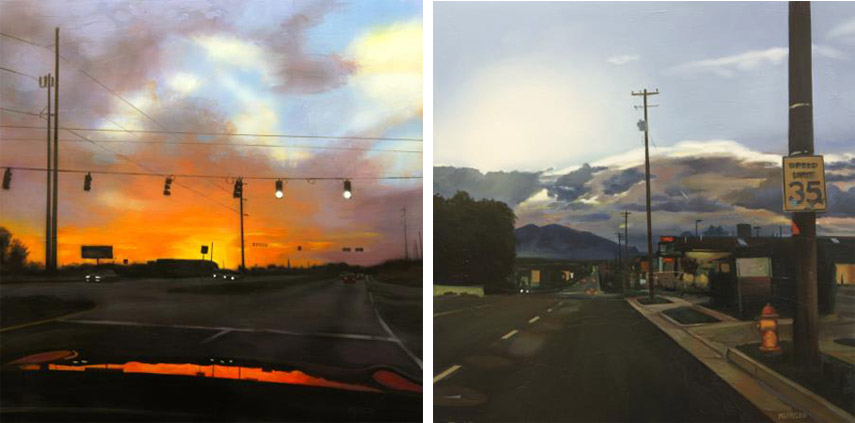 Woodward Gallery's Favorite
Widewalls: How did your relationship with Woodward Gallery start and grow over the many years?
Margaret Morrison: In the early 1990s, my little family and I moved to Morgantown, West Virginia, where my husband was a newly appointed professor at West Virginia University. Finally, I was within striking distance of New York City. I had plenty of fire in the belly and had made the calculation that in terms of showing in New York, it was now or never. I eventually became a member of an artist run gallery in Soho. Every other month or so, my husband, children and I would drive the six hours up and six hours back for the gallery meetings. The plus side for them was that they saw a lot of the city while I was sitting in meetings. After a couple of years, the strain of travelling and the financial burden of paying dues and exhibition expenses was becoming too much. Sadly, I decided that I would have one last show and then pull out.
During the last week of my final exhibition, I received a phone call from a complete stranger that changed my life. "Hello, you don't know me, but my name is John Woodward. I just saw your paintings and wanted to talk to you in person. Would you be interested in showing your work at the Gallery at the Roundabout Theater on Times Square?" He proceeded to explain that he was the curator for the show.
As John later told me, "You know, I never go into artist run galleries. But that day, I was walking past and something told me to go inside and have a look." After the very successful exhibition at the Roundabout, John and Kristine invited me to become the first artist in the Woodward Gallery stable. We've been comrades in arms since 1994 and I will readily admit that I'm one of the luckiest artists on the planet. John and Kristine have been my steadfast champions through thick and thin. It's remarkable to look back over years and trace the trajectory and creative synergy between artist and gallerists and dearest of friends. We've even enjoyed watching our children grow up together.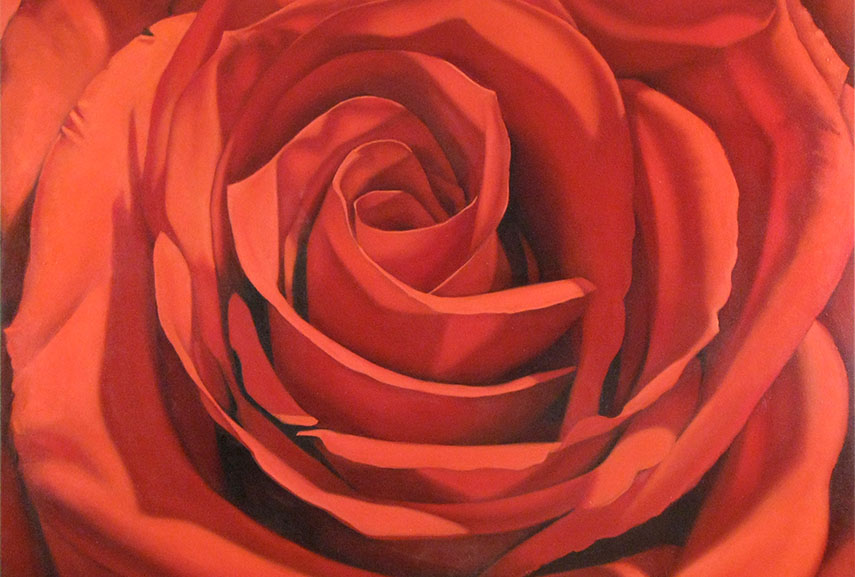 For the Love of Luster
Widewalls: Going through your remarkable portfolio, one can't help but notice your love for the reflective and transparent surfaces. What does it take to paint these as realistically as you do?
MM: I was incredibly fortunate as a young girl to travel extensively with my parents. By the time I was twelve I had visited many of the major museums of Europe. I distinctly remember standing in front of a Dutch still life so close that the museum guard was noticeably anxious. I was spellbound by the magic, the littlest drops of water clinging to the velvet translucent petals of a flower. Right then and there I determined to figure it out and I've been captivated ever since.
In terms of method, I am a direct painter, I paint wet into wet right on the canvas without a preliminary drawing or a grisaille under-painting. I actually throw a lot of paint down, sometimes straight from the tube. Nothing shuts me down faster than a pristine, white canvas, so I cover the entire canvas with paint right away. It helps me to see if the piece is holding together from the start and establishes a visual language that I can hang the rest of the painting on. In the midst of painting, I become completely immersed in analyzing colors, shapes, values; soft versus hard or lost edges. I stop naming "things" and completely tune into a wordless frame of mind. I work from general to specific, dark up to light, with the last move being the highlight, the icing on the cake…such a satisfying moment. On close inspection, I'm engaged with abstraction. Upon taking a step back, the pieces coalesce and form a whole… that's when the magic happens. I've also found that the faster I paint the better my decisions become. I silence the little voice in my head and simply learn to trust my eyes.
Widewalls: How much actual chemistry is there in your practice, given that you also teach an entire course on this aspect in arts and its materials?
MM: Back in 2009, I was invited for the first time to teach painting for the University of Georgia Cortona Study Abroad Program in Tuscany, Italy. Our beautiful campus in Cortona is housed in ancient convent that overlooks the valley where Hannibal battled defeated the Roman Legion. The painting studio classroom is in an old deconsecrated chapel with the date 1620 carved into one of the massive ceiling beams. My husband, Richard, accompanied me as my guest for the entire summer. As luck would have it, when the book arts teacher found out that Richard was the director of organic chemistry at the University of Georgia, she asked him to present a lesson to her students on the chemistry behind paper making. It was a huge hit, so he and I started considering the possibilities. We realized that we could teach all the basics of a general chemistry course through the generation of artwork. Instead of test tube and cookbook chemistry labs, we had our students making frescoes, intaglio prints and egg tempera paintings as well as paper. We had them learn how to analyze pigments and understand the binding properties of the paints they use. Of course, being in the cradle of Western art helps, particularly considering how even the masters considered themselves scientists as well as artists. We are the perfect Renaissance duo: my husband directs the chemistry and I direct the art making.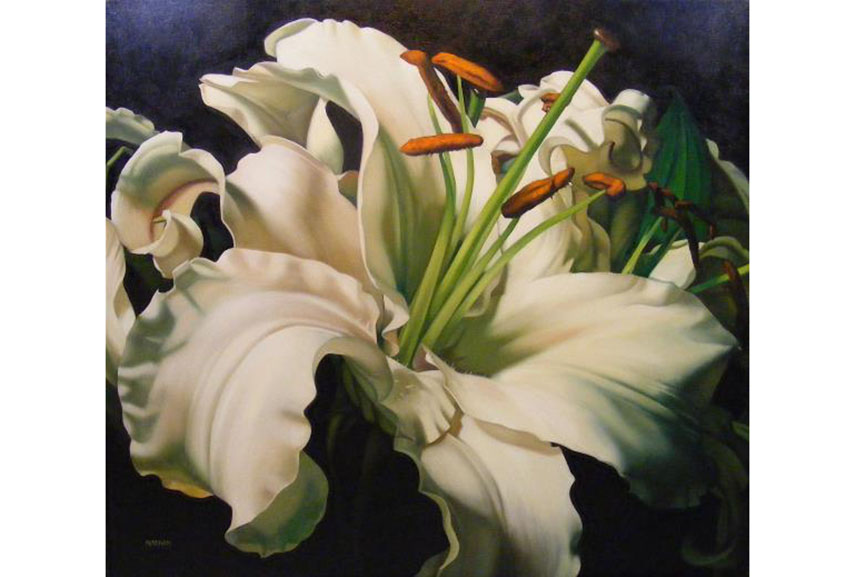 Painting Reality
Widewalls: With the same passion, you also paint evocative flora and landscapes. Is there a particular reason you're drawn to these topics?
MM: On a symbolic level, my flora and landscape paintings are somewhat autobiographical. The large scale floral paintings signify major events in my life. The very first one that I attempted was a rose from my eldest daughter's bridal bouquet when she married in 2007. The second was a lily I received while recovering in the hospital after bilateral mastectomy surgery the very next year. (Thankfully, that chapter of my life is over and I am fully recovered.) From that point on, my flower paintings came to signify hope and renewal. I was particularly delighted to have my floral canvases featured at The Rockefeller Museum and at the historic Four Seasons Restaurant. As a matter of fact, some of them will even be included in the "Fall Salon" Exhibition at Woodward Gallery opening September 10th, 2016.
My recent landscape paintings are also somewhat autobiographical. Through them, I've documented moments of self-reflection while driving across country to visit my elderly and ailing parents. My father passed away in 2013 and not long after, my mother's health began to fail and she passed away the following year. I can't count how many times I made the cross-country drive from Georgia to Utah over those two years. Yet, across the miles, I had time to sort through my memories and relationships. These paintings were featured in the "Both Ways" exhibition at Woodward Gallery in the spring of 2015. As I was standing in the gallery looking at the paintings on the wall, John Woodward quietly approached me and asked, "what direction are you facing in all of these road paintings?" For the first time it hit me that all of them were facing westward, toward my childhood home.
Widewalls: Is there any other aesthetics you would like to explore in your career?
MM: Honestly, I'm always on the look out for something engaging. Since I have the complete trust and support of my gallerists, I have the freedom to explore. Recently, I've been incorporating nonrepresentational elements into my imagery as well as new materials and techniques. However, I keep coming back to realism. It's where my heart is.
On Atomic No. 47 - A Masterpiece
Widewalls: What can you tell us about the breathtaking large work you're producing at the moment? How much time will it take for you to complete such complex piece?  
MM: This last spring, my husband and I returned to Italy for the sixth time to teach for the UGA Cortona Study Abroad Program. On one of the weekend field trips, we travelled with our students to the neighboring Italian town of Arezzo. Again, as luck would have it, it also happened to be the weekend of the famous monthly antique fair. I was completely unprepared for the immensity and grandeur of it all. Street after street of this medieval town was crowded with tables spilling over with amazing artifacts of bygone eras and elegant decay. Words simply can't describe the visual impact this had on me. I was a kid in a candy shop, especially when it came to the antique sterling silver. I documented as much as I possible could of the hundreds of antiques.
As soon as I got back to Georgia, I built and stretched the largest canvas I've ever worked on. I knew that I had to paint on that scale to convey the opulence of the experience, to overwhelm the viewer with a rich visual tapestry extending past the range of peripheral vision. Gorgeous, super shiny silver bowls, pitchers, and candelabras are packed so tightly together that it's hard to tell where one ends and the other begins. The reflections were incredibly fascinating to paint! Not only are all the objects reflecting each other, but they reflect the cityscape, sky and people too. It was like working on a five thousand piece jigsaw puzzle and is, quite likely, the most complex and challenging piece that I've ever attempted. The majority of the time I stood while working, which allowed me the freedom to pace around and to step back to check the "gestalt." I probably logged a few miles a day just pacing up and back as I painted.
Since I enjoy painting faces, the very first object that I started on was the cat's head. The facial features came together pretty quickly until I moved to the reflections on the rest of the cat. They were so massively complex that I couldn't decipher what was going on. I decided that I'd have to revisit it later and move on to all the other objects. I ended up coming full circle so that the very last object left to paint was again, the cat. Only this time, the complex jumble of stripes and botches made sense to me. I instantly recognized distorted bowls and coffee pots and stretched like taffy along the body of the cat. It has taken me the entire summer to complete!
Widewalls: Is this the direction you'll be taking from here on?
MM: I returned home from Italy with a mountain of reference material that will keep me busy for quite a while. And now that I'm finished with "Atomic No. 47" my studio feels like an empty barn. It must be time to stretch another canvas.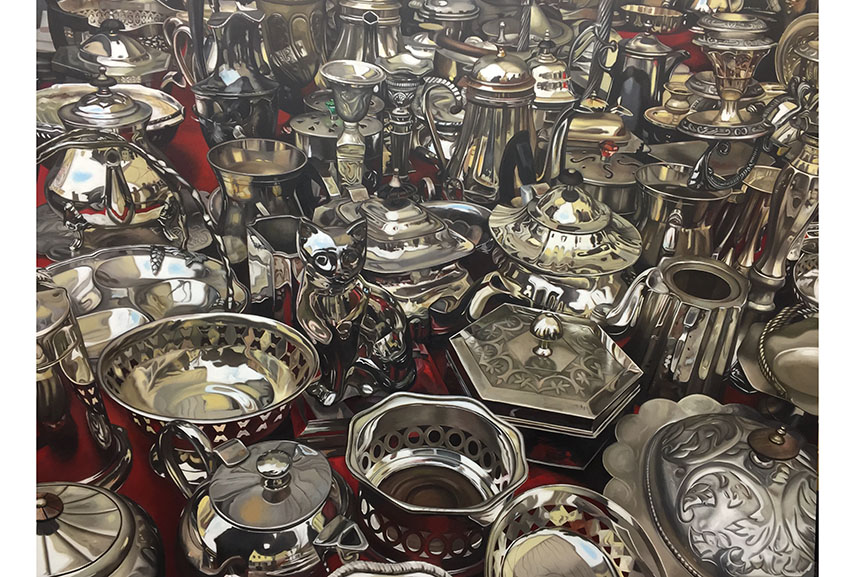 Featured image: Margaret Morrison with her Atomic No. 47 painting. Photo by Marion Velis; Margaret Morrison - Atomic No. 47. Oil on Canvas, 72 x 96 in. All images courtesy the artist and Woodward Gallery New York.