Over the past several years, the career of the Puerto Rican born artist Alexis Diaz has made a significant shift when it comes to recognition and critical acclaim. His works can now be seen all across the world – from Arizona desert to the building in the center of Bratislava, Slovakia. The artist has made a name for himself thanks to the impeccable technique and unique style. Known for his chimerical and dreamlike depictions of animals in a state of metamorphosis, Diaz's signature mark is the usage of small black brushstrokes on white background to shape his creatures, making them look like highly-detailed pen-and-ink drawings. Whether he is working with his fellow artist Juan Fernandez in their art group "La Pandilla" (or "The Gang") or alone, the dedication and the working ethic is the same. Diaz shows deep interest in transfiguration; his animals morph into one another, human hands and skulls become wings and snail shells, and creatures are transformed into ships and submarines that are used for the transport of other animal subjects. The noticeable growth of Diaz's career has resulted in numerous new participations, projects and murals. Only in the last couple of months, Diaz was a part of the huge Multiviralizing Art project, while end of the year was reserved for Art Basel Miami where, besides a wonderful mural he did, Diaz had his Wynwood exhibition opening. Diaz is probably one of the most talented artists in the urban art scene today and, despite the fact he's been adorning wall for quite some time, his time and best works have yet to come, which is why he is our Artist of the Week!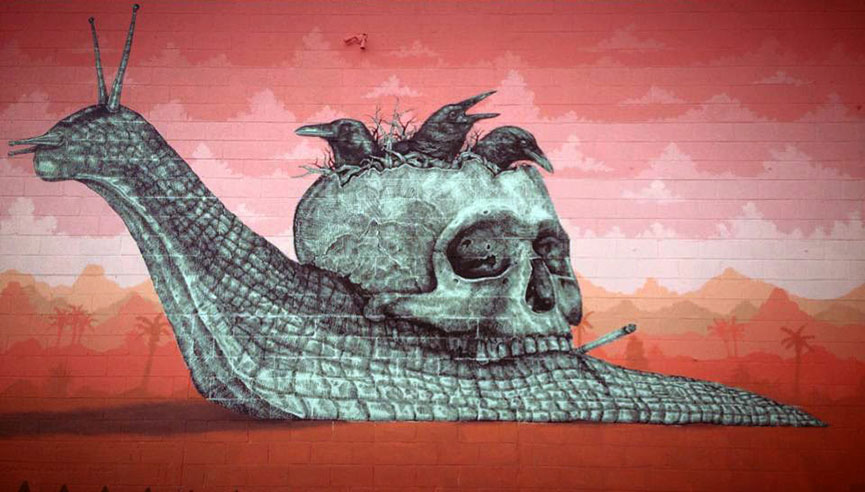 Multiviralizing Art
Since the beginning of 2014, the urban alternative band Calle 13 was aiming at the walls with the help from many renowned street artists. The band created a worldwide art initiative wishing to stimulate the creation of new art experiences. The objective of this inspiring project is to open new spaces for artists, whether they are renowned or not. Calle 13 wished to encourage artists to create live installations that can pop up anywhere, at any time. Over a dozen internationally famed street artists including Inti, Ever, Fintan Magee, Alexis Diaz and many more worked hand in hand with Calle 13 to create art using the word Multiviral as a starting point, and you can see the finishing result by clicking on this link.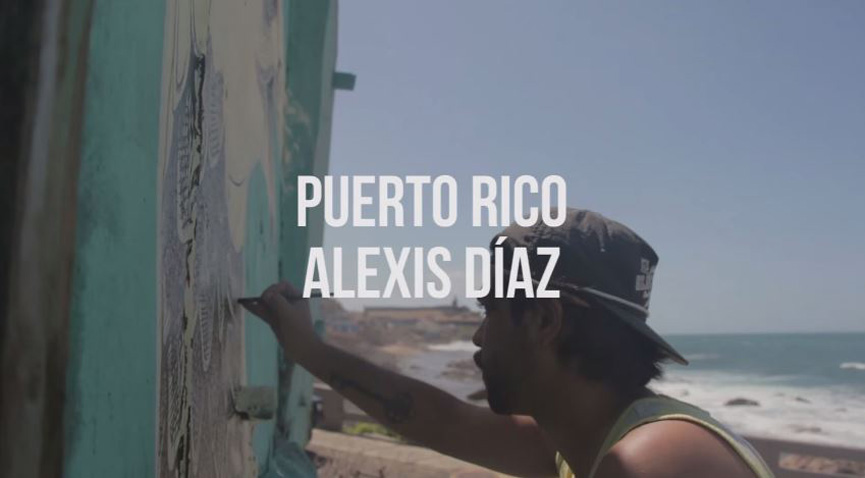 Collaboration with Faith47
Thanks to this year's Art Basel Miami, all the visitors had the chance to see in person the result of an amazing collaboration between two similar in style, but still very unique artists – Faith47 and Alexis Diaz. Both known for their nostalgic, gentle and romantic imagery, the artists worked like they were painting together for years. Portraying a nude woman floating while a snake is wrapped up around her body show all the creativity, technique and talent these two have. Although recognizing their individual strikes of the brush, when seen together as a whole, the murals looks like an artwork by only one, extremely talented artist, which is the greatest proof of a successful collaboration.
Product/81 Wynwood
Thanks to the success of last year's Art Basel group exhibition entitled Friends and Family, this year the Fordistas program, a platform for emerging arts powered by South Florida Ford, decided to provide a year-long residency for these artists throughout which they will be given living quarters, materials and the opportunity to feature their work in solo Art Walk exhibitions. Alexis Diaz was one of the artists who got the chance to have their solo exhibition during Art Basel Miami and to show off his fantastic artworks. The solo show entitled Superficie ("Surface") that was on view at Product/81 gallery from November 22nd, showcased a series of new paintings that mirror this dreamlike, or perhaps nightmarish, subject matter. The exhibition was on view until the end of Miami art week.
If you're a fan of Alexis Diaz work, sign up for My Widewalls today and always be informed about all the upcoming projects!