Some may find his works disturbing and creepy, other may think they are beautiful, either way, no one can deny the massive talent that the Austrian street artists Nychos owns. Famous for his works that portray dissection of mostly animals, the idea didn't come to the artist by chance. Growing up in a little village near Graz (Styria, South of Austria) he called "green hell", Nychos was constantly surrounded by animals but at the same time he was, from a very early age, exposed to all the cruelty and brutality of nature. After the initial adjustment and understanding of the way nature functions, he started seeing all the beauty in it and began exploring the unpredictable world of nature. At the same time, he found television to be a great source for research and cartoons became very important to him. Soon, Nychos started exploring his artistic side and combine two of the things he loved and knew to most about – art and nature. Today, he is one of the biggest stars on the street art scene, famous for his works of dissection. The unique style, perfect technique and the fantastic dedication to details makes Nychos one of the most exciting artists in the world. The artist often collaborates with many accomplished painters, and in 2011 he teamed up with several "Urban Illustrators" who all have a kind of unique and weird style. Only in the last couple of weeks, Nychos has been an attendee of many important art events from Knotenpunkt Festival and Greetings from NY project to the participation at the 2014 SCOPE Miami. For these, and many other reasons, Nychos is our Artist of the Week!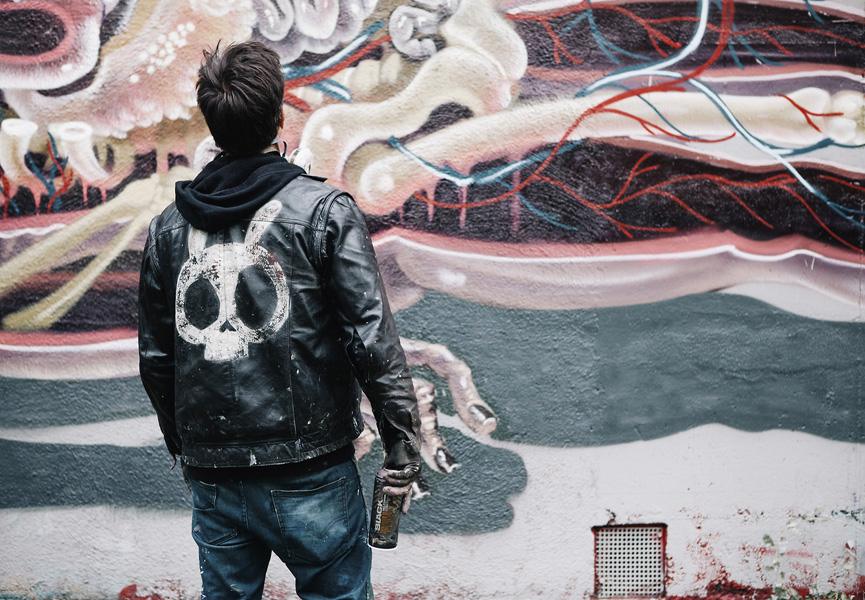 Knotenpunkt 2014
The first week of October was reserved for the Hamburg's Knotenpunkt festival. Happening for the second time, the four days event gathered over 5,000 visitors, breaking the last year's attendance record. Hamburg was turned into a street art utopia, presenting more than 50 unique international urban artists in the former industrial building on the Bahrenfelder Kolbenhof. Knotenpunkt was founded and curated by Affenfaust Gallery in 2013, and this year demonstrated the original idea was more than justified, as the posh, but rigid, city proved the perfect ground for such a festival. Aided by the Urban Art Festival his gallery started, Knotenpunkt 14 endowed the city with three new large-scale wall paintings as part of the Mural Kick Off, executed by the internationally acclaimed artists Nychos, Elmar Lause and 1010. Each of the creatives had the freedom to devise a piece for Hamburger walls, staying true to their personal expression and Nychos decided to stay true to his signature style and design a giant dissected spider. His work in progress was even caught on video, and you can see it here.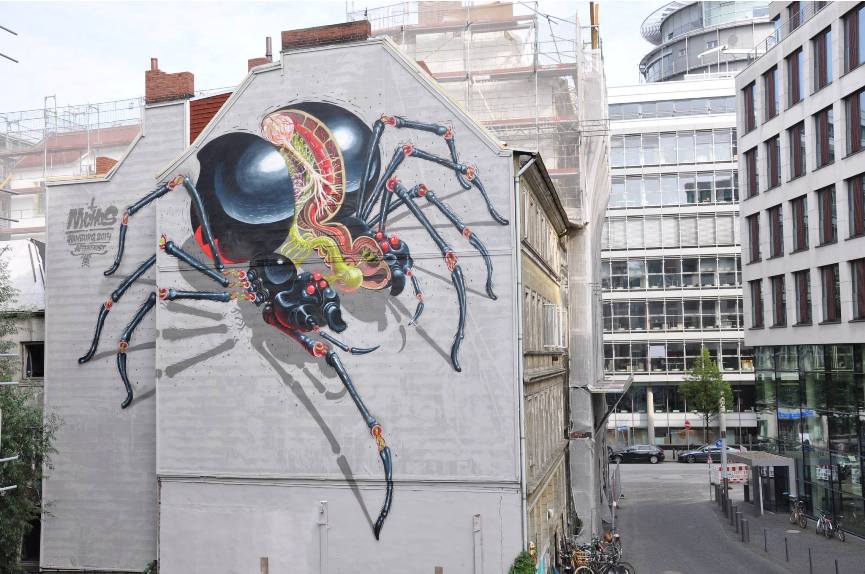 Greetings from NY
As one of the greatest and rapidly rising artistic communities, Berlin has become the center of Europe for urban art projects. An ongoing Project M, organized and hosted by United Nation non-profit from the German capital, hosting this November a phenomenal exhibition curated by Jonathan LeVine. Building bridges between the Big Apple and Berlin, the show is entitled Greetings from New York City, showcasing works of twelve artists from the America. Half of the participating artists came to Berlin and made the project even stronger by leaving their mural statements on designated walls and large-scale panels. Showing their works, there are AJ Fosik, DALeast, Dan Witz, EVOL, Faile, Gary Baseman, Jeff Soto, Kevin Cyr, Olek, Saner, Tara McPherson and, of course, Nychos.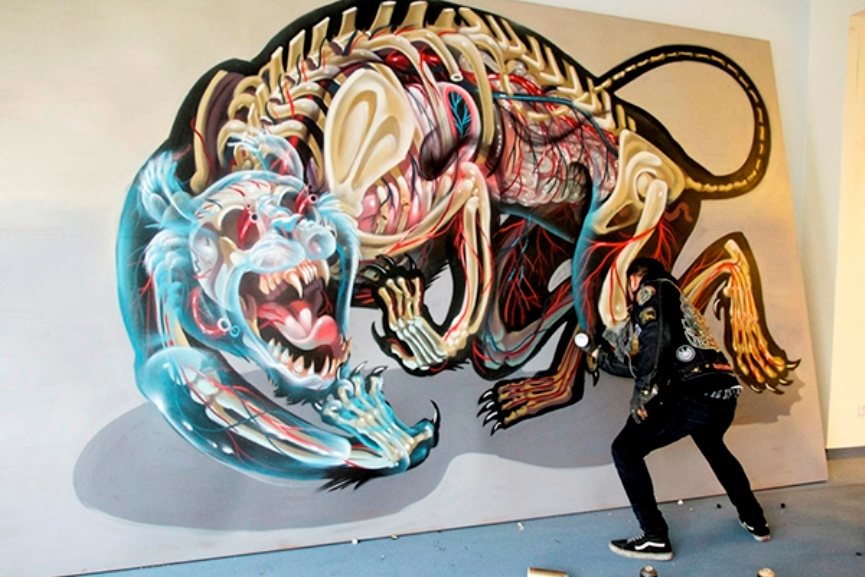 SCOPE 2014
Art week in Miami naturally begins with Art Basel Miami Beach art fair, and for all of those who manage to tackle this art monster, fairs around it are almost a field trip. One of the coolest art shows of the week is definitely Scope, oriented towards the new contemporary art and with its excellent Breeder program for the emerging artists. Among the ten galleries we selected as must-sees at SCOPE, there are other exhibitors that deserve attention. Among many fantastic renewed and young galleries, works by our street art star Nychos will be shown as part of the Mighty Tanaka gallery booth. The art fair also has a brilliant Breeder program for emerging artists, so this may be the favorite place of young collectors and art lovers who get their thrill from fresh inventions.
If you like the work by Nychos and would like to know more about his upcoming projects, sign up for My Widewalls today!