Every artist's true goal is to make his work unique, recognizable and different. Many try, but not many succeed. In the case of Riusuke Fukahori, a Japanese artist, finding an artistic style that eventually became his trade mark, was actually an amazing story of survival. After struggling to make it as a designer and make a living out of it, in 2000, when his career reached a lowest point, his pet goldfish caught his eyes. The red goldfish, despite being abandoned for seven years was still alive, swimming in dirty water tank. This unbelievable situation Fukahori witnessed became his driving force in his artistic, as well as his personal life. The Goldfish Salvation, as the artist called this incredible case, was a turning point after which goldfish became a perpetual subject of his works. The comprehension of this particular subject is far beyond its initial meaning. To Fukahori, goldfish symbolizes much more: I think of goldfish as a living sculpture with man-made modifications. It never reaches the completed form; the goldfish's vulnerability and imperfections bring out our motherly instinct. However, the breaking moment in Fukahori's career comes with the unique technique he invented many years ago. Using resin as his canvas and then painting goldfish on it creating a three dimensional effect, made Fukahori one of the most talked about artists in 2012. The fact that the artist made these works for eight years and kept it a secret until he perfected the technique, speaks alone about the commitment and professionalism about the man behind the stunning sculptures.
Only three years later, Riusuke Fukahori became one of the most popular artists in Japan and he's on a serious mission to conquer the global art market. The fact that Fukahori made it to our list of Most View Artists in January and now the title of our Artist of the Week only proves he's on the right track!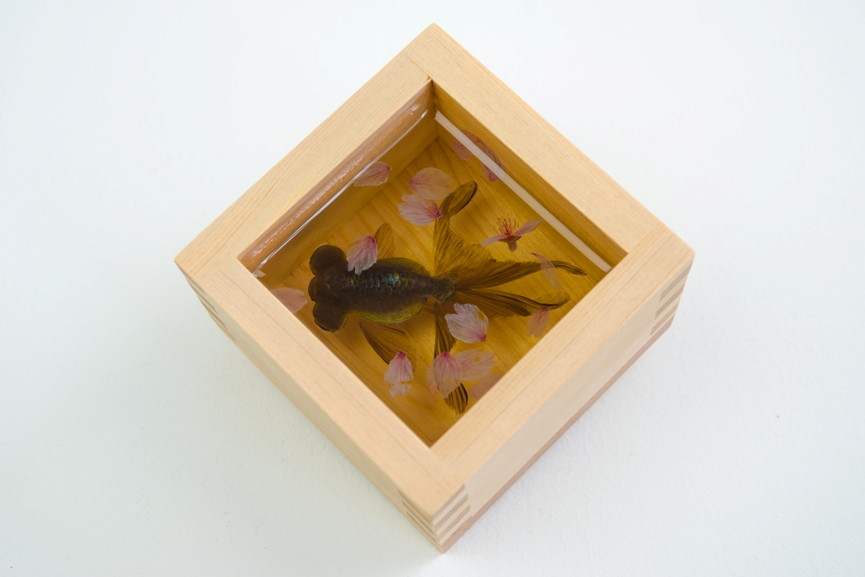 The Power of Belief
Japanese art scene is for years one of the most fertile. Nobuyoshi Araki, Takashi Murakami, Yayoi Kusama are just a small part of what is considered one of the most exciting art scene in the world. In an exclusive interview he gave to Widewalls only a week ago, Riusuke Fukahori talked about the obvious traditional influences and eastern imagery in his work and the way it blends into the contemporary art. And the process itself is as astonishing as the finishing piece. The slow and delicate procedure is always the same – first, he pours a layer of resin, lets it dry, after what he paints a small portion of the fish on top it, lets it dry, and then pours another layer of resin, repeating this process until he makes a three-dimensional representation of a goldfish. Although the whole process demands a lot of patience, the artist emphasizes the endless joy he feels seeing the final product. As he says, it makes his able to express a new found liveliness of the goldfish.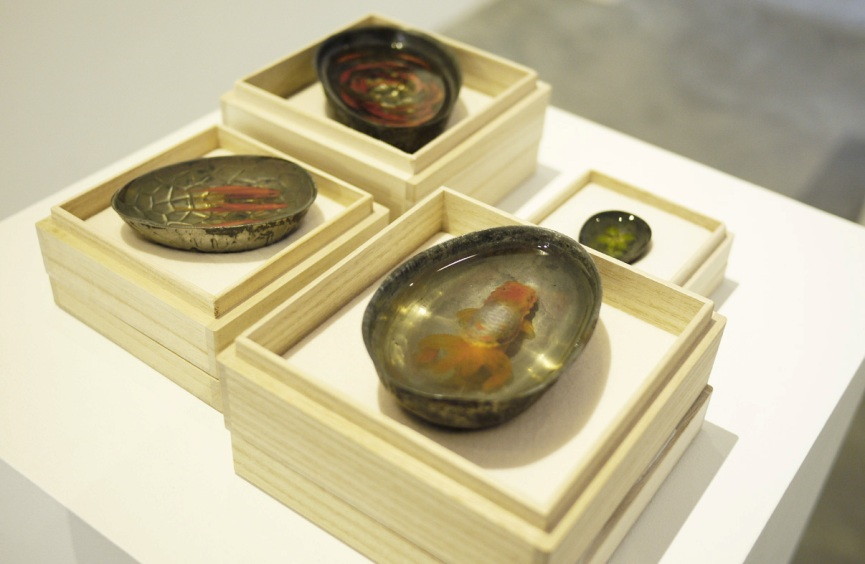 New Series of Works Expected In 2015
After the western world found out about Fukahori's unique approach to art, his career reach another level of attention. In December last year, Fukahori was part of the fantastic group exhibition as part of the Miami Project Art Fair that took place at Miami's Midtown Art District from December 2 – 7, 2014. Along with fellow artists like Alfred Steiner, Andrew Schoultz and Michael Kagan, Fukahori and the group presented some of their best work for Miami Project's third edition. And while the Miami exhibition became a major success, Fukahori is already planning a big exhibition of new works for the end of November 2015.
 If you want to know more about contemporary and urban art, sign up for My Widewalls today!