It is an intimate, revered and compelling space, a place where paintings are depicted, sculptures are wrought, dreams are coming true. Artist studios, indeed as wonderful and complex as we can imagine, have been a site of artistic creation and important meetings for centuries, inevitably becoming a part of artist's own character too. As the history of arts progressed and times changed, the artists studio evolved to become a spot where professional negotiations, planning and development occur, an environment of storytelling and a kind of prestige, where we can feel the artist's palpable presence and almost watch them work. Whether outdoors or in, an artist's studio continues to fascinate us, constantly revealing something new while retaining its reputation of a mythological place. Since the Renaissance to today, it has always been a reflection of the spirit of its time and the creator within, influencing his production and becoming a sanctuary of inspiration and imagination.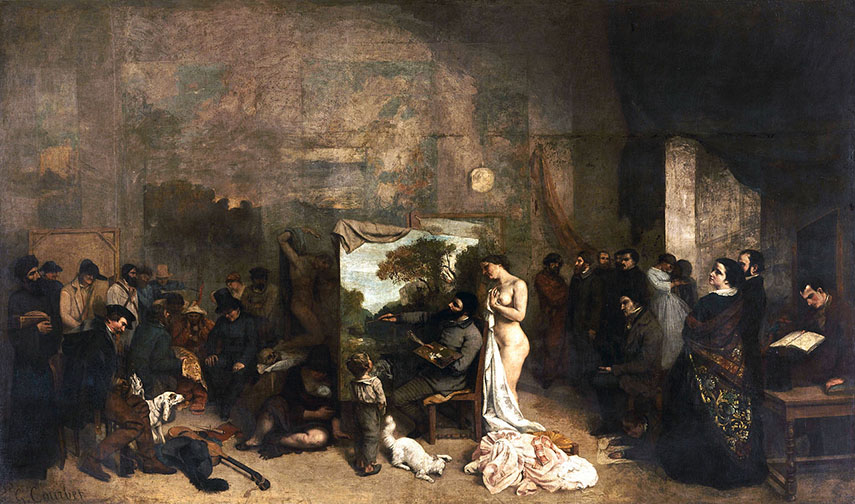 The History of Artist's Studio
Since its earliest days, which can be traced back to the 15th century and the beginnings of Renaissance, the studio explored and nourished an artist's working habits, witnessing the painstaking process, hard work and persistence to make an artwork come to life. From the bottega and studiolo, studies and ateliers, fields and hills, to the famous Factory and actual production halls found today, it's been an incredible journeys for talented individuals to find the perfect spot for their unstoppable outpour of making, which would then become some sort of a shrine to artistic motivation and enthusiasm.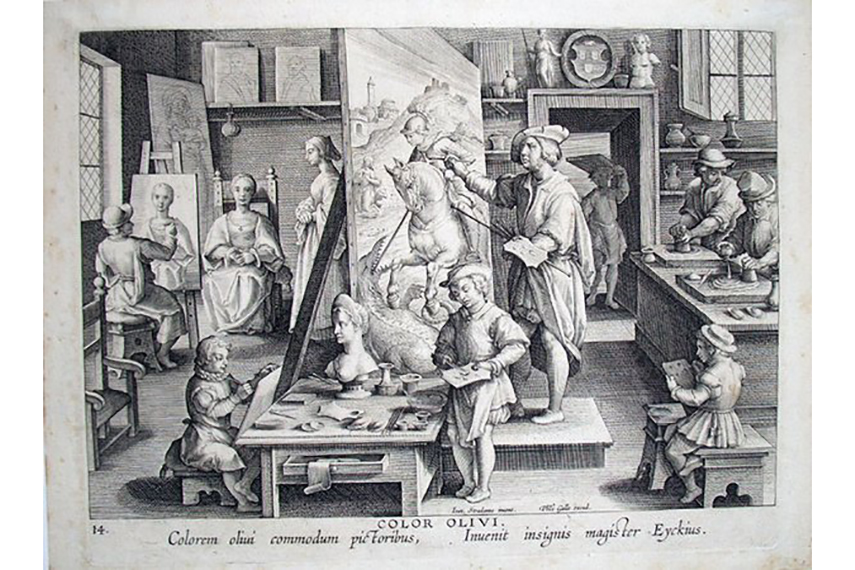 The Studio in the Renaissance
As Renaissance brought a revival and encouragement in the production of works that would come to define art as we know it today, artists studios became a prominent concept that still serves as the model for its contemporary counterpart. It was a time when private patrons tried to usurp the dominant influence of the Church on what artworks should look like and what they need to depict. In the Middle Ages, many creatives worked within monasteries, for instance, and this was something that the wealthy individuals sought to change[1]. Mixing art-making with craftsmanship, everything they produced referred to God and the worshipping of everything related to religion and the church itself.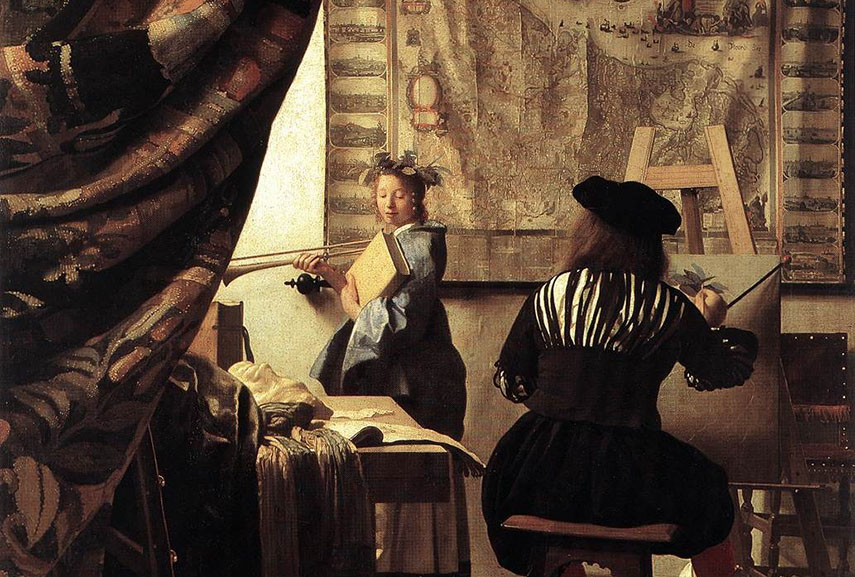 The Bottega and the Studiolo
Having one's own place meant a different kind of artwork; as Leonardo da Vinci famously said, "An artist's studio should be a small space because small rooms discipline the mind and large ones distract it" - and so it was. Patrons began commissioning works from artists, in forms of portraits, murals, altarpieces and other projects, directly influencing their personal financial well-being and reputation. This is when the term "bottega" was introduced to describe the workroom, while "studiolo" meant a kind of a study, a room for contemplation which was separated from the rest[2]. The two were often connected inside the same building, providing with different atmosphere and purpose. Bottegas often hosted a number of students who learned painting for example, from masters like Peter Paul Rubens and Antony Van Dyck, who went from being his apprentice to leading portrait maker himself.
Towards the 1700s, the studio became a place of magic, where respectable individuals took days, weeks even, to create their very best work. Often secretive, it was hiding great talent, thus attracting many curious voyeurs and those who wanted to discover the wonders happening within. It was inside an atelier that Flemish master Jan van Eyck made important developments in oil painting techniques, which allowed for hyper-realistic depiction of everyday objects over a slow, drawn-out process of mixing, layering and drying[3]. This way, the studio became an important part of the very act of making artworks, particularly when it comes to painters like Vermeer and Rembrandt, for instance.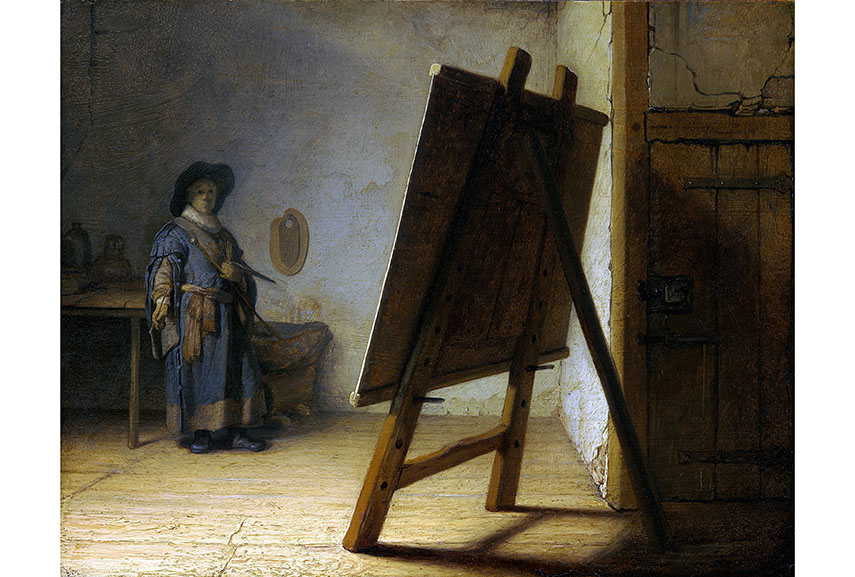 The Developments of the 19th Century
That artists studios were a place dedicated to the production of a single individual and where groups of dedicated students were taking classes was an established fact. However, things began to change when the French Academy system, particularly the École nationale supérieure des beaux-arts founded in Paris in 1816, launched its "exhibition program". Known as "salons", these shows were organized quite frequently and were conceived to support academic production of art - meaning they involved respectable critics and enthusiasts. The salons turned out to be major events in Europe, with a great impact on the understanding of art and what it means to make a relevant work of it.
As the time of the avant-garde approached, many creatives refused to be subdued to this kind of system. At a time of the industrial revolution in the 1800s, they encountered innovations in their artistry - whereas those of the past centuries had to make their own paint composed of a variety of ingredients, they could now buy paint readily available in aluminum tubes and in many stores nearby. Artistic tools like brushes and easels were now completely portable too, which meant these individuals were no longer be tied to a single location. And so, they started painting en plain air, installing their studio on fields and even floating boats, capturing landscapes and everything within firsthand and in all its glory. Naturally, this contributed to a more constant production as well, since one Claude Monet of John Singer Sargeant didn't have to wait for a commission anymore, but were free to paint whatever and whenever they wanted.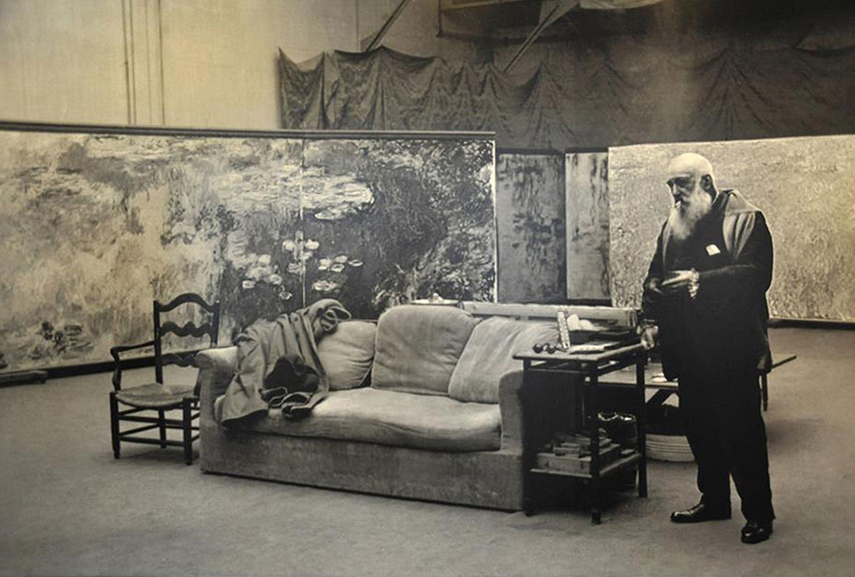 Artist Studios Today
With the advent of new tendencies in art and the definitions of artworks, artist studios began being assigned with new meanings and approaches to the process of making. They even became proper exhibition spaces, which is why some of them are now turned into actual single-artist museums. It was Andy Warhol's Factory, which I will examine closely further down, that revolutionized the concept of an artist studio, and today we have famous names like Damien Hirst and Jeff Koons as the owners of actual factories; Hirst's Science Gallery & Studio occupies 9000 square meters and includes tanks of chemical preservative for his eclectic animal pieces. Let us remember that in 2013, he produced as many as 1,365 spot paintings[4]. On the other hand, Jeff Koons's New York studio employs hundreds of assistants who help make his works, specializing in painting, casting, finishing, even computer graphics, for instance.
While these are particular cases, there are other studios which we can thankfully visit even today, to get a glimpse of the environment some of the greatest minds of our history lived and worked in. Apart from the examples we will list below, there are several sites also worth mentioning, such as Paul Cézanne's studio nested on a hill in the South of France, the recently opened Chelsea home of Louise Bourgeois, relatively close to the one of Edward Hopper and Keith Haring in Manhattan, Alexander Calder's home-studio in Paris, Ai Weiwei's Beijing atelier…
Below, take a tour of the most famous artist studios in the world and the stories behind them.
 Editors' Tip: Art Studio America: Contemporary Artist Spaces
For centuries, America's permutations of climate and landscape and its tantalizing suggestion of unlimited possibilities have inspired some of history's greatest minds to embark on both literal and imaginary journeys of exploration, none more so than its visual artists. Contrasting intimate visits to studios with explorations of the country's sweeping landscapes of light and form that have been an inspiration since the Luminists and the Hudson River School, here is a privileged look at the dreams, ideas, and thoughts of more than one hundred American art-makers who are active today. From New York's skyline to Southern California's sunny boardwalks, Art Studio America will embolden readers the chance to embark on transformative journeys of their own. The book includes essays by Robert Storr, Mark Godfrey, and Ben Genocchio.
Pablo Picasso Studio - From Vallauris to La Californie
In the early 2016, Cahiers d'Art in Paris held an exhibition of never-before-published photographs from Pablo Picasso studio (or rather: studios) - taken by a variety of photographers in the 1950s. The Spanish painter had several, most of which were on the French Côte d'Azur, including the ceramics workshop Le Fournas in Vallauris Golfe-Juan, the La Californie in Mougins, and Notre Dame de Vie. Filled with artworks of different kinds, from paintings and drawings to ceramic pieces and wooden sculptures, tools and brushes, they ooze in chaos, revealing the way Pablo Picasso explored materials, perspective and the support of his works. He didn't seem to mind inviting photographers to document him work with great attention, from Edward Quinn to David Douglas Duncan and Yves Manciet. In some of the pictures, we can see Picasso's famous artworks, such as Bust of a Woman sculpture and Woman with blue hat painting.
Salvador Dali Studio - The Portlligat House
For Salvador Dalí studio held great importance for imagination and creation alike. To him, it seemed like the place becomes a kind of self-portrait, regardless of whether he's physically present in it at the moment or not - like an embodiment of what is hidden and what is shown. Salvador Dalí also owned numerous studios, most notably those in Figures, Cadaqués, Púbol and Portlligat, where we can find the famous house he built for himself as a kind of a shrine. Dalī lived in several apartments that would eventually turn into ateliers, in Paris and New York, as well as numerous hotels like Hotel St. Regis in the US and even Coco Chanel's own house in Roquebrune-Cap-Martin. There were also the ephemeral places where he occasionally carried out some one-off action, like the Surrealist dinner at the Del Monte Hotel in 1941, or the performance in 1948 in the gardens of Bomarzo, near Rome and Parc Güell in Barcelona. Of course, all these ateliers are as eclectic as Dalí himself.
Frida Kahlo Studio - La Casa Azul
One of the most beloved and celebrated painters in history, Frida Kahlo was an extraordinary person as well. She spent most of her life suffering from different health issues and her pain is almost palpable in her artwork, as well as her own house, La Casa Azul, which is now home to the museum in her honor. There, in her light-filled bedroom, the visitors can see a wheelchair, to which Frida Kahlo has been confined for a while, placed in front of a wooden easel which is said was given to her by Nelson Rockefeller, surrounded by paints and supplies. There's also the famous bed, in which she laid after her accident and painted self-portraits thanks to the mirror attached to the top part of it, as well as numerous photographs of Diego Rivera and an entire closet of books and wooden boxes that she herself decorated. In the Frida Kahlo studio, one can also find the famous painting of a dead child, as well as photomontage of Joseph Stalin, Vladimir Lenin, Karl Marx, Friedrich Engels and Mao Zedong. Another museo and estudio to see is the one dedicated to both Frida Kahlo and Diego Rivera, in Mexico City.
Francis Bacon Studio in South Kensington
It's no secret that Francis Bacon had quite a difficult life. Often drunk at night, he would nevertheless get up with the first light and have strong tea to fight the hangover. Although his personal life was rather messy, he was a very disciplined artist, even though Bacon's chaotic studio might suggest otherwise. His house in South Kensington, where he spent the last thirty years of Bacon's life, had a sitting room and a studio, covered in books, photos, paintbrushes and paint, old sweaters and socks, but Francis Bacon always knew where to find things he needed. Even today, there are paint marks covering the floors as he would try out the paint and cleaning his brush. The room was rather small and sometimes it was difficult to take bigger paintings out and when he would work, in complete silence and with no assistants, no one would disturb him. In the middle of painting, he would also walk out to Soho and have a glass of champagne, finding inspiration for works on the way. Another Bacon's atelier, the Hugh Lane estate in Dublin, was previously located in Reece Mews.
Georgia O'Keeffe Studio - A New Mexico Heaven
The wonderful house found at 21120 Highway 84 in Abiquiu, New Mexico was once home to American painter Georgia O'Keeffe. When she bought the property back in 1945, it was a total ruin, but she turned it into an atelier and a living area with a great overview of the Chama river Valley, by adding gardens and innovative architectural details. The 5000 square feet Spanish Colonial-era compound fascinated the individual, who left New York for a more quiet life. It is in this very house that she created her Cottonwood series, as well as the paintings of the Abiquiu Mesa and the road to Santa Fe. Now the property of the Georgia O'Keeffe Museum, it was declared a National Historic Landmark in 1998, and today the visitors can tour the entire house and experience it just as she left it - with all the rocks, skulls and other desert treasures she used to collect, as well as a few artworks she created using the great amount of daylight entering through the many windows.
Andy Warhol Factory - A Hub for the Famous
There was the Campbell soup can, The Marilyn portraits. The Elvis and the dollar sign. But perhaps what made Andy Warhol into the superstar we all know the most is his The Factory, the celebrated studio located in midtown Manhattan on East 47th Street (before moving to Union Square in 1968 and Broadway in 1973). Quite simply, if you were even remotely famous, chances are you ended up in The Factory sooner or later, because it was the celebrities, socialites and artists of many kinds who were a great part of the space that became a true hub for experimentation. Wrapped up with tin foil and silver paint, it was a place where Andy Warhol produced everything from prints and paintings to films, sculptures, commissioned work in a variety of genres and even shoes. It was known for its groundbreaking parties and the Warhol superstars, the free-thinkers who starred in Warhol's film works and became something like the tenants of the place. Andy Warhol's Factory was the busiest, most popular artist studio in New York at the time, until it closed in 1984. Today, we can remember its fame through a number of documentaries and the statements of the many who had visited Factory, a truly monumental place.
Andy Warhol - The Factory
References:
Fig, J., Inside the Artist's Studio, Princeton Architectural Press, 2015
Waterfield, G., The Artist's Studio, Hogarth Arts Ltd, 2009
Alpers, S., Rembrandt's Enterprise: The Studio and the Market, University of Chicago Press; New edition edition, 1990
Bowley, G. (2013), Hirst Counts the Dots, or at Least the Paintings, The New York Times [September 22, 2016]
Anonymous, Our Story, The Pollock-Krasner House & Study Center [September 22, 2016]
All images used for illustrative purposes only.