Held in downtown Coachella's historic Pueblo Viejo, the artists scheduled to make a difference for the local community during The First Annual Coachella Walls mural installation project include Date Farmers (Coachella), El Mac (Arizona), Nunca (Brazil), Saner (Mexico), Andrew Hem (Cambodia), Liqen (Spain), Albert Reyes (Los Angeles), Vyal Reyes (Los Angeles), Sego (Mexico), The Phantom (Los Angeles), Jim Darling (Texas), and more. The art project is led by the local artistic duo "The Date Farmers" comprised by Armando Lerma and Carlos Ramirez, and curated by Medvin Sobio, the founder and academy director of the Academy of Street Art in Los Angeles. The aim of this annual art project is to bring attention to the poor community in Coachella and to revitalize it by art. Here is a brief overview of the participants.
The Date Farmers
(Coachella)
Hailing from Coachella California, Carlos Ramirez and Armando Lerma first met in 1998 and have been painting together ever since. Their artwork, which includes paintings, sculptures and installations, merges diverse influences such as graffiti, Catholicism, traditional revolutionary posters, sign painting, tattoos and even a dash of Hollywood. They have participated in art shows in Miami, Stockholm, New York, Chicago, Los Angeles as well as exhibits in Tokyo, London, and Oaxaca.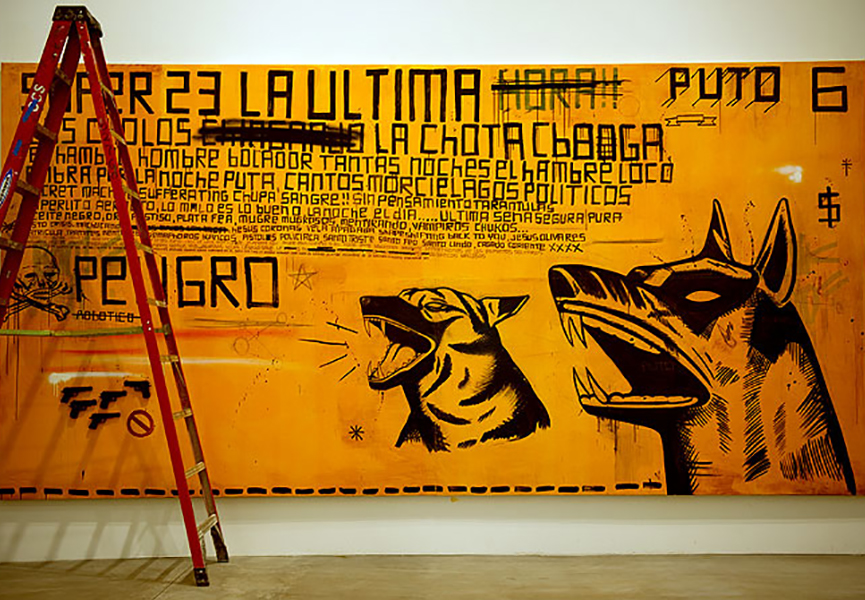 El Mac
(Arizona)
Even as a boy, El Mac has been creating and studying art inspired by classic European painters such as Caravaggio and Vermeer. This was mixed with the more contemporary influences of graffiti and photorealism, as well as the Chicano and Mexican culture. He began painting with acrylics and painting graffiti in the mid '90s, when his primary focus became the life-like rendering of human faces and figures. El Mac has since worked consistently toward developing his unique rendering style, which utilizes repeating contour lines reminiscent of ripples. El Mac has performed his art across the US, as well as in Mexico, Denmark, Sweden, Canada, South Korea, Belgium, Italy, The Netherlands, Puerto Rico, Spain, France, Singapore, Germany, Ireland, the UK, Vietnam and Cuba.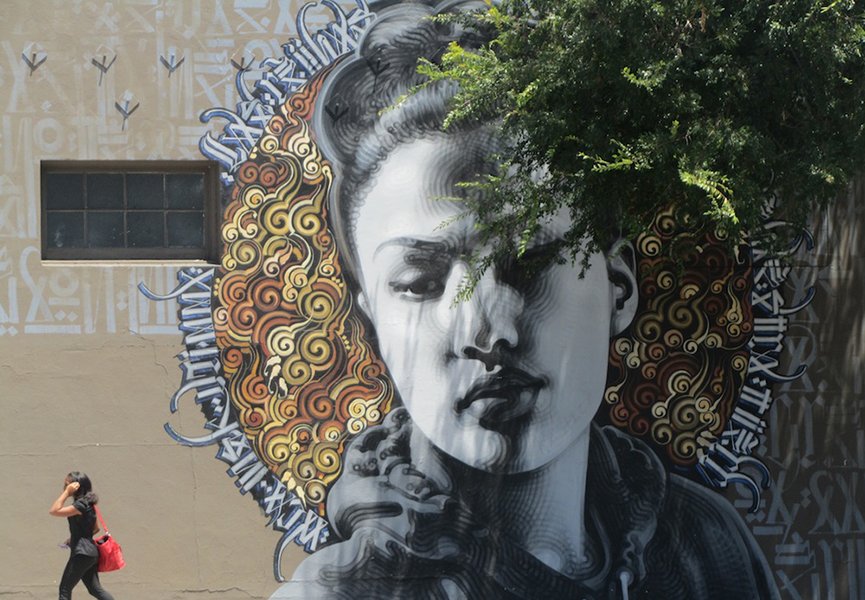 Nunca
(Brazil)
Nunca (meaning "Never") started writing graffiti and pichação (a uniquely Brazilian form of tagging) on the streets of São Paulo when he was twelve. Nunca's works reflect what he sees as the inner character of the Brazilian people. "I like to look more to indigenous art," he explains, "because for me, the Brazilians still have something of the Indians, in the culture, in the blood." Though made with spray paint or acrylic, they often have the look of ancient woodcuts or etchings. His use of dark red ochre similarly relates to the urucum used by some Brazilian tribes to paint their faces in rituals.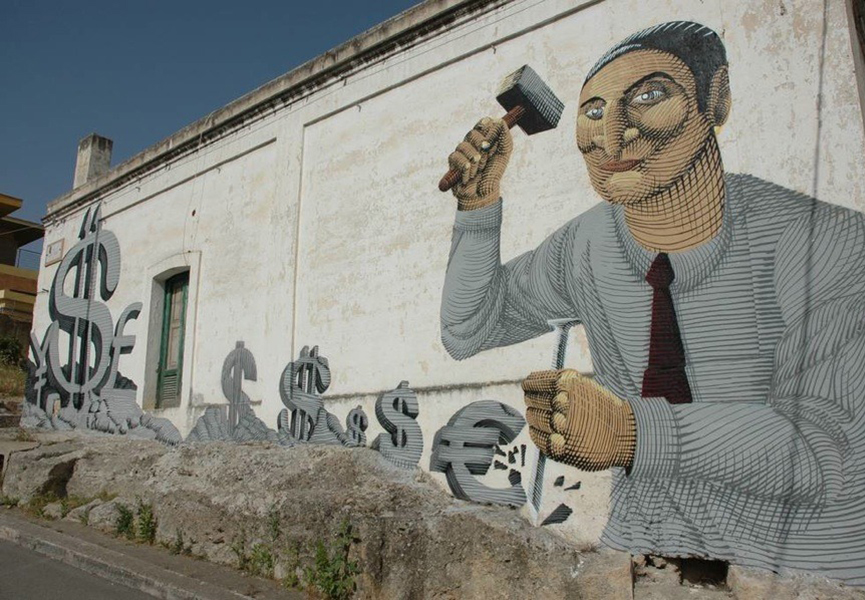 Andrew Hem
(Cambodia/Los Angeles)
Hem's personality and as well as his art unite two cultures, the gentle animistic society of his Khmer ancestors, and the dynamic urban art of the Los Angeles neighborhood where his family eventually came to rest. Working in gouache, oil and acrylic, he weaves atmospheric, richly textured narratives in a vivid palette.  Andrew Hem's introspective paintings evoke the life of the spirit through the visionary manifestation of memories and dreams.
Liqen
(Spain)
Liqen grew up in the industrial city of Vigo, Spain, inspired by the comics and graffiti.  What moves his work today is mostly the animal kingdom, nature, and fantastic creatures. Liqen's various murals around Mexico demonstrate his critical vision about human destiny and industrialization. The artist stands against contamination and the inhumanity that cars cause, as well as the arrogance about social status that we find especially in big cities.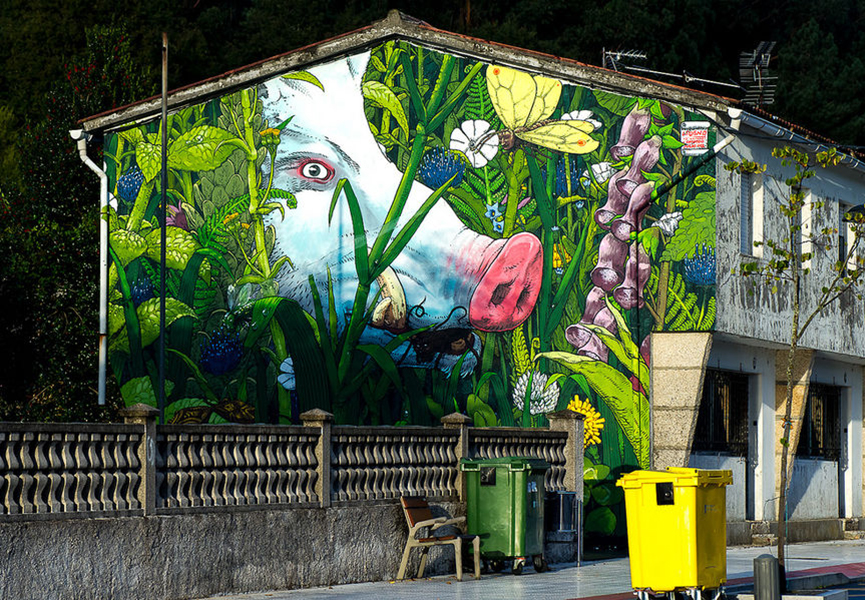 Jim Darling
(Texas)
Jim Darling grew up in the sprawling suburbs of Dallas, Texas. He received his BFA from Rocky Mountain College of Art & Design in Denver. Fresh out of school, Darling co-founded an interactive design shop (Xylem Interactive). A few years later he would go out on his own in pursuit of his solo career as a fine artist & freelance creative. Darling's gallery work ranges from intricate ink drawings to layered wood work with illustrative painted skins. Outside, Jim expands his tool set by including found objects and materials. His subject matter exists between play and real.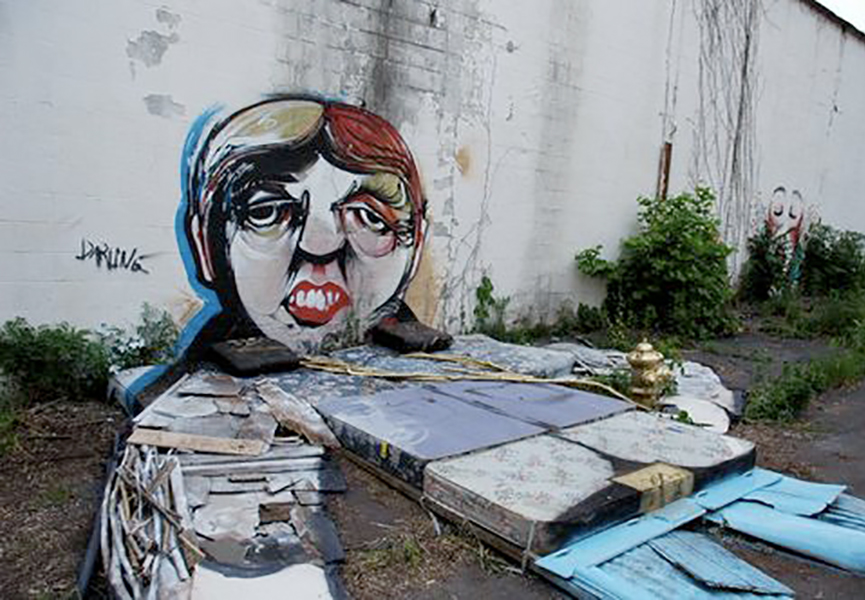 The Phantom
(Los Angeles)
Controversial and brilliant Joey Krebs, aka The Phantom Street Artist, has been a longstanding force in the L.A. street art scene. Critiquing society and its culture, particularly the language of mass media, The Phantom Street Artist has chosen to capture the various spectacular image and languages of mass media with new representation in order to subvert the authority of the sign and its signification. His work invokes a simple visual spray painted icon silhouette with text in order to provoke social discussion through usurping the streets as theater with urban myth, rumor, gossip and ritual. You have seen the work on the album cover of Rage Against the Machine along with their MTV videos.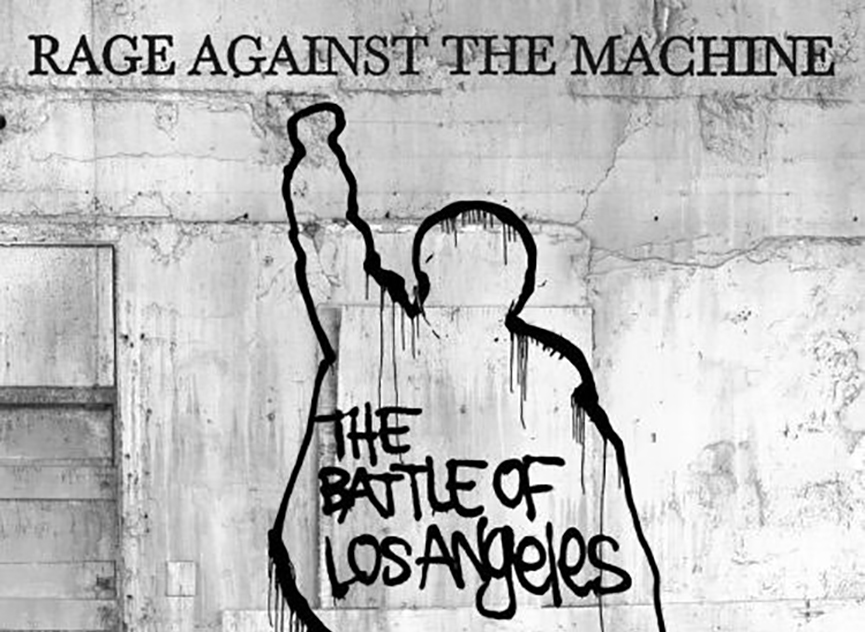 Albert Reyes
(Los Angeles)
Albert has a distinctive artistic approach inspired not only by street art, comic books, and American pop culture, but also by contemporary and classical "high art." Many of his drawings and illustrations incorporate everything from icons of corporate America to Hollywood stars to mass-media to politics to consumerism.  Reyes has exhibited at the Giant Robot LA SF NY, New Image Art Gallery LA, Upper Playground SF, Low, Balazo, Ampersand, Studio Number One, and in Paris, France.
Saner
(Mexico)
Edgar "Saner" Flores is an urban illustrator and graphic designer. Raised in Mexico City, surrounded by rich color and tradition, Saner developed an interest in drawing and Mexican murals early on. His lively and humorous images of masked characters on public walls, found objects, and other canvases are influenced by Mexican custom and folklore. His work has been exhibited in galleries and museums in Mexico City, New York, London, Berlin, and Barcelona.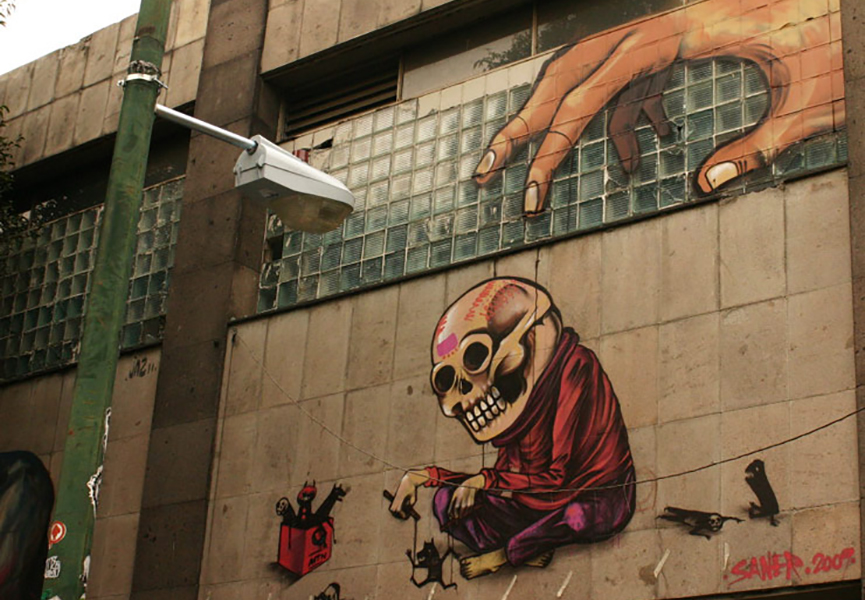 SEGO
(Mexico)
Saner's fellow countryman Sego is known for his fantastic drawings and paintings inspired by the surroundings in which he grew up. Sego says that what allowed him to develop his own style was his experience living on the coast of Oaxaca. "When I was a child, I lived in Oaxaca for two years and suddenly found myself in a totally different environment than that of Mexico City. As time went by, I began to add elements, colors, textures and forms from that time lapse in Oaxaca."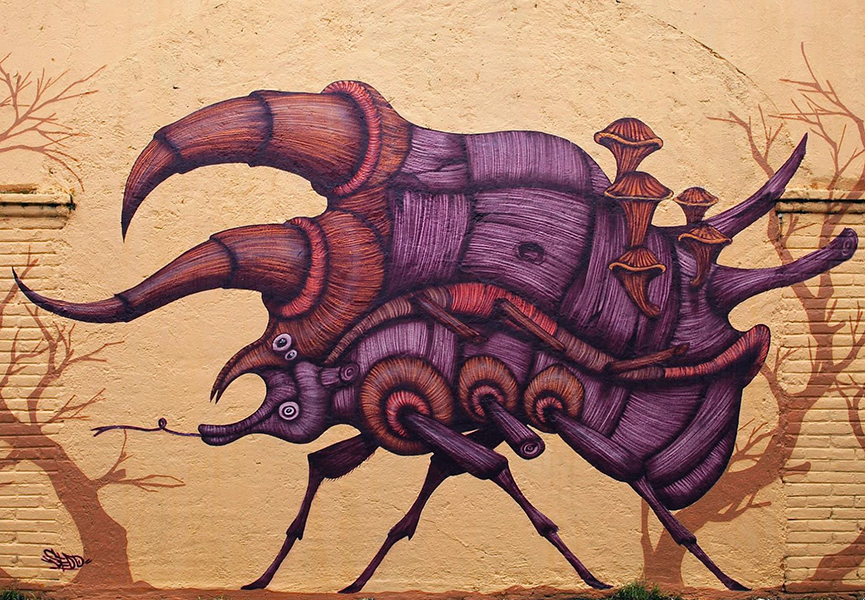 VYAL REYES
(Los Angeles)
Jaime "Vyal" Reyes began painting graffiti art in the late 80's and painting under the name Vyal since 1990. In 1993, he was invited by Chaz Bojorquez to participate in his first gallery show at 01 gallery in Hollywood, after which he began to focus on exhibiting his work and pursuing his art as a full time profession. Jaime Vyal Reyes is known for his refined spray can techniques which has led to the fact that he is today considered to be one of the best graffiti artists in Los Angeles, and his work has now been exhibited at museums and galleries including MOCA, and in more than 30 cities in the U.S. as well as international exhibitions in Germany, Mexico D.F., and most recently in Israel and Palestine. Jaime Vyal Reyes is also an active teacher for around 10 years at Self Help Graphics.