NeverCrew are Pablo Togni and Christian Rebecchi, both born in Switzerland. Since they founded their art collective in 1996, the duo primarily worked their artistic development through painting, which later evolved to other expression forms like sculpture, illustration, photography and video. They mastered their craft by adorning walls across the south of Switzerland and through numerous participations in exhibitions and art projects. Simultaneously with their art education at the Art School in Lugano, guys from the NeverCrew continued focusing on spray painting, but now decided to combine their long experience of working in the streets with the expressive research they did at the Academy.
In 2008, the multitalented artist extended the range of their artistic creations again by beginning to work in both two-dimensional and three-dimensional mode. Their fantastic skills, perfected technique and undeniable talent landed them several high-profile collaborations with various companies.  Still, as independent artists since 2010, they started a new personal research to which they are dedicating more and more time: a more specific language on a conceptual level, but not necessarily from the technical and visual point of view, which takes the form mainly in their "sections" and "living structures". With a series of these works, in 2012 they participated at ArtYou Urban Art Basel (CH), and in the same year, they realized the big "Magenta" wall painting in Lugano (CH).
Since the exclusive interview NeverCrew gave us last year, this street art stars have visited Germany and Egypt and now are preparing their latest show at Artstübli in Basel entitled "Simultaneity". For these, and many other reasons, NeverCrew is our first Artist of the Week in 2015!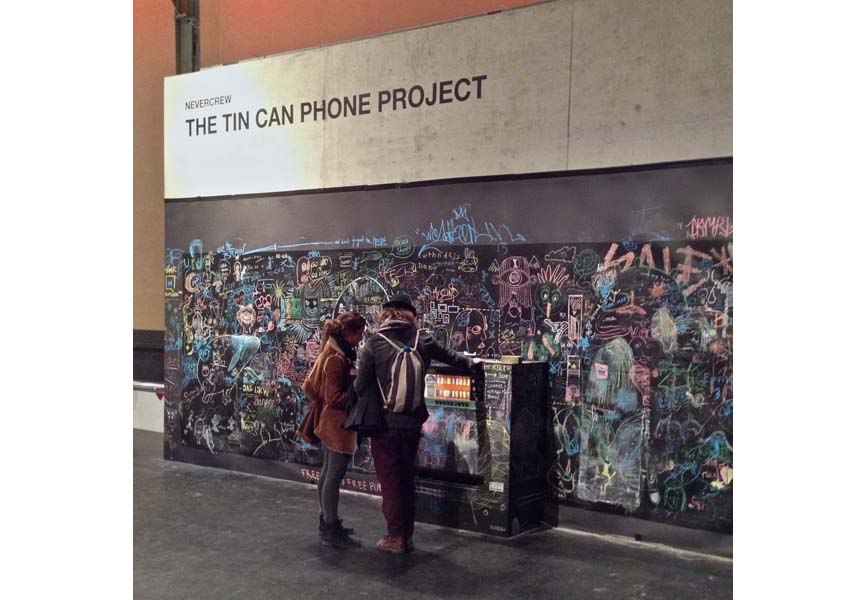 NeverCrew for City Canvas
In September 2014, Swiss street art collective NeverCrew was invited to participate in a Hamburg based street art festival entitled City Canvas. Since 13th to 25th of September, five famous names in street art like 1010, Case Maclaim, Dzia, Don John and NeverCrew painted one mural. For this occasion, NeverCrew was inspired by an idea of a system that forces things in a decided position, without caring about the differences and the needs of each part. It's about the change and the progress in a specific way, which involves only a little part of the population, about persuasion and about all the possibilities that are discarded because they are described as impracticable. At the same time, the idea tells about a place and a community with a lot of energy and with a sense for rebellion.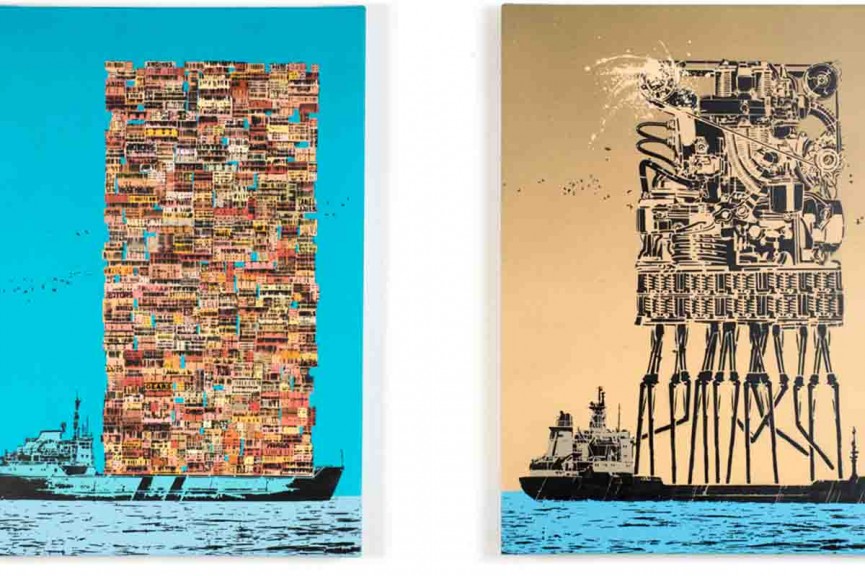 Compelling Machine in Cairo
Only a month later, a piece entitled "Compelling Machine n°2" was realized on the walls of the Swiss Embassy in Cairo, Egypt as a part of the project "On identity and fingerprints". The inspiration for this painting comes from the topic of the project: the relation between fingerprints and identity. Fingerprints are used to recognize people, to catalogue people, but that in a certain way they're the only part of a man that has no contents. So, what becomes important of the fingerprint is the fact of being a trace of an interaction, of being a sign that a man is touching something, building something, connecting with something and with someone. And so they used fingerprints for an idea of interaction between persons, where different identities (cultural and personal) are important in a positive way: for an exchange and for a communication (difference is not division). "We see a system that works with the persons that are behind the fingerprints and with their cultures, personalities, skills, in a cooperative and communicative attitude."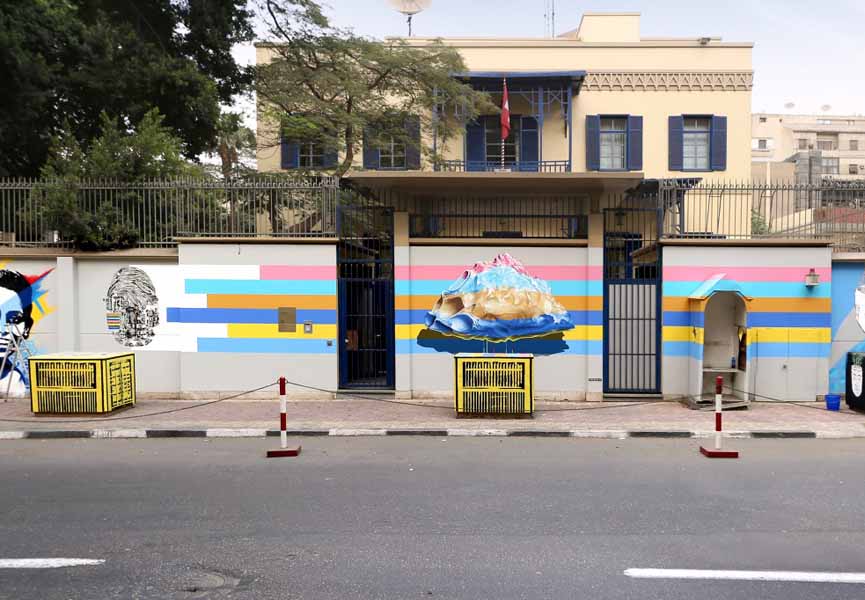 Simultaneity
Latest project coming from NeverCrew's studio is their exhibition entitled Simultaneity. With this newest body of work, the duo is exploring relationships present in a system. To a certain degree, these pieces are a result of years-long journey and countless walls in various cities around the globe. In the period between January 16th and February 13th 2015, at Artstübli in Basel, question the notions of real and surreal, natural and social – and try to grasp what it means to be a "living structure."
All photos courtesy of NeverCrew.
If you want to be the first one to know all about the latest projects by the talented art collective NeverCrew, sign up for My Widewalls today!