The new Artprice Contemporary Art Market Report is here, and it is packed with great information regarding the state of today's Contemporary art market. It contains data from July 2014 - June 2015 period, but it had included sales that were held on July 1st and July 2nd 2015, because this year was an exception - these sales traditionally occur in the first half of the year. The data pool was incredibly large - Artprice's experts compiled data from almost 50,000 Contemporary artists that are on the global auction market, and here we'll present a small part of Artprice's experts findings - we sincerely invite you to read the whole report: it will give you deep and thorough overview of the most attractive segment of the global market.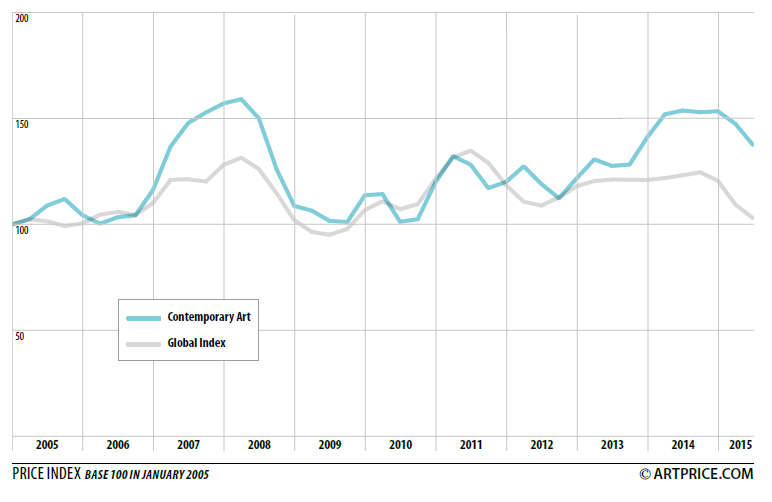 The State of the Global Contemporary Art Market
Report by Artprice confirms things we could have only speculated so far: the Contemporary auction market is declining. During this July 2014 - June 2015 period total Contemporary auction turnover was $1.76 billion, which was 12 percent less than in July 2013 - June 2014 period. However, the Report reminds us that in the span of the last 15 years this turnover grew an astonishing 1,800 percent - in 2000/2001 this turnover was as low as $93 million, while in 2006/2007 it grew up to $365 million. Today, Contemporary art market has the share of 13 percent of the global Fine Art auction market. And while the global Contemporary art price index has risen 30 percent over the last 10 years, in June 2015 this index was 16 percent lower than in July 2014, and 20 percent lower than in the first half of 2008, when it had the highest value in history. Although we are talking about global market, essentially we are talking about just three countries: the United States of America, China and the United Kingdom combined have 91 percent of share of the global Contemporary art auction turnover.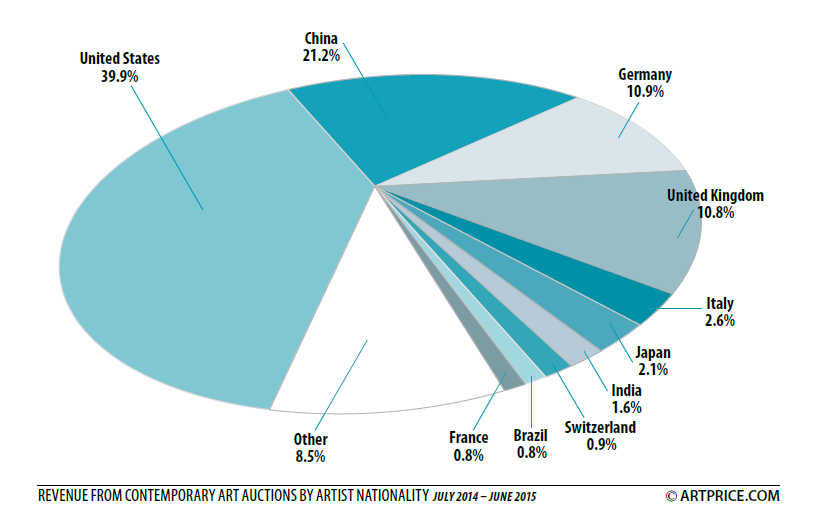 United States, China and United Kingdom
In 2014/2015, the USA took over China for the biggest share of the market - the States participated with 37 percent of the global Contemporary art market, China with almost 31 percent, and the UK with a little over 23 percent. China was on top for four consecutive years, but in 2014/2015 Chinese Contemporary art market shrunk big, for 36.9 percent ($542 million turnover, compared to $860 million in 2013/2014). Artprice's experts explain this drop with two large exogenous factors - number one was a huge anti-corruption campaign by the Chinese government, that turned away potential art collectors and restrained them from buying art, in fear that these "extravagant" purchases could draw near Chinese administration and its anti-corruptive measures. The other big factor was, of course, the big fail of Chinese stock markets, that started in the first half of June this year. The United States, in the other hand, generated $650 million from Contemporary art, which was $90 million more than China. But, when we say the US, we actually mean New York. New York is undoubtedly the global capital of the art market, since it makes the vast majority of the US Contemporary art market - out of total $650 million, New York is "responsible" for $631 million, or 97 percent of the US market. And, what is New York for the US, that is London for the UK - London accounted for 99 percent of the UK's Contemporary art auction turnover, and the UK market is approaching Chinese market fast: last year the gap between the UK's and Chinese Contemporary art market was $630 million in favor of China; this year it's only $130 million.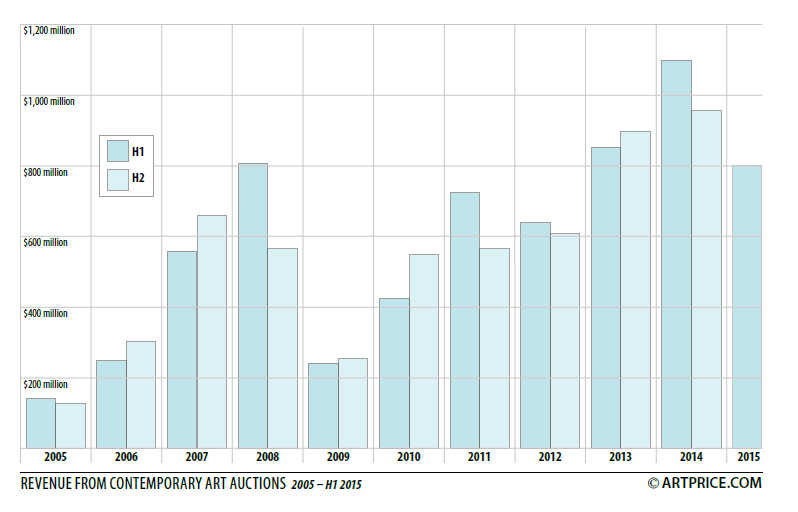 The Individual Contemporary Artists
Artprice's experts consider someone a Contemporary artists if he or she was born after 1945. So, there's no Andy Warhol, nor Gerhard Richter among those nearly 50,000 Contemporary artists. However, that doesn't mean that the figures are uninteresting - they're not! They say that $1.2 billion, or 68 percent of global Contemporary art auction revenue was generated by just 100 artists. But, there's more: 35 percent of total revenue was generated by just 10 artists, and incredible 18 percent was generated by just three artists. And these three are Jean-Michel Basquiat, Christopher Wool and Jeff Koons - they have been on top of Artprice's list for three years now. The auction revenue from Jean-Michel Basquiat's artworks is almost $126 million, Christopher Wool's works gathered $113 million at auctions, and Jeff Koons' almost $82 million. For example, Gerhard Richter, who was born in 1932 and, thus, didn't make it on this list, generated $276 million in 2014/2015, more than Basquiat and Wool combined. Peter Doig is at number four with $66 million, Martin Erger Kippenb generated $65 million, Fanzhi Zeng $35 million, Richard Prince almost $33 million, Xinjian Zhu had almost $25 million, Keith Haring $24.5 million, and this Top 10 list ends with Damien Hirst, that generated $22,7 million.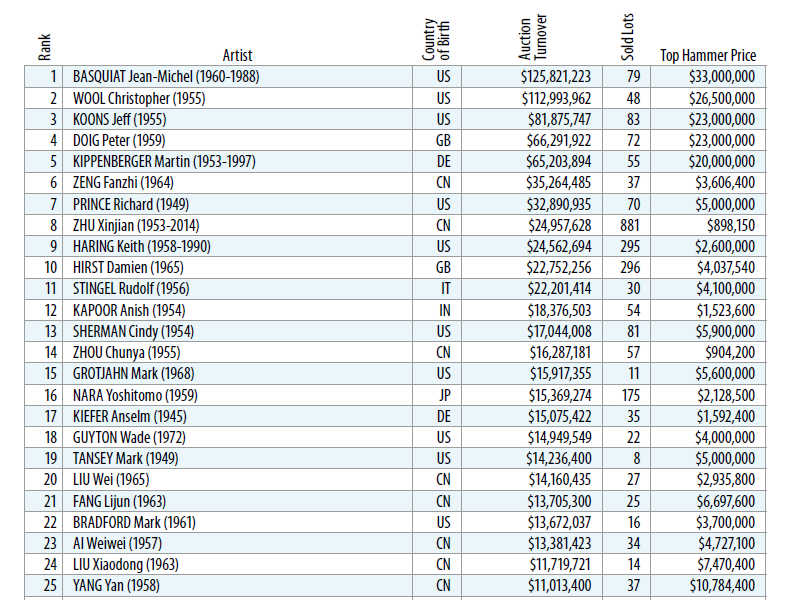 Other Features of the Report
This edition of Artprice's Report also included the thorough analysis of auction performances of certain artists. This fantastic feature of the Report analyses connections between artists' career and their professional choices, productivity, the influence of exhibitions, prizes, media exposure on performance at auctions. So, we have price indexes and auction revenues over last 15 years for Jeff Koons, Christopher Wool, Zeng Fanzhi, Rudolf Stingel, Peter Doig, Damien Hirst, Anish Kapoor, Maurizio Cattelan and Ai Weiwei. The Report also considers up-and-coming artists that participated at the oldest art fair, the Venice Biennale. Another feature is Professional Insights, where people like Giorgio Verzotti (Artistic Director of Arte Fiera, BolognaFiere, Italy), Dr David Bellingham (Sotheby's Institute of Art, UK), Jones Bergamin and Sophie Su (Bolsa de Arte, Brazil), and David Chau (Collector, Patron, Founder of ART021 Shanghai Contemporary Art Fair, China) talked about a recent event that had a significant impact on some contemporary artist's' career. All in all, the new Artprice Contemporary Art Market Report is a fantastic read, and we recommend you to read it from start to the end - you can download the complete Report here.
Sign up for My WideWalls for FREE and be up-to-date with contemporary and street arts.
Featured image: Bidding at Sotheby's (Courtesy of Art Market Monitor)
All other images courtesy of Artprice.