As the art world prepares for Frieze Art Fair in London and the FIAC in Paris, Artprice brings us its Contemporary Art Market Annual Report 2017 that we have all been waiting for. Overall, the report shows that the Contemporary Art Market enjoys relatively good liquidity and is substantially profitable over the medium and long terms, managing to retain its early-2000s vitality. In the midst of the chronic financial and economic crisis affecting the world economy since 2007, the Art Market seems like a desert oasis. According to Thierry Ehrmann, Artprice's founder and CEO, Contemporary Art is the segment that has now emerged as the art market's primary locomotive, a role historically played by Modern Art. With a turnover growth of 1,400% in 17 years, Contemporary Art has gone from 3% of the Art Market share to more than 17%. So let's take a look at the highlights of the Contemporary Art Market Annual Report for 2017!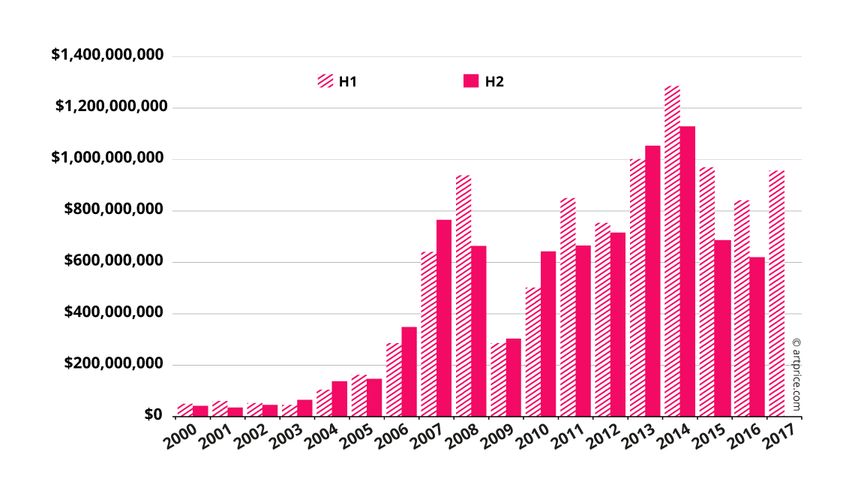 The Current Trends
After 18 months of slowdown, the Art Market as a whole is looking in better shape. The recovery is largely due to the performance of Contemporary Art, becoming the most exhilarating segment of today's Art Market. Factors like a first public sale, a sharp spike in demand, a rapid capital gain, a new record, the attitude adopted by auctioneers and their results, reveal the latest trends as in what buyers are currently interested in and the potential of these markets.
The first place in the top 10 auction results in Contemporary Art belongs to Jean-Michel Basquiat's Untitled from 1982, reaching the stunning hammer price of $110,487,500, followed by his La Hara from 1981, reaching the hammer price of $34,967,500, Peter Doig's Rosedale from 1991, reaching the hammer price of $28,811,000, Christopher Wool's Untitled from 1988, reaching the hammer price of $17,159,500, Mark Grotjahn's Untitled (S III Released to France Face 43,14) from 2011, reaching the hammer price of $16,767,500, Doig's Cobourg 3+1 More from 1994, reaching the hammer price of $15,515,147, Basquiat's Untitled (One eyed Man Or Xerox Face) from 1982, reaching the hammer price of $14,607,319, Zeng Fanzhi's Mask Series 1996 No. 6 (面具系列1996No.6) from 1996, reaching the hammer price of $13,516,074, Rudolf Stingel's Untitled (After Sam) from 2006, reaching the hammer price of $10,551,500, and Wool's Untitled from 2007, reaching the hammer price of $8,704,602.
German artists today represent 6% of the world's Top 500 artists, being one of the most firmly established nationalities on the international market due. Standing out for their phenomenal success abroad, nine German artists are figuring among the Top 100 by auction turnover. Among artists who generated truly remarkable results are Anselm Kiefer, with nearly $24 million in turnover, Albert Oehlen, Wolfgang Tillmans, Günther Förg, Thomas Schütte, and Rosemarie Trockel, who have all been enjoying strong price inflation, as well as Martin Kippenberger, Neo Rauch, and Thomas Struth. Doing better than British star Damien Hirst, Albert Oehlen has been in great demand on the secondary art market after a New York show at the Gagosian, demonstrating the sensitivity of the Contemporary Art Market to "prestige news".
The interest in artists of African origin has risen significantly, revealing another hot sub-segment of the Contemporary Art Market and fostering the emergence of new buyers. Increasingly sought-after by collectors and museums, artists from the African continent have been rising in demand due to a number of major exhibitions that have generated cultural news and good media coverage, as well as several commercial initiatives that include the AKAA in Paris, the fair entirely focused on African Art, and the dedication of Art Paris 2017 edition to Africa. The top-ranking artists of African origin, including Njideka Akunyili Crosby, William Kentridge, Marlene Dumas, Julie Mehretu, and Ghada Amer, reflect Africa's enormous creative diversity. This market is still young and undergoing many changes, representing a good starting point for a collection.
On the other hand, Chinese artists dominate best auction debuts ranking, which records the best result in the year for artists who had no previous auction history. This reflects the appetite of Chinese buyers for Contemporary work in ink, evoking the great traditional culture of China. Some of the new recruits to this sector are Xue Haitao, Bian Xuesong, Du Xinyuan, Yuan Shi and Zheng Faxiang. However, the presence of Wang Zhongjun, the highest ranked Chinese artist who fetched $540,000 in June 2017 at Beijing's Poly International, presents a surprise in the ranking. Another artist who looks very promising on the international scene is Wang Yuyang, the most experimental artist of his generation whose latest selling record stands at $303,000.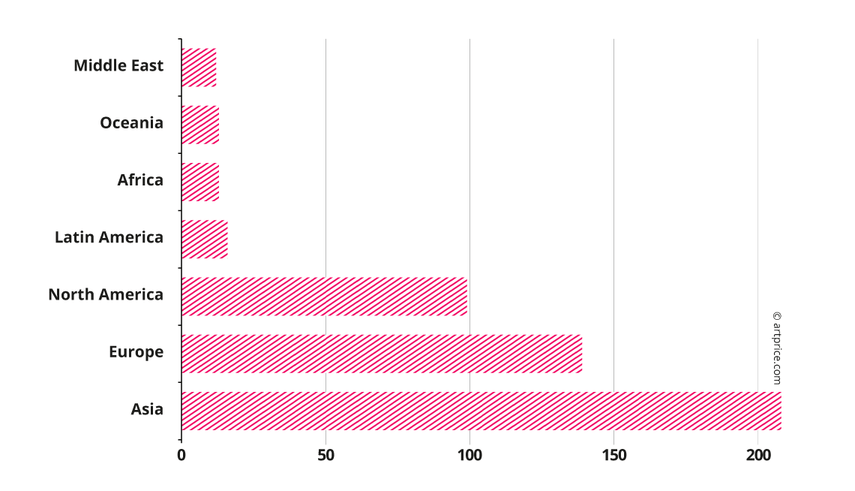 The Popularity of Street Art
Street Art has been fully adopted into the commercial Art world, seducing an increasing number of collectors for its vibrancy, non-elitism and the attractiveness to the mass media. The presence of Keith Haring, Shepard Fairey, Banksy and KAWS in the ranking of the world's Top 10 Contemporary artists by the number of works sold last year, suggests a clear trend among collectors and positions Street Art as one of the most dynamic sub-segments of today's Contemporary Art Market.
Starting as Graffiti writers in the New York subway, the pioneers of Street Art, Jean-Michel Basquiat and Keith Haring are today being acquired by major Art collections. The world's highest priced Contemporary artist, Basquiat now enjoys an annual turnover of $313.5 million. With demand exceeding supply due to his limited oeuvre, the prices for his best works are driven not so much by intrinsic market value as by the avidity of the world's most powerful buyers with almost unlimited financial resources. This makes Basquiat one of the rare artists whose works have publicly sold above $100 million, besides Picasso, Modigliani, Bacon, Giacometti, Munch and Warhol.
Banksy is another artist whom Street Art owes much of its popularity to. Opening a new chapter in art history ten years ago, Banksy phenomenon imposed itself as one of the new profitable segments of the market. While the success of his works has considerably diminished at auctions since 2008, the artist remains very much in the media's eye. There is also a rising demand for a whole new generation of artists such as Os Gemeos, gaining a new sales record of $310,000, KAWS, increasingly generating 6-digit results and almost doubling his auction turnover in two years, Barry McGee, fetching over $100,000 and Shepard Fairey, doubling his annual auction turnover since 2012. A strong trend involving a variety of collector profiles, Street Art still has an interesting growth potential.
Top 20 Contemporary Artists by Number of Lots Sold
Top 500 Contemporary Artists
When it comes to the construction of contemporary art prices, the abundance of auction results has induced it into a perfectly structured process. It is now clear that event-triggered information and news of any kind immediately integrates into artists' prices and price indices. Therefore, the evolution of Global Top 500 artists shows a coherent and structured evolution of the market, at the same time revealing the preferences of art collectors and art professionals. With the Art Market becoming structurally efficient over the last 17 years, Contemporary Art is a segment that represents a competitive alternative investment to financial markets. However, in order to ensure to obtain an interesting return on a resale, collectors have to take into account the liquidity of each artist, his or her annual volume of sales, and the geographical distribution of the artist's market. Above all, it is important to remember that the prices that a Contemporary artist commands depend on information, the primary factor in "value creation".
For more, please go to Contemporary Art Market Annual Report 2017 on Artprice!
Top 500 Contemporary Artists
Featured image: Frieze Art Fair London 2015, via Frieze. All images courtesy Artprice.com.