In this feature, you will read about this year's annual art market report that was recently published by Artprice and Art Market Monitor of Artron (or AMMA). According to this report, the global art market in 2014 grew as much as 26% - the total auction turnover in 2014 was 15.2 billion USD, or more than $3 billion higher than the year before (in 2013 the total auction turnover was $12.05 billion). Also, this represents growth of staggering 300+ percent, comparing the art market in 2014, and the art market a decade ago. What were the main reasons for this unparalleled growth? Well, for the most of the decade, this was a credit of huge growth of China's economy, and, substantially, a leading role in the art market. In 2014, though, China's art market has contracted. China was the global leader in the art market in 2014 with $5.66 billion in total auction turnover, but that was 5% lower than the last year (the total auction turnover in Beijing was $2.6 billion). Still, at number two, there was some record breaking surge of the United States. The USA art market grew astonishing 21% in 2014, and had a record total auction turnover of $4.88 billion. It needs to be said that 95% of that number was made in New York ($4.68 billion). United Kingdom's art market grew even bigger, as it had total auction turnover of $2.87 billion, or spectacular 35% more than in 2013 - almost all in London ($2.84 billion). In fact, the art markets of New York and London combined accounted for almost half of the global art market in 2014 - $7.5 billion in auction turnover (out of a global total of $15.21 billion). France's art market shrunk in 2014 for 10% and had $496 million, Germany's art market grew 3% and was worth $219 million, Switzerland's art market in 2014 also shrunk significantly, 8 percent and it had total auction turnover of $146 million, while Italy's art market showed improvement of 11% ($123 million in 2014).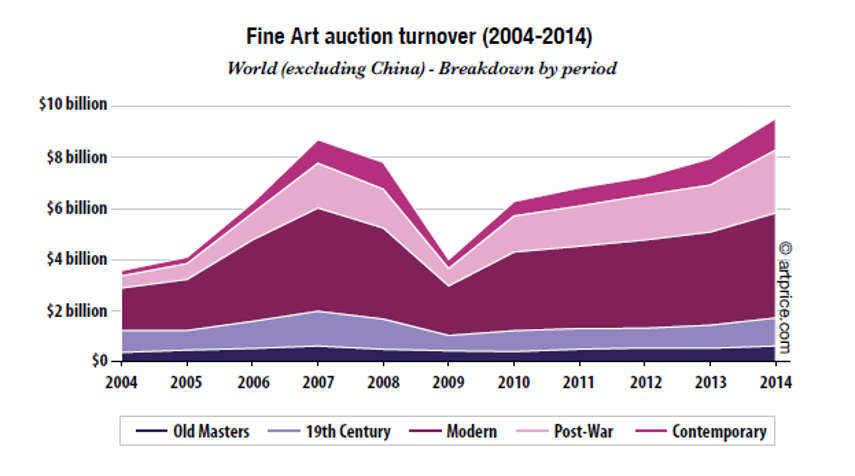 Characteristics of the Western Art Market in 2014
The results of the Western art market in 2014 are pretty much self-explanatory, and the numbers just show how much did the art market in the Western world progress and grow in the last decade. In 2014, there were stunning 1,679 works that were sold for million-dollars-plus - ten years ago, that number was four times lower. Actually, that number recorded in 2014 was equal to the number of artworks sold for a million dollars or more in three years span, from 2004 to 2006. Also, out of these 1,679 works, 116 of them were sold for more than $10 million, or more than six times more than in 2005, when there were only 18 artworks sold for over $10 million. This high-end of the art market, although is not big in terms of number of artworks sold (0.4% of total number of artworks sold went for over $1 million), is essential for this ongoing growth of the market, and it can be nicely explained through some record-breaking auctions that were held at two biggest auction houses - Christie's and Sotheby's.

The Big Players and the Structure of the Art Market in 2014
Some of these auctions were just amazingly exciting, and literally pushed the whole art market forward, while posting some incredible numbers. First, in May 2014, Christie's had humongous sale of Post-War & Contemporary Art: out of only 68 lots auctioned, this auction house generated $656 million, with a 95% sold rate. But, that was just a beginning. In November, in New York, at Christie's Post-War & Contemporary Art sale, "the new world record" of single auction turnover was set - $751 million. Also, just one week earlier, Sotheby's had its own record broken, as this auction house generated $370 million at New York's auction of Impressionist & Modern art. These record-breaking auctions also give you the hint of what the art market in 2014 was interested in - the Modern period (works created by artists born between 1860 and 1920), and the Post-War period (works created by artists born between 1920 and 1945). The Annual art market report says that works from Modern period generated $4.1 billion in 2014, and that their prices in the art market had grown 31.6% over the last decade. The Post-War period was second on that list - those prices rose 39.3% in the last decade, while at the third place for generated auction turnover in 2014 was Contemporary art market, with the biggest price growth of all markets in the last decade - 55.8%.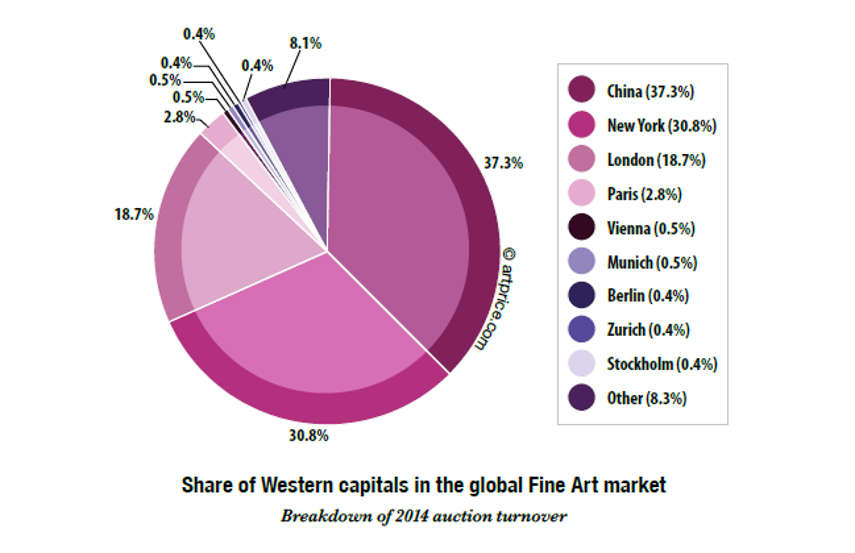 Featured image: Andy Warhol - Bacon at Christie's Auction Room
Top 15 Artists in 2014
We've already mentioned that China's art market, although the biggest in the world, had contracted in 2014 for 5.27%. Looking at the segments, China's Contemporary art market had the biggest fall - 14%. But, the traditional painting and calligraphy that makes more than five-sixths of the
Chinese art market, also shrunk for 3.9%. The annual art market report of Artprice and Art Market Monitor of Artron suggests that this situation is due to the short supply of the high-end art, and, consequently, the overpricing for artworks, as well as the problem of getting new sources. Similarly as New York had 95% share of the USA art market in 2014, China had 97% share of the Asian Fine Art auction market, with total auction turnover of $5.66 billion. In 2014, the highest hammerprice in the Chinese art market was Essays on BAITASHAN, a calligraphy handscroll created in 1773 by Emperor Qian Long, that was sold for $16.42 million, All in all, 22.37% of the art market were artworks more expensive than $1 million, but only 0.34% of them were sold. The vast majority of artworks sold at the Chinese art market were those with price bellow $50,000 - 9 out of 10 of total art works sold. But, the biggest market share in terms of total money spent had art works that were priced between $100,000 and $500,000 - their market share was 28.92%.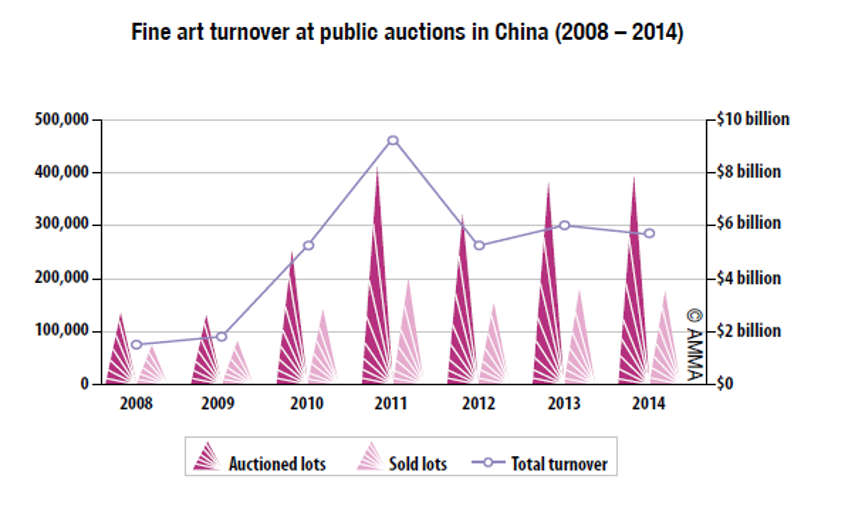 Top 15 Artists in 2014
The winner of 2014 was a no-brainer: Andy Warhol had his art works sold for the total of $569 million, and that is also another "world record", when it comes to the total auction turnover for a single artist in one year. The second place belongs to Pablo Picasso with a total of $375 million. Third was Francis Bacon ($270 million), followed by Gerhard Richter ($254 million), Mark Rothko ($249 million) and Claude Monet ($222 million). At number seven there is the first Chinese artist on this list - Qi Baishi with $206 million, next are Alberto Giacometti with $205 million and Zhang Daqian with $193 million, and at number 10 there is Jeff Koons with $149 million. From places 10 to 15, there are Jean-Michel Basquiat, Cy Twombly, Wou-ki Zao, Roy Lichtenstein and Willem de Kooning. As far as the largest single item sale in 2014, the Chariot of Alberto Giacometti was sold for $90 million, Barnett Newman's Black Fire I was sold for $75 million, Andy Warhol's Triple Elvis [Ferus Type] went for $73 million and Francis Bacon's Studies for a Portrait of John Edwards was sold for a million dollars less.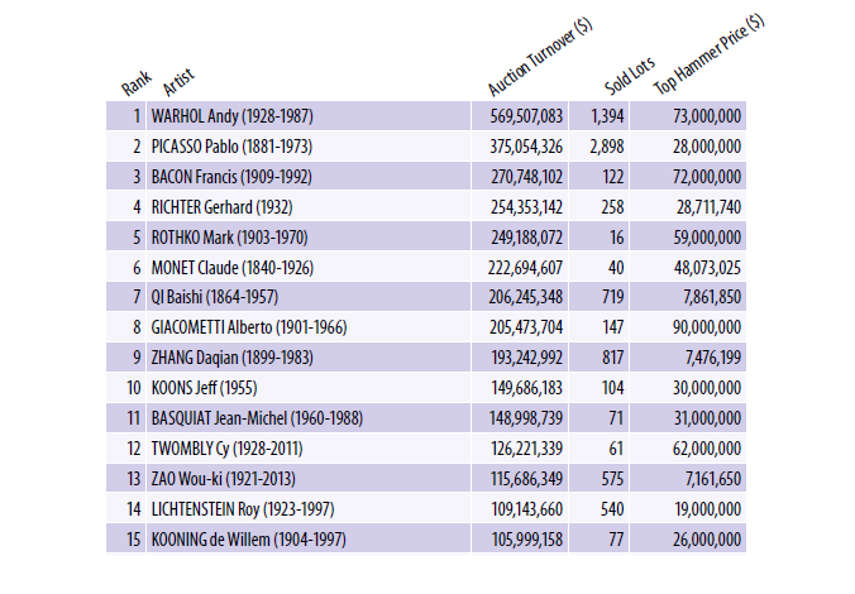 Sign up now for My WideWalls and be up-to-date with contemporary and street art.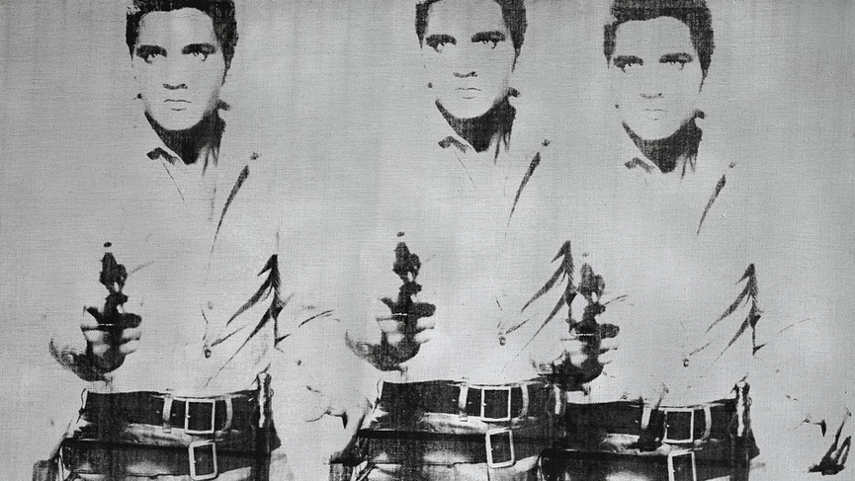 Featured image: Andy Warhol - Dollar Sign, circa 1981-82 (detail)
Images for illustrative purposes only, unless otherwise indicated.