Paris Photo starts on November 12th, and Artprice had decided that was the perfect place and time to present its 18th Annual Report on the Global Photography Market. Several thousand photographs from more than 30 countries around the world will be shown at Paris Photo (be sure also to check Top 10 Paris Photo booths), so the decision of Artprice couldn't be better. Although photography market represents only a fraction of the global art market (just 1 percent of global art auction turnover belongs to photographs sold at auctions - $73 million out of $7.1 billion), photography price index actually grew faster than the fine art market's during the last 15 years - 48 percent versus 36 percent growth of the fine art market's price index.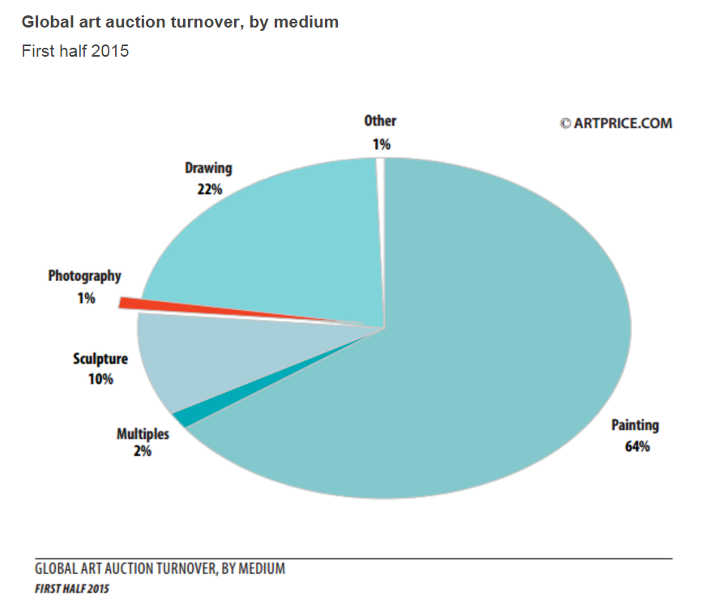 Photography - the Ideal Choice for Young Collectors
Of course, when we talk about those price indexes, it must be said that the price base is much lower for photography. During first six months of 2015, the average auction price for paintings was $60,000, for sculpture it was $47,000, for drawing $25,000 and only $10,000 was paid on average for photography. Not only that, more than one quarter of all photographs sold at auctions during the first half of 2015 were sold for less than $1,000, and another 45 percent were sold in range of $1,000 - $10,000. All in all, half of all photographs sold from January to the end of June 2015 were sold for less than $1,560, and 80 percent of them for less than $7,000. So, that bigger growth of photography price index doesn't mean that much when you look at the big picture. Still, it appears that, slowly, photography segment begins to play more important role in the overall art market, especially as it offers an easy access to art collecting to younger collectors and those that are not stinking rich, as almost everyone on this planet isn't.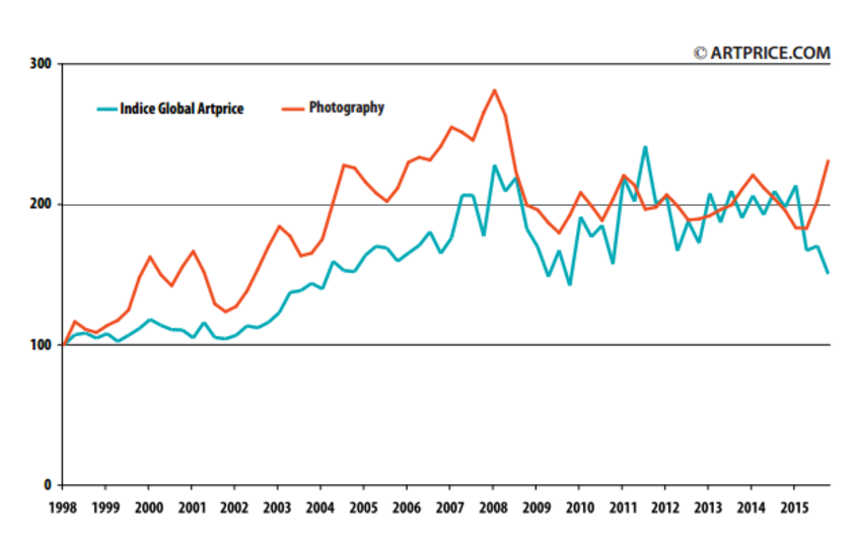 United States Leading the Way
So, do you remember how that crash of Chinese stock exchange had badly influenced Chinese art market as well? Photography is perhaps the rare segment of the art market that remained virtually untouched after this summer, and there's a logical explanation for that. Although China is the world's second largest art market, with 26 percent share of the global fine art auction market during the first half of 2015 (United States being first with 38 percent), photographs are completely uninteresting for Chinese collectors, since only 1.2 percent of all auction turnover was generated in China - United States have the share of 54 percent of auction turnover from the sale of photographs, United Kingdom has 26 percent, while France has 9 percent - much higher than French share of the global art market, which is less than 3 percent.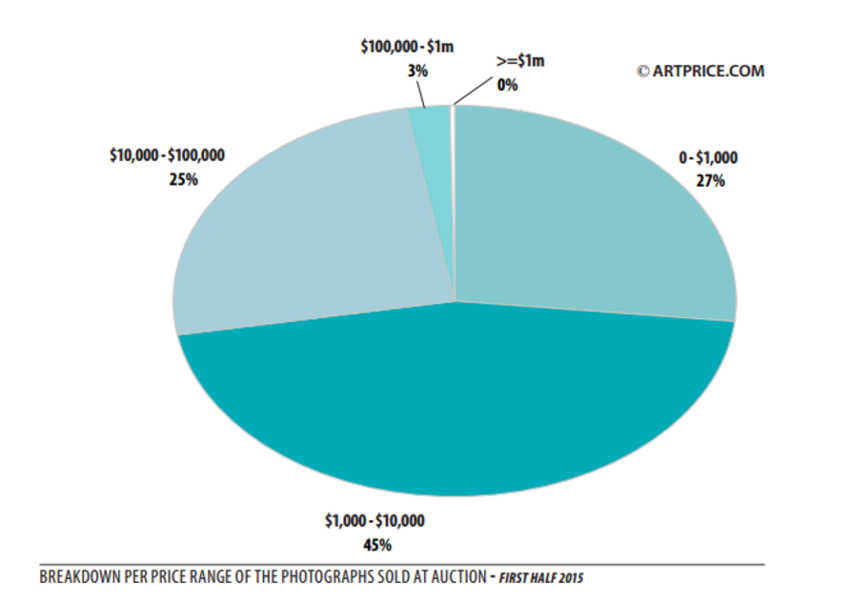 The Three Musketeers
When we speak about individuals, three names stand out: Andreas Gursky, Cindy Sherman and Richard Prince. In 2014, out of total $180 million of auction turnover for photographs, these three photographers accounted for $44 million, or one quarter of the whole photography market! These three names are also on the top of Artprice's Top 200 at auctions - Cindy Sherman with $20.2 million (out of 72 sold lots in July 2014 - June 2015 period), Andreas Gursky with $12.9 million (45 sold lots) and Richard Prince with $7.8 million (29 lots). At number 4 there's Irving Penn ($7.14 million), then follow Helmut Newton ($4.5 million), Thomas Struth ($4.2 million), John Baldessari ($3.7 million), Edward Henry Weston ($3.5 million), Alfred Stieglitz ($3.4 million), and at number 10 there is Hiroshi Sugimoto with $3.4 million. Of course, the highest paid photograph ever was The New Jeff Koons that was paid more than $9 millions. But, as Artprice's specialists imply "this price must be seen as quite exceptional for the photography market because it was paid for a unique work by the artist himself". Only 20 artists had results over $1 million, with Andreas Gursky leading the way with his Rhein II, that was sold for more than $4.3 million.
Featuring image: Paris Photo 2014 Grand Palais. All graphs courtesy of Artprice.