Arusha Gallery from Edinburgh is organizing an exciting exhibition of Charlotte Keates. This is the gallery's first solo exhibition with Charlotte Keates featuring the artist's large scale paintings. Alongside Keates' paintings, there will be new paintings from recent graduates, Emily Moore and Ross Brown. There will be an interesting combination of large abstract paintings by Keates and landscape abstract works by Moore. Although the works by these artists are not strictly abstract, they are somewhere in-between realism, abstraction and even surrealism. The exhibition is titled Exploiting Perspectives: A Harmony in Chaos. The title perfectly explains the compositions that visitors will see during the show – chaotic and deconstructed elements that are perfectly combined into a coherent composition.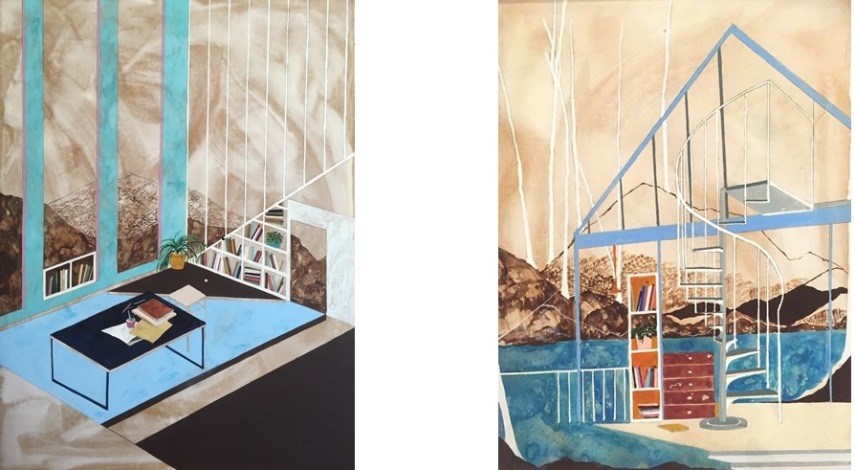 The Art of Charlotte Keates
Charlotte Keates is young, yet already acknowledged British artist. Keates is graduating from Falmouth University with a BA First Class Honors in Fine Art, but she has already been exhibiting widely across the United Kingdom. She is known for her large, beautiful paintings that are usually inspired by the 1960s and 1970s classical architectural interiors. In her paintings, Keates combines the indoor architecture with its external surroundings. Therefore, significant parts of her compositions are landscape and sea, swimming pools and birch trees. Representing often beautiful surroundings, the artist merges it with her interior composition, thus creating a beautiful contrast between outside and inside. As Charlotte Keates explains: Looking closely at the interior rooms, there is a mimicking of the decorative details of an empty theatre-set design. The lack of figures encourages and asks the space to be occupied by its viewer, allowing the narrative to be deciphered by the onlooker. Studying the paintings puts the viewer in a position where one is inside looking out, whilst also outside looking in and so a person in the space would divulge too much of a narrative or personality. I like that the objects in the interior act as a footprint and suggestion of a person who had been there before.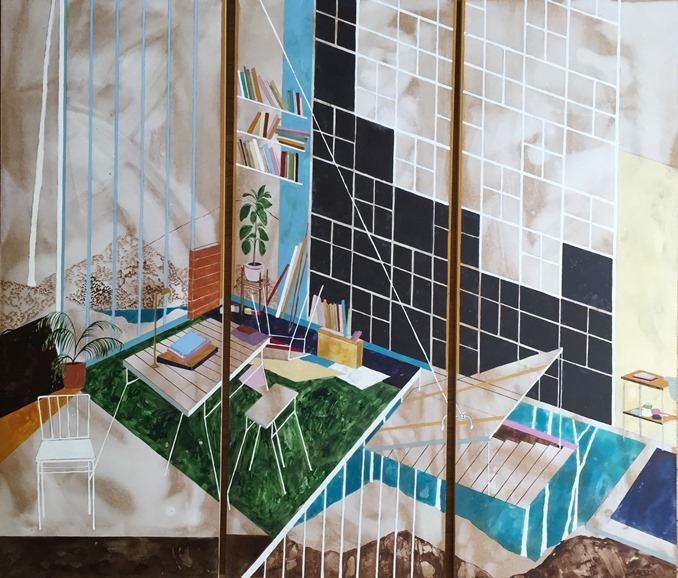 Exploiting Perspectives: A Harmony in Chaos
Apart from Charlotte Keates' beautiful paintings, the visitors of the exhibition at Arusha Gallery will also see paintings by Emily Moore. Her work, which encompasses a range of media, explores the tension between geometric shapes and landscape photographs she takes on her travels and attempts to find an overall balance within the final composition. Finally, there will also be work by a recently graduated artist Ross Brown. Speaking about "harmony in chaos", we are again dealing with the art of Charlotte Keates. As she underlines: 'Exploiting perspectives; a harmony in chaos' explores the idea of a lived-in space. It fuses both memory and imagination to creating a 'dream-like' world. I am aiming to push the boundaries of perceived space through the use of incongruous spatial constructions, whilst building a dialogue between interior with exterior in a convincing yet improbable manner. I hope for the spaces to elicit a sense of stillness, a peaceful and calm location of contemplation and thought.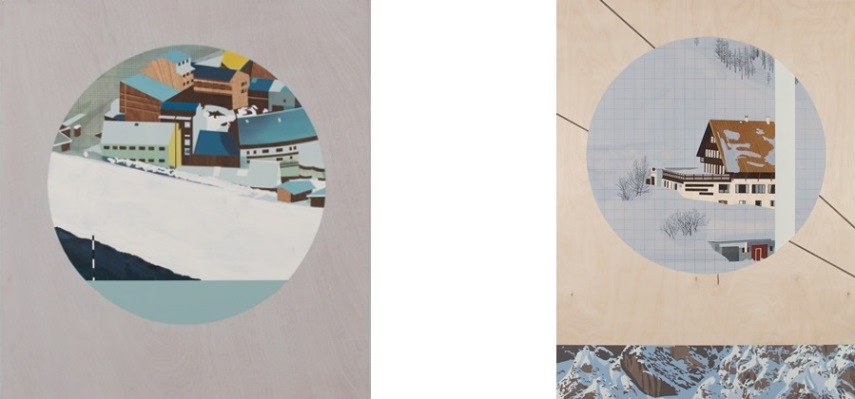 Charlotte Keates exhibition at Arusha Gallery
In the last couple of months, Arusha Gallery organized amazing exhibitions. Let's just mention the exhibition of Ilona Szalay entitled Queen of Swards that was on view in May. In fall 2015, the gallery organized the exhibition of Pippa Young titled A Shifting Uncertainty – Drawings. Now, another great exhibition is about to open. The show titled Exploiting Perspectives: A Harmony in Chaos will be on view from June 3 until June 26, 2016 at Arusha Gallery in Edinburgh.
Featured Images: Charlotte Keates -Tilted Ascent Diptych, detail,  200cm x 120cm; Charlotte Keates - Suspended Observation, detail,  220cm x 180cm. All Images courtesy of Arusha Gallery.
Emily Moore Catalogue
 Emily Moore Catalogue
Charlotte Keates Catalogue