There is always something interesting happening at Los Angeles-based CES Gallery. Let us just mention two great exhibitions we saw in 2015 at CES Gallery – Papercut; the exhibition of a new body of work by minimalist artist Ira Svobodová that was on view in June and July and the group exhibition Complex Decisions celebrating abstract art that was on view in May. These are only exceptions of amazing exhibitions at this great art space; and now the Gallery is preparing a new exhibition. This time it's the exhibition of Iranian born artist Ashkan Honarvar who is known for his amazing surrealist works. The show is entitled Sometimes I forget myself.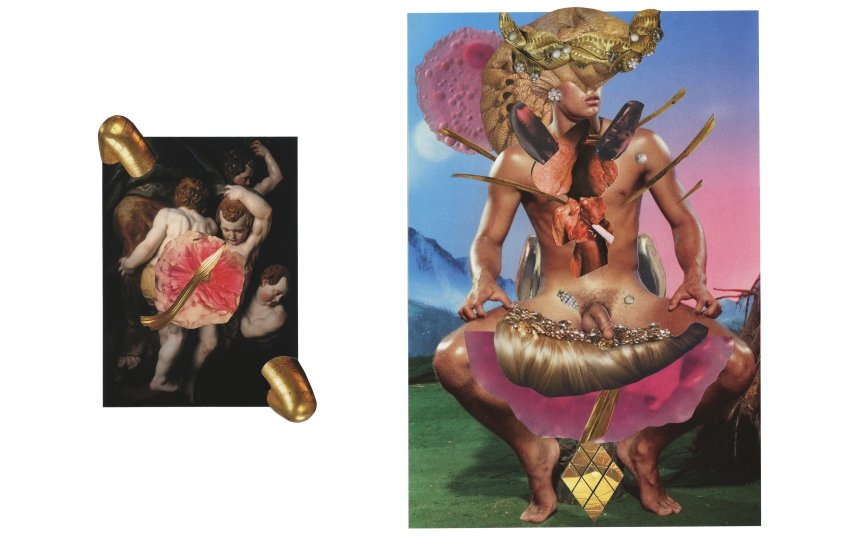 About Humanity's Intrinsic Obliviousness – The Art of Ashkan Honarvar
Ashkan Honarvar attended School of Visual Arts in Utrecht, the Netherlands. He has exhibited work internationally at Steven Kasher Gallery in New York and Paris, Centro De Arte Contemporáneo de Quito in Ecuador, International Collage Center in Texas, Le Petite Mort Gallery in Ottawa, and the Katonah Museum of Art in upstate New York, while his work has been included in many important publications. Annabel Osberg of the Huffington Post perfectly describes Honarvar's work as presenting the human body at the center of microcosmic theaters of dichotomy in which irrationality permeates logic, serenity belies violence, and luxury secretes exploitation. Honarvar gathers materials from different visual and contextual worlds – slicing up fashion magazines, newspapers, home and garden glossies, art history books, scientific journals, etc. – and aligning them into a single composition. Each cut image shape functions as both part of its former context and also within Honarvar's constructed narrative. According to Thomas P. Brockelman, art historian and author of The Frame and the Mirror: On Collage and the Postmodern, this double reading of each element creates a synaptic relationship between these two contexts, which promises a new sense of truth and experience.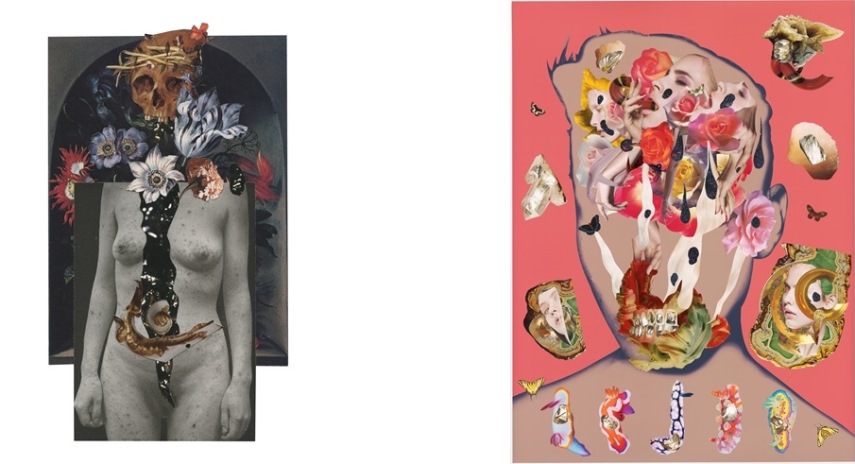 Sometimes I Forget Myself
The visitors of the exhibition Sometimes I Forget Myself will have an opportunity to see new works on paper from two recent bodies of work by Ashkan Honarvar. The series titled Denial of Death is inspired by the writings of cultural anthropologist Ernest Becker, in particular his Pulitzer Prize-winning book of the same name. The series titled King of Worms references radical feminist filmmaker Jane Arden's The Other Side of the Underneath and its exploration of corruption, abuse of power, and gender inequality. Working exclusively in hand-cut collage Honarvar presents a mythic and visceral vision of humanity and its qualitative constructs. Denial of Death and King of Worms, like all of Honarvar's works, are intellectually dense meditations on the nature of human existence. Honarvar acts as both a philosopher-poet musing on flawed societal constructs and as a shamanistic mad-scientist surgically binding Frankensteinly bodies to birth new hybrid human futures. These collages become alternative realities of human history like the preference for the ornate margins of an illuminated manuscript over each page's text. Honarvar zooms in and out, commenting on both the micro- and macrocosmic scales, taking on the clichés of visual semiotics by rebuilding from the wreckage of the history of visual image-making. Hyper-sexuality, sin, overabundance, evil, objectification, mis-worship – the darkest aspects of humanity are all on Honarvar's chopping block, reconceived as chapters in a grotesque, but humanistic world of collage.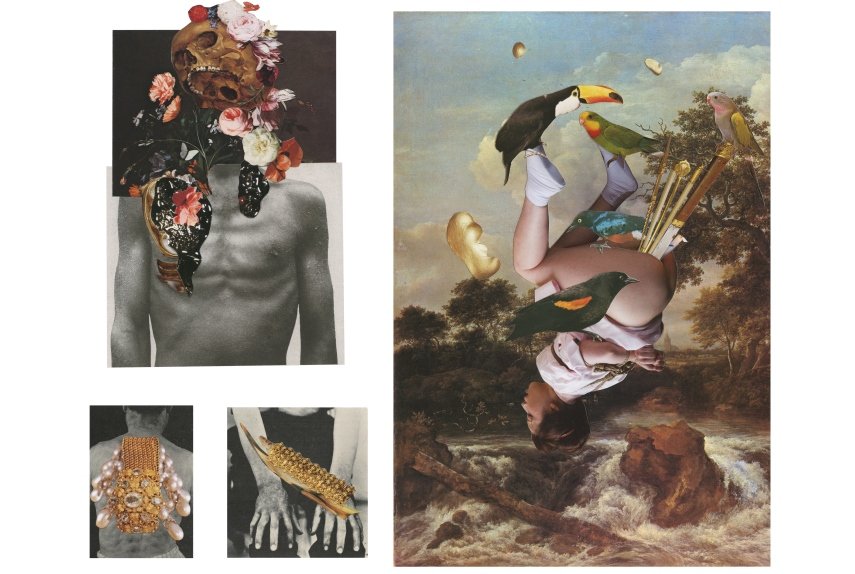 Ashkan Honarvar Exhibition at CES Gallery
Sometimes I forget myself is Ashkan Honarvar's first solo exhibition with the gallery. As we already mentioned, the exhibition features new works on paper from two recent bodies of work. The show is also a perfect opportunity to buy amazing art. Artworks will be put on sale, while the price range is $900-$4,000. The exhibition entitled Sometimes I forget myself will be on view from February 27 until April 2, 2016 at CES Gallery in Los Angeles.
Featured Images: Ashkan Honarvar - King Of Worms Golden Lullaby 1, detail; Ashkan Honarvar - Denial Of Death 5 -2,detail. All Images courtesy of CES Gallery.