Taking place from September 28th to October 1st, 2018, at the conveniently located Conrad Hong Kong, the Asia Contemporary Art Show returns for its 13th edition to bring a vibrant and diverse art experience for collectors and art buyers. The only contemporary art fair in Hong Kong in the Fall, it will be a unique meeting place for artists, galleries, collectors and art enthusiasts.
This year's edition will welcome more than 80 galleries from Asia and the world, including up-and-coming and mid-career artists. In addition to the immersive gallery program, the fair will reflect current trends in the contemporary art market with a special sector Intersections: South Korea and Artist Dialogues presented by Cask 88.
We had a chat with the Show Director Mark Saunderson about the latest edition of the acclaimed fair. In the exclusive Widewalls interview, he talks about the unique art fair experience, artist highlights, this year's program, special sectors, the Hong Kong art scene, Asian contemporary art market and much more.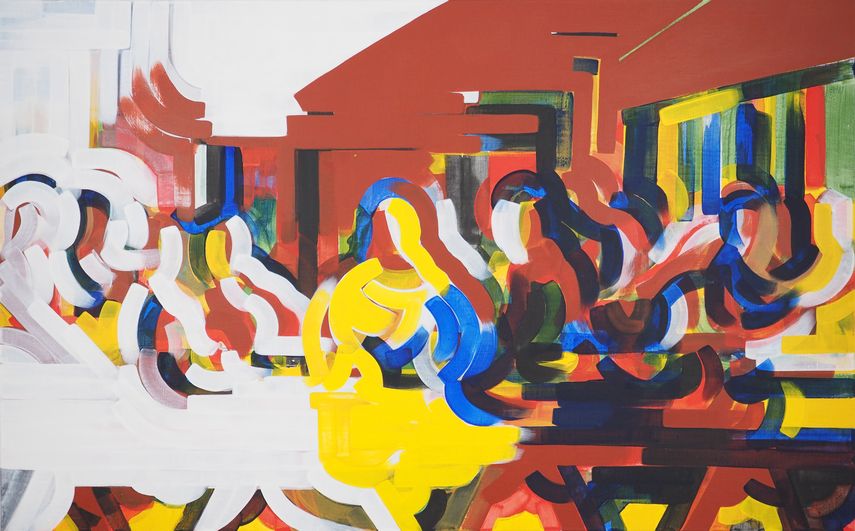 A Unique Art Fair Experience
Widewalls: What sets Asia Contemporary Art Show from other art fairs in Asia?
Mark Saunderson: It's a fact, the Asia Contemporary Art Show is a pioneer in the hotel art fair format in Asia - entering its 13th edition, the Show is the longest running and largest hotel art fair in the region. The popular format is unique in that it is held twice a year. There is an appeal to this format, there is an intimacy that's absent in large exhibition halls and the experience of art discovery resonates with the art collector and first-time buyer alike - 50% of visitors to the show are returning patrons.
The Show is held across four-floors of the conveniently located Conrad Hong Kong in Admiralty. A series of 85 art living spaces provide an intimate setting in which to view a broad selection of artwork, much as you would see art displayed in a home or workplace. This unique and welcoming environment sets the Asia Contemporary Art Show apart from other art fairs. A relaxing ambient facilitates art sales, fostering dialogue and exchange between galleries/artists and collectors/art buyers - this is the focus of the Show.
In generous 42sqm spaces, paintings, editions, sculpture, photography and other objects are creatively curated, sometimes neatly spread across a bed or cleverly hung to capture the attention of visitors. A number of galleries and artists even create special exhibits that extend to bathrooms, using the lighting, mirrors and tiled surfaces to give artworks a new feel and character. The organizers really encourage buyers and sellers to strike up a conversation over a glass of wine or cocktail, with the gallery owner or artist.
Better still for buyers, exhibitors at the Show can price works well given the lower costs of exhibiting in a hotel than a big exhibition center, or tented exhibition experience. The unique format in Hong Kong follows in the tradition of other successful hotel art fairs in major art hubs across the world.
Widewalls: The Fair is returning to Hong Kong for the 13th time this Fall. What is the secret to its longevity and excellence?
MS: The principal objective of hosting any art fair is to connect the art seller to the art buyer, and ultimately, to close art sales. Many of the 250 artists presented at the Show are new to the Asian market. Compared to the high price of premium works of headline artists at Art Basel Hong Kong and at seasonal auctions, the price tags at the Asia Contemporary Art Show are accessible for the seasoned and younger collector, also the interested buyer. With the Show featuring a number of artists whose pieces have been acquired by notable museums or have sold at auction, the Asia Contemporary Art Show celebrates creativity at every level!
The 5-star Conrad Hong Kong's spectacular mountain setting, and magnificent views of the Hong Kong Island offer an unparalleled backdrop in which to enjoy the art. It's a unique art fair experience. Sipping a complimentary drink in the cosy atmosphere of a luxury hotel, viewers are at ease and prompted to think about how an artwork may add to the character of their home or workplace. The Show really offers a refreshingly different option for art lovers.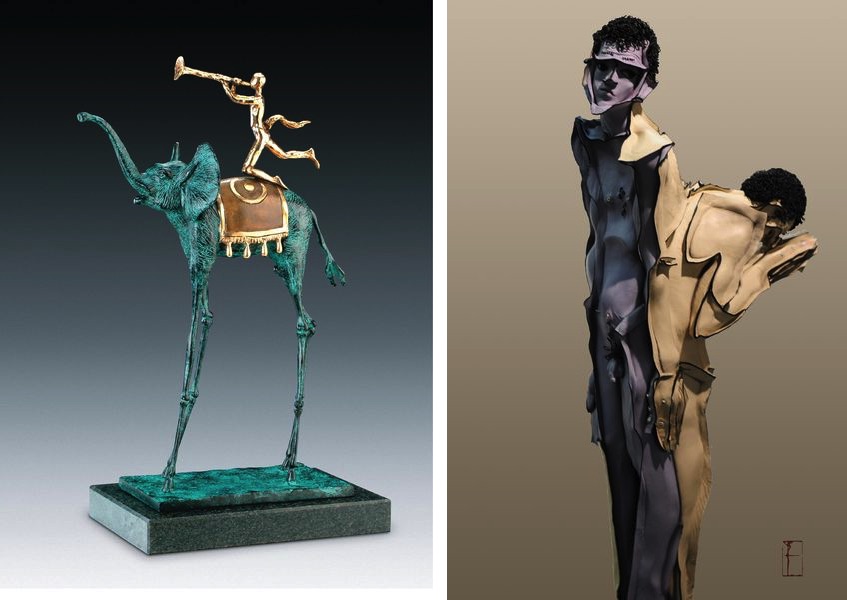 Asia Contemporary Art Show 2018
Widewalls: This year's edition will bring together over 80 international galleries. Are there some highlights you would like to mention?
MS: Every Show seeks to present a diverse range of artists and representative countries, and this 13th edition is no exception. Touching on a variety of themes, mediums, and styles, this Show features a number of exceptional sculptors. They include Wang Liwei from China who rejected using common materials such as clay, wood or iron in sculpting, and instead, began to sculpt in leather. Two ceramists: Su Xianzhong from China and Yuki Nara from Japan are both descendants from families of ceramic artists, who through experimentation have taken this art form to new heights.
We are pleased to present a number of artists whose works have been collected by museums or sold at auction. Invader is a leading figure in urban contemporary art, whose ceramic tiled works can be seen dotted around Hong Kong. Japanese photographer Noboyushi Araki is renowned for his surreal and erotic imagery. Also from Japan is Shozo Shimamoto, who with his 'bottle crash' technique, dashed bottles full of color onto canvases to create his abstract artworks. And surrealist Salvador Dali, whose smaller sculptures will be appearing at the Show, needs no introduction.
At every edition of the Asia Contemporary Art Show, we introduce a wide range of art and artists (both emerging and mid-career) to our visitors, many never before seen in Hong Kong. Katherine Filice is an exciting emerging surrealist whose detailed drawings question the tension in human relationships and social systems. Seong Taejin, is an established artist whose highly textured and brightly painted wood carvings are popular among collectors. The Show is very excited to present one of the pioneers of performance and experimental art in Myanmar, Aung Myint. His acrylic paintings of mother and child painted with a single unbroken black line are instantly recognizable.
We are very excited to bring these artists' works to Hong Kong and to offer viewers the opportunity to see the works in person. It's going to be a great show!
Widewalls: There is a special focus on the contemporary art of South Korea with a sector Intersections: South Korea. Could you tell us something about the fusion of influences shaping South Korean contemporary art?
MS: Korean art has a long and rich history, spanning five thousand years, their artistic traditions influenced by relationships with neighboring countries, especially China. Korean modern art began after the country's liberation from Japan post World War II when the government began to establish art institutes not just to educate professional artists, but also to break free from the past and to establish a unique Korean style and identity.
The younger generation of artists who attended the art institutes, however, rejected preconceived concepts learned in study, preferring to acquire information on Western modern art through informal channels such as magazines. Terms such as 'Western painting' and 'Eastern painting' as well as genres (painting, sculpture and craft arts), or fine art began to appear.
In the past twenty-five years a contemporary art scene has emerged in South Korea that is rich, dynamic, and an innovative cultural force. So much so, it has gained international attention within the past decade, with museums, galleries, auction houses and art fairs presenting South Korean artists, for example the recent Essential Korea exhibition at The Metropolitan Museum of Art in New York featuring 88 objects that offered a glimpse into the peninsula's creative output, past and present, and included works from The Met's Arts of Korea Gallery collection as well as loans from the National Museum of Korea.
The 13th Asia Contemporary Art Show presents the third edition of its sector series Intersections, featuring a series of dynamic and diverse works by selected South Korean galleries, artists and artist collectives that highlight the fusion of influences from Confucian to Christian, and reflect popular culture (K-pop) as well as social issues that shape South Korean contemporary art.
Widewalls: Cask 88 is the new Presenting Partner for Artist Dialogues. Could you tell us something about this year's selection for this sector?
MS: Artist Dialogues presented by Cask 88 presents intimate art spaces where new and seasoned collectors or art enthusiasts can engage directly with artists. In this private environment, viewers can learn about the inspirations and artistic practices of each artist, gaining a deeper understanding of the modes, methods, and motivations that go into creating art. On show will be a series of works including paintings ranging from landscapes to abstracts, from mixed media to ceramic sculptures.
This edition of the Asia Contemporary Art Show will feature two very special artists whose works have gained recognition in the international art world, and are collected by notable institutions, or sold at auction. Su Xianzhong (Room 4121) incorporates oriental philosophical meditation as the core idea for his sculptures, attempting to interpret how people deal with current social problems while remaining true to one's beliefs in the rapidly evolving world, through his works. An established artist and a fourth generation ceramist, Su's recent work Paper, a sculpture of Dehua Blanc de Chine porcelain constructed to resemble a stack of paper draped over a brick, was recently acquired and exhibited at the Victoria & Albert Museum.
Regarded as one of the pioneers of performance and experimental art in Myanmar, Aung Myint (Room 4104), a self-taught artist, is known for his mother and child inspired drawings, drawn with a single unbroken line of black acrylic that turn into gestural forms loosely reminiscent of the Pietà. Aung Myint works with painting and installation and loves to experiment with different mediums to explore the themes of cultural identity and personal memories. His works are widely collected by institutions including the Guggenheim Museum and frequently appear at auction. Aung Myint has kindly donated the works appearing at the Asia Contemporary Art Show to Connecting Myanmar, a Hong Kong charity that aims to inspire young people to think critically with an empathetic lens through connecting Myanmar and Hong Kong youth. Connecting Myanmar funds students who are community leaders and works with these students to incubate their projects to improve their community upon their graduation. All proceeds from the sale of Aung Myint's works at the Show will go towards scholarships for students from Myanmar in their pursuit of an overseas university education.
The 13th Asia Contemporary Art Show also features a series of illustrators, each with their own unique style. Jeff Murray (Room 4126) creates visuals often of spectacularly detailed images that art lovers can get lost within. Laura Jordan (Room 4124) is an acclaimed British illustrator who creates technically impressive cityscapes that capture something of the heart and soul of the cities she depicts.
The perfect platform for fostering engagement with art and those who create it, Artist Dialogues presented by Cask 88 offers viewers a diverse and unique artist experience. No other art fair in Hong Kong gathers so many artists in one place for your viewing and buying pleasure.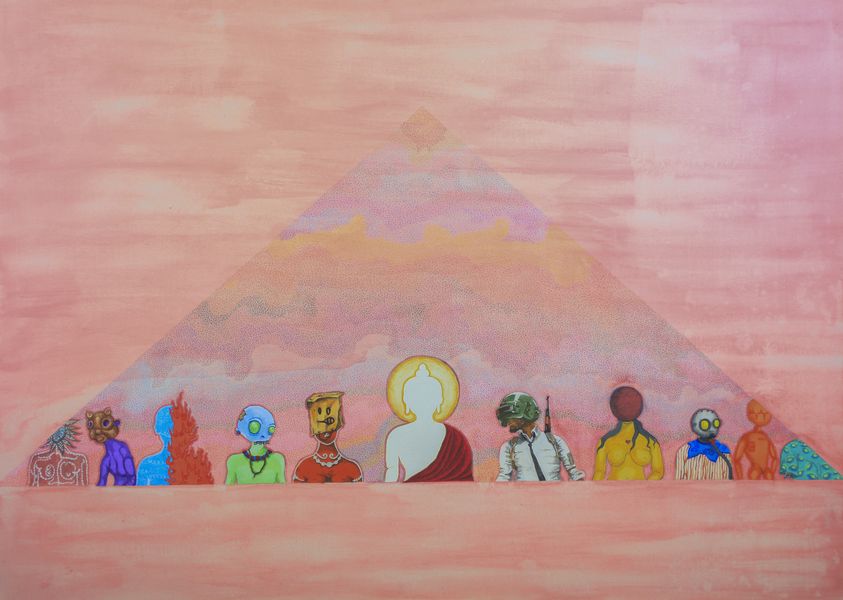 Promoting Broader Participation and Accessibility
Widewalls: How does the arts scene in Hong Kong differ from that in other major art market capitals? Also, how do you think Asia Contemporary Art Show can contribute to its further development?
MS: Hong Kong is certainly one of a kind when it comes to the transaction of art in the region and sheer scale, whether that's looking at the primary or secondary market. Centered around the Spring and Fall seasons, the city's contemporary art fairs and auctions promote broader participation and accessibility. New initiatives such as the opening of Tai Kwun, with it comes many spaces designed for visual and performing arts and the recent Hong Kong Sculpture Park project has made art a talking point for Hong Kong people. Bricks and mortar galleries have recalibrated their sales efforts, to be more inclusive as they engage a new generation of collectors and buyers.
Hong Kong's art fairs and auctions have come to define the primary and secondary market, they have cemented the city as the undisputed arts hub in Asia. Each spring and fall, the scale and convenience of the fairs draw international collectors from around the region and the world. At the same time, the high costs of commercial gallery operations in Hong Kong often dictate a pragmatic approach to artist representation, where marketability and acceptability will drive a decision if a gallery is to thrive. With a community numbering some 120 galleries, many are challenged to generate a critical mass of visitors to gallery exhibits and as a consequence, sales, from their efforts. For galleries big and small, the internet and social media now present vital tools to reach out and engage new buyers.
The Show aims to bring a world of art to Hong Kong at accessible prices, giving collectors and art buyers the opportunity to browse and buy original paintings, limited editions, sculpture and photography from some of the world's most interesting and promising artists – from emerging to mid-career artists, to those who have already achieved recognition in private and public collections, and at auction.
Our Show presents galleries with a two-pronged solution: an alternative space to display and sell their artworks in an intimate setting to a wider audience and a digital storefront on our website that gives them a global presence 24/7, 365 days/year.
Widewalls: How would you describe the current state of the Asian art market?
MS: The market in Asia is younger than Europe and the US, but the arts hub of Hong Kong is claiming an increasingly important share of attention on the international art scene. The region has seen well-documented wealth creation and is witnessing an exponential expansion of its middle class, with increased disposable income and diverse life interests that drive consumption.
With the phenomenal spring that Hong Kong has just experienced with record attendance and sales at art shows and auction records in the stratosphere, Hong Kong has more than earned its place alongside the established international art hubs such as New York and London.
Widewalls: How do you see the Fair evolve in the future under your guidance?
MS: Certainly, the Internet is the driving force of change in the arts industry. Our own art website, Asia Contemporary Art Buyer, is one of the largest in Asia featuring almost 11,500 works from over 1,600 artists. The future belongs to the evolution of art fairs and online services, which will drive the primary market. In less than a decade, we have seen how art buyers have gotten comfortable with viewing and buying art online. We see it first hand in the number of inquiries our website the Asia Contemporary Art Buyer receives.
Commercially, storefront galleries will be compelled to evolve to stay relevant and create a broader and more inclusive market for art. Services that bring buyer and seller together, either in person or virtually, are certainly something that drives our own organization's services.
We will always have our gaze on the future while listening and building from hands-on experiences.
Featured image: Director of the Asia Contemporary Art Show, Mark Saunderson. All images courtesy of Asia Contemporary Art Show 2018.