A term that dates to Hellenistic philosophies of Skepticism, Epicureanism and Stoicism, the concept of Ataraxia can be described as a sense of balance and calm, especially in times of uncertainty and crisis. The concept was first associated with the ancient Greek philosopher Phyrro, who by the telling of the historian Diogenes Laertius, remained calm amidst the storm that struck a ship he was on. Phyrro's philosophy proposed abandoning any attempt to find an ever-elusive absolute truth and finding one's peace with the relative nature of the world.
A crucial concept to ancient philosophy that was somehow lost to the modern world, Ataraxia is now perfectly fitting more than ever when we are facing a global crisis with the COVID-19 pandemic. When humanity as a whole is on a tumultuous journey, art can be used as a direct part to Ataraxia.
This is why MayinArt is hosting an exhibition titled Ataraxia, a curated selection of artworks that promises to elevate the energy and beauty of your living and working spaces. The exhibition presents 32 artists with 62 works on display.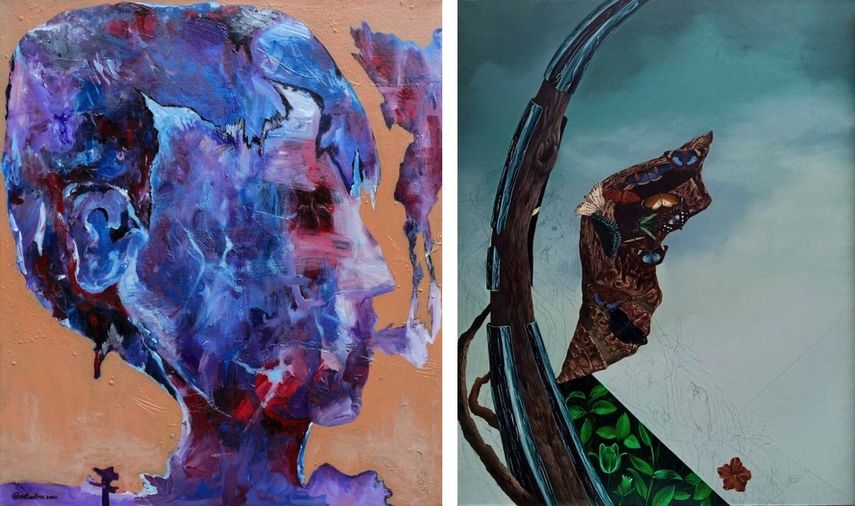 Participating Artists
The exhibition brings together works by artists Nasirun, Adhik Kristiantoro, AT Sitompul, Dodi Irwandi Ekwan Mariantol Fatoni Muktorodi, Fery Eka Candra, Hono Sun Irwan Guntarto, Irwan Sukendra, Irwanto Lentho, NATUraja Ismanto Wahyudi, Januri, Lukman, Mayek Prayitno, Meistoria Ve Mulyo Gunarso, M Ihsan, Nugroho Heri, Ratih Alsaira Reza Prastica, Riki Antoni, Riri Suheri, Sriyadi Srinthil, Suryo Elisa Faustina, Ramadyan Putri, Refijon, Soneo Santoso Godek Mintorogo, Sri Pramono, Suryadi l Ulil Gama and Uswarman.
An Indonesian artist, Adhik Kristiantoro is best known for two-dimensional artworks on various media such as canvas, recycled vinyl, paper, often making use of trash or recycling materials such as mineral bottle, wood and more. On the other hand, AT Sitompul creates optical illusion works by combining language elements like cuneiform and braille, stark parallel lines, repetitive geometric patterns and open color fields.
Another artist from Indonesia, Fery Eka Chandra is widely known for using repetitive lines, beams, other shapes, and sometimes even figure. An Indonesian surrealist painter, Irwan Guntarto visualizes his concern on social and political issues of his country, critiquing political venality, socio-economic issues, environmental abuse and cultural stereotypes. Januri's work also represents a social commentary on a wide array of topics, creating conceptual artworks with a social narrative.
Through his works, Mayek Prayitno explores the human psychological reactions to the fast-paced reshuffling and revamping of the world around us. An Indonesian surreal pop artist, Riki Antoni is inspired by nature, panorama, and animals, but also the famous cultural theorist Johan Huizinga who defined play as the central activity in flourishing societies.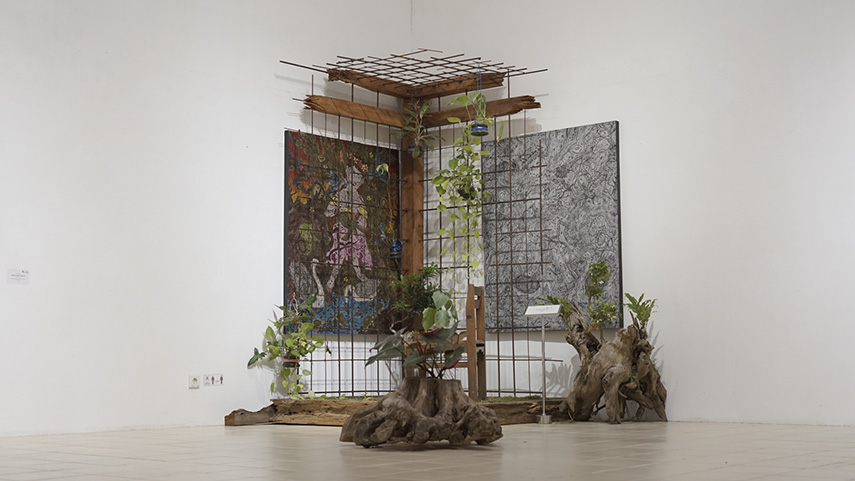 Ataraxia at Jogja Gallery, by MayinArt
The exhibition Ataraxia will be on view at Jogja Gallery in Yogyakarta, Indonesia until November 7, 2020. The exhibition is also available online at MayinArt.
Featured image: Nasirun - The Loss of Identity. Mixed media on canvas, 200,5 cm x 151 cm. All images courtesy of MayinArt.