Every week we present you with the latest auction happening around the globe and the artworks on sale with all the necessary information. Last week, we highlighted for you two biggest auctions happening at Christie's, New York and Bonhams, San Francisco. First two auctions featured entitled Prints and Multiples featured works by some of the raising, as well as the renewed artists in the world. Artworks on sale were by Francis Bacon, Banksy, Pablo Picasso, Roy Richtenstein, Ed Ruscha, Jean-Michel Basquiat, Shepard Fairey, Lucian Freud, Jasper Johns and many others. Some of the artworks sold for the unexpectedly high prices, while others failed to bring as much money as estimated to its creators.
Warhol and Picasso Dominate Bonhams
Auction Prints and Multiples hosted by Bonhams San Francisco Autumn 2014 Sales was held on October 21, 2014 achieved more than $2.2 million with a 91 percent sell through rate by value. The sale, which was simulcast in Los Angeles, was led by a complete portfolio of Andy Warhol's Flowers 10, 1970, which brought $425,000, falling well within in its pre-sale estimate range. It featured 10 signed screenprints in colors on wove paper. Figure au Corsage Rayé, 1949 by Pablo Picasso also reached high figures as it sold for $87,500 (est. $50,000-70,000), while La Dame à la Collerette (Portrait de Jacqueline à la Fraise), 1963, took in $40,000.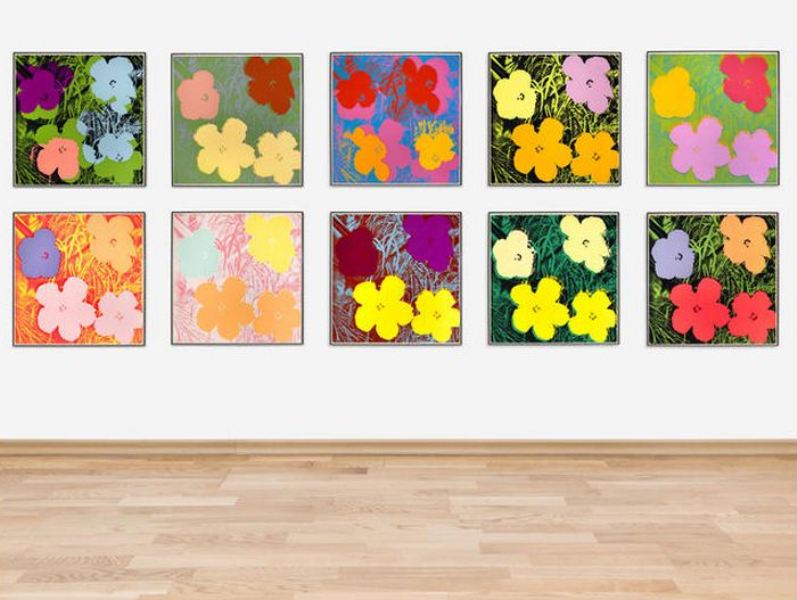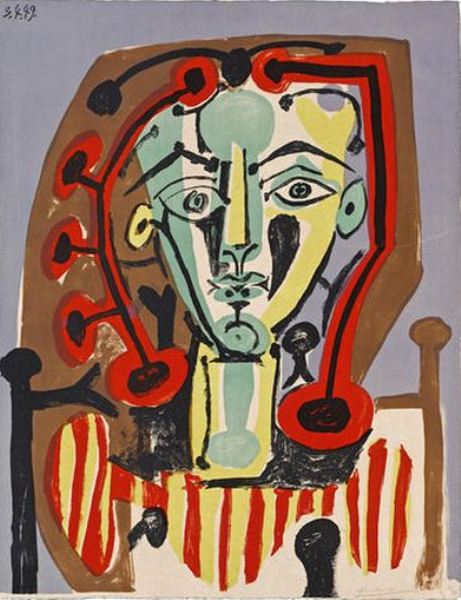 Jean-Michel Basquiat's Untitled (Teeth), from Leonardo sold for $500 more than estimated (5,000 – 7,000), while Shepard Fairey's The Godfather series: Fredo/Sonny/The Don/Tom this time didn't impress buyers as it sold for 3,750 comparing to the estimated $4,000 – 6,000. Lucian Freud is known to be an auction star with very high estimated prices and so it was this time as his Woman with an Arm Tattoo sold for $60,000. Untitled, from Harvey Gantt Portfolio by Jasper Johns reached a price of $2,250 (1,800 – 2,500), while Untitled by Ed Ruscha with an estimated $1,000 – 1,200 sold for 1,125.
Christie's Prints and Multiples
Two days later, Christie's in New York hosted also Prints and Multiples two day auction which brought to the house a total income of $8,466,212. The sale featured 292 lots, with a superb selection of Post-War and Contemporary editions as well as a strong group of classic Modern and Impressionist prints. Highlights from the sale included prints by Pablo Picasso, Andy Warhol, Roy Lichtenstein, Keith Haring, Henri Matisse, Mary Cassatt and Richard Diebenkorn among others. Highest sold piece at the auction was Roy Lichtenstein's Nude with blue hair that reached two times more than estimated with the astounding $581,000 (est. $150,000 - $250,000). Pablo Picasso's La Femme à la fenêtre reached a price of $221,000, while Composition by Joan Miro almost reached its high estimate with the price of $149,000. Other big names on the auction included Francis Bacon's Miroir de la Tauromachie Estimate that sold for $75,000 and Banksy's Soup Can-Original Coulourway realised realised $10,625.
Overall impression is that art legends like Picasso, Warhol and Richtenstein and are still dominating auctions. Their works usually sell for more than the estimated price and even if not, the figures they reach are a lot higher compared to other contemporary artists.