Setting out to examine the auction results of 2016, we were bound to expect the unexpected, as the predictions from the beginning of the year on the art market weren't all that positive. Truth be told, the factors that needed to be considered as influential are the global economic slowdown and the events such as Brexit and the election of Donald Trump as president. While everyone agrees that the market shrunk and that the buyers certainly became more careful, 2016 can be considered a positive one, if we were to be carefully optimistic about its impact on future. While the market in the United States continues to be a strong one, and has been so for some years now, the one in China went significantly down, even though there are now signs of it going back up. Indeed, the interest in Chinese contemporary art is growing steadily, along those in African art, Latin American, Indian and Cuban art. Furthermore, the search for the works by female artists is also a part of the good news, as the high prices of these pieces are likely to be a significant part of future museum exhibition programs. With the year coming to an end, we look at its most successful purchases, top selling artworks and the promises it made for 2017!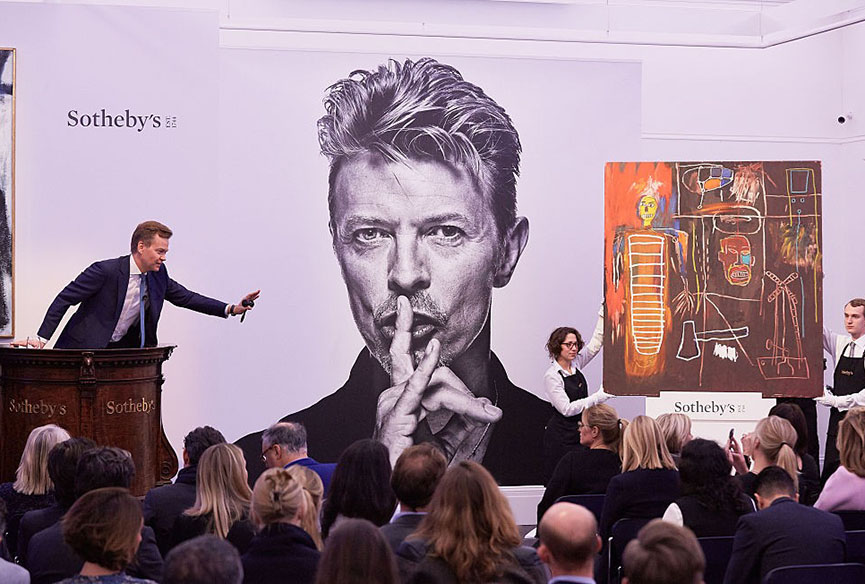 The Art Market - 2015 vs 2016
Looking at the sales which took place this and last year, it becomes clear that 2015 set the bar high - and we mean $3,5 billion high. At the peak of the auction season in May and June, many houses set new records, including the new most expensive painting in the world. This year fell a little shorter during those months, reaching a little over $2,5 billion in revenues across the media and categories. However, despite slightly pessimistic predictions, 2016 held up quite well with its successful predecessor throughout all 365 days, particularly during November, when it matched the purchases of $3 billion. This certainly is good news for all collectors looking to buy in the new year as well, as these are more than positive results!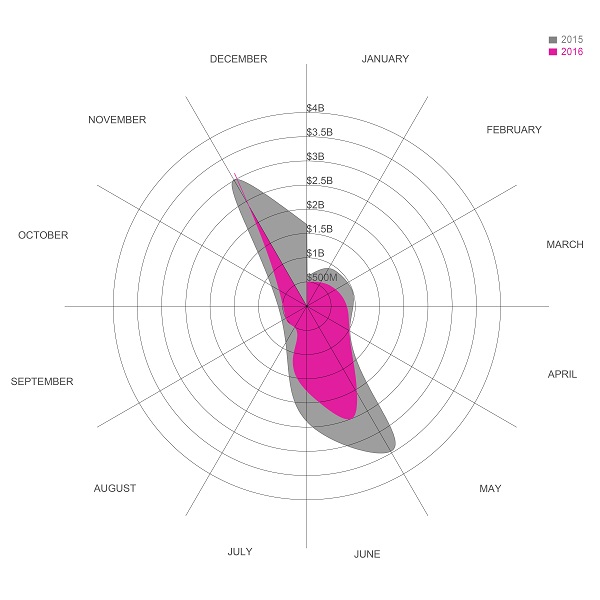 Which are the Most Wanted Artworks of the Year?
If we observe the auction results as a whole, the biggest piece of the cake certainly goes to Modern art, which took up 41% of total sales this year, or whopping $3,023,777,225! The best-selling artworks, in terms of paintings, prints and drawings, were the ones priced under $1000, as well as those between $10k and $100k. Post-War pieces came in second, with $1,588,487,740 or 22% of the market share. The Old Masters are still going strong, with 15% or $1,097,512,373 worth of paintings sold in 3rd place and particularly strong purchases of works under $1000. Following closely is Contemporary art with just under $1 billion, while the buyers were least interested in 19th century art, which reached "only" $631,855,187.
This being said, it comes as no surprise that the best-selling artworks at this year's auctions were those priced under $1000; over 50,000 of these items found their new owners. On the other hand, almost half that amount represents those estimated at over $100,000. The areas in between, $1k to $100k all oscillate around 40,000 sold works.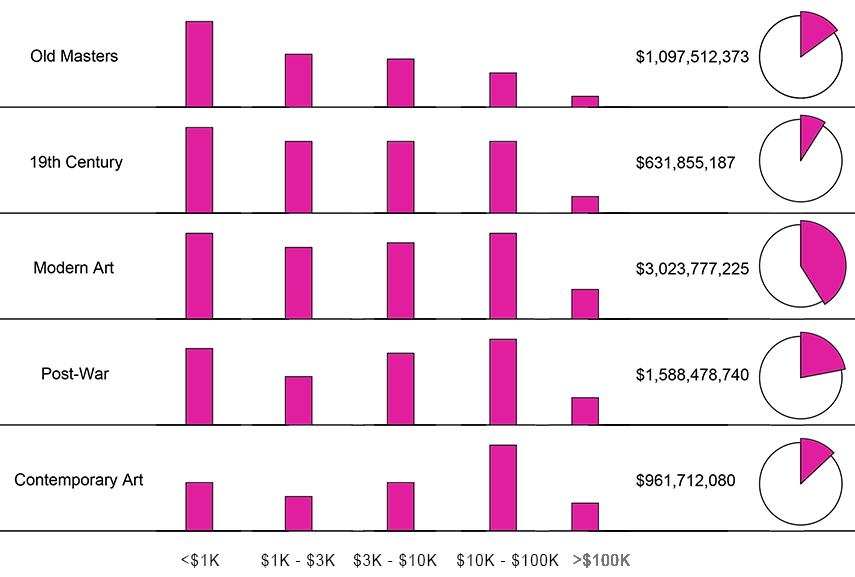 Battle of the Auction Houses
When it comes to fine art in all its forms, traditionally there are two big names competing to become the top selling auction house in the world. Once again, we are looking at Christie's as the winner of the category, ahead of arch rivals Sotheby's and Bonhams. During the auction sales peak in May, Christie's went over $1 billion, almost doubling the revenues of Sotheby's in the same period. In June, the sales were nearly identical, round at approximately $500 million. At November auctions, Christie's went a little under its success of six months before, while Sotheby's increased their number and almost reached $1 billion themselves. In October and February, both houses achieved decent numbers at smaller purchases, with Sotheby's being a little more successful here, taking the bigger part of $500 million in joint sales.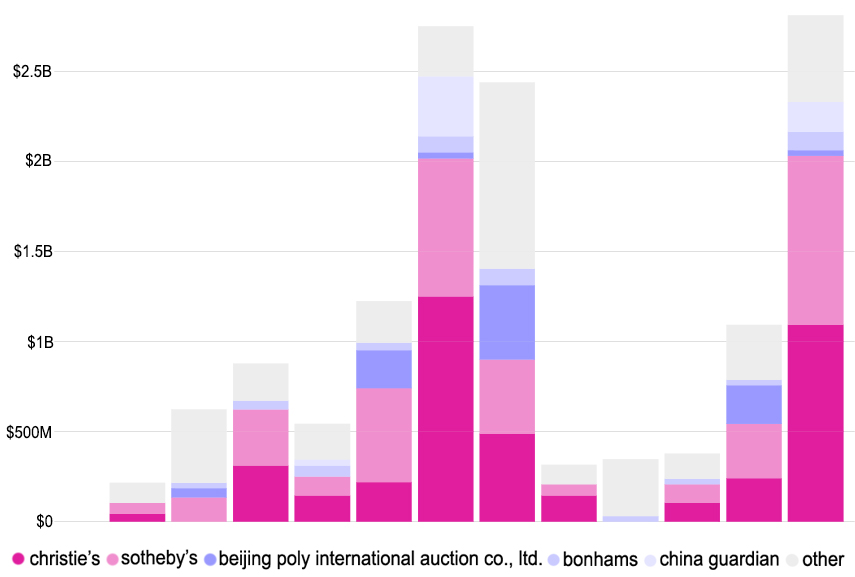 Top Selling Artists of the Year 2016
At the very top of the list of the most expensive paintings of the last 12 months, we can find the Impressionistic artwork entitled Meule (Haystack) painted by Claude Monet in 1891. Sold for $81,447,500 with buyer's premium, it was quite far from the $300 million worth When Will You Marry? by Paul Gauguin and Willem de Kooning's Interchange. Still, the auction result is quite impressive, as it helped place Monet as the 4th top selling artist of 2016 as well, making up the $170,756,000 worth of artworks sold. This list didn't exactly surprise us: the absolute ruler on the list is Pablo Picasso, whose pieces achieved $275,099,000, surpassing Gerhard Richter in 2nd place with $185,832,000. Here, we can also find Jean-Michel Basquiat at 5th, selling for $160,037,000 in total, followed by $133,715,000 worth of Andy Warhol art. It was a particularly good period for two distinguished Chinese masters as well: Zhang Daqian's paintings went for $170,832,000, while those of Wu Guanzhong sold for $127,232,000 overall.
Auction Results 2016 - A Bright Promise
An interesting thing that we could almost certainly expect in 2017 is the already increasing online bidding. As much as 35% of the bidding at leading international auction houses over the past 12 months came in via the internet. Furthermore, the people behind these "clicks" turned out to be young, wealthy buyers, mostly millennials, whose interest is mainly directed towards the lower end of the market. This points out the fact that auction houses are already working harder at promoting their business through social media, in order to reach their new audience. Another anecdote regarding the online selling is the fact that auctioneers are cutting back on the number of catalogues they print, resulting in massive and significant savings; some of them even dropped printed material altogether, using only digital catalogues. In 2016, we also saw a few "white glove" auctions of art collections of celebrities, hinting that the provenance of items is likely to become a much more important aspect of an artwork in the year to come. Such turn of events would, naturally, result in an increase in revenue and greater interest of auctioneers in snatching them among themselves. With the auction results 2016 proving to be as positive as they were, the 365 days ahead of us are likely to be even more interesting for sellers, buyers and enthusiasts alike.