For the art market on a global scale, it was a gigaweek indeed. Between May 8 and 12, 2016, as many as nine auction sales took place at three of the biggest houses selling Impressionist, Modern and Contemporary artworks today and, to say the very least, it was an exciting time. Lots of surprises (pun intended) and broken world records for renowned names, attesting to the fact that the market is somewhat slow, but still hanging in there. Although the $1 billion of total auction sales this year couldn't reach the spectacular $2.6 billion summed up this same time in 2015, the number was in line with expectations, as the buyers took this with caution as a result of China's recent economic slowdown. Nevertheless, it would seem that the curators of Sotheby's, Christie's and Phillips in New York chose the artworks that would appeal to the broad market well enough, managing to sell large proportions of their offerings.
Highlights of Spring 2016 Auction Sales in New York
At the Spring 2016 auction sales, it was all about Contemporary art, as the Impressionists and Modernists drew little attention from the buyers. Among all auctions which took part at this year's gigaweek, it was the Evening sales that stole the show, many of which saw Asian collectors' assuring return to the rooms, somethings that was surely not very expected - at least not so soon. Modestly yet predominantly, they secured artist records for a few very well-known names and held a large part of the total sales number. Let's take a look at the highlights!
At Christie's
Kicking off the May auction sales in New York there was Christie's Bound to Fail - and what a kick-off it was too! The house managed to sell all but one of the 39 offered lots, with the absolute star of the night being Maurizio Cattelan's Him, a sculpture of a kneeling Hitler which went for $17.2 million with premium, a record for the artist. Coming in second was Jeff Koons' One Ball Total Equilibrium Tank (Spalding Dr. J Silver Series), which sold for $15.3 million. The sale amounted to $78.1 million in total, well over its low estimate, which also included new record prices for artists like Daniel Buren, Paola Pivi, Rebecca Horn, Richard Prince and Bruce Nauman. The only lot which was bound to fail, apparently, was Sigmar Polke's installation of potatoes in a grid made of wood and steel, a non-guaranteed lot.
At the Post-war and Contemporary Evening sale on May 10, Christie's donned solid results yet again - $318.4 million with premium. Again, a far cry from last year's success, the sale only had eight out of 61 lots guarantees either by the house or a third party. This sale too had a highlight moment when Jean Michel Basquiat's huge painting Untitled from 1982 set the new record for the artist, as it was sold for $57.3 million with buyer's premium to a buyer on the phone, topping Christie's May 2013 sale of Dustheads, which at the time went for $48.8 million. Another trophy work was Mark Rothko's No. 17 from 1957, a fine example of his color field painting, although it failed to reach its high estimate of $30 million, having been sold for $29 million. Furthermore, two female artists ended up within the ten highest lots of the sale: Agnes Martin's Orange Grove (1965) sold for a record $10.7 million, while Joan Mitchell's Noon (1969) achieved $9.8 million. Also a surprise, although on the negative side, was Andy Warhol's Liz which not only failed to sell, but even to attract any bids whatsoever.
At Post-war and Contemporary Art Morning Session on May 11, the winner was Alexander Calder's 1941 Leaves, reaching $2.8 million within the total of $41.4 million of the day. The Afternoon session of the same day, on the other hand, saw $26.6 million in sales and $2.1 million for Ai Weiwei's Map of China sculpture.
At Sotheby's
The first sale for Sotheby's this gigaweek came on May 11 and the Contemporary Art Evening Auction. Raising $242.2 million, the house was finally able to (barely) beat the 95% of its offerings sold in 2009, as 42 of its 44 lots managed to go. The winners? Yes, there were two - Cy Twombly's painting from 1968, entitled Untitled (New York City) was snatched by an anonymous bidder for $36.7 million, falling short of its $40 million estimate, while Francis Bacon's 1970 diptych Two Studies for a Self-Portrait went over its high estimate with $35 million. In fact, over 38% of the lots in offer sold over high estimate, including Adrian Ghenie's Self-Portrait as Vincent Van Gogh (estimated at $300,000, sold for $2.6 million!) and Alexander Calder's 1942 standing mobile (estimated at $4 million, sold for $8.3 million).
At Contemporary Art Day Auction on May 12. Sotheby's sold $44.8 million of art, including the highlights such as Alexander Calder's $1.8 million Mobile with Nine Petals and Ed Ruscha's $1.6 million Hotel, both over the high estimates.
At Phillips
Held on the same day as Christie's Bound to Fail, Phillips' 20th Century and Contemporary Art Evening Sale was much more modest, with $46.5 million tally and 34 out of 37 lots offered sold. Falling into its own pre-sale expectations and behind its 2015 $97.2 million result, the auction house couldn't fail in a real sense, as 20 lots were backed by guarantees of third parties, outdoor investors and the house itself, for two of those lots. Among the highlights, we had Brice Marden's Star (For Patti Smith) going a little over its low estimate - $5.2 million, and Jeff Koons' Naked selling for exactly the low estimate of $5 million. What's interesting is that works by Roy Lichtenstein, John Currin, and Jean-Michel Basquiat failed to find buyers.
Phillips' Day sale took place on May 10, much more modestly achieving $8.4 million in sales and 76% of lots sold. It was a successful night for artists like Richard Prince, John Baldessari and Lee Ufan, all of which managed to go over their high estimates. A total of 48 works remained unsold, although these mainly included lesser known names and a few surprises, such as Maurizio Cattelan, Kehinde Wiley and Alexander Calder.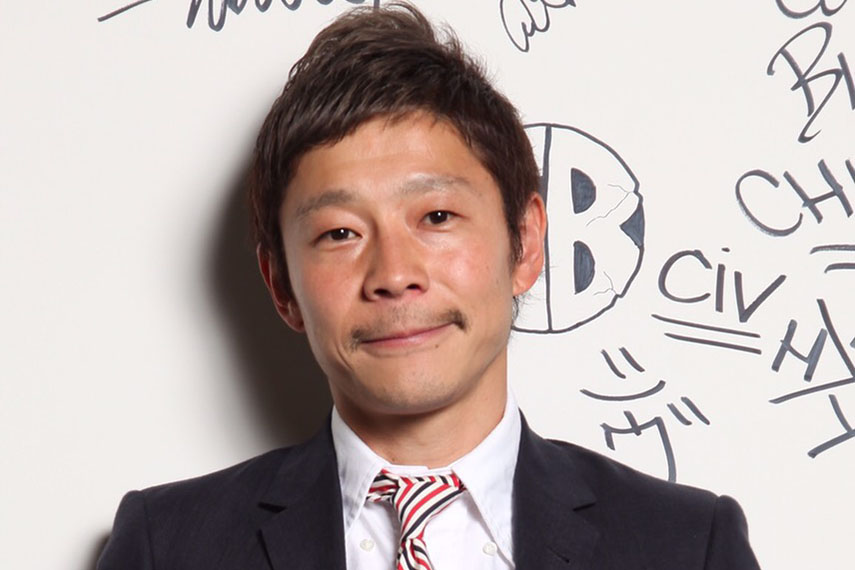 $98 million of Art for a Japanese Collector - Who is Yusaku Maezawa ?
He is the 40-year-old founder of a Japanese fashion website called Zozotown and someone whose art collection just got much richer. Yusaku Maezawa helped both Sotheby's and Christie's top auction sales reach the impressive numbers we mentioned earlier by going on a true shopping spree. Bidding through Sotheby's contemporary art specialist Yuki Terase, Yusaku Maezawa got his hands on the said Adrian Ghenie's $2.6 million painting, only to chase after - and get - Christopher Wool's white canvas spelling out Chameleon a few minutes later for $13.9 million. In fact, this eclectic collector was personally responsible for many of those artist record-breaking prices from above. To summarise, Mr Yusaku Maezawa now owns a total of $98 million of artwork, also including Richard Prince's $9.7 million Runaway Nurse, Jeff Koons' $6.9 million Lobster, Alexander Calder's $5.8 million Sumac 17, Bruce Nauman's $1.69 million Eat War. Oh, and that Jean Michel Basquiat $57 million painting too. The good news is that Mr. Yusaku Maezawa is also the founder of the Contemporary Art Foundation in Tokyo, where he puts public shows on view twice a year, and he is also planning on opening a private gallery in his hometown of Chiba. Will he be the art world's next mega collector?
Featured images in slider: Jean Michel Basquiat - Untitled, 1982, photo by AFP/Kena Betancur; Mark Rothko - No. 17, 1957, photo by AP/Mary Altaffer; Jeff Koons - One Ball Total Equilibrium Tank (Spalding Dr. J Silver Series); Left: Agnes Martin - Orange Grove, 1965 / Right: Richard Prince - Runaway Prince, 2005-6; Cy Twombly - Untitled (New York City), 1968; Francis Bacon - Two Studies for a Self-Portrait, 1970. All images used for illustrative purposes only.