The art world has only recently engaged with Augmented Reality, but Refrakt already have a long history in this young medium. In our interview, they talk about the development of their work, their latest exhibition in New York together with Molly Soda and Nicole Ruggiero, explain what's uncanny about Augmented Reality, and why feminism is on so many digital artists' agendas.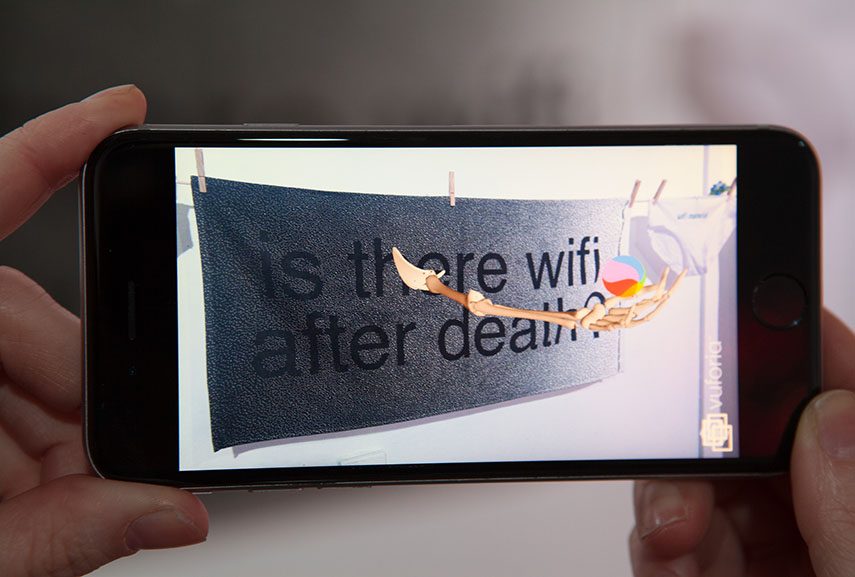 Refrakt - Tackling Augmented Reality
Anika Meier: We met for the first time about two years ago. Back then, the two of you had just finished your studies at Universität der Künste in Berlin. You were doing a sort of Guerilla exhibition at Gemäldegalerie in Berlin because the museum wasn't really interested in your Augmented Reality project. What's happened in the meantime?
Refrakt: Since our exhibition, Objects in Mirror are Closer than they Appear, at Gemäldegalerie in Berlin, we have been working on several projects of varying scopes. Whereas in the beginning, we transformed works by other artists and focused on the high contrast of classical paintings and new media, we now develop the artwork in the gallery space itself as well as the artwork's transformation in Augmented Reality. Hence, we are working on a concept on both sides and implement each medium's merits. We see our App and the projects we do as a flexible commentary on today's use of technology and want to keep our options as open as possible.
Anika Meier: I recall your aspiration to find out what can be done with images in the digital space. What did you find out so far?
Refrakt: We discovered that pictures in digital space give way to a lot more experimentation than classical image production. For instance, we like to think of images both 2D and 3D at the same time. We can disturb the user's habits with digital images and day-to-day technology. Just the combination of classical-analog and newly digital-produced artworks opens a whole new field and discourse.
Anika Meier: Is the combination of art in a gallery space or in a museum and Augmented Reality just a gadget that helps to entertain the visitors? I am thinking of images of visitors being busy scanning artworks with their smartphones and people working in the art world being annoyed by visitors using their smartphones in exhibitions.
Refrakt: We have been asked that question many times – and had our doubts in the beginning. However, we came to realize that the app is actually not drawing attention away from the paintings/prints themselves, but rather has the capability of emphasizing parts so that the viewer tends to start questioning his or her own point of view. Therefore, in some cases, the original piece gets even more attention when it interacts with its digital counterpart.
Anika Meier: Is it easier to work with artists in the U.S. because they are more open-minded and not afraid of new technologies? Or is there in general a cultural gap when it comes to working with Augmented Reality?
Refrakt: Generally speaking, it is a lot easier for us to show work in the U.S. as we have the feeling the audience just understands our work a lot better. When showing our work there, we never have to explain what AR means. People start to immediately interact with the artwork whilst in Germany we have to start from the beginning by explaining a lot more and the user has a greater effort to start interacting. Apps like Pokemon Go have helped making Augmented Reality known to a larger audience. At the same time, the art world seems to engage a lot more with new media as VR and AR, while the AR scene amongst artists has remained relatively small until this moment.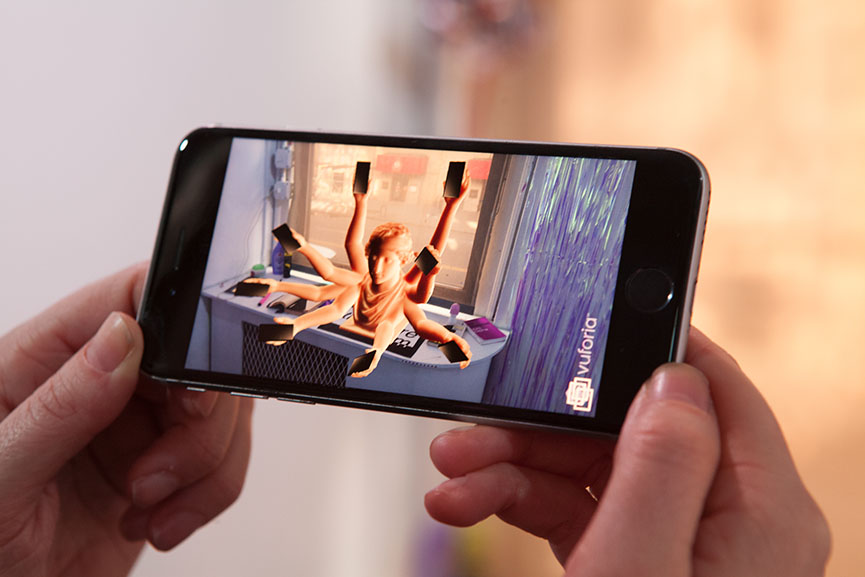 On the Slide to Expose Exhibition
Anika Meier: How did the cooperation with Molly Soda, one of the leading figures of the New Wave of Feminism, come about for the exhibition project "Slide to Expose" at Babycastles in New York?
Refrakt: Molly and Nicole approached us after seeing our exhibition, Building Castles in the Cloud, in New York last year. They were planning their first collaboration, revolving around topics of social media and the Internet. They wanted to include the tools of the digital world in the show. By using smartphones to reveal virtual artworks, the viewer can experience the art in an authentic and familiar way.
Anika Meier: What is the exhibition, "Slide to Expose," about?
Refrakt: Slide to Expose is an installation about digital privacy and intimacy, connecting both the analog and digital world as they equally shape our privacy these days. The devices we are attached to in our everyday life change our perception of things and are therefore used as, you might say, "encoders" of the digital consciousness that overlays scattered objects in the room. You become an observer of a private life when entering the installation that is built as a private bedroom and presented as a physical still life.
Anika Meier: Most readers won't be able to see the exhibition in New York. How would you describe what people see when they scan some of the artworks? And what can people scan?
Refrakt: The gallery has been transformed into a furnished bedroom filled with many personal items: blankets, towels, underwear, postcards, books, posters, a water bottle, an iPad and iPhone, websites on a computer screen, and much more can be scanned with the app to reveal additional AR content. By creating some kind of a treasure hunt for hidden personal fragments, we want the viewer to snoop around and actively engage in invading the private space of the fictional character "living" in the gallery. By doing so, online behavior gets shifted to real life. We constantly enter people's private spaces through Instagram, Snapchat or Facebook, but doing so in real life might give us an uncanny feeling.
Anika Meier: How do visitors of the exhibition react to the Augmented Reality part? Would the exhibition work without the possibility of scanning pieces of the installation?
Refrakt: Although the effect of entering the private space of a stranger emerges also without any use of AR, the virtual layer adds a deeper level of voyeurism as well as critique. As a part of Refrakt's contribution to the exhibition, black-and-white artworks with bold typography printed on towels, underwear, a poster and a jigsaw puzzle, contrast the colorful appearance of Molly and Nicole's work. By scanning these AR triggers, critical statements about the transformation of communication, perception and self-expression induced by social media are made accessible to the viewer.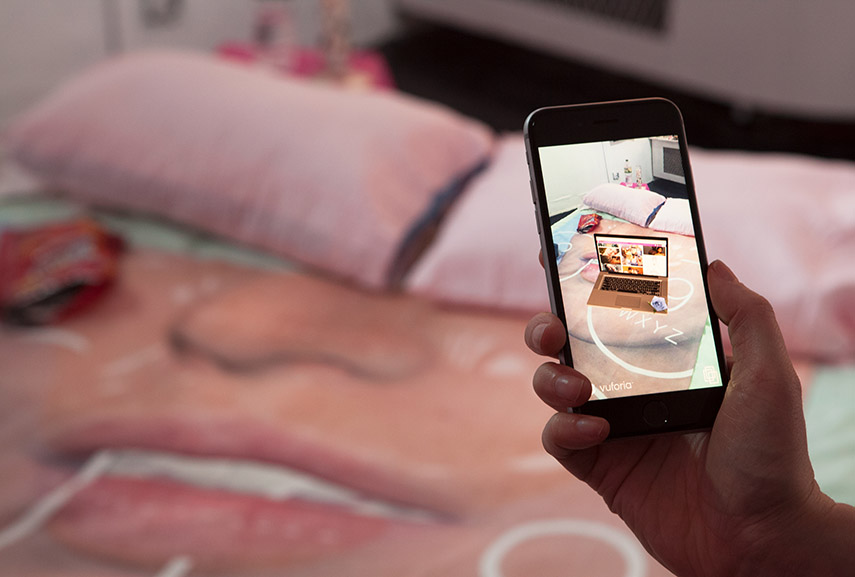 Nicole Ruggiero - The Bedroom
Anika Meier: There's a bed in the gallery space and it reminded me immediately of Tracey Emin's iconic work "My Bed." Soda's work often is about girls and for girls in their bedrooms. Does the bedroom in the exhibition actually resemble Molly Soda's bedroom?
Nicole Ruggiero: The space was a bedroom collaboration between Molly Soda & Nicole Ruggiero as well as Refrakt. I think Molly and I drew directly from our own spaces and past experiences as individuals who have always been highly engaged with the Internet, but the room itself was modeled after an anonymous Internet user.
Anika Meier: Why a bedroom – again?
Nicole Ruggiero: We chose to do a bedroom because we wanted to create an intimate space since we are dealing with the idea of digital intimacy and the recreation of that in real life. When we are in our bedrooms we are usually alone or with someone very close and feel the most comfortable being ourselves. Our devices also act as intimate spaces and we wanted to reveal that by equating it to the bedroom space as well.
We also wanted to expose the fact that even though when we are in a place where we feel most alone, we actually aren't because we are always connected to billions of people via our devices. We're never really alone anymore, unless we intentionally disconnect from the Internet.
Anika Meier: Why is it important for girls in their bedrooms, maybe still living with their parents, to think about feminism?
Nicole Ruggiero: Although the anonymous individual this exhibition was modeled after definitely likes more traditionally "feminine" objects, this doesn't necessarily suggest the individual's gender: they could be either or neither. I think that's a concept relating to feminism that more people need to think a little bit harder about, and I think that's something the younger generation is taking into consideration more and more.
Anika Meier: What does Augmented Reality add to the concept and maybe to the message of the exhibition?
Nicole Ruggiero: Augmented Reality was a great way to make a physical space more interactive. Because digital work is usually best viewed on a screen and all of our work is highly digital, it was a great way to be able to invite people to move around a physical space and interact with it while still using screens and bringing our exhibition's concept to life.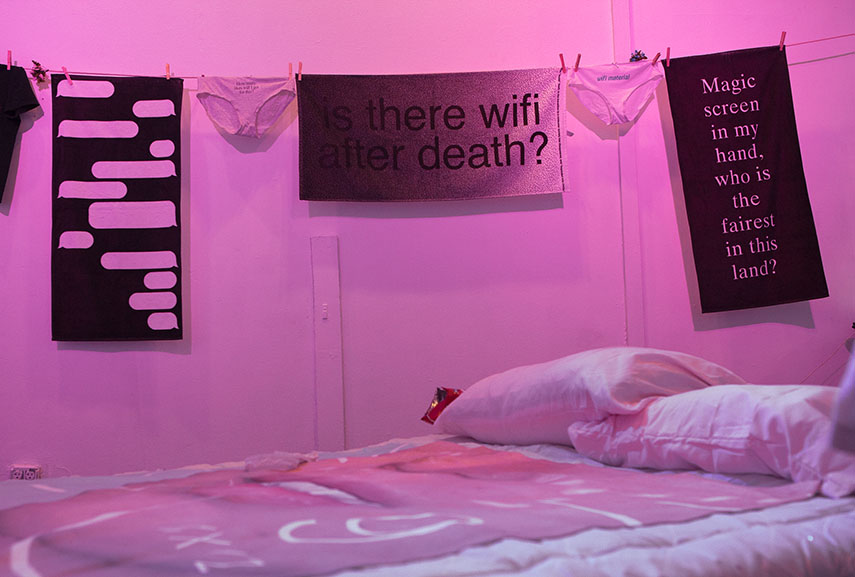 Looking at the Future
Anika Meier: Has Feminism been an agenda for Refrakt before working with these young feminist artists?
Refrakt: These days, it's hard not to include Feminism in your agenda, also because the digital media itself opens new ways of perceiving the female position. We cannot say we approached it as a subject alone so far, but it is definitely a topic we imagine working a lot more with in the future. Maybe it is very feminist in the way that it wants to keep the gender of the bedroom's owner a secret, as Nicole mentioned before – and let's the viewer guess.
Anika Meier: Does Augmented Reality affect our concept of human identity and the relationship between the public and the private realms like Social Media does, for example?
Refrakt: We cannot say that per se, as Augmented Reality is strongly dependent on the installation and form of usage. It rather affects our concept of perception and the way we use technology. This can also mean how we are behaving in social media or far we let technology influence our privacy and intimacy.
Anika Meier: What can we expect from you in the future? Are you working on any new projects?
Refrakt: Slide to Expose will be shown at Junior High gallery in Los Angeles this spring. Also, we are currently hosting another exhibition that is on display online. Together with Tony Grayson, we curated this online exhibition, States of Mind, and invited 30 US-artists to comment on current political events. 
Furthermore, we are working on collaborations with museums and publishers in order to create new ways of cultural mediation as well as integrating digital content into traditional printed matter such as books. In addition, very soon the audience in Berlin will have the chance to see our works created for the U.S. last year and more experiments of AR in the context of new media art.
Anika Meier: What do you think the future of Augmented Reality holds for us when it comes to the art world?
Refrakt: As AR is still a rather young medium and it develops corresponding to the advances in technology, we think the usage of AR will become increasingly more ordinary in everyday life soon and functions within AR will become a lot broader. Accordingly, the chance for artists to engage with these new functions grows exponentially, thereby increasing the possibilities for interaction. We hope for more people engaging with AR to push the boundaries in the way we use and perceive technology.
All images courtesy the artists.