For the occasion of his debut solo show at Jonathan LeVine Gallery, Augustine Kofie turns into a builder of sorts, the preserver of memories. He is not building anything new, he says, but only reviving something that already existed, but has been forgotten. The Inventory exhibition will be just that - a collection of found objects, organised and repurposed in the artist's trademark retro-futuristic style. In the manner of a nostalgic office clerk, Augustine Kofie patiently develops his creative process, through discovery, cataloguing and re-adapting.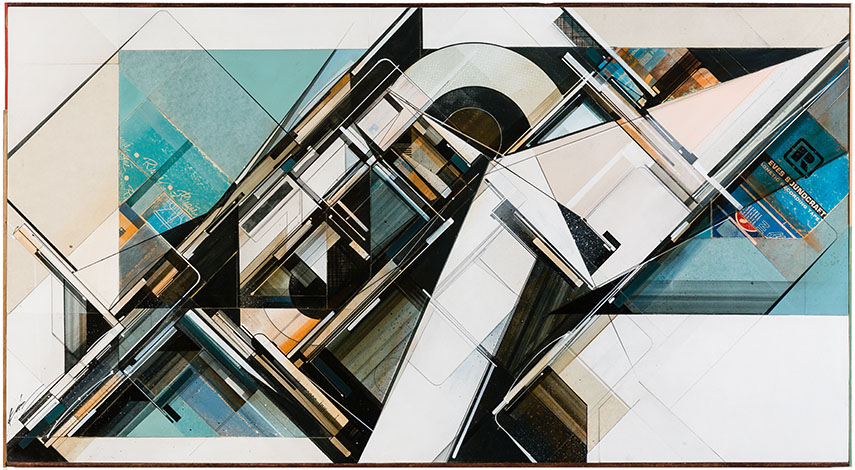 The Inventory
Augustine Kofie's journey towards the re-creation of The Inventory begins with estate sales in the greater Los Angeles area, where he collects found, reclaimed press- or chip-board, a kind of thick paper used in packaging and office supplies from the 1950s to the 1980s. Designed, printed and manufactured in the USA, these steno notepads, file folders, index cards, envelopes and other industrial packaging items represent true testimonies of a time long gone, as all of these got replaced with updated, digital versions of themselves. A fan of meticulous organising himself, Augustine Kofie commits to find and save these objects, and has managed to do so by visiting numerous homes, workshops and garages of people as reminiscent of old days as he is.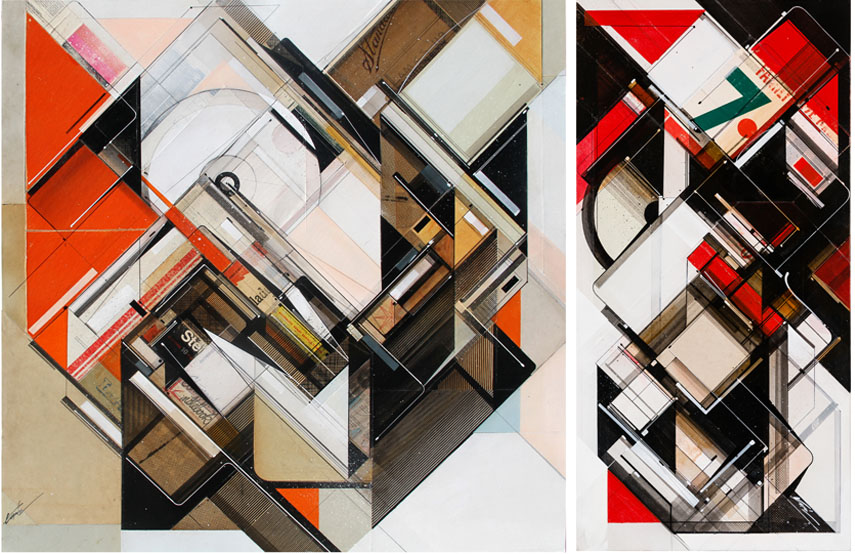 Re-Assembling the Past
By drawing small case studies on notepaper or other easily discardable support, as references for his collages to be, Augustine Kofie begins the next phase of his creative process. Once the collected material is in his studio, he separates and archives them by color palette, thickness and category in vintage industrial cabinets. There, these items are being carefully and safely stored until it is time they become the final work of art, painted over with layers of pencil, ballpoint pen, silkscreen and acrylic ink and turned into an assemblage. Through this thought-through procedure, the artworks become part of a new kind of inventory, the one related to Augustine Kofie's own body of work and artistry, where discarded, forsaken materials get a new life they deserve, thanks to their both physical and sentimental value.
The Soundtrack of Augustine Kofie Exhibition at Jonathan LeVine
Augustine Kofie Exhibition at Jonathan LeVine Gallery
An ever-important part of Augustine Kofie's presentation of works are his soundtracks, accompanying his every show under the moniker 4X4Tracktor. Much like the collages, they're built from different pieces, in this case sample records found at the same estate sales, as well as marginal cinema from the same era, in order to preserve them from vanishing. You can read more about the artist's sonic visions in an interview he did for Widewalls last year.
Inventory, a solo exhibition of new works by Augustine Kofie, will be on view at Jonathan LeVine Gallery in New York City, USA, from November 21st until December 19th, 2015. The opening reception is scheduled for November 21st from 6pm to 8pm at 529 West 20th Street.
Create your free Widewalls profile today and join our art community! 
Featured images in slider:
StenoRotations, detail
Golden projection lamp, detail
All images courtesy of Jonathan LeVine Gallery