A pioneer of paper cuts among French artists, Aurel Rubbish, creates beautiful, finely chiseled compositions, adorned with floral elements, evoking numerous influences of historical decorative movements, while his creations convey the message - Long live Art, Full of Grace! His latest body of work executed on paper and wood, is deeply inspired by natural surroundings, exhibiting ornate elements and details rendered with impressive virtuosity. His work could be described as contemporary Art Nouveau, since the floral encompasses central motif in his oeuvre, adorning every theme. The eclecticism Aurel Rubbish continuously mirrors fragments found in fine oil painting, religious portraiture and icons, but in tattoo drawing as well.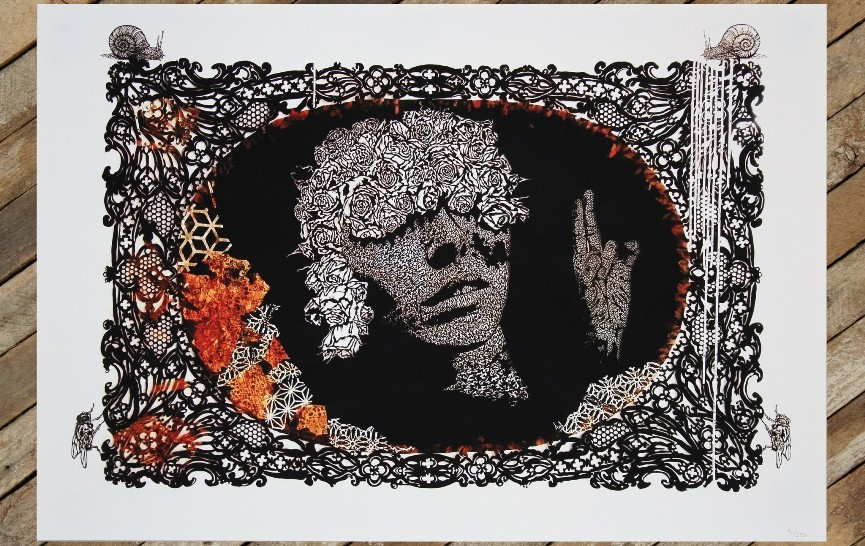 Vanitas
Thematically, the artist chooses a variety of subjects, frequently following vanitas. His characters often exude eerie emotion, zombiesque feel,  and the overall darkness, but through the perfected, stunning paper cut technique, Aurel Rubbish developed a poetic, utterly captivating expression. Gratia Plena is the title of his show at the Speerstra Gallery in Bursins, Switzerland, which is to open on May 10. The exhibition will run through June 28, 2014.
Aurel Rubbish
Aurel Rubbish was born in Besançon, France in 1980, where he currently lives and works. His artistic practice revolves around development of his paper cut technique. Every one of his pieces, including street art, is a hand rendered work, completed after a very devoted, long hours of chiseling, in order to achieve that spectacular effect, whether it's seen around the city or in the gallery. The artist discloses a very fine thread of his soul, exhibiting his general fascination with nature employing floral visual elements in his work. In his earlier art series named Metamorphosis, a man and plants, vines and flowers are fused into one, while the philosophical grounds for these works is found in the writings of Ovid. Poetry has a strong presence in the works of Aurel Rubbish, as it's constantly intertwined with the delicate strings and pieces of his compositions. Artwork of Aurel Rubbish is everything but superficial, as the artist creates driven by true incentives ignited by numerous influences found in the arts and his own emotional visions.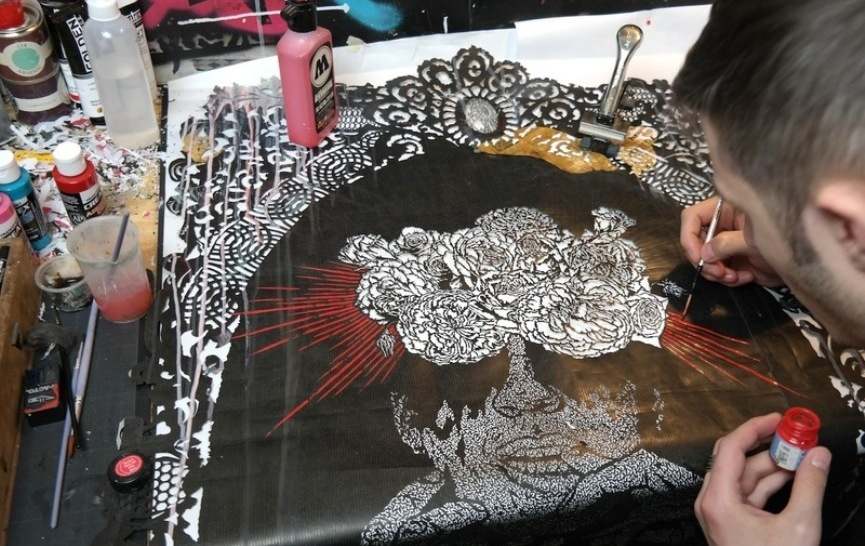 The Speerstra Gallery
Founded in 1984 in Monaco, the Speerstra Gallery moved to Paris in 2001, where it was located in the proximity of the Picasso Museum. In 2007, Speerstra space finally transferred to Bursins in Switzerland, where it is now. The space is one of the rare galleries in Europe dedicated to showing exclusively graffiti and street art in a range of solo and group exhibitions. The roster of shown artists at the Speerstra Gallery is remarkable, and it includes Crash, Daze, Jonone, Sharp, Rcf1, Alëxone Dizac, Mist, Tilt, Sigi Dare von Koeding, Smash137, Serval, Jazi, Mambo, Rosyone, Stohead, Sozyone from the realm of street art. Artists that are considered more contemporary than street art also exhibited, including Thomas Fiebig, Nicolas Beaud, Aurel Rubbish, Thierry Furger. The gallery put on shows by urban art photographers Henry Chalfant and Martha Cooper as well.