Between 2017 and 2019, severe drought developed across much of eastern and inland Australia, hitting the small towns across the continent the hardest. In order to save their towns and attract visitors and tourism growth, many of these communities decided to join the silo art trail movement and have their silos adorned with amazing murals.
Australia's first painted silo emerged in Northam of Western Australia in 2015, painted by artists Phlegm and HENSE. By June 2019, there were 31 painted silos across the country with more being planned. Among many artists who participated in painting silos, but also water towers, are Guido van Helten, Fintan Magee, Rone, and Evoca1. The Australian Silo Art Trail has become an ultimate Australian road trip, with a journey stretching over 7,500 kilometers. And every town in the trail has a story to tell which is reflected in their silo art.
The promotion of the silo art trail via the website and Facebook group called the Australian Silo Art Trail is the work of one dedicated silo art enthusiast, Annette Green, with the help of her loving husband. After leaving their home in March 2018 to travel their country and live the ultimate Aussie dream by following the sun, the wind and the rain, they saw their first painted silo in Ravensthorpe, Western Australia and were immediately blown away. They then decided to start the Facebook page and create a map of these amazing works of art, which resulted in the whole Australian Silo Art Trail movement. So far, they have documented over 90 sites for travelers to visit while shaping a broader story around Australian silo art, dedicated to enlighten as many people as they can about the country's ultimate road trip and the biggest outdoor gallery in the world.
If you are looking to start your great Australian adventure, you can find all the necessary information on their website.
To find out more about this trail, we had a chat with Annette Green. In an exclusive Widewalls interview, she talks about the story behind silo art, how it all began, highlights of the trail, its impact on the local communities, and much more.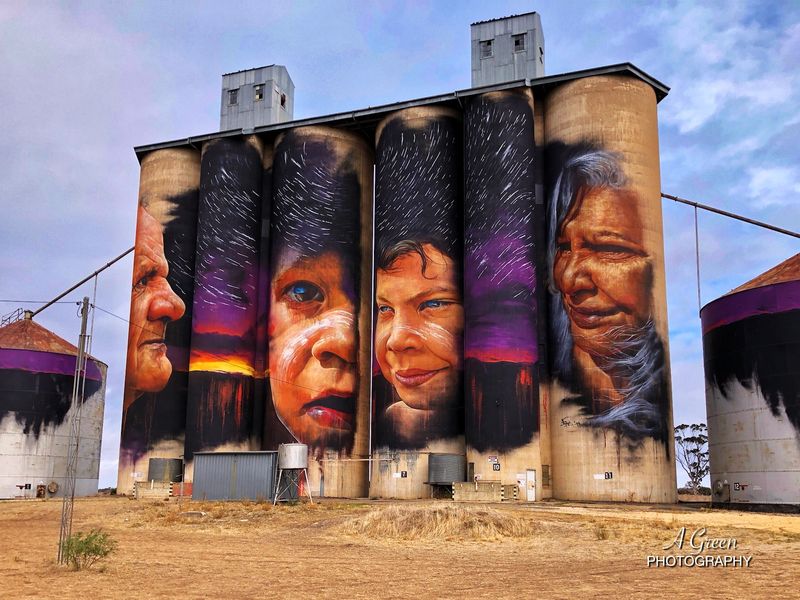 The Origins of the Australian Silo Art Trail
Widewalls: What is the story behind all that amazing silo art in Australia?
Annette Green: The Australian Silo Art Trail all began when FORM WA, a not for profit organisation that promotes public art and cultural tourism, created The PUBLIC Silo Trail of Western Australia. They painted the first-ever silos in Australia in the Wheatbelt town of Northam in March 2015. These silos marked the beginning of painting large scale outdoor murals with the aim of drawing tourists to these towns that are often very remote, and in some cases, the towns are suffering from one of the worst droughts Australia has ever seen.
It took another nine months before Australia had its second set of painted silos they were in Brim, Victoria and were completed in January 2016. By the end of that year, there were three in the trail of Victoria and two in the PUBLIC Silo Trail in Western Australia.
By the end of 2017, there were 14 in the trail and by the end of 2018, there were 25. Now, three-quarters of the way through 2019 there are 35 painted silos and cover five states of Australia. But not every town has a silo! Some have joined the trail by painting their water towers or tanks, others are painting the walls of business in their towns.
The "Trail" is so much more than the wonderful artwork upon the silos, water towers or buildings it's about the people in the towns that have worked so hard to get them painted, its about their fears that their town is dying and that their children will move away to the cities, its about the 'Great Aussie Battler' and their fighting spirit to never give up hope.
Widewalls: How did you first come to the idea to create the Australian Silo Art Trail?
AG: In March 2018, my husband and I set off on our "Great Australian Adventure". We aimed to travel from one side of Australia to the other, to see and explore as much of this great country as we could, to travel where the sun took us. We headed towards the Nullarbor via Ravensthorpe in Western Australia and came across my first painted silo. "Stop!" I yelled. "Let me get my camera". I stood and looked up, my jaw dropped, and I was hooked. I could not wait to see my next one but where were they all?
After frantically researching on the internet before the loss of signal crossing the Nullarbor, I could find a reference to more in Western Australia and six in Victoria and that was it. Nine when there was actually 17. Why was there no central place on the internet that recorded them all! So after a lot of research, in September 2018 I created the Australian Silo Art Trail Facebook page and community group to help other people become aware of them as well and also and most importantly by then I had become aware of why they were being painted and I wanted to help these struggling communities as much as I could.
The group and page now boasts over 30,000 members and followers and it's the strength of this group that is helping to discover other artwork across Australia, which then encourages more people from the cities and other towns to get outside and explore this wonderful country of ours.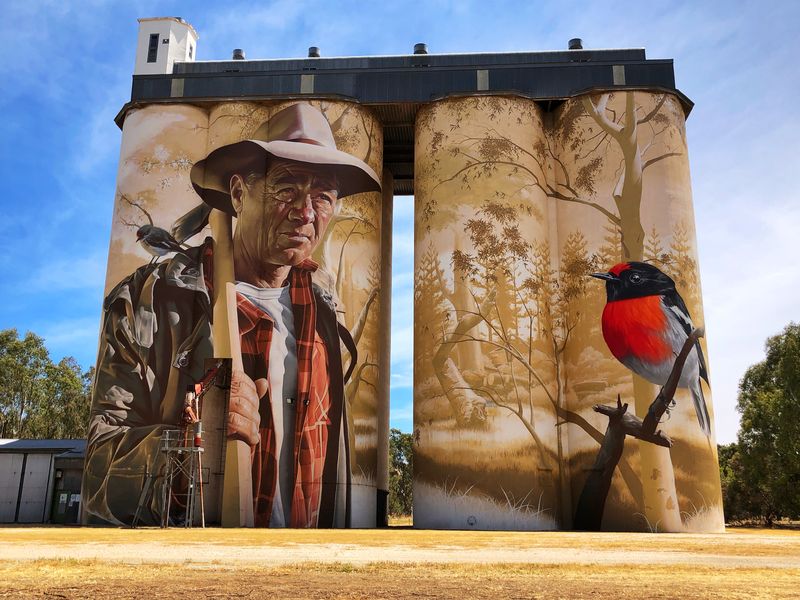 The Silo Mural Art
Widewalls: Today your map marks 35 silos and counting, spanning across 7,500 km. Are there some highlights you would like to mention?
AG: I love them all, but secretly I do have my favorites too. But it was our trip out to Thallon in Queensland that was the defining moment for my husband and myself. When I knew for sure that I needed to help these towns as much as I could.
Thallon is a country town in the Balonne Shire of Queensland and at the 2016 census had 257 people living within its principality. Two years later when we visited, that number would have been halved. Primarily a wheat and sheep farming community, the GrainCorp Silos at Thallon are used by neighboring towns as well. There is one remaining business in Thallon, The Francis Hotel. It is the local grocery store, the post office as well as being the local pub too. Thallon is approximately 540km from west of Brisbane in drought country.
The momentous achievement that this small town went through to get their silos painted is astonishing. It was the drawcard of these silos that bought us to this town for without them there is no way Eric and I would have ever ventured out there. Now, not only have we visited but many others have made the same journey out to Thallon as well. They have stayed at the caravan park like us and enjoyed a meal or a drink or two at the pub.
Widewalls: Alongside silos, your map features over 40 painted water reservoirs, as well as the Street Art Towns...
AG: Not every country town in Australia seeking to boost tourism to their town has a silo, but many have water reservoirs, some just have walls. As you can imagine, it's quite expensive to paint a set of silos and this can require communities to extensively fundraise for months or even years, but a water tower or tank is less expensive, and a wall is even cheaper.
These towns and communities need our help even more so than the towns with a big attraction and they also form a vital part of the Australian Silo Art Trail. Distances between silos can be as little as 10km in some areas or as great at 400km in others, so to be able to call into a town with a painted water tower or street art also breaks up your trip into manageable distances but more importantly encourages the traveller to spend money in their town also.
Some towns like Benalla in Victoria and Tumby Bay in South Australia are now annually hosting a street art festival yearly with many more country towns following in their footsteps. This encourages the traveller to spend more than one day in the town as there is so much now to see and do. It also encourages travellers to return yearly as new art is installed each year.
Widewalls: There are more murals being planned as we speak. Could you tell something about this?
AG: There are many country towns grant writing and fundraising independently on a daily basis working hard towards achieving their goal of joining the Australian Silo Art Trail.
There is a planned 'Remembrance Trail' in Victoria waiting for a green light to go head and another community in Queensland working hard towards the creation of a whole trail in their area. GrainCorp, one of the major contributors and the owners of over 12 of the 35 silo art locations has many more on their books planned as well. Possibly as many as another ten in the pipeline.
The Australian Silo Art Trail is not finished yet and is growing to be a world-class tourist attraction.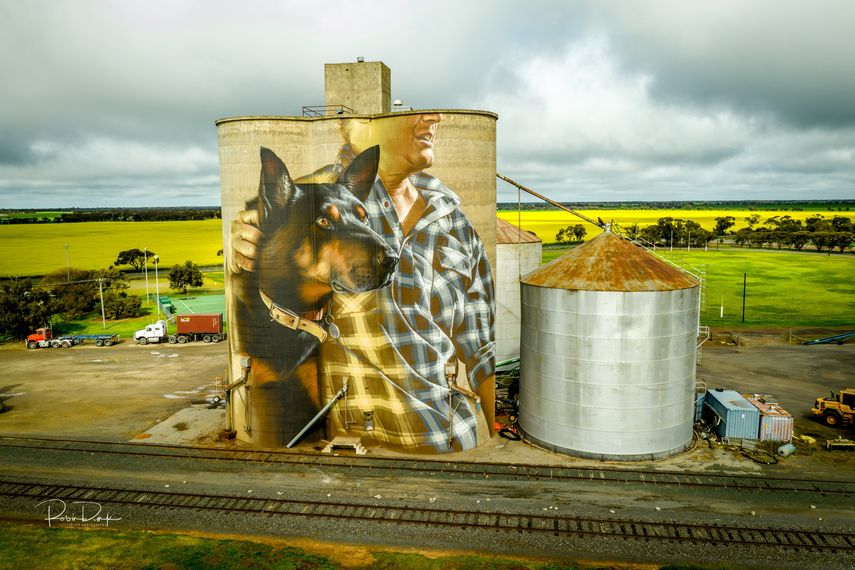 The Impact on Local Communities
Widewalls: How does this project transform, empower and activate local communities, would you say?
AG: Communities that have worked together to create a common goal share a great bond and sense of pride in their achievements. It gets people talking in the streets not only to neighbors that they may have only waved to but to visitors to their towns as well. In many cases, the town's history is proudly displayed on the silos for all to see invoking a sense of pride amongst its inhabitants as well.
St. James in Victoria proudly shows the farming history in the area but also features the image of George James Coles, the founder of Coles Supermarkets in Australia. George was once a resident of this tiny town and the very first Coles Supermarket still stands their empty today. Proudly we were guided there by a local resident when we visited the silos this year.
It plants their town firmly on the map and makes then heard Australia wide. As visitors visit their towns parks and gardens are manicured, cafes and bakeries are revamped and, in some cases, even re-opened as once there was no passing trade. Families develop hope that there will be jobs for their children. Slowly infrastructure grows as the demands of tourism increase.
Widewalls: What has been the response from the public to the platform you have created?
AG: Amazing! When you create something like this you hope that maybe you can help get the word out to a few thousand, but over 30,000 in the first 12 months has been just outstanding. The Australian Silo Art Trail Community Group has over 500 new members every week and an average of 30 posts coming in a day from excited travellers showing off their photos of silos they have visited, street art they have seen or the best yet, the discovery of a new water tank or tower unknown to the rest of the group.
The creation of the website has been an added bonus with website traffic growing every day and our Google map now has over 335,000 views to date. The website has also enabled me to be able to create "trail maps" and "catalogues" which have been extremely popular, which in turn helps more travellers find their way around the Australia Silo Art Trail.
Widewalls: Right now, you are on the road. Could you give us an update on your current whereabouts and plans?
AG: After visiting the silos at Sea Lake in Victoria, we heard the news that my father was unwell, so we have dashed back home to Western Australia to be by his side.
Plans are already in motion for us to be on the road again by as early as mid-February next year. There are currently 35 painted silos across Australia, and we have been lucky enough to visit 32. Of the 58 water reservoirs on my website, we have seen 29 with most of those located in Queensland. So still plenty more towns to see and visit.
My biggest plans for the next three months are to dedicate my time to promoting the trail further to the greater population of Australia and the world beyond. I would love to promote the trail on national television, double our followers on Facebook, increase our website traffic and all with the single aim of bringing the Australian Silo Art Trail further into the public eye.
The Australian Silo Art Trail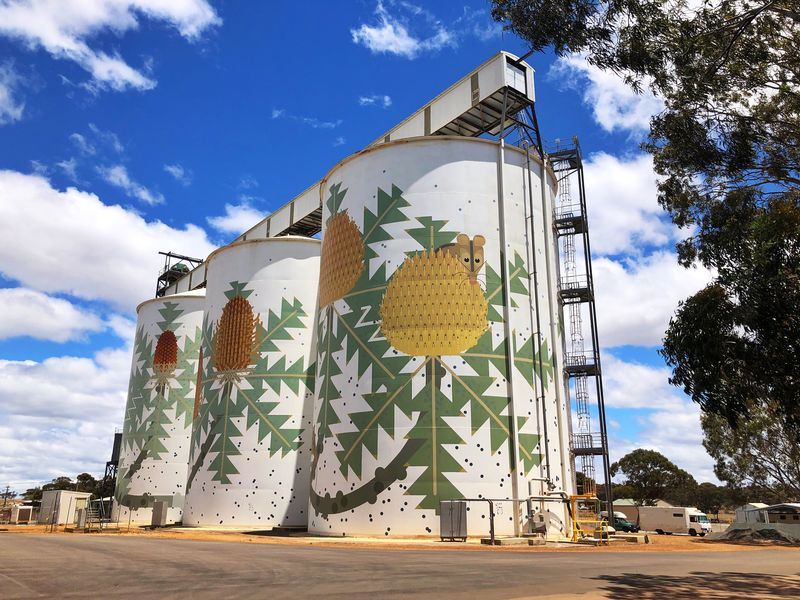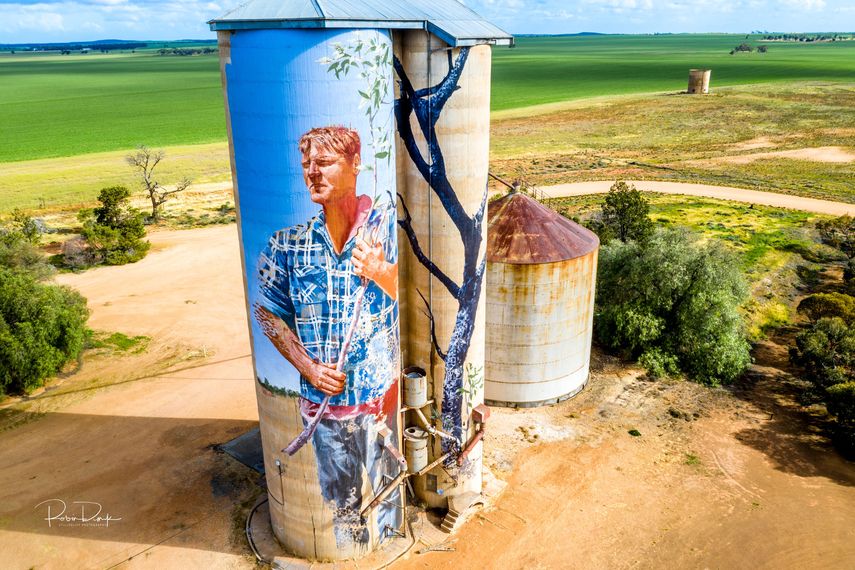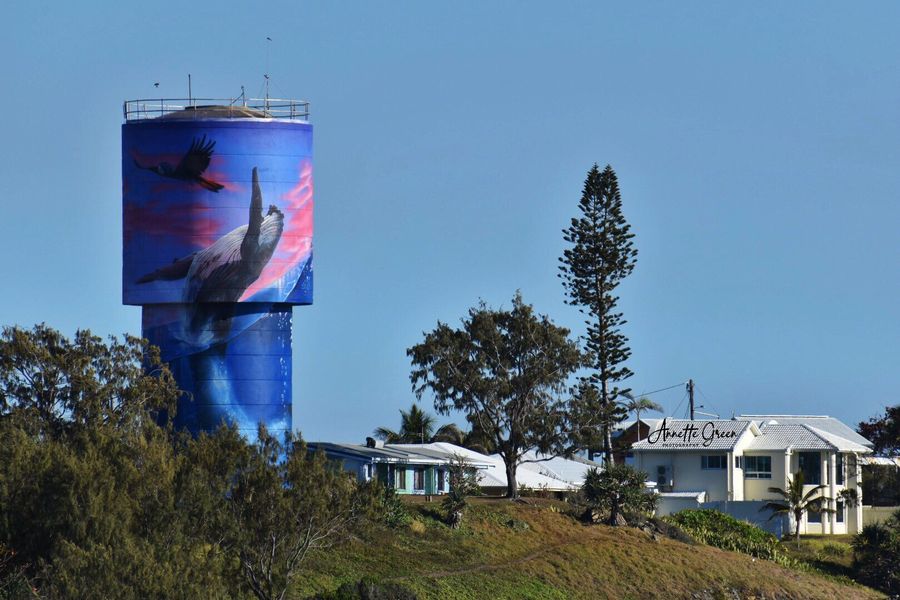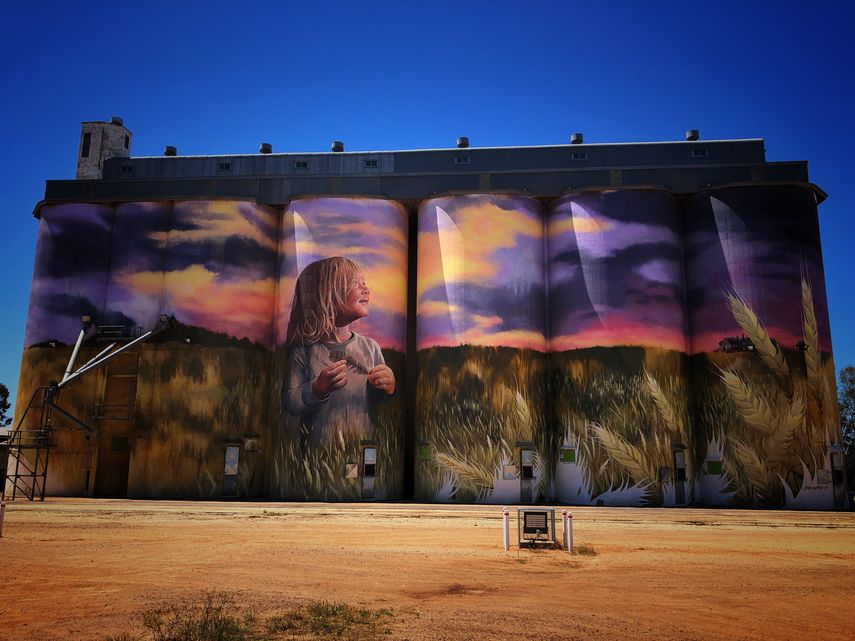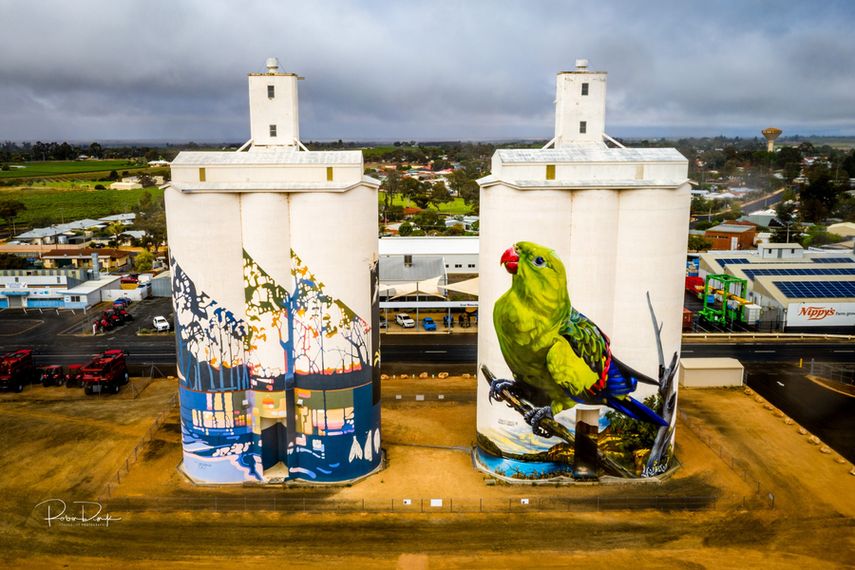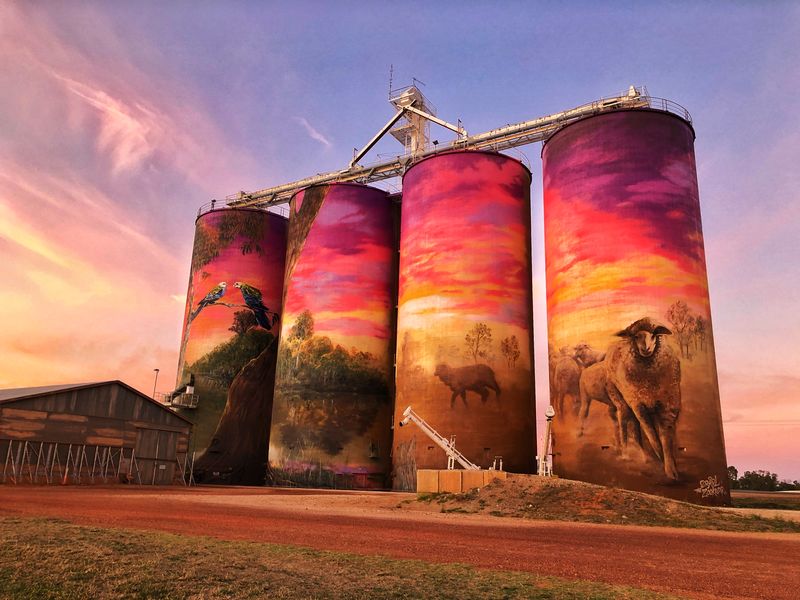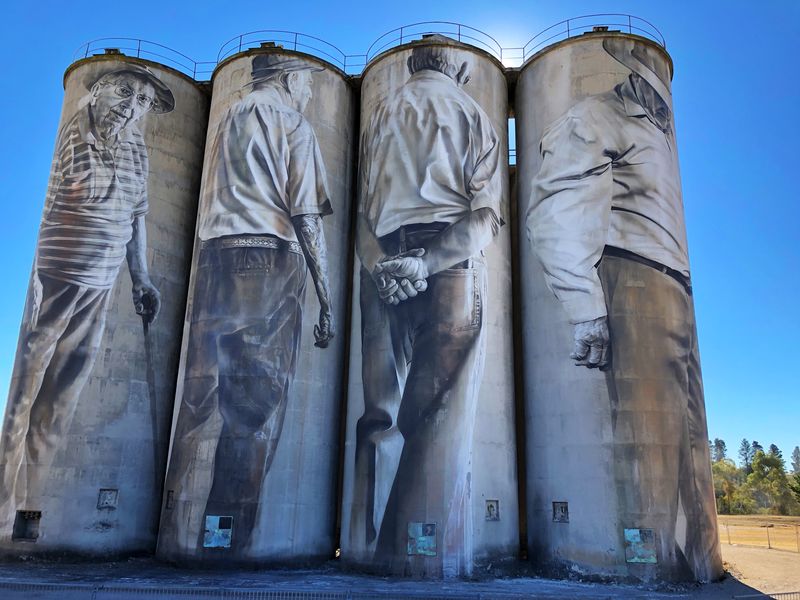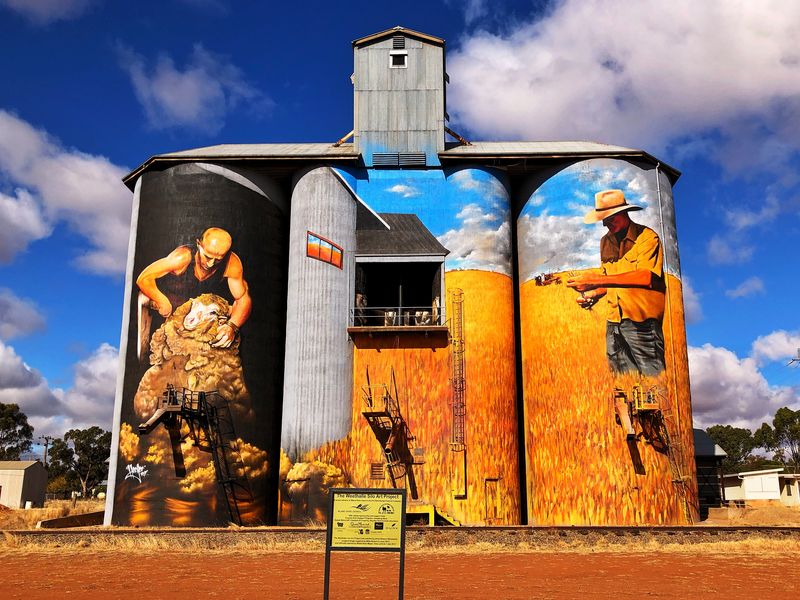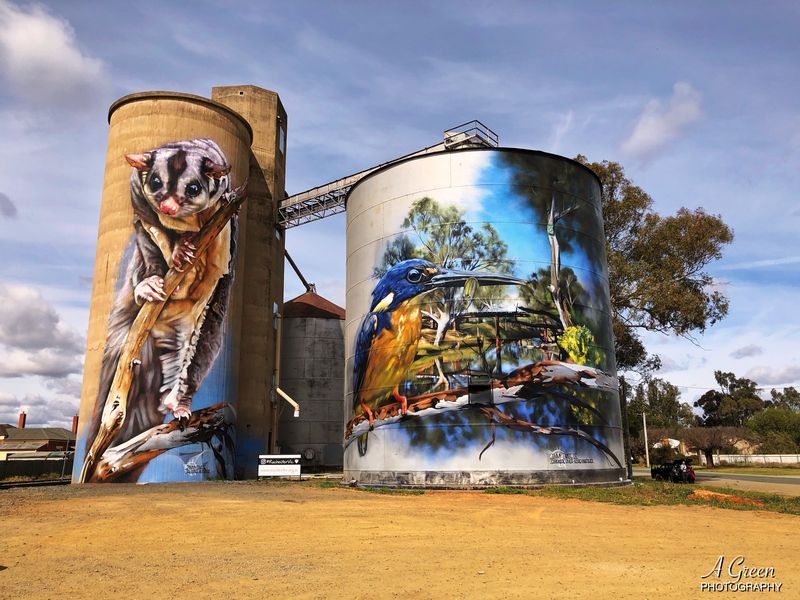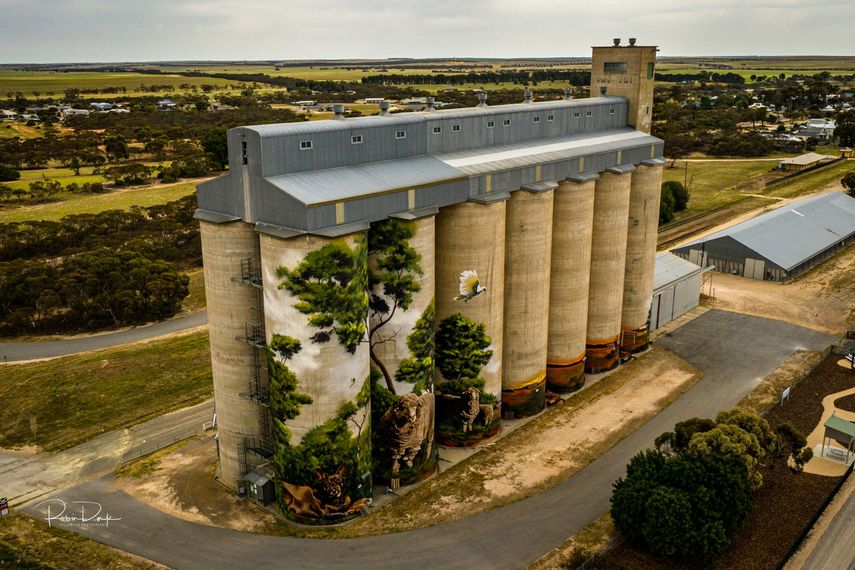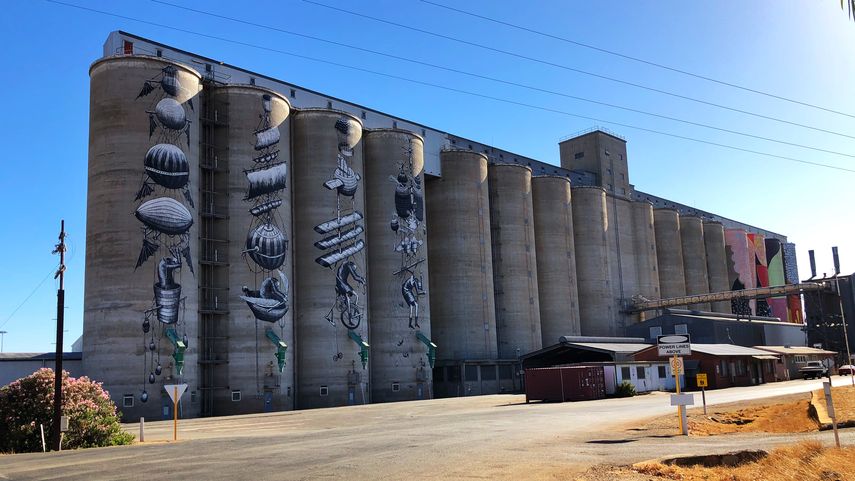 Featured image: Annette Green in Thallon. All images courtesy of Annette Green and the Australian Silo Art Trail.