There are a million and a half circles one can open and close in a day, a week, a month, a year, a lifetime. When a circle closes, it is generally perceived as something positive. A certain process comes to a conclusion that seamlessly links to the origin, freeing up acres of emotional and mental energy. The latest exhibition by AVone that will soon be on view at 30works is meant to do just that - close a loop. Titled The Way Back Home, it impressively documents the closure of an artistic creative process. An artist who has always been telling his personal story, AVone now presents us with a body of work that marks a culmination point in his practice.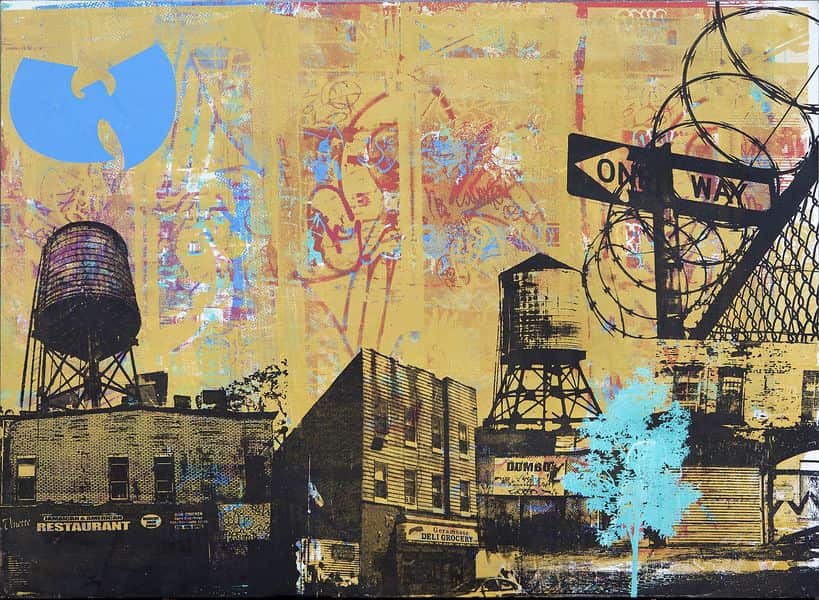 Closing a Circle
Growing up in Crown Heights and Fort Greene in Brooklyn, AVone got immersed in Graffiti and Street Art at an early age. Deeply influenced by the city of New York, but also Abstract Expressionism and Pop Art, he started experimenting with his work, adding screen printing and collaging to his canvases, as well as fragmenting his writing and self-developing textural surfaces. With his latest series, the artist gives a deep insight into the life and soul of wounded America. In a work described as a homecoming, he showcases fulminant multi-layered works which evoke his beginning as a street artist, at the same time testifying his extraordinary artistic maturation. His complex and diversified material language and iconography reveal this perfectly.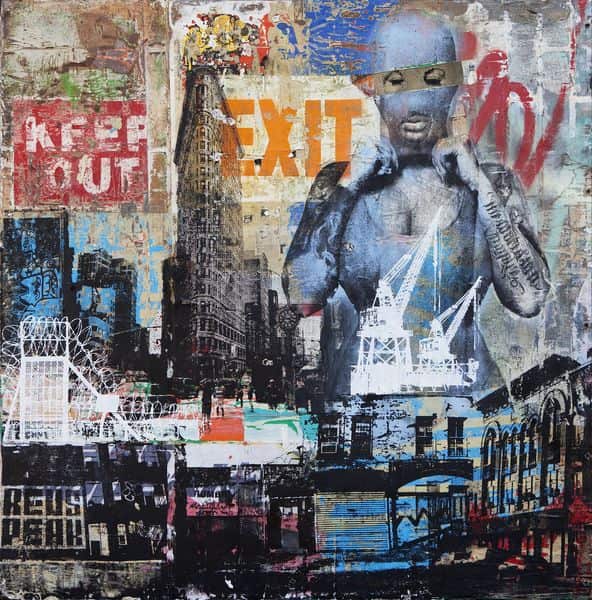 Tracing the Maze of the American Dream
While chronicling the vibrant and dynamic life of the Big Apple, AVone traces the mazes of the American dream, capturing the increasing political and social divisions, racism and gentrification, the decay of urban and social structures, the loss of morality, propriety and tolerance, as well as the omnipotence of money. Portraying all of this in such rusty and defiant picture worlds, he incorporates recurring elements such as barbed-wire, border fences and The Statue of Liberty carrying an entry-prohibition sign, clearly evoking Trump's policy of exclusion, protectionism and nationalism. Working in the tradition of French Affichistes, whose Décollage principle gave birth to Urban Art, AVone layers and fragments images, blurring the hierarchy between the support and surface, and content and subtext. In an immensely poetic pictorial language, the artist combines Graffiti and Street Art elements with photorealistic stencils of iconic New York buildings, pin-ups and objects of the everyday world.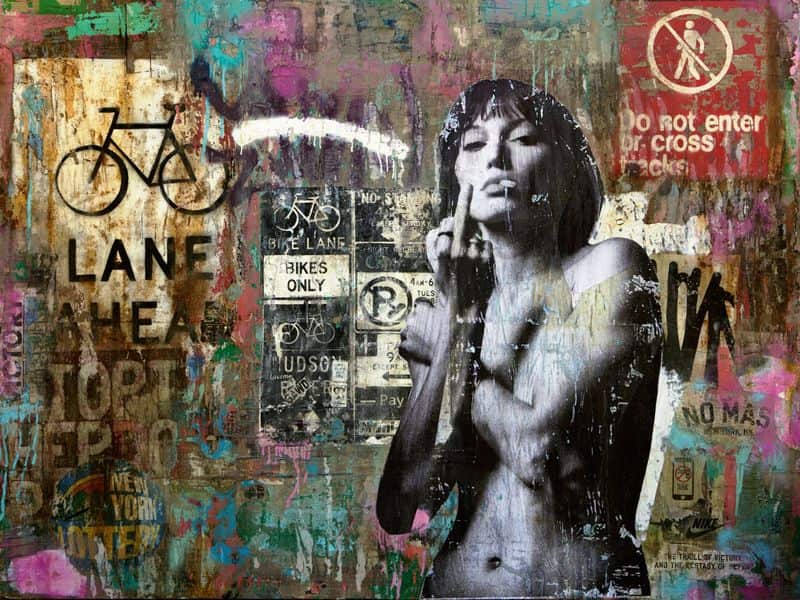 AVone Art Exhibition at 30works
"I have come a long way, circling around my beginning as an artist. But everything in the last years has brought me back; now, I am back home again", describes AVone his status quo. Besides being an expression of personal return, this exhibition strongly appeals to the artistic freedom, democratic values, upright attitude and social coexistence. The exhibition The Way Back Home will be on view at 30works in Cologne from October 7th until October 28th, 2017. The vernissage will be held on October 6th, from 7 p.m.
Featured image: AVone - State of mind. All images courtesy of 30works.