In the digital era, the notion of language has changed much primarily due to the increasing use of technology. The way we communicate with each other is supported by emojis, emoticons, and images, all of them replacing the text or the language variations that we use to describe our emotional states or the perception of things. In real life, everyday communication reflects the one that takes place in virtual space; as we speak less and use different means to express ourselves, the language becomes poorer.
To provide an overview of the ways artists approach language in contemporary time, the renowned White Cube decided to organize a group exhibition titled Babel, based on the interrogation of the mythical Tower of Babel and the narrative centered on the significance of language as a unifying tool that brings humans together.
Examining Language and Communication
Susanna Greeves, Director and Museum Liaison at White Cube, who curated the exhibition, selected the artworks concerned with communication and language that bring innovative interpretations of the shifting nature of the same. By taking into consideration the close relationship between language and sound, her exhibition examines an array of whispers, shouts, sounds, and signals emitted by the artworks in an attempt to establish communication with the visitors.
To emphasize the interest in this particular theme, the curator decided to form works around the micro thematic sections such as Loud and Clear, Here I am, I have measured out my life, Lost in translation, Coded and Crypted, I-U-WE, and Beyond Language.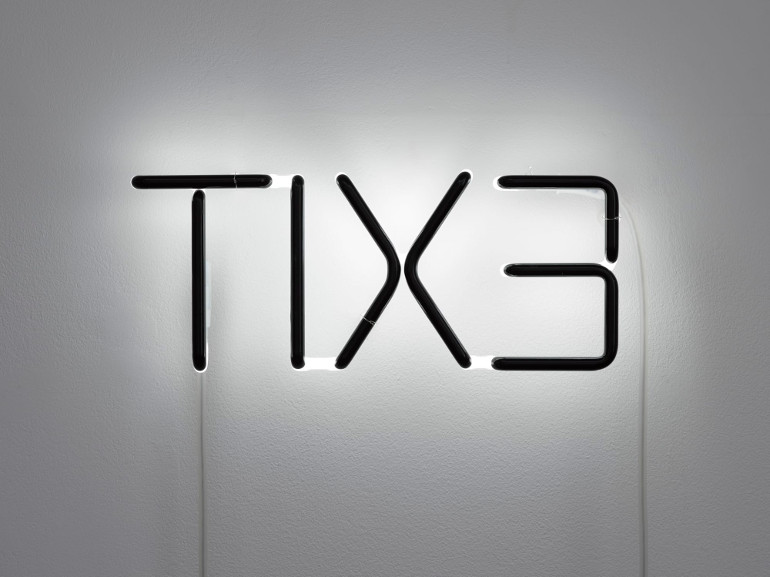 The Works
Take for instance Eddie Peake's profile heads composed of colorful psychedelic lettering that reflect cultural movements of the 1960s, or the text paintings by Sarah Morris, influenced by New York Post and Daily News headlines, that unravel the absurdity of the everyday. Similarly, there are stark headlines overtaken from London's newsvendors' stands by Gilbert & George, or the blatant statements by Jessica Rankin that operate as terms of confinement in the painstaking medium of embroidery.
In this show, the visitors can also see artwork by Tracey Emin, Cerith Wyn Evans, Mel Bochner, Theaster Gates, Douglas Gordon, Ibrahim Mahama, Christian Marclay, Wade Guyton, Al Held, Harland Miller, Damián Ortega, Park Seo-Bo, Gary Simmons, and Danh Vo.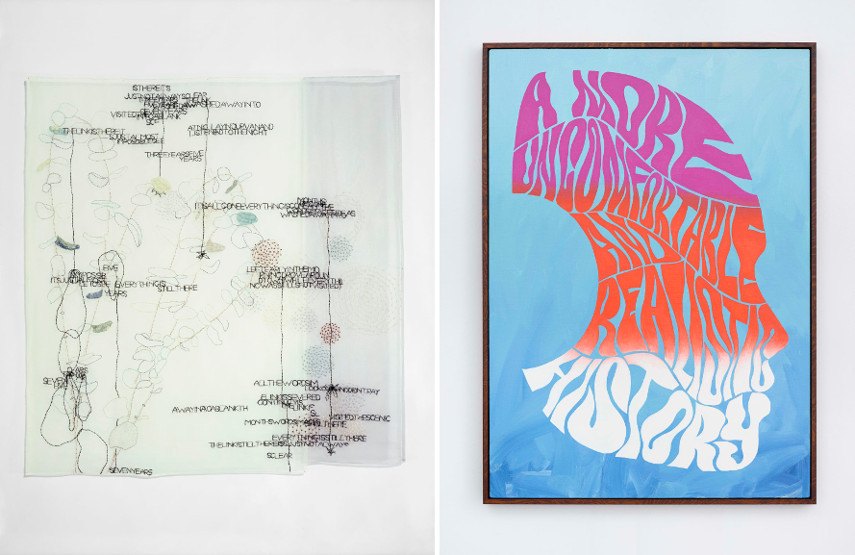 Babel Online at White Cube
The story of the power of communication seems to be relevant as more than ever especially when it comes to the urgency of topics concerning class, race, and climate, and that is why this exhibition is so actual as it establishes immediate and close contact with contemporaneity.
Babel is accessible online via White Cube's viewing room until 10 September 2020.
Featured image: Tracey Emin - My head in a Fire, 2006. Monoprint on paper, 20.5 x 29.5 cm | 8 1/16 x 11 5/8 in. 53 x 61 x 3 cm | 20 7/8 x 24 x 1 3/16 in. (framed) © Tracey Emin. Photo © Prudence Cuming Associates Ltd (Courtesy White Cube).