Day after day, street art superstar Banksy and his works fulfill newspapers' headlines more than ever. Even those who are not regularly following the street art updates or news about all controversies related to the British street artist and his interventions into public space have heard for him. Let's just recall, for example recent case of Banksy art work Spy Booth on the wall of a house in the British town of Cheltenham, a work that was defaced by unknown person. This act caused a widespread public debate in the UK about (il)legality of street artists' public interventions, as well about ownership of works painted on walls. Similarly, recent Banksy's visit to war-devastated Gaza strip was widely covered by media.  During this visit, he created several pieces on rubbles and damaged buildings caused by huge devastation from the last summer's bombing of Gaza. And, this (quite extraordinary) public intervention could not pass without some controversies as well. A Palestinian man says he was tricked into selling a mural by the artist that is estimated to be worth hundreds of thousands of dollars.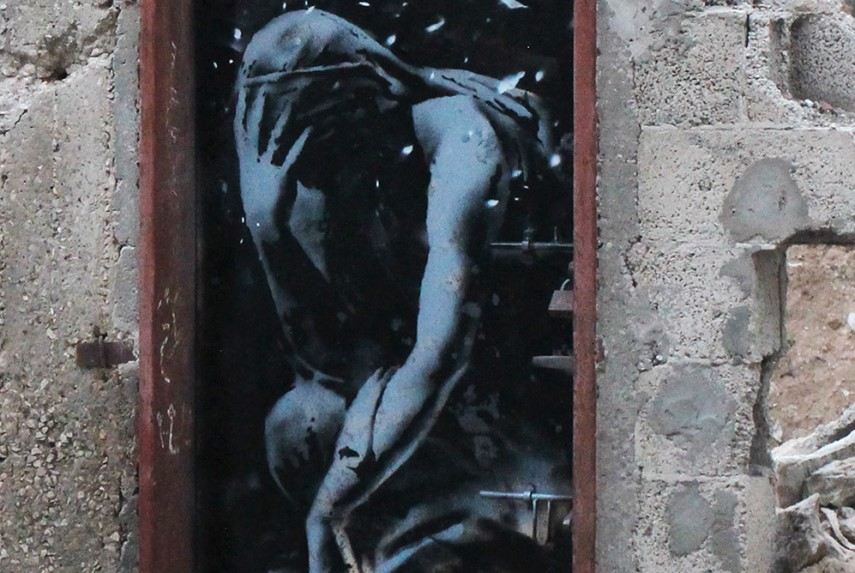 Selling Banksy Art for $ 175
Gaza-resident Rabie Dardouna said that he was duped into selling a valuable work by British graffiti artist for less than to $ 175 a local artist. It's a mural drawn on a metal door that depicted weeping Greek goddess Niobe cowering against the rubble of a destroyed house. The painting, titled Bomb Damage, was drawn on a door, the last remaining part of a two-story house belonging to the Dardouna family in northern part of Gaza strip. According to Associated Press, Dardouna was unaware of the work's value; he was tricked into selling the door to a local artist for just 700 shekels, which is about $ 175. He claimed he had never heard of Banksy or Banksy art, but he said that he and his family did everything to perceive this valuable piece of art. Dardouna said that the sale (although carried out legally) is a fraud. The Gaza artist, who bought the door, Belal Khaled, said he did not mean to trick anyone. He told the Associated Press he just wanted to protect the painting and had no intention of profiting. Khaled also added that he has been in touch with Banksy's representatives, hoping to get clearance to showcase the mural in Gaza art exhibitions.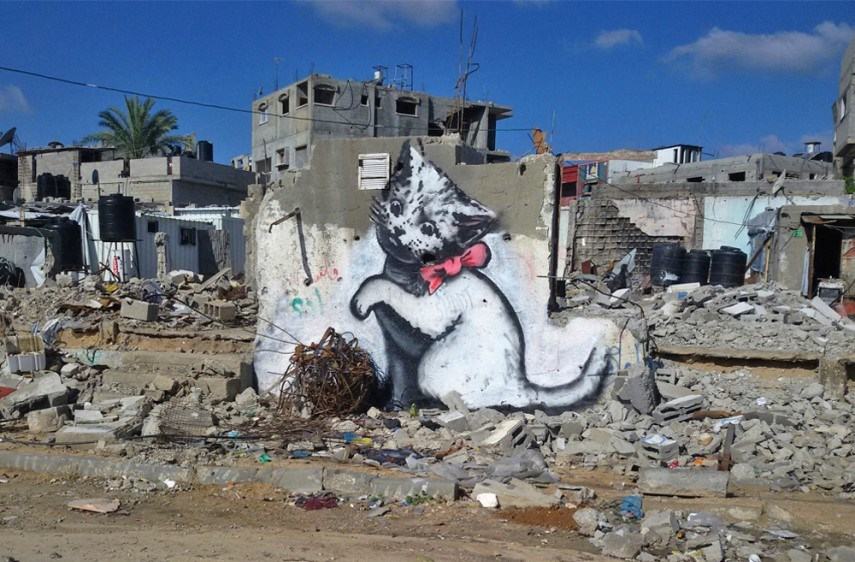 Where is the End to Banksy Art Controversies?
The Dardouna home was one of 18,000 destroyed in the 50-day war between Israel and Hamas. Banksy is a critic of Israel (among many British artists raising their voice against Israeli actions in Palestine), and Banksy art in Gaza meant to draw attention to the plight of the Palestinians. Rabie Dardouna told that his family was struggling to get over the loss of the piece, while Banksy's representative has contacted them to say the artist believes the picture should be returned. Maybe the local Palestinian artist only wanted to preserve the Banksy art from possible damages. While heated debate on social media over this case has polarized activists and art lovers, many believe Khaled misused Dardouna's ignorance. Let's just remind that Banksy art is valued as high as hundreds of thousands of dollars (only the recent certificated work Silent Majority from 1998 is estimated to value between £ 300,000 – £ 400,000). Yes, we had examples of selling original Banksy art for just $ 60. But, it was the artist's idea, and he did that on purpose. Is this a case of stealing Banksy art? (kind remind to check out the review on controversial Stealing Banksy exhibition in London). It seems that every Banksy's new work is doomed to be a subject of controversies. However, the debate about this unusual art sale in Gaza will continue, and we'll have to wait to see what is going to happen with Bomb Damage (or to wait what until the current location of the mural is been revealed).
We would like you to hear your voice! If you want to comment, please visit our Facebook page!
Sign up for My Widewalls, and follow the news about street and urban art!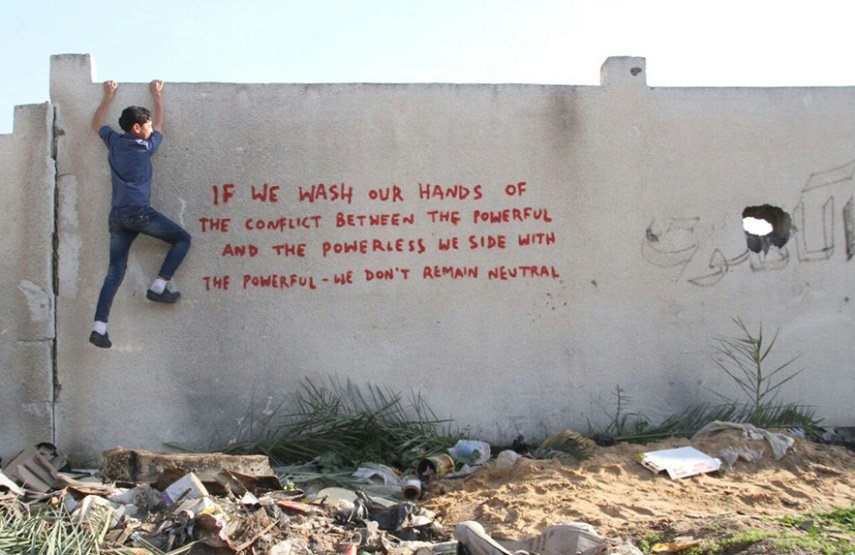 Featured Image: Banksy in Gaza – image of Niobe (courtesy of banksy.co.uk)
All images used for illustrative purposes only.