What determines a good artwork? A renowned critic's opinion, the method used by the artist, the message conveyed, or a simple feeling we get when we look at it, for instance - all these could be counted as relevant factors. That last one, in particular, seems to be quite important, to general public at least. When asked to choose their favorite work of art, the citizens of the United Kingdom went on to pick a work of street art no less, favoring Banksy's Girl with Balloon over many favorable classics and making Jonathan Jones throw up his hands in horror. The famous stencil topped a recent poll on the subject, leaving behind John Constable's The Hay Wain and and even Peter Blake's Sgt Pepper's Lonely Hearts Club Band album cover.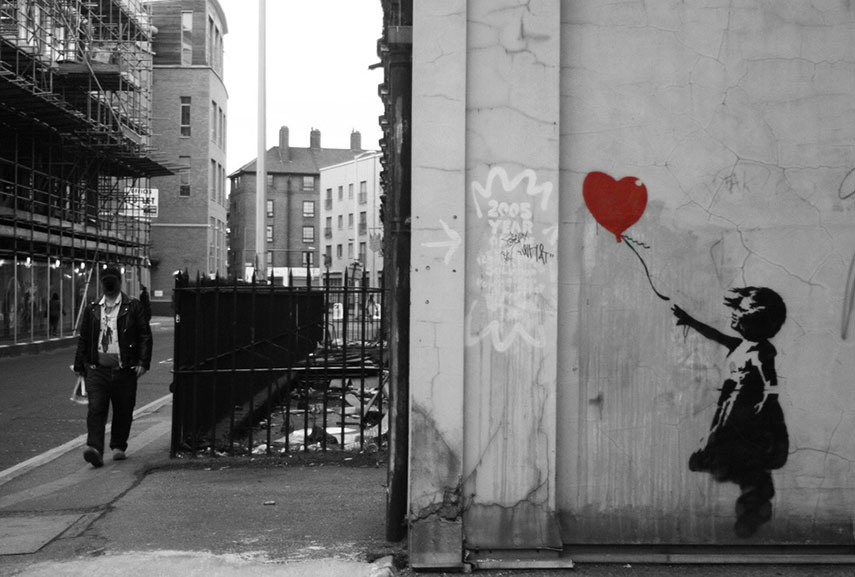 The UK Loves Banksy's Girl with Balloon
Originally appearing on a South Bank bridge wall near the National Theatre in London in 2002, Girl with Balloon is one of the most famous artworks by one of the most popular street artists in the world. It is an image of a little girl losing a red heart-shaped balloon in the wind, becoming part of Banksy's trademark visuals which depict current events and states of mind without leaving much for free interpretation. The picture has become a massive hit since it first appeared, as it is now sold on prints, mugs, t-shirts and greeting cards among others, which is probably one of the reasons why it is so obviously impressed in the minds of so many Brits. The poll results declaring Banksy's Girl with Balloon as their favorite artwork, as well as placing Stik's A Couple Hold Hands in the Street at No.17, also stand as the latest confirmation of the rising popularity of street art as a relevant contemporary arts movement today. If not, well, it is just another headline for Banksy himself.
UK's Best Loved Artworks 2017
Who Else Made It to the List?
Coming in second on the best-loved artworks in the UK, right after Banksy's Girl with Balloon, comes The Hay Wain, the 1821 painting by John Constable which was finally taken of its throne. Jack Vettriano's The Singing Buttler was voted third, followed by memorable pieces by nation's favorites including JMW Turner, Anthony Gormley, LS Lowry, John William Waterhouse and Peter Blake, respectively. Among the beloved pieces are three album covers and four sculptures as well, and only two female artists were featured. The list, commissioned for the launch of a Samsung television that camouflages itself as a work of art when turned off, was voted by 2000 people who were asked to choose their top 5 from a shortlist made by arts writers.
Is Banksy's Girl with Balloon your all-time favorite artwork too? Join the discussion on our Facebook page!
Featured image: Banksy's Girl with Balloon on a South Bank wall near the National Theatre in 2004. Photo Alamy via guardian.co.uk; John Constable - The Hay-Wain, via songsofpraise.org; Singing Butler by Jack Vettriano. Photo REX/Shutterstock. All images used for illustrative purposes only.