This October is definitely proving to be the month of Banksy - first the million dollar truck that went up for auction, then the new auction record, and then the Croydon pop-up store (which was dismantled by the artist earlier this week). Speaking of the latter, we've definitely been holding our breaths out here, waiting for the items in the store's windows to become available for sale online only.
And now that moment has arrived! Banksy's Gross Domestic Product shop is now up and running, and we have no doubt that the mysterious artist and his team are getting orders by the minute. Even though Banksy's most expensive painting to date is priced at some $10 million, the products in his shop are surely more affordable, yet it will not be that easy to get your hands on them.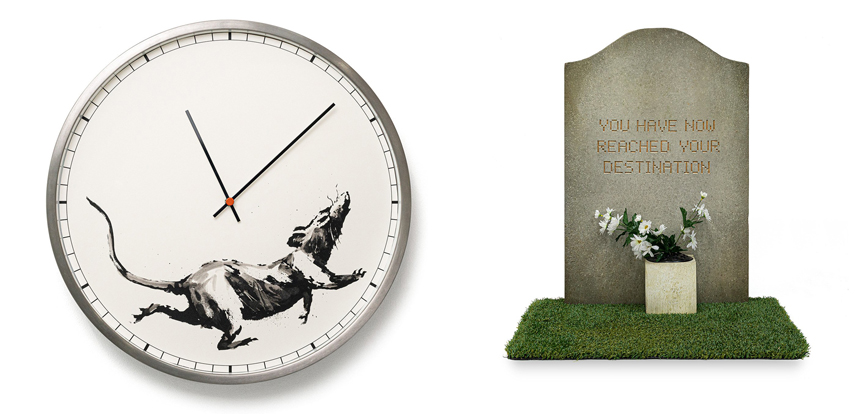 What's In Banksy's Gross Domestic Product Store?
Among the Gross Domestic Products there is a beautiful range of items and prices. First off is the Banksy™ Clock, featuring a trademark rat which Banksy also stenciled on the streets of Paris in 2018. This £500 apparatus will also require an "AA battery to accurately mark our relentless and steady ticking towards the great unknown."
Next, we have the Banksy™ Clutch bag, a unique item at £750, "made from a genuine real life house brick" which would be well paired with, say, the Balloon tee, shredded or not.
Banksy was also saluting his fellow artists, having produced a print in homage to Basquiat, or an axe in collaboration with Escif.
Also worth mentioning are the "Coming Soon" items such as the Ultra HD TV, the Baby Mobile, and the Goldfish.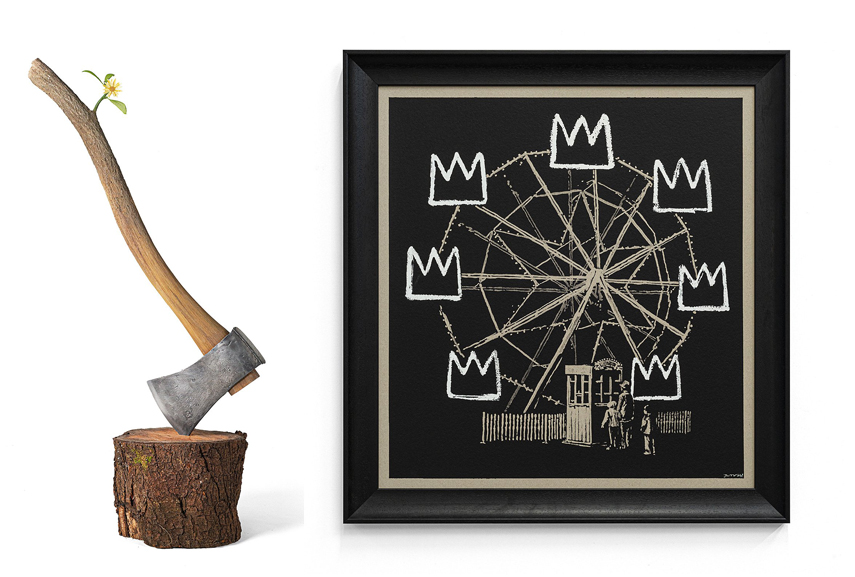 How To Buy Something
Banksy's Gross Domestic Product store is an "actual" shop, according to the artist, which offers stuff made in an art studio, "by a handful of people using recycled materials wherever possible in a workplace culture of daytime drinking."
In order to get your hands on a Banksy Gross Domestic Product, and we say "a" product because you can only get one, you must register on the website until October 28.
But that's not all!
Once you've done that, there is an interesting "I'm not a robot" captcha you will have to solve, by answering the question: Why does art matter? Your witty, attention-grabbing, original reply should contain no more than 50 words, and if you are randomly selected as a lucky winner, you will have 7 working days to pay for your item. Keep in mind that it might not get shipped right away.
Banksy would like to apologize in advance if your purchasing experience proves to be a disappointing one and would prefer it if you were not a wealthy art collector.
For more information, we suggest reading the very informative Terms & Conditions page of the store.
Also, keep an eye out for the launch of Bbay, the approved Banksy used dealership, "your first choice destination to trade in second-hand work by a third-rate artist."
All images via Gross Domestic Product.