Banksy's Bethlehem mural Donkey Documents and I Remember When All This Was Trees in Detroit are to be sold in the upcoming auction at Julien's auction house in Beverly Hills. The removal of art pieces from the walls and their sale for enormous amounts of money still raise much controversy. Some Banksy murals have already been detached and sold before, during the Stealing Banksy exhibition in London in 2014. Who is to profit from this 2015. sale is to be seen in September when two of his murals are expected to fetch over 1 million US dollars.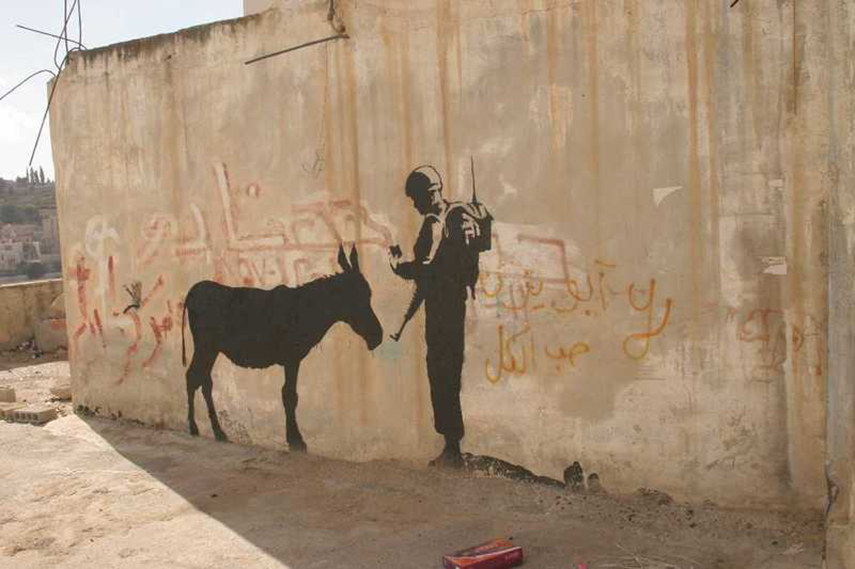 Stealing Banksy Once Again
Well, who is selling/stealing Banksy in 2015? Julien's Auctions, LA-based auction house is in possession of one of the murals which Banksy painted on the West Bank during his Gaza trip in 2007. Apparently they were approached by the owners of the Donkey Documents mural after it was removed from the wall, but as far as their statement goes there is no information about those responsible for the mural detachment. This large-scale mural titled Donkey Documents depicts a controversial scene of a Donkey having its identification checked by the armed Israeli soldier. This mural is the largest Banksy painted in his Gaza series and it is estimated value is up to $400,000, but it is not revealed who will benefit from this sale. Another of Banksy's murals to be sold at Beverly Hills auction on 30th September is I Remember When All This Was Trees, an aerosol stencil work done on the wall of an abandoned Detroit Factory. A non-profit small gallery from Detroit owns this work and all the income from the sale will go towards the funding of the community arts program.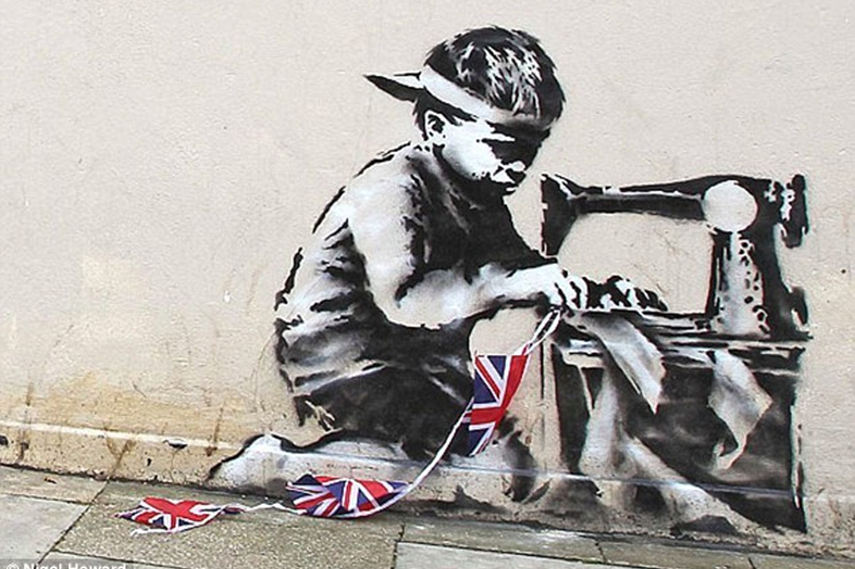 Banksy Murals for Sale: Beverly Hills Auction in September
As we all remember well, Slave Labor mural was also removed from the London location and auctioned in Miami for an enormous amount of nearly 1 million dollars in 2013. This removal of the artworks from their original public locations brings a whole new meaning to the street art. We are used to the notion of street art as an ephemeral phenomenon as any artist can paint the walls on practically any location, even over somebody else's work. Hey, that's what brought fame to Banksy after the graffiti war with his long-time rival King Robbo, right? However, this auctioning of street art pieces is a question of different matter, and it seems like it will not stop in the future. This recent example only confirms that the whole concept of public art is challenged if this detachment of the artworks from the walls continues, in spite of artists and communities protesting it.
Where is the place of the street artworks and is it ok to steal Banksy's murals or any other street art piece? Tell us what you think on our Facebook page!
And don't forget to sign up for MyWidewalls for more art news in the days to come. It is free of charge!
Featured image:
Banksy - I Remember When All This Was Trees, 2010 via artdaily.com