Why is it that the mere mention of Banksy always raises such a hype? After a recent report from New York Post, on how nobody wants Banksy's street art, not even museums, not even for free, an instant commotion began, at least in the media. The pieces in question have been created by the notorious Anonymous in New York last fall, during his October 'residency', named Better Out Than In. Did Banksy want to emphasize the importance of public art, to point out he prefers to work illicitly outside than in his protected studio, or did the title address the right of free expression, i.e. speech? Probably all of these things, but as we reminisce fondly of the elusive whiz's Big Apple adventures, we do rarely wonder - what happened with all those murals, graffiti and other works?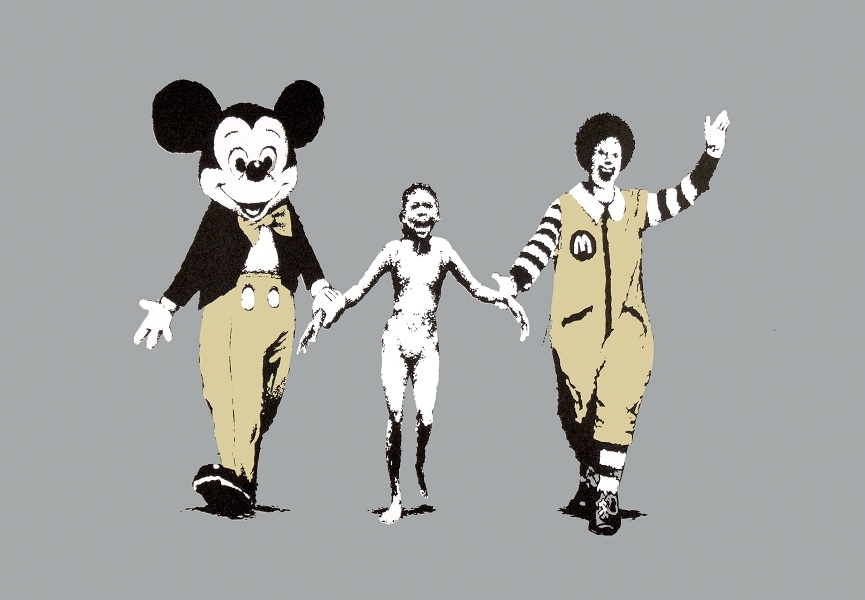 Better Out Than In
Now, let us remember the infamous residency occurred exactly one year ago in the East Coast US metropolis. Banksy flew himself over to New York, where he dwelled anonymously, creating at least one public work a day. His standard satirical language was infused with numerous puns regarding the local street culture, while some of his works were defaced faster than expected. All of the pieces were documented on the artist's specially set up Instagram profile, a digital platform frequently used by other artists. Mockingly named 'residency', the month-long event was filled with unpredictable stunts, from the $60 sale of his originals, to different performances exuding a more profound level of artistic thought. Better Out Than In was a long performance of singular kind, which caused planetary hysteria launching Banksy into an even higher realms of fame. It appeared as if his aura expanded to its outer limits, having nowhere to go but in retrograde. Still, one must not lose from sight the role media plays in the whole Banksy conundrum, and while his celebrity may appear to decline, his art still seems to perform satisfactorily.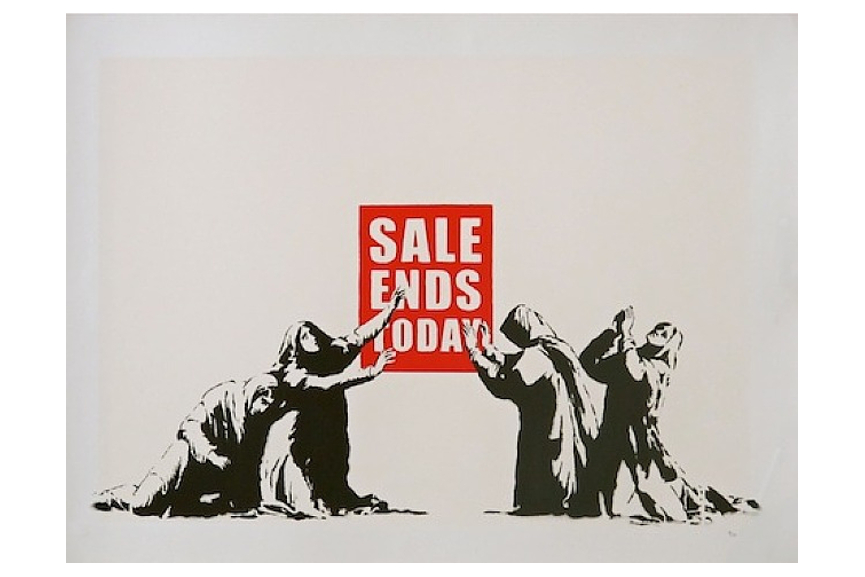 Banksy Goes Steady with Auctions
Everybody knows Banksy peaked back in 2008 with Keep It Spotless, but his art is still an asset, better bought, than flogged. Even though nobody can predict how long will his studio works continue raking in profits, one of the most recent sales at Christie's shows promising prospects, with a piece selling about five times over estimate.
The controversy comes when we talk about his wall pieces. Removal of Banksy's stencils has been a shady activity, largely disputed by the artist himself, although he couldn't not support when it was done 'for the right cause' as with Mobile Lovers. His Pest Control still issues certificates of authenticity, but a lot of the cut-out wall pieces don't possess it. Besides the Unauthorized Retrospective of Banksy, curated by the respected gallerist Steve Lazarides, there was one, far more controversial show last spring. It was entitled Stealing Banksy?, and it consisted solely of removed wall pieces, subsequently meant to be sold, but then not (?!) by Sincura Group, organizer of the show. So, in the auction room, works by the Bristol stenciler are still a coveted commodity, but why do the museums or buyers in the USA not want him?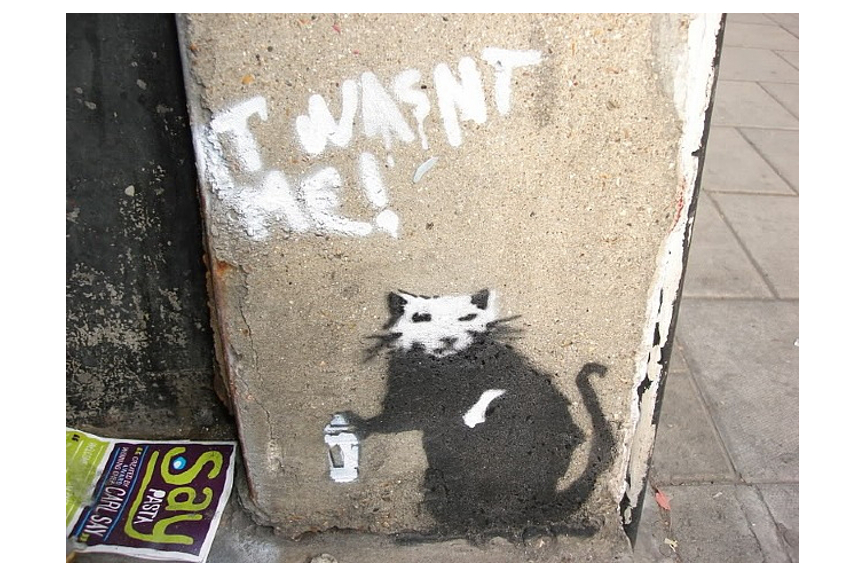 The Unsold New York Works
One of the theories, propagated by Casey Gleghorn, director of Joseph Gross Gallery, is that people got too greedy. Interestingly, the said gallery acquired a back door of a truck with Banksy's writing 'The grumpier you get, the more assholes you meet'. Generally, asking too much for the pieces is likely to repel potential buyers, especially those who are well versed in the market trends. So, Keszler Gallery failed to sell the famous Heart-shaped balloon from New York for $400,000 - $600,000, or the sprayed car door from an installation in Brooklyn for $300,000. Offers of $250,000 for the balloon and $145,000 for the car door were rejected, leaving the works unsold that made the gallery take down prices significantly.
Another, perhaps even more interesting occurrence, is that a family in the legal ownership of the Two Geishas stencil offered the work to the Brooklyn Museum free of charge, as long as the institution covers the cost of its removal and transportation. Experts came to examine the work and never called back, leaving the owners wondering. Knowing how big institutions function, this doesn't have to mean anything, but the fact nobody called back decisively saying they want the piece is strange as well. In any case, building owners protected the piece with plexiglass and a roll-down cover, hoping it will find its rightful place. As if it weren't already there.
The truth is actually, much more practical than any theorist might imagine. The cost of the wall piece and the removal expenses must play some part in the demand, but what these works don't have - and what might prove crucial for any collector, auctioneer or even flipper - is the Pest Control certificate of authentication. As mentioned before, Banksy is much more prone to condemnation of his murals without permission, than to condoning such acts. As long as the numerous New York pieces stand uncertified, they might be better off scattered around the big city, waiting for whatever destiny comes to graffiti, which they are.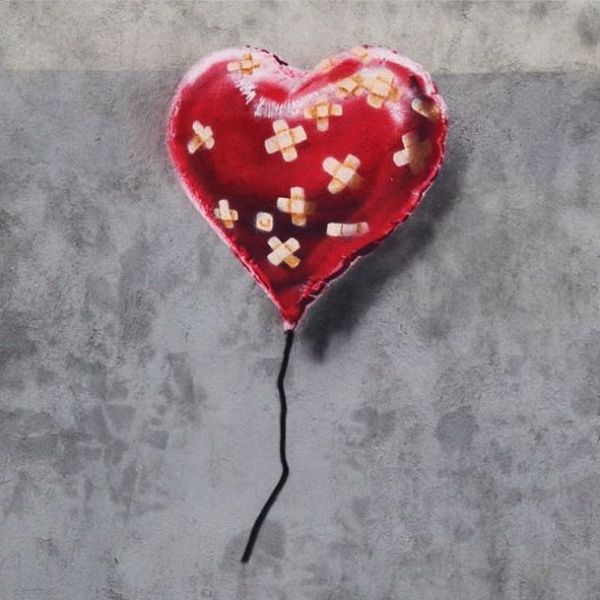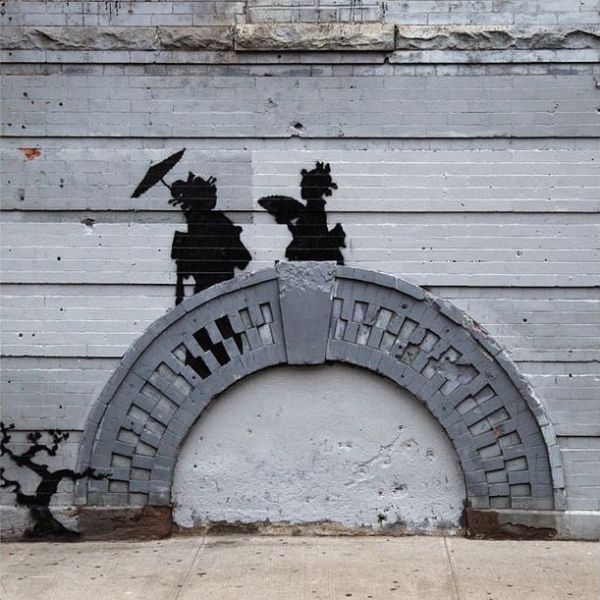 So, What's Up With the Hype?
Speculations that we are seeing the last of Banksy have been alive for some time, heated up by the artist himself. Maybe he's just tired of all the publicity and wants to go under his real name freely. Maybe it's the phenomenon described in the saying 'The higher you climb, the harder you fall', but this is unlikely, since the man is hardly close to the bottom. Or maybe his New York pieces are just simply not as good - it happens. Perhaps he's looking into some other means of expression, concentrated in the studio or street, such as performance? The unpredictability of Banksy's actions is undisputable, while market trends are somewhat more foreseeable. And even if Banksy's work eventually fails in sales, Banksy's legacy won't.