If you're in South London at the moment (in Croydon's Church Street, to be more specific), please be sure to stop by a brand new store which opened on October 1. Called Gross Domestic Product, this peculiar showroom replaced an old carpet store, and is set to sell a range of "impractical and offensive merchandise."
Surely you'll be interested to know more if we tell you that the man behind it all is none other than Banksy, whose latest "stunt" appears to be following a legal dispute.
Earlier this afternoon, in his signature move, the mysterious street artist confirmed on Instagram that this is indeed his doing, and here's why.
Banksy's (Il)Legal Adventures in Croydon
In what he described as "possibly the least poetic reason to ever make some art," Banksy created the Gross Domestic Product store following a legal action taken against him.
In a statement, the artist said:
A greeting cards company are trying to sieze legal custody of the name Banksy from the artist, who has been advised the best way to prevent this is to sell his own range of branded merchandise.
Banksy had an actual chance of losing this case: according to the law, if the trademark holder is not using the mark, then it can be transferred to someone else who asks for it.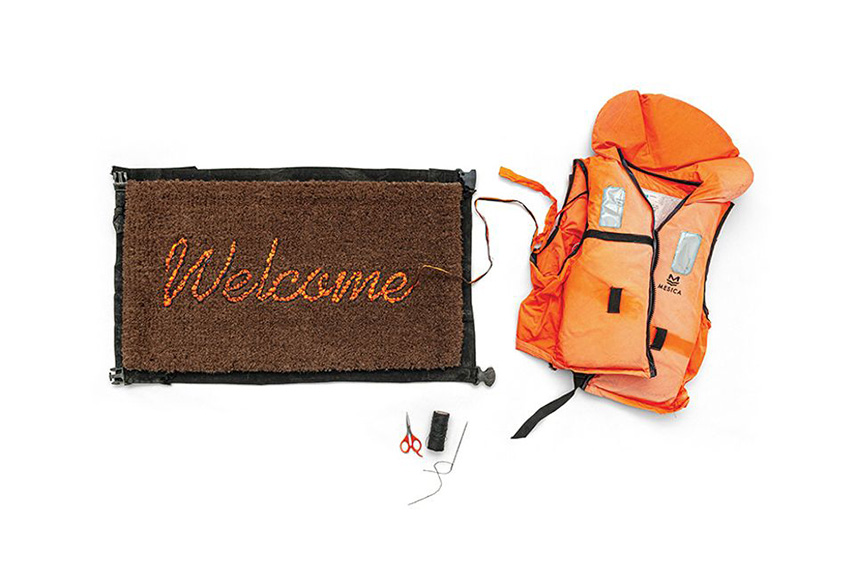 Buy a Banksy, Possibly Commit a Criminal Offense
Once passed through the crowds gathering in front of the Gross Domestic Product shop in Croydon, one can spot a few familiar Banksy items in its windows: a series of rats evoking those which the artist stenciled in Paris (which were since removed from the wall), the bullet-proof vest worn by Stormzy at Glastonbury earlier this year, as well as life vests from the shores of the Mediterranean sea.
The store will be there for the next two weeks, although its doors will not actually be open. The items in its 24-hours-lit windows will be available for purchase online only, priced from £10 up.
According to Banksy, "the proceeds will go towards buying a new migrant rescue boat to replace the one confiscated by Italian authorities." The items on sale are handmade in the UK using existing or recycled materials wherever possible.
Stay tuned for the webstore, which will open after the showroom closes!
Images courtesy the artist.