After a long legal battle over a Banksy's piece in Folkestone, the Creative Foundation won at the High Court in London and the "Art Buff" came back home to its original location. Only a few weeks after the artwork's return to Folkestone, a stenciled rat (dubbed as the Rat Buff), rumored to be the work of the elusive street artist, appeared right next to the previous position of the Art Buff. Even though we cannot be certain if the rat is indeed a work of Banksy, online reports say that the image appeared on Banksy's official website for a short period, before getting removed. The rat was depicted holding a sign which read "Missing… old lady. If found please contact Alastair." We use the past tense because the Rat Buff has already been sprayed over and destroyed.
Was the Piece even Made by Banksy?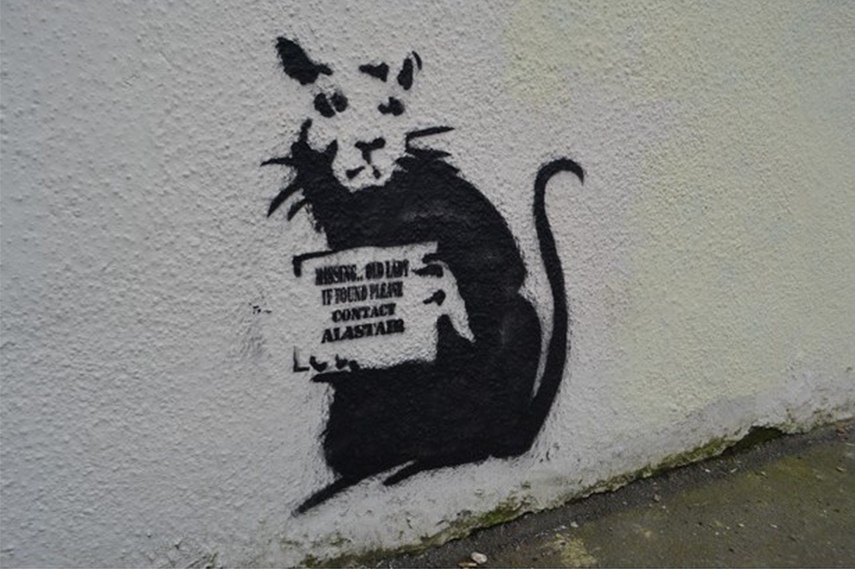 Rat Buff vs Art Buff
What is curious is that this incident occurred exactly a year to the day when Art Buff was extracted from the very same location. The piece was ripped from the wall in Folkestone and sent to the US, only to be returned to the seaside town after a lengthy legal battle. This would also be the first example of a Banksy's piece being returned to public ownership. The owners of the amusement arcade, on which it was painted on, successfully chiseled the artwork out of the wall and sent it to a gallery in NY. After an evaluation of almost half a million pounds, it failed to sell at an art fair in Miami. A lengthy legal discourse ensued, and the artwork in question was finally ruled to return to its original location. For the full story go here. It is known that Banksy is not happy with people removing and selling his work, he finds the private sales of his street art disgusting, even though just last year, 10 of his murals were sold at auction for between £100,000 and £500,000. Have a look at our list of the 10 most expensive Banksy artworks.
First Banksy Piece to be Returned to Public Ownership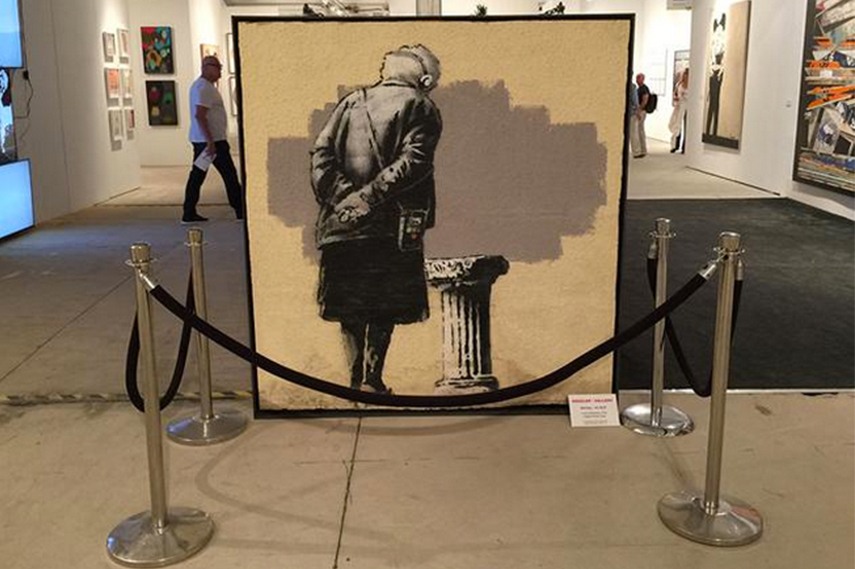 Banksy's Pieces Always Draw Attention
Since the rat was holding a sign which read "Missing... old lady. If found please contact Alastair.", it is assumed the Alastair in question is actually Al Upton, the chief executive of the Creative Foundation, who stated that he was thrilled to see they got his name right. The tongue in cheek style definitely fits the oeuvre of Banksy, but it hasn't been confirmed to belong to the renowned street artist. Either way, reports say that a man in a red beanie hat with a black backpack was spotted spraying over the top of the rat and taking off on his mountain bike. This was not the first, nor probably the last time Banksy's pieces encounter removal, destruction or attempts of sale, but the legal win and the official return of the piece in question was a huge triumph for the Creative Foundation. The new permanent home for the Art Buff has not yet been decided upon, but it surely won't end up in someone's private collection. As for the rat, it was a short-lived piece of art, a proof of the inevitable ephemeral nature of street art.
Join this discussion on our facebook page
All images used for illustrative purposes only