First, he sent his Dismaland there to build shelters for refugees. Then, he went to Calais himself, to create a piece everyone is talking about. On December 11th, Banksy revealed his new mural, painted on the walls of the refugee camp also known as "The Jungle". The work depicts Apple founder Steve Jobs as a Syrian refugee in his signature turtleneck with a large black garbage sack over his shoulder and carrying the original Apple computer. As part of a series of stencils painted around the camp, this piece is a strong statement regarding current migrant crisis in Europe and a clear reference to Steve Jobs' actual background as the son of a Syrian migrant who moved to the United States after the World War II.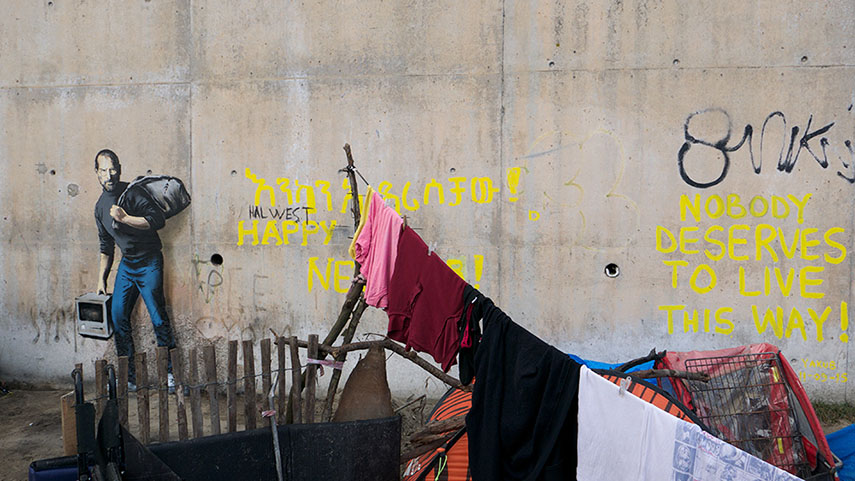 Banksy Paints Steve Jobs
In a rare statement which accompanies the work, Banksy said: "We're often led to believe migration is a drain on the country's resources but Steve Jobs was the son of a Syrian migrant. Apple is the world's most profitable company, it pays over $7billion a year in taxes - and it only exists because they allowed in a young man from Homs." Indeed, Steve Jobs' father, Abdulfattah "John" Jandali, was born in Homs, a city in Syria now almost completely destroyed by war, and moved to America to study. There, he met his future wife Joanne Schieble, and in 1955, they gave Steve, their first child, up for adoption in San Francisco.
Banksy's Steve Jobs graffiti is only one piece in a series of works that the artist has created to address the way Syrian refugees are treated in Calais, and elsewhere. On several other locations in the French port town, there is a parody version of Theodore Gericault's famous painting Raft on the Medusa featuring a luxury yacht and a boat full of refugees, and an image of a child holding a telescope with a vulture standing on top of it. In another location, there's a writing saying "Maybe this whole situation will just sort itself out..", in red letters that stand out against the grim wall background.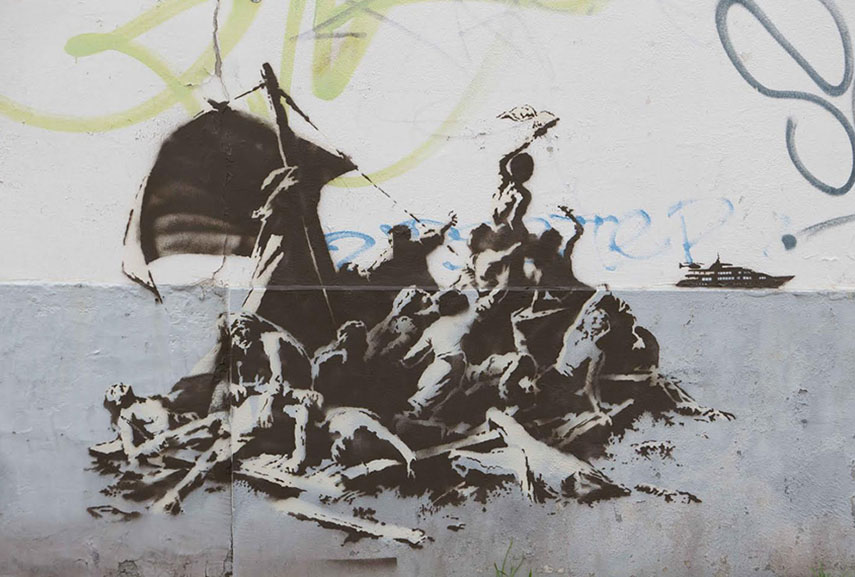 A Dismaland of Humanity - What's Inside Banksy's Message?
After his Dismaland bemusement park filled the headlines around the world this past August, the artist decided to ship its leftover infrastructure to the 7,000 migrants in Calais. According to Banksy's official website, the Dismal Aid helped build accommodation units in form of 12 dwellings, a community area and a children's play park in the "jungle" camp. The Steve Job mural and the other three pieces mark Banksy's first official "appearance" after the closing of Dismaland in September, and his message comes at a time when Europe is closing its borders to war-fleeing refugees and when America's would-be presidential candidate wants to ban Muslims from entering the United States completely. Banksy certainly wasn't the first to point out that Steve Jobs is the son of a Syrian refugee, but he did put it in an image and at the right time too. Finally, using his international fame, the artist found a way to get his message out there. However, we should definitely pay equal attention to the other three pieces he painted as well - because America, for instance, should not open its doors to refugees just because some of them could be the next Steve Jobs, but because their lives are in danger and they urgently need help.
Featured images in slider: Steve Jobs; We're not all in the same boat; Situation. All images courtesy of banksy.co.uk