Perhaps the most expensive box truck in the world will be offered at Bonhams' auction later this month. Estimated at between $1.3 million and $2 million, this is not an ordinary 1988 Volvo FL6 truck but rather a rolling piece of art hand-painted by no other than Banksy.
Created in 2000, when the artist was still very much under the art world's radar, the Banksy truck features an array of iconic motifs and apothegms that have since become the artist's signature and calling-card. Ralph Taylor, Bonhams' head of postwar and contemporary art, explained:
Banksy is arguably the most important artist to have emerged since the millennium and this, his largest commercial work, represents a new high watermark of quality for works of his to appear at auction. The composition bears all the hallmarks of this peerless agent provocateur.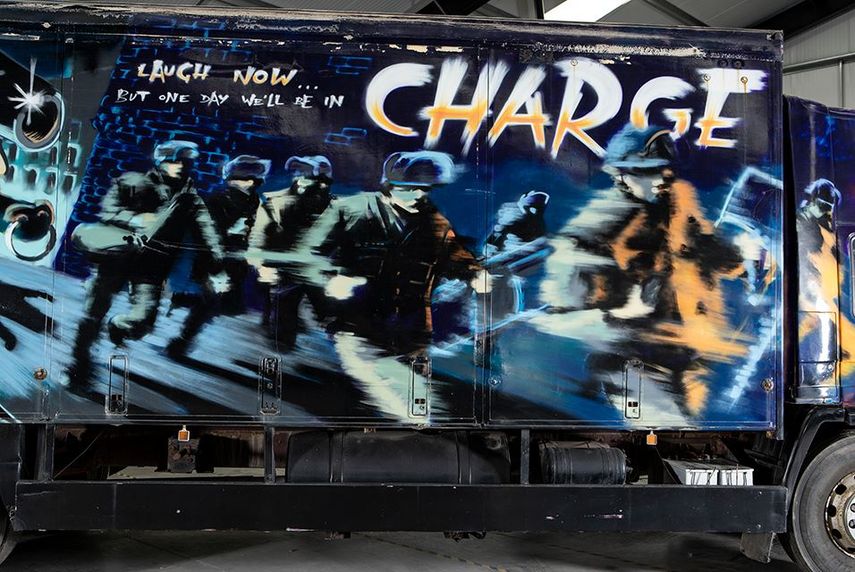 Laugh Now But One Day We'll Be in Charge
The largest work from Banksy, who painted it in 2000 in his famous graffiti-esque style, the uniquely hand-painted 17-ton truck is a mobile testament to the artist's longstanding, breakthrough approach to art and anti-establishment panache. The name of the piece is a mouthful: Turbo Zone Truck (Laugh Now but One Day We'll Be in Charge).
Banksy was first presented with the truck by Mojo, the co-founder of Turbozone International Circus at an open-air party in Spain to celebrate the millennium. He started working on the truck during the party and continued over the next two weeks, detailing and rendering the artwork in a prototypical, free-hand style. In the subsequent years, the truck toured Europe and South America with Turbozone Circus, a company known for their pyrotechnics.
Bonhams explained the overriding message of this immersive piece was anarchy – "It's us against them and we're going to win."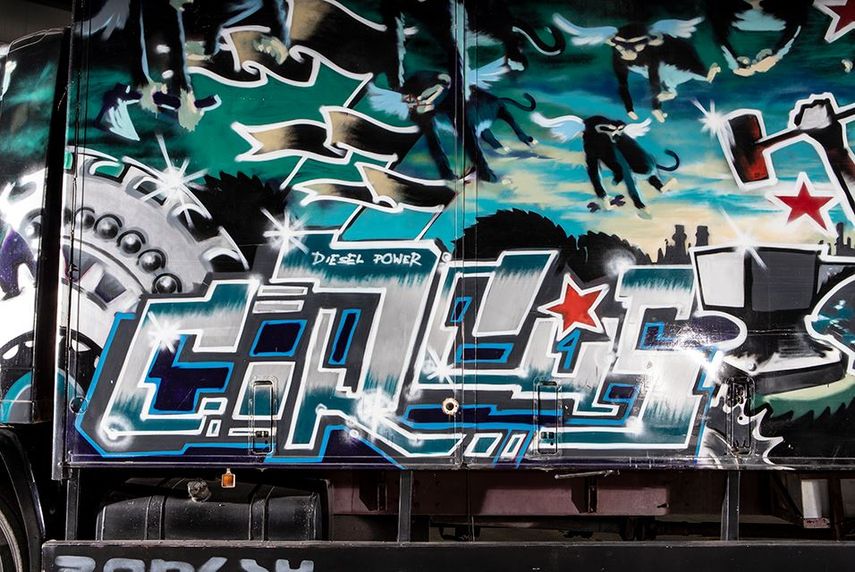 Signature Motifs
Using the vehicle of the laborer, the workman and the blue-collar employee as his canvas, Banksy created a masterpiece imbued with his signature satirical humor and unfiltered wit. Given free rein to paint an entire lorry that would later travel the world, the artist made myriad of references to art history and to social history.
Among images of anarchy and unruly subjects, the truck features a range of icons that would appear in many iterations throughout Banksy's career, from the winged monkeys and SWAT teams to the short lyrics. Other motifs include soldiers running away from a cannon, and a man about to smash a TV screen with a hammer, with messages such as "all systems go."
A truly significant motorcar and work of art, the Volvo features some of the earliest emergences of the images that would become Banksy's most prominent and sought-after characters, so fundamental to his formal vocabulary.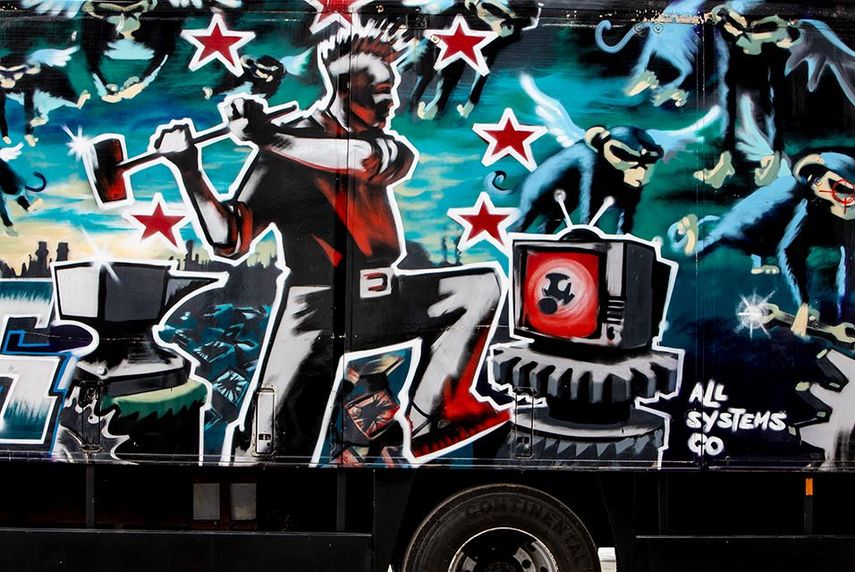 Banksy Truck at Bonhams
Over the last five decades, many artists used vehicles as their canvas, including Keith Haring, Sterling Ruby, Alexander Calder, Richard Prince and Andy Warhol. Banksy truck is a testament to the early ingenuity of one of the 21st century's most acclaimed, prized artists and social commentators.
Banksy's Turbo Zone Truck (Laugh Now but One Day We'll Be in Charge) will be offered at Bonhams' Goodwood Revival: Collector's Motor Cars and Automobilia auction in Chichester, Goodwood on September 14th, 2019, at 13h BST.
Featured image: Banksy, Turbo Zone Truck. Laugh Now But One Day We'll Be in Charge, 2000. Estimate- £1,000,000-1,500,000. All images courtesy of Bonhams.