Aged skin and an open mouth of a face uncomfortably zoomed in on the front page of New York Magazine with white letters in red strip pasted over it, combine all of the elements characteristic of Barbara Kruger art – visual image, text, and an arrangement of black, white and red color tones. However, the represented face is far from her usual, often anonymous models taken from 1940s and 1950s photo albums, user instructions or different prospectuses. The convoluted facial expression from the front page belongs to one of the candidates in the 2016 presidential campaign in the US, Donald Trump. The controversy surrounding this piece, if seeing someone's face in so much detail is not controversial enough, lies in the letters positioned over Trump's nose which read LOSER.
Barbara Kruger is back, and in full-force of her acerbic commentary on our reality. But it is not just the political provocation that accolades Barbara Kruger as our artist of the month. An exhibition of her work opened in October in the National Gallery of Art in Washington, D.C., which added to the increased media presence of the artist in recent weeks. Needed now more than ever, a critical stance regarding the existing power relations presented in an accessible and aesthetically concise manner puts Barbara Kruger once again in the center of artistic and political attention.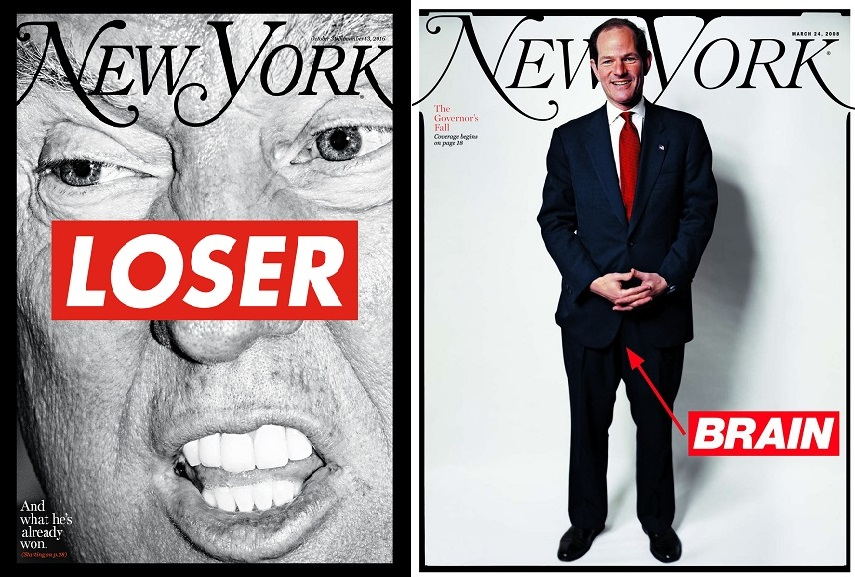 Trumping Donald Trump – Did (or How) it Work(s)?
For those brave enough to observe for longer the cover of New York Magazine with a photo of Trump's face on it, several readings of it may appear plausible and possible. As the editors of the Magazine themselves noted in the editorial following the publication, Kruger's piece transverses several layers of signification, from the most obvious one where LOSER refers directly to Trump to a more complicated, where it stands for all of us, who lose regardless of which candidate enters the White House. In editors' explanation, Trump's campaign has changed America, and not for the better, so we are all losers in a way.[1] Another explanation, equally plausible but probably not the one the author was going for, is that LOSER stands for what Trump is actually saying. He is notorious for his one word retorts, so, in a way, words here may also showcase his blatant disregard for proper political conduct. Finally, the words may suggest the call on the election result, but with the changing tides at the end stages of electoral campaign this explanation is brought into question as well.[2] In each case, Barbara Kruger's work provokes thinking on the current affairs in domains of political and gender power realtions. Critical of the problematic and often mild responses to some of the disturbing aspects of the present electoral campaign in America, Kruger's New York cover continues her strong political engagement where art is used as a tool in emancipatory politics. Similar to some of her previous works - notably another New York Magazine cover from 2008 with the Governor Eliot Spitzer notorious for his involvement with an elite escort service - Trump cover examples the simplicity of Kruger's artistic work, but also its strong political underpinnings which mark her aesthetics.
Barbara Kruger - In Her Own Words

In the Tower of Barbara Kruger Art
The exhibition of Barbara Kruger's art opened at the National Gallery of Art in Washington, D.C. at the beginning of October and is, surprisingly, the first thematic exhibition of Barbara Kruger's work. The exhibition is also the first show in newly renovated East Building Tower Gallery and follows the Gallery's acquisition of the artist's Untitled piece (Know nothing, Believe anything, Forget everything) dated 1987/2014. Limited to 15 works, the show represents Kruger's profile works, i.e. the works where figures are shown in profiles, with her recognizable text addressing the viewers plastered over and around them. Appropriately titled In the Tower, the exhibition showcases the works of different scales, from monumental wall installations to magazine-size prints. The aim of Kruger is to reach the largest public possible, which does not come as a surprise knowing the artist's engagement with political, social and feminist subjects. Her text and image combinations directly address some of the most pressing issues of our time - from violence, sexuality, and power, to race and different stereotypes.
Starting out in 1969, Kruger was influenced by different picture magazines such as Life and Look, Hollywood films, and by Magdalena Abakanowicz's large textile wall-pieces. Developing in the period of Second Wave Feminism, she was influenced by feminist ideas that form an important part in her grainy, black and white photos and textual addresses. Complexity of her work has been associated with the Russian nesting doll, where layers come pregnant with meaning, but nonetheless combined in an apparently easy and light manner[3].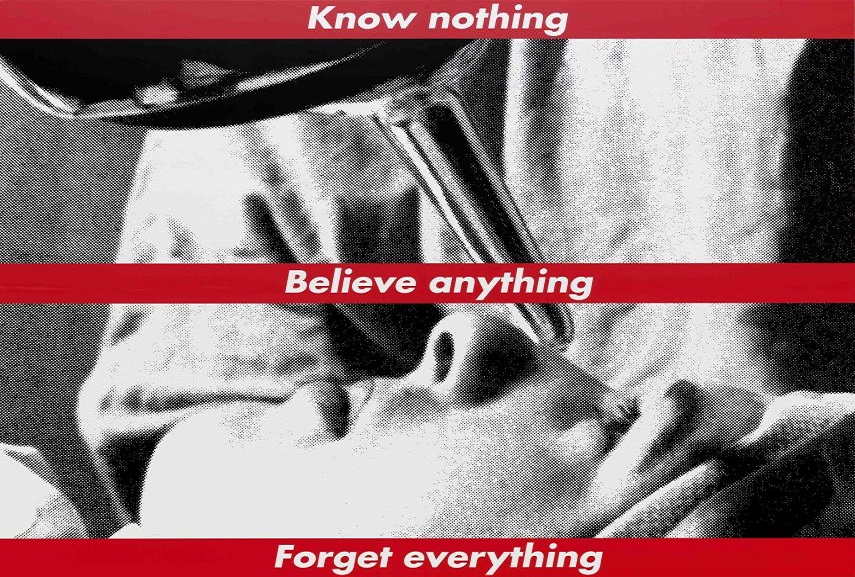 Resisting Tyrannies of Social Life
The art of Barbara Kruger had a significant place in the history of visual media of the past decades, but her practice remains more than relevant today as well. Going over the decades of social, political, and cultural changes, her pieces remain aesthetically concise and consistent, and with equal political potential as before. Opening her world to different voices and stories, she refuses to adhere to particular subject, but instead questions the status of image and the status of text in their combination in contemporary world. Images lie, Kruger contends, and what we see may not always render truth. She is cautioning us to be more alert to normative and power relations that infest our realities with images and words that put strain of individual expressions. Art for her is a tool for affective reckoning with the world, and she is throwing her punches in visual form.
"I think that art is still a site for resistance and for the telling of various stories, for validating certain subjectivities we normally overlook. I'm trying to be affective, to suggest changes, and to resist what I feel are the tyrannies of social life on a certain level."[4]
And we hope she will continue to do so in the future as well.
References:
Starke, L., (2016),

On the Cover: Donald Trump by Barbara Kruger for the Election Issue

, nymag.com [November 2, 2016]
Diaz D., Political Prediction Market: Clinton's chances for the White House dip, cnn.com [November 2, 2016]
Rosen, M. (2016),

American Icon Barbara Kruger Returns

, craveonline.com [November 2, 2016]
Ibid.
Featured images: Barbara Kruger - Donald Trump, 2016, Image via nymag.com; Barbara Kruger - It's New, It's You. Image courtesy of Mary Boone Gallery; Barbara Kruger's portrait, Image via Widewalls archive. All images used for illustrative purposes only.