A renowned American conceptual artist, Barbara Kruger is best known for provocative art that tackles issues such as commercial culture, feminism, and identity politics. Combining images and texts, her short declarative statements communicate directly with the viewer.
Her monumental wall work Untitled (Questions), which was first installed in 1990 on the south wall of MOCA's then Temporary Contemporary building, is once again on display in Los Angeles. Originally commissioned by MOCA in 1989 for the exhibition A Forest of Signs: Art in the Crisis of Representation, the emblematic white, red and blue artwork is reinstalled by the museum on the north façade of The Geffen Contemporary at MOCA.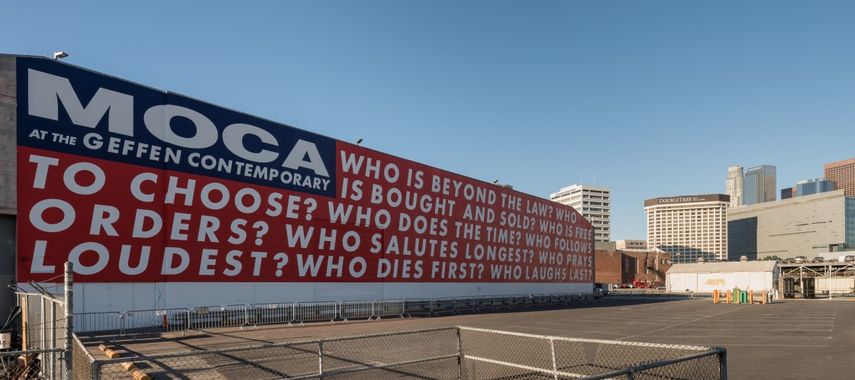 Untitled (Questions) by Barbara Kruger
One of MOCA's curatorial highlights, the piece Untitled (Questions) (1990/2018) by Barbara Kruger holds a rather special place in the collective memory of the Los Angeles art community. Measuring 30 ft. by 191 ft. in size, it is a work of text art which includes questions tackling the issues of patriotism, civic engagement and power relations: "Who is beyond the law?", "Who is bought and sold?", "Who is free to choose?" "Who does the time?", "Who follows orders?", "Who Salutes longest?", "Who prays loudest?", "Who dies first?" and "Who laughs last?". In a design inspired by the U.S. flag, these nine questions are rendered in capital letters in lieu of stripes.
Created in an important social and political moment of 1990, when, among other things, the U.S. was heading toward a war with Iraq led by President George H.W. Bush, the work remains as relevant as ever. This year, it was reinstalled in advance of the midterm elections. The continued resonance of these issues was described by Kruger as "tragic and sad."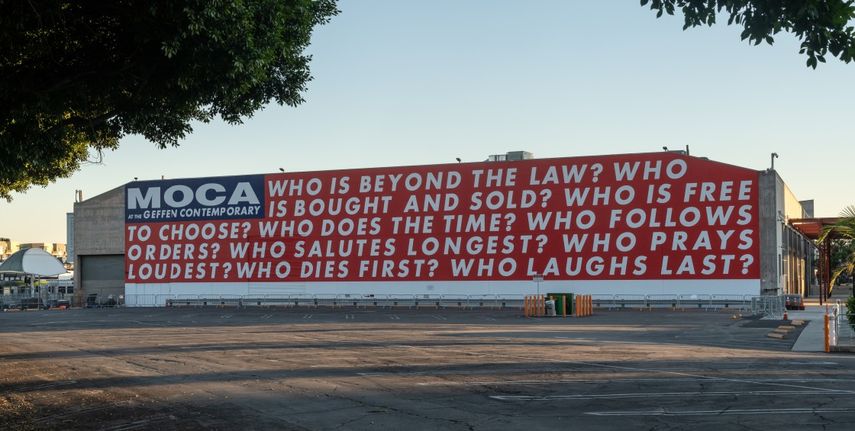 The Practice of Barbara Kruger
The bold, graphic works of Barbara Kruger, often rendered in a palette of red, white and black, have been delivering punchy political messages for decades. Working in a range of media, her work continues to be rooted in social, cultural and political critique. Using the language of contemporary publications, graphic design, or magazines, she aims to instigate a reconsideration of one's immediate context.
MOCA has been important to Kruger in many ways. Among other things, the museum held the artist's first major museum retrospective in 1999. MOCA Director Klaus Biesenbach explained that Untitled (Questions) (1990/2018) "comes to mind as one piece that, in a way, stands for MOCA, its history and role in the city."
It encourages us to engage...It shows us how an artist can create a timeless, unafraid truth.
Barbara Kruger, Untitled (Questions), 1990/2018
Kruger's Wall Work at MOCA
The wall work Untitled (Questions) (1990/2018) by Barbara Kruger will be on view on the north façade of The Geffen Contemporary at the MOCA, facing Temple Street until November 30th, 2020.
This project was initiated by MOCA Director Klaus Biesenbach and is organized by MOCA Senior Curator Bennett Simpson. It is generously supported by an anonymous donor.
In connection with the work, a series of voter registration efforts will be anchored by the artwork in advance of the 2020 general election.
Featured image: Barbara Kruger - Untitled (Questions), 1990/2018, on view October 20, 2018–November 2020 at The Geffen Contemporary at MOCA, photo by Elon Schoenholz. All images courtesy of MOCA LA.