Barbara Rose, an art critic and curator whose writings and exhibitions changed the way historians told the story of postwar art in the US, has died at the age of 84. Her death was confirmed by her husband, Richard Du Boff, who said that she had struggled with breast cancer for a decade.
Through her practice, Rose helped define the major art movements of the latter half of the twentieth century, while consistently advocating for painting, a medium which many at the time claimed was dead. Exploring postwar art and its contradictions, she wrote about culture with an authority informed by her close friendships with two generations of artists in New York and abroad. She will also be remembered as the critic who championed Minimalism during the 1970s and a great promoter of art made by women.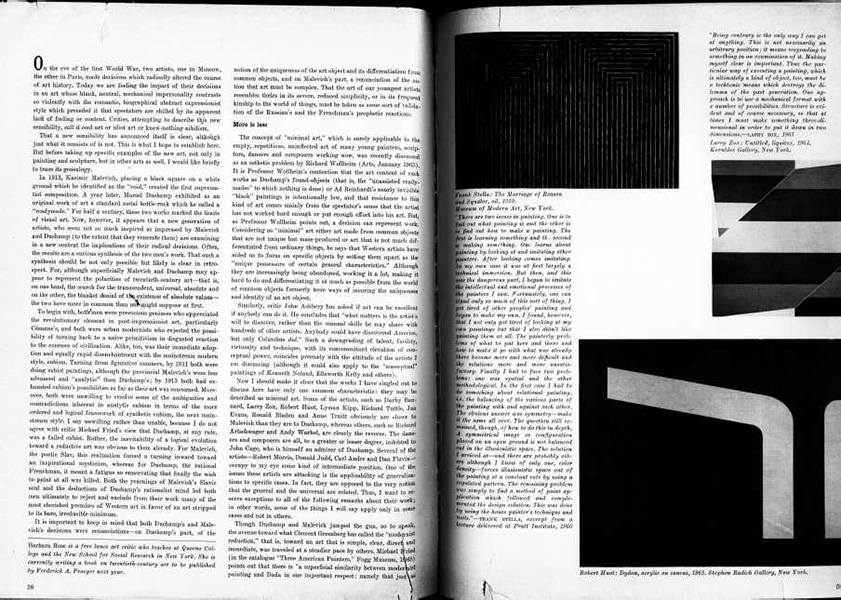 The Early Career of Barbara Rose
Throughout her career, Barbara Rose preferred exploring the unfolding art of the present. After finishing education at Smith College and Barnard and earning a doctorate at Columbia University, she was encouraged by art critic and art historian Michael Fried to begin writing art criticism in the early 1960s, resulting in a monthly New York Letter in the journal Art International. She spent the next fifty years as a reviewer and contributing editor for publications including Art International, Art in America, Vogue, the Partisan Review, New York Magazine, and Artforum, writing on such topics as art and politics, erotic figuration, Helen Frankenthaler, and the late style of Georgia O'Keeffe.
Being a fixture of the rapidly changing New York art world of the 1960s, she was introduced to artists such as Robert Morris, Donald Judd, Carl Andre and Frank Stella through cinematographer Michael Chapman. She married Stella in 1961, with whom she had two children before divorcing him in 1969. "We had babies right away," she told New York magazine, "and everyone in SoHo said, 'Oh, look, the babies had babies!'"
Rose first came to prominence in 1965 with a landmark essay published in Art in America titled ABC Art, which began to codify what would eventually be known as Minimalism. In the essay, she identified a small circle of artists in downtown New York, whose works gave off a "blank, neutral and mechanical impersonality" and could be seen "as a reaction against the self-indulgence of an unbridled subjectivity, just as one might see it in terms of a formal reaction to the excesses of painterliness." She linked their work to European predecessors like Kazimir Malevich and Marcel Duchamp, providing a lofty historical lineage for the vanguard art of the '60s. Later she said that everybody insisted that she invented Minimalism.
Well, that is seriously wrong. I don't invent art movements. I just notice coincidences, and those coincidences began to make sense to me as a worldview, which the Germans call weltanschauung.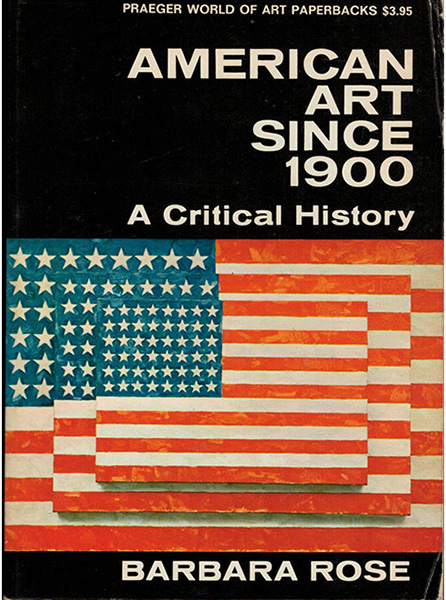 Championing Painting and Art by Women
In addition to writing, Rose taught at institutions including Yale University and the New School; was the first to direct the museums at the University of California, Irvine; and curated several high-profile exhibitions. Among them was American Painting: The Eighties, an important 1979 group show at New York University's Gray Art Gallery, named for a decade that had yet to begin. Featuring 41 artists such as Ron Gorchov, Elizabeth Murray, Lois Lane, Jasper Johns, Susan Rothenberg, Bill Jensen, Robert Moskowitz and Gary Stephan, among others, the exhibition turned out to be a brilliant prophecy. At the end of the 1970s, when many critics proclaimed painting as redundant, this exhibition was meant to be a forward-looking survey showcasing the medium's continued relevance. In the catalogue, she explained she was fed up with conceptual art, video, and photography, which she claimed showed "a retarditaire 'return to realism.'" Instead, she championed for a return to "quality." She reprised the show's pun more than 10 years later, in a similarly named exhibition subtitled The Nineties that opened at New York's André Emmerich Gallery in 1991.
Throughout her career, Rose continually worked to advance the art careers of women. In 1971, she wrote the first major monograph on Helen Frankenthaler and, in 1983, she organized the first museum retrospective of Lee Krasner's work. She also furnished the text for definitive monographs on Magdalena Abakanowicz, Nancy Graves, Beverly Pepper and Niki de Saint Phalle.
Rose was always practicing studio visits to look at artists' latest paintings and probe for helpful information. She did interviews with some of the most important art figures of our times, explaining that she never saw these as interviews because she "really wanted to know the answers to my questions."
Barbara Rose on Al Held
Tirelessly Working Until the End
Later in her career, Rose also spent some time in the museum world. In 1981, she was appointed curator of exhibitions and collections and the Museum of Fine Arts Houston, where she organized a few lauded shows, including a retrospective devoted to Lee Krasner that went on to travel to the Museum of Modern Art in New York, the San Francisco Museum of Modern Art, the Chrysler Museum in Norfolk, Virginia, the Phoenix Art Museum, and the Centre Pompidou in Paris.
However, her position was also followed by some controversies. First, some accused her of conflicts of interest because the museum had acquired works from Jerry Leiber, her husband at the time. Her short-lived career at the museum ended after she talked about the lost potential of the Houston art scene and the city's cultural backwardness in an interview with the magazine Artspace.
In 2004, she curated and exhibition The Varieties of Monochromism for the Museo Reina Sofia in Madrid, an exciting exhibition featuring artists such as Claude Monet, Kasimir Malevich, Joan Miró, Lucio Fontana, Yves Klein, the early Jasper Johns, Robert Rauschenberg, Ellsworth Kelly and the Polish and Czech constructivists.
During her last decade, she wrote a memoir titled The Girl Who Loved Artists, a book yet to be published. Her last article appeared in The Brooklyn Rail this October, reviewing the work by the Guyana-born artist, Andrew Lyght.
Featured image: Barbara Rose. Image via YouTube.